The Art of  Letting Go
With self-effacing charm and the soul of an artist, Wilmington-born Anne Brennan has transformed the Cameron Art Museum into a Cape Fear treasure
By Jim Moriarty
Photograph by Andrew Sherman
Anne Brennan keeps her entire collection of Anne Brennans tucked away in storage. One watercolor, unframed. The phrase It's around here someplace comes to mind. "Just a barn and a tree and a snowscape," says Brennan, the quintessentially Southern, self-effacing executive director — and lifeblood — of the Cameron Art Museum.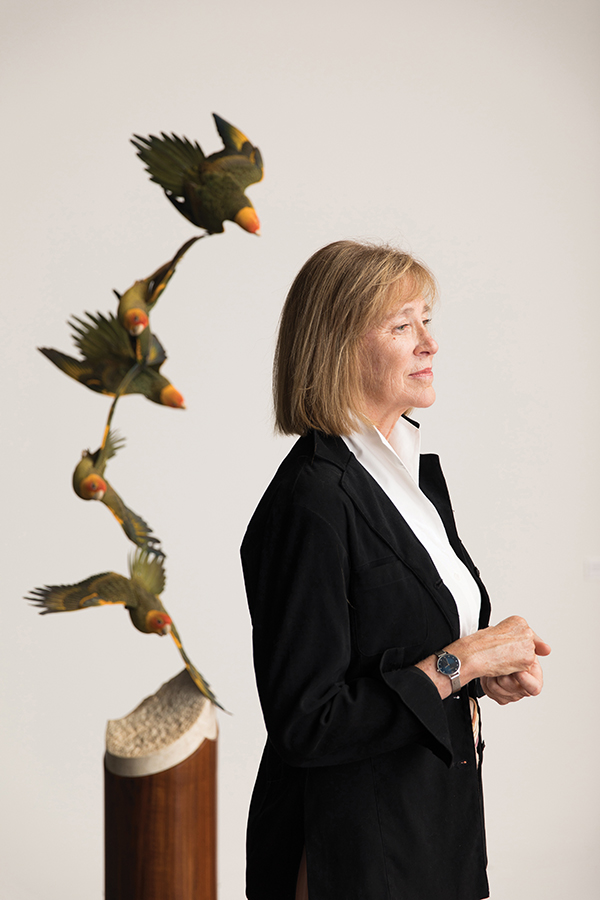 "I was painting outside," she says of the winter day in the North Carolina mountains near Cashiers. "It was so cold, I would load the brush with water and wet the page, and by the time I loaded any pigment, there's a sheet of ice on the page. So, it became this battle. I had to get in and get out. I couldn't over-paint it. I kept it because of that lesson." Emotional about art but not sentimental, Brennan thinks artists need to let their work go, not stay. With the exception of this lone piece, hers is all around town, in every conceivable way.
Whether it's the museum's Rowan LeCompte stained glass; the cultural coup of attracting the current interactive teamLab exhibition; new acquisitions like a Beverly McIver portrait or Louis Belden's 20th-century prints; the "State of the Art/Art of the State" 24-hour open call to artists; the class offerings of the Museum School; the permanent collection of some 3,000 objects; or her profound appreciation of the roots that drink deeply from the luxurious personalities and robust artistic legacy of the city where she was born, Brennan has become the indispensable guardian of the institution she shepherds.
"I see her as a cultural icon for the place," says Charlotte Cohen, the general manager of WSFX and the Cameron Art Museum's treasurer. "Her knowledge of the place is so vast and so long, she's a real treasure for the community."
As Irish as a pint of Guinness with a bishop's collar, Brennan's grandparents were immigrants from the old country, one from Dublin, the other from Donegal. Her grandfather stowed away on a ship to get to America, with his father shaking his fist at him at the dock, warning he'd disown him. "He's the only one that survived," says Brennan of the teenager named Nicholas. "The rest of them died of tuberculosis, so I'm very grateful he stowed away." That boy became the archetypal Irish cop, the chief of police in Newark, New Jersey, in the 1930s. Anne's father, John, was born there in 1920, a kid with musical gifts growing up in the Big Band era. "You know, these individuals in our lives that change everything for us . . . there was a high school counselor that saw my father was a good musician," says Anne. The counselor suggested the young drummer apply to the University of Miami. He did and off he went on a journey as liberating as his own father's had been.
"That really, really changed his life. My father had different bands that he was playing with, and they were playing gigs in Cuba," says Brennan. One performance was at Juan Batista's wedding: "Of course, the guests attending the wedding, they're greeted by folks with machine guns."
Wanting a family more than he wanted to be Gene Krupa, John Brennan got a job in oil sales, married and traveled the country with Anne's mother, Irene. Eventually they settled in Charlotte. Anne's older brother, Mark, was born. John's work brought the young couple and their 2-year-old son to Wilmington in 1952. Six years later, they had Anne. She studied piano as a girl, but a tumor involving the blood vessels of her right hand required five surgeries between the ages of 9 and 16. "I couldn't pursue piano in any real way with that," she says. What she found was a set of paints, hidden in a closet behind her mother's hatboxes.
"My mother had signed up for night art classes with Claude Howell at what was Wilmington College," says Anne. "He's trying to teach good technique, wanting them to have real fluency. He sets up this challenging still life. It's a Chianti bottle with the basket bottom, Indian corn and, I think, a reflective copper pot. Mom is working intently. She's trying not to choke down on the feral of the brush but she's getting tighter and tighter, closer and closer to the canvas. She's painting every single little kernel. Claude walks up and just smears his thumb through it and she gave up. She just closed the lid on that gray aluminum box."
Anne reopened it. "I got into them, just copying calendars or greeting cards," she says. That led to classes at the St. John's Museum of Art, the precursor of the Cameron. In an echo of her father's experience, a high school counselor suggested she apply to the Governor's School. "It changed everything," she says. "It was six weeks. You could attend class. You could not attend class. You could go to concerts at the School of the Arts. You could watch the drama students rehearse. That freedom was dramatically transformative. Students learn that you make of this what you will."
High school was followed by Davidson College and, after graduation, a solo show. "She's one of the youngest people to ever have a solo show at the St. John's Museum of Art," says local artist Margie Worthington. If Howell, one of Wilmington's most beloved artists, raconteurs and teachers, unintentionally shooed Irene Brennan away from the easel, he gave the daughter a resounding thumbs up, at one point calling Anne Brennan the best artist Wilmington ever produced.
"So, I came back to Wilmington and got a studio in the attic of the Smith-Anderson House, lived at home for a few months and painted," says Brennan. She applied to graduate school at the University of North Carolina at Chapel Hill and got in. "The show was at the end of '82. I entered Chapel Hill the fall of '83, but six weeks into the program my mother became very ill. She'd been ill when I was in high school, but she was in remission and it came back. I completely dropped out of the program after six weeks. They didn't give her until Christmas, and she lived for 16 months. I came back home and began to volunteer with our fledgling efforts to establish the public radio station."
Irene Brennan's illness resurfaced a year and change after Anne's brother, Mark, died in a car accident at the age of 29. "The overarching tragedy was, that day was my mother's death certificate. She wouldn't show her grief," says Anne. "That energy goes someplace. I firmly believe that's why the malignancy came back. And she wouldn't go to the doctor. She lost her will to live. She wanted to see him again. My father, on the other hand, 100 percent Irish. A musician, a lover, very expressive. He cried as easily as he laughed. He was able to grieve. He wept. We could talk about Mark."
Having worked at St. John's as a volunteer, in 1990 Anne became part of the staff as a curator and registrar of collections under C. Reynolds (Ren) Brown, who would steer the museum through its expansion, name change and the move from downtown to its current South 17th Street location. Brown passed away in 2004, and the following year Deborah Velders, then the head of exhibitions and public programs at the Menil Collection in Houston, was hired as Cameron's director. "Anne let me know one day that she had made a promise to her mother that she would go back to school and finish her graduate degree in fine arts," says Velders. 
"You promise someone on their death bed that you're going to do what they're asking you to do, you've got to do it," says Brennan. She enrolled at East Carolina University. After completing her Masters of Fine Arts, Velders rehired Brennan as deputy director and put her in charge of the Museum School, re-creating one of St. John's Museum's original objectives. "She's a natural-born educator," says Velders. "She was really responsible for getting the Museum School set up and operating." In early 2011 Velders returned to Houston for another project, and Brennan assumed the helm of the Cameron.
Artist Margie Worthington — who in her younger days occupied studio space side-by-side with Brennan upstairs in the building on Front Street that once housed the Caffe Phoenix — says, "Anne brings some things that are just mind-blowing into Wilmington. Museums had to change their very nature, in many ways, to survive. They couldn't just be the repositories of the past. Anne grasped that. She began to make that happen in this community. She began to do things that had never been done before and make it all about bringing people together."
The current teamLab installations are the most recent example. Brennan happened to be in New York and saw one of teamLab's exhibitions at the Japan Society. "One of the installations was entirely immersive," she says. "You walk into a space and there are projections that are activated by your body on every plane of the cube that you're standing in. And it was deeply moving. Tears were hitting my shoes before I even realized I was crying. Exquisitely beautiful."
Pace Gallery represents teamLab. "So, we contacted Pace in January 2017. Is there any chance?" says Brennan. There were teamLab installations on exhibit at La Villette in Paris, another one in Johannesburg, South Africa. Pace was negotiating in Dubai and Hong Kong. "We knew we were running with the big dogs, and we were concerned whether we could afford to bring them in," she says. "Pace was great working with us. They knew that we firmly believed this would be such an important offering for our community. And two years later, we've opened." The three installations are Sketch Aquarium, Story of the Time when Gods were Everywhere, and Flower and Corpse Glitch.
In Sketch Aquarium it's possible to color a sea creature, scan it and then watch it join other creatures, swimming in a virtual aquarium projected on the walls. "We saw parents, grandparents and kids coloring fish together, activating things," says Brennan. "It's so deeply fulfilling anytime we can bring in something that's intergenerational." Just touching the symbols on the walls in "Gods" transforms them into the images they represent. As images are created, stories emerge. "Flower" explores the symbiosis of nature and culture.
The "State of the Art/Art of the State" call to artists was begun by Velders and carried on by Brennan on a three-year cycle. For 24 hours artists queue up and, if their work can fit through the door, they'll shake the hand of a museum curator and their art will be hung. The curators come from all over the country, museums like the Guggenheim, Tate Modern and San Francisco Museum of Modern Art. "It became a happening for 24 hours," says Brennan. "If you and I are standing in line together for three hours waiting to talk to a curator, we start talking shop. When you have artists all gathered together, that magic happens."
Jose Grande-Gomez walked into the museum at 3:30 a.m., having driven from Charlotte after his 11 o'clock shift ended. "He said, and this is in very broken English, 'I so trying to find more time for my work,' " says Brennan. "He was doing a whole trajectory of work called Birds in Peril. He took this opportunity to show his work in a museum as in indication, at least to himself, that he was very serious about this. I'm curious to see where his life is at this juncture."
In the last "Art of the State," exhibition, the artists were given the chance to speak for two minutes about their work. Amber Barber brought a photograph. "Many, many folks have never shown their work before," says Brennan. "She said, 'I saw my daddy and I could not not take his picture.' Then she just struggled to get the next sentence out. She said, very emotionally, almost a whisper, 'It captured the essence of my daddy. He's a farmer.' That's all she said. This is what's so amazing about this endeavor, the vulnerability and the courage. Even the veteran artists. It's feeding something else the artists need."
Brennan has a sweeping devotion to the city's artistic roots. It includes Gladys Faris. "Ren always called Gladys Wilmington's Winslow Homer and it wasn't hyperbole," she says. And Alex Powers, who worked out of Myrtle Beach. "Alex was fierce." Jack Berman. "Jack studied at the Corcoran. He would talk about developing your artist's fist. Just a ferocity with what you're communicating. He saw people being freed from Auschwitz and some of the other concentration camps. You look at Jack's work after that? It changed all of the subject matter." Minnie Evans. "She was born in a tenement dwelling in Pender County, moved here when she was 7 months old. She said, 'Something just took my hand,' and she starts doing these drawings. She feels that she's channeling God." Henry Jay MacMillan. Claude Howell. And on and on.
There is a special place reserved in Brennan's pantheon for Elisabeth Chant. "It's one of my favorite projects, ever, ever, ever, ever. She taught everyone who became a major arts teacher, arts activist, arts benefactor in our region," says Brennan. That number included Howell, MacMillan and Bruce Cameron, for whom the museum is named. "And she was a card-carrying Druid. She was very instrumental in starting what was the predecessor of St. John's Museum, the Wilmington Museum of Art. That was a W.P.A. project. It opened Halloween, 1938, in a repurposed funeral parlor. Claude told us it was perfect for transporting not only caskets but large crates of framed paintings."
Born in Yeovil in the west country of England, by the age of 7 Chant had sailed the world with her father, James Chant, a merchant mariner and captain of the Cora Linn. After retiring from the sea, the Chants immigrated to Minnesota with most of Yeovil in tow. Elisabeth became a nurse in the Spanish-American War, decorated by the American Red Cross, and a widely exhibited painter, muralist and maker of woodblock prints. Following the death of her father, Chant was "involuntarily taken from her home (by then Massachusetts) back to Minneapolis to stand trial about her temperance, her sanity," says Brennan. In 1917 Chant was committed to the asylum of the Rochester Hospital and released three years later. After reprising her childhood travels through the Far East, Chant began searching for a place to establish an artists' colony. She chose Wilmington.
"She was 58 years old when she moved here. Her friends didn't come," says Brennan, "but what she did was so much more important for us. She inspired the people that were already here. Sometimes it will take an outsider coming in to share with you the riches that you do have. She had great auburn hair that she braided over her ears. Here, she's wandering around Wilmington looking like Princess Leia and the power broker families in this town aren't frightened by her. She's invited to lunch and dinner, into the best homes. For some reason, regions of the South have a reputation for taking care of the colorful folks in our lives. That's so deeply important."
The Cameron serves an eight-county region. "That's our mission," says Brennan. "It's the only art museum in the state that truly belongs to the community. We have no parent institution. When I look at what this community built, just because the desire is there, it's such an example of a cussedness."
Stubborn in its will to survive, it's guided by a woman with an artist's soul who, like Elisabeth Chant, inspires the people who are already there. 
Jim Moriarty is the senior editor of PineStraw.
(In an earlier version of the story Deborah Velders' position at the Menil Collection was incorrectly stated. She was the head of exhibitions and public programs at the Menil Collection.)