Bringing Back The Lights
After years of going dark and battling ocean storms, the Christmas lights of Harker's Island are back — "anchoring" a beloved community tradition
By Susan Ladd  •  Photographs by Cindy Burnham
On a pretty day, Richard Gillikin points out, an anchor doesn't do anything.
He would certainly know. A retired ferry captain, Gillikin now works on a contract basis as a tugboat captain, traveling up and down the East Coast. On a calm day, the anchor—well, it just lays there. "But the rougher it gets, the harder it digs in," he says. "That's us."
He's referring to the lifetime residents of Harker's Island, an often-overlooked corner of the North Carolina coast. It doesn't have long sandy beaches with crashing ocean waves, or a lighthouse or wild ponies like its sister destinations in Carteret County. Its only claims to tourism fame are the Cape Lookout National Seashore Visitor Center and the Core Sound Waterfowl Museum. Flanked by the Core and Back sounds, it has long been a community of boat-builders, decoy carvers and commercial fishermen. Like residents of Wanchese and Ocracoke, Harker's Island residents still speak with the "Hoi Toider" accent — an Old English brogue that has survived years of isolation in these once-remote locations.
The Gillikin home is filled with tangible links to the fishing and hunting legacy for which the island has always been known: wooden needles, used to mend shrimp and gill nets. Decoys of every size — some collector's items worth thousands. Framed posters from every Decoy Festival since its inception. Now, those traditional livelihoods are disappearing. Economic hardship was compounded by a violent visit from Hurricane Florence last year. "We are trying to hold on to what we've got and keep Harker's Island the way it used to be," Gillikin says.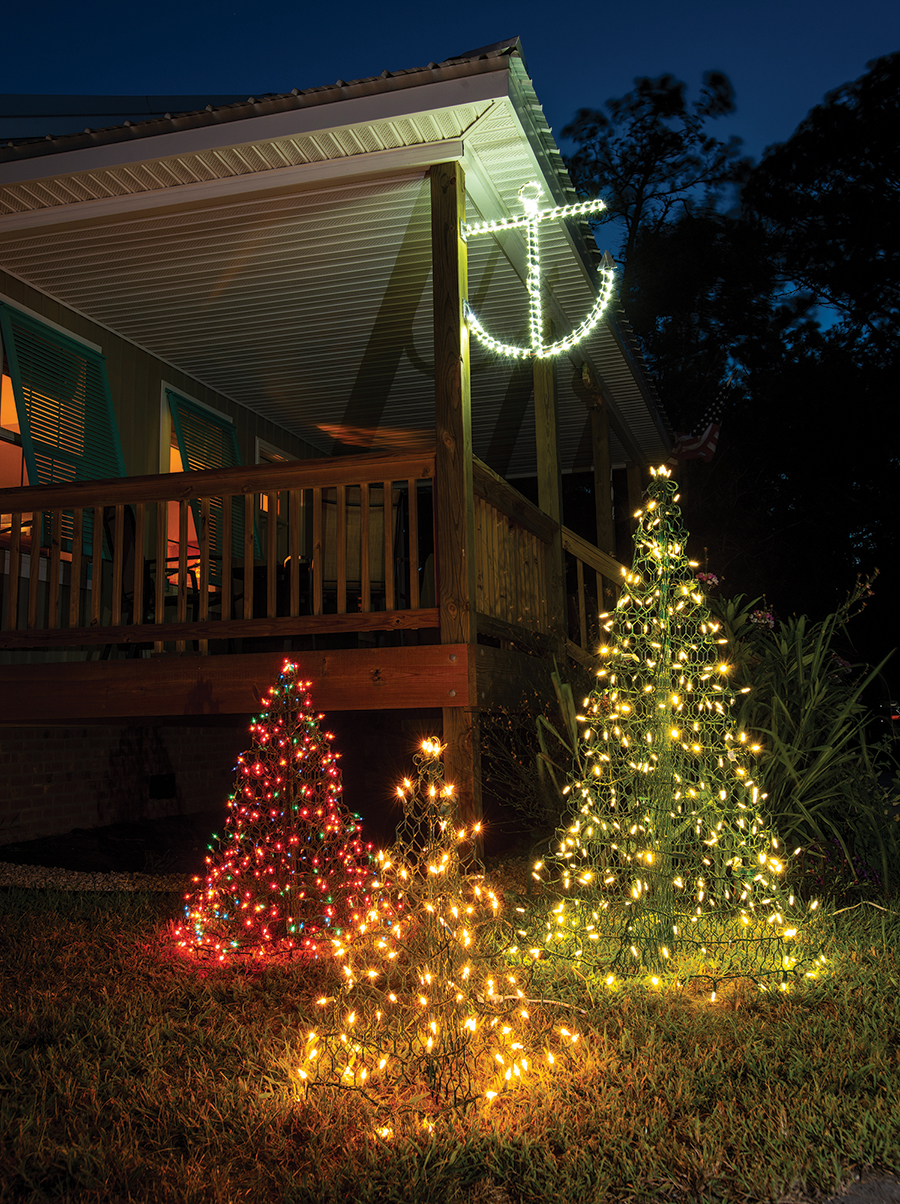 The anchor has become their symbol of resilience. Decorative anchors wrapped in lights are the centerpiece of Bring Back the Lights, an effort by a small group of community volunteers that includes Richard and Ellen Gillikin and Ellen's cousin Della Brooks, to re-create the spectacle they remember as children.
In those days, people came from all over to see the lights on Harker's Island. "This was the place to come Down East to see Christmas lights," Brooks says. "Everybody came and brought the young'uns." Cars would snake through the neighborhoods of the 2-mile island to see over-the-top yard and home displays. Ellen Gillikin recalls the time one resident put an ice-skating rink in the front yard.
Cab and Barbara Ramsey, founders of Jarrett Bay Boat Works, sponsored a decorating contest that was judged the Friday of the Core Sound Decoy Festival, which is traditionally held the first weekend in December. "There were so many lights on my end of the street that you didn't need electricity in the house," Brooks recalls. "People would spend $500 to win a $100 prize."
There would also be live Nativities at all the churches. Harker's Island has seven, Brooks adds, once the most per capita in the nation. The friendly rivalry brought the community together, and provided a respite from the cold, bleak winters.
The Christmas lights tradition thrived through the 1980s and 1990s, but major changes came to the island in the 2000s. The combination of higher taxes from a property revaluation and a surging real estate market led many families who had lived on the island for generations to sell and move inland. Then, in 2008, the real estate market and the general economy tanked, hitting the working-class residents particularly hard. Most islanders had made their living on the water for generations, passing charter services and shrimping operations to their children. But as the family-owned commercial fishing and shrimping businesses began to struggle, young people moved away to find work.
Slowly Going Dark
Between the census of 2000 and 2010, the population of Harker's Island fell by 20 percent, to 1,207 residents. Its median age at the last census was 51.7, compared to the state median of 38.7. And slowly, the island went dark. Many of the older people weren't able to put up the lights anymore. Many of the younger ones couldn't afford it. Many of the new residents — affectionately known as ding-batters by the island natives — only came to the island in summer. Those who moved to island to live — also known as dit-dots — didn't know about the tradition.
Today, Harker's Island may have more seasonal residents than permanent ones. Fifty-five percent of the phone bills for Harker's Island are mailed to addresses on the mainland, Richard Gillikin says. And those who still make their living on the water probably make up less than 10 percent of the permanent population.
Ellen Gillikin and Della Brooks' great-grandfathers helped start the charter fishing industry on the island, but they both work on the mainland. Brooks is a sexual assault response coordinator for the Marine Corps at Cherry Point, and Ellen Gillikin is a registered nurse with the Carteret County Health Department.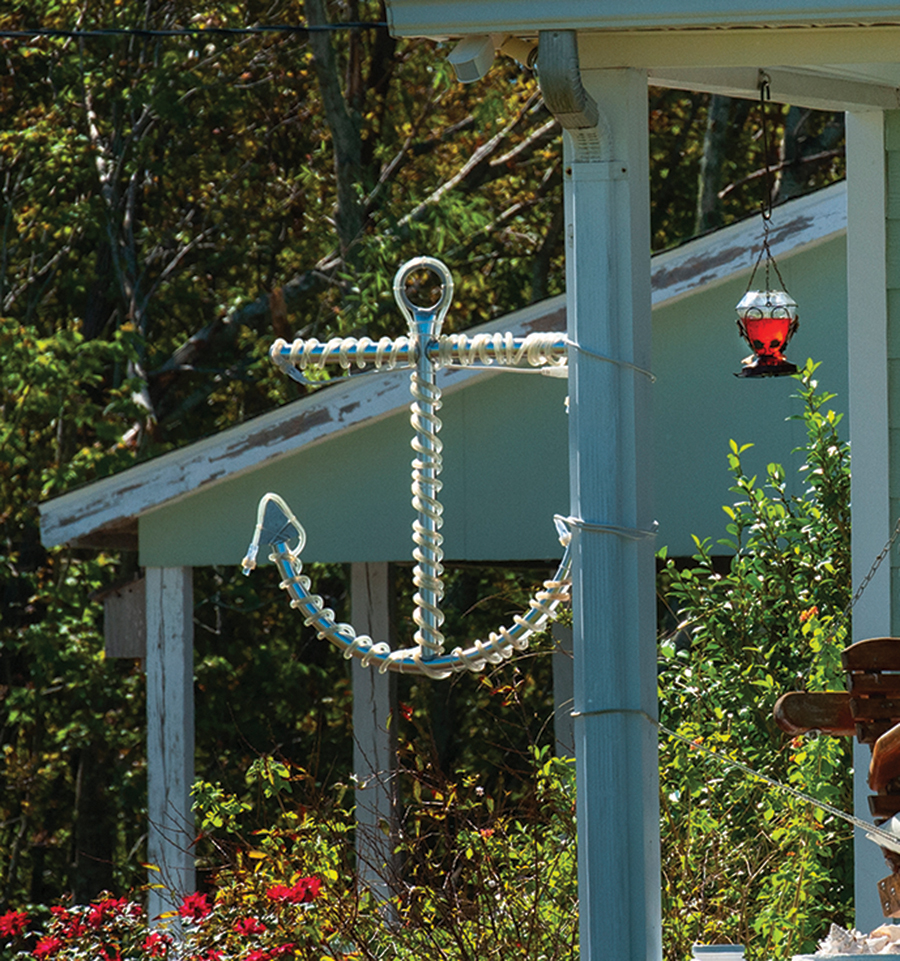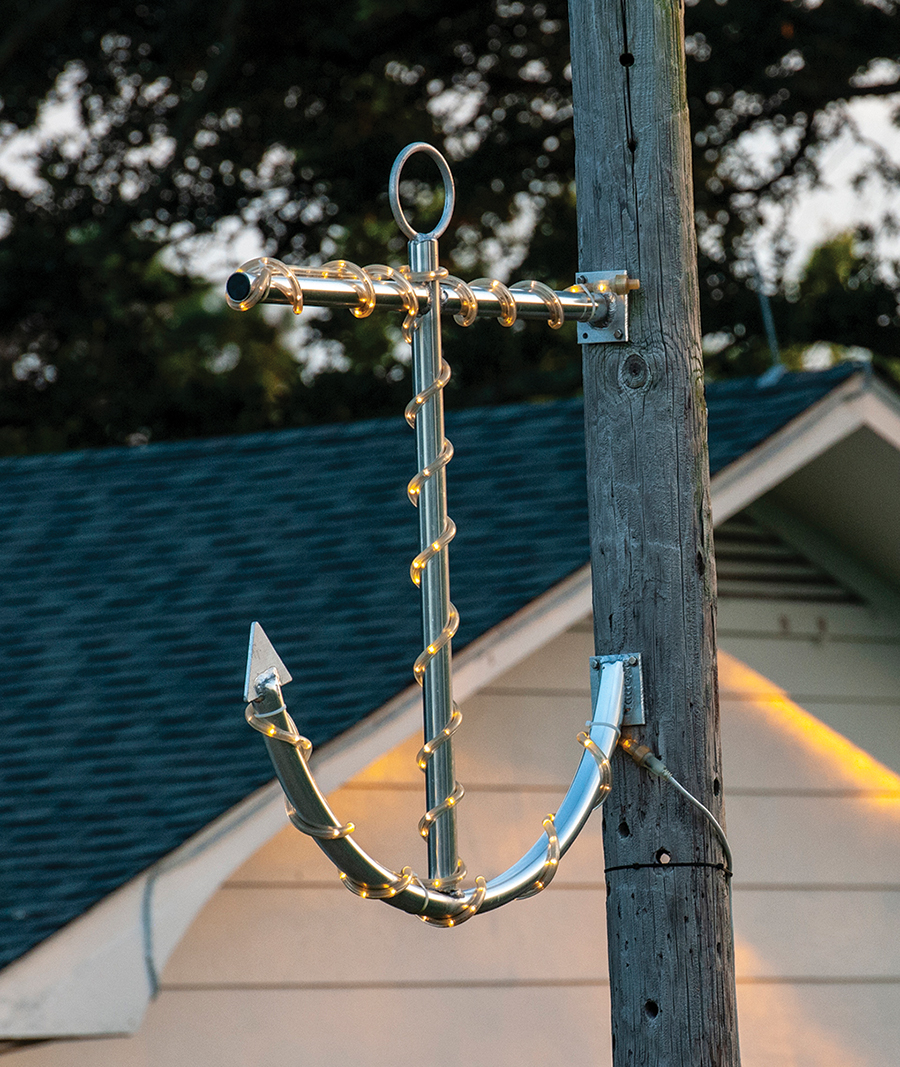 One of the 10 percent who still make a living on the water is Andy Scott. The marks of a welder are burned onto his arms, and the history of the island is written on his face. At 59, he looks like a seafaring version of actor Sam Elliott. Deep blue eyes and a brushy white mustache provide startling relief in a face tanned and weathered by sun and wind and sea spray. Like many islanders, he quit school at 16 to work on the water. A shrimper by trade, he learned welding by necessity, since there's always something on a boat that needs fixing. He starts shrimping in June and continues until November, when he takes welding jobs.
Richard Gillikin, who designed the anchor, can weld, too. But to make the anchors, he turned to his friend. Scott laughs at the notion that he might be an artist, but the anchors weren't his first decorative project. He made starfish displays for the folks in Cedar Island, and dolphins for Otway. He made a steel shrimp boat silhouette for himself. "But nothing has done like these anchors have," Scott says.
Still, Bring Back the Lights wasn't exactly an overnight success. "I think we had eight to 10 people at the first meeting and two or three at the second meeting," Brooks says. "Everybody thought we were crazy."
In 2015, the first year, there were only five anchors on the whole island — most belonging to Brooks, the Gillikins and a few relatives. But people were impressed by the finished product, and the numbers grew in 2016.
The popularity of the anchors exploded in 2017. Tiffany and Randy Ramsey, the children of Cab and Barbara, revived the decorating contest, further fueling enthusiasm for the project. Scott says he's made 600 or so anchors since the first year, and shipped them as far as California. "And not a one blew down during the storm," he says proudly.
"The storm" was Hurricane Florence, which last September lashed the island for 36 hours, with torrential rains, flooding and hurricane-force winds. The Core Sound Waterfowl Museum was heavily damaged. Brooks' house was destroyed. Scott lost all his welding equipment. The memorial anchors he had made for Bring Back the Lights, stored in plastic boxes, were covered in marsh mud and saltwater. Anchors — even decorative ones — are made to withstand those elements. But the lights wrapped around them were destroyed.
"In 2018, we were in survival mode," Brooks says. "Everybody's property was torn up. We put up just enough lights for the kids."
But the members of Bring Back the Lights did what islanders always do: they dug in and started over. All the group's savings went to replace the lights they lost. While rebuilding and repairing their own homes, they've worked all year to raise money for Bring Back the Lights. They had a Christmas in July raffle, a community sing in August, and a barbecue luncheon at the Fall Festival in October. They eventually hope to build a 10-foot "Mama" anchor that can be displayed at a prominent location on the island, such as "the jib," a triangular plot of land that includes the Methodist Church in the business district.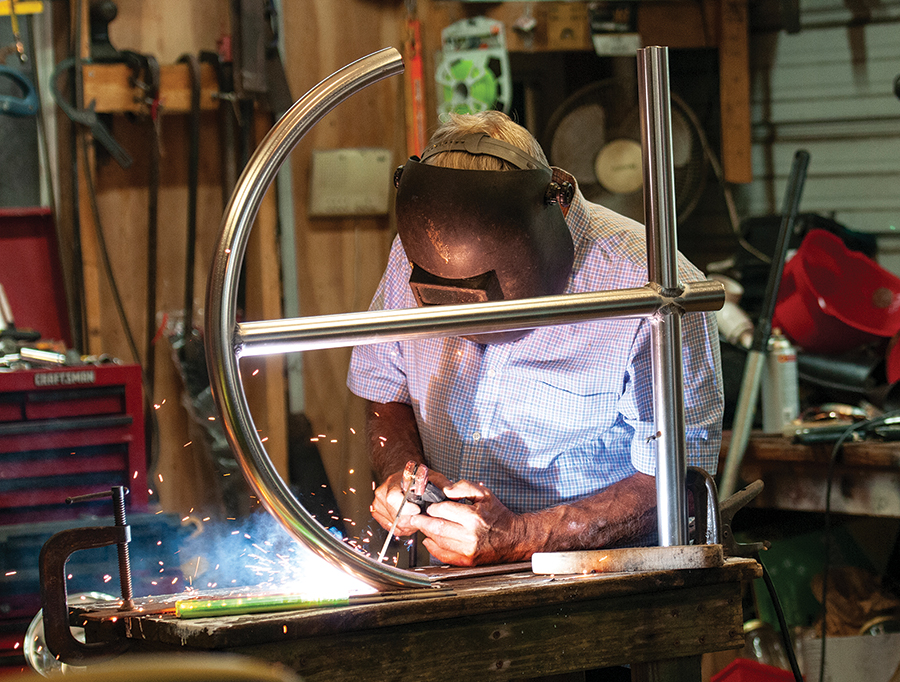 They would also like to see an anchor in every yard. There are between 300 and 400 anchors on the island already, many lit year-round, and there are sure to be more by Christmas. Scott got 100 orders between January and July of this year. The committee has also replaced the blue lights for the memorial anchors, which are mounted on the dock of the island's small harbor.
"We'll have a good showing," Brooks says. "Already, people are driving over here and taking pictures again." More important, the project is bringing people back together in a community cause, Ellen Gillikin says. Some of the committee's strongest supporters are among its newest residents.
"We love 'em," Brooks says. "Everybody is welcome."
The islanders are tough to resist—quick to laugh, ribbing each other constantly, and finding humor even in the toughest challenges. You might have to sweet-talk them into being photographed, but the next minute they'll be striking a pose from Charlie's Angels. They'll send you home with a mess of fish if they've caught more than they need, or tell you the best place to find some already cooked.
It's a good place to drop anchor. Come on, and bring the young'uns.
Want to go?  Harker's Island Christmas lights will be on display after Thanksgiving, with the winner of the decorating contest announced Dec. 7. The Core Sound Decoy Festival is Dec. 7-8. Events are 9 a.m. to 5 p.m. on Dec. 7, and 10 a.m. to 4 p.m. on Dec. 8. Admission is $8 daily, children under 12 admitted free. Sunday is Youth Day with all children under 18 admitted free. Information: (252) 838-8818 or www.decoyguild.com.
Want an anchor?  For $150, you can sponsor an anchor at the harbor to honor a loved one through the Bring Back the Lights Committee. Find them on Facebook at Bring Back the Lights to Harkers Island. You can buy or order an anchor for your home at the Core Sound Waterfowl Museum Store, temporarily located in Morehead City at 806 Arendell. Small anchors are $95 and large ones are $135.
Susan Ladd is a writer, editor and educator with extensive journalism experience. A Tar Heel born and bred, she has spent a lifetime exploring North Carolina's many treasures. She lives in Greensboro.