Three generations of a busy family turned to designer Liz Carroll to transform their house on Figure 8 Island into a serene retreat that's easy to share
By William Irvine   •   Photographs by Rick Ricozzi
The south end of Figure 8 Island has a serene, remote quality, with tall marsh grasses and distant views of Wrightsville Beach across Mason Inlet. This is familiar turf for the Taft family, who first started in a house right down the street from their present one. "One of the sons discovered this house was for sale, so the family has always seen that as an omen that they should stay in the neighborhood," says Liz Carroll, the Wilmington designer who, along with Jeff Morris of Old Fort Building, has transformed the waterfront house into a treasured retreat for three generations of the Taft family, which now includes four grown children and assorted grandkids.
The original design of the house they purchased, which was built in the 1980s, had something of a stylistic identity crisis. An Italo-Moorish-hybrid hacienda with balconies, the entrance was flanked by a large pair of classical Ionic columns. And the house had a serious window problem: small, punched-out demilunes over single windows, a design that seemed unabashedly oblivious to the spectacular vistas surrounding the property, which faces both north and south and has unobstructed views across an inlet to both Mason Sound and the ocean.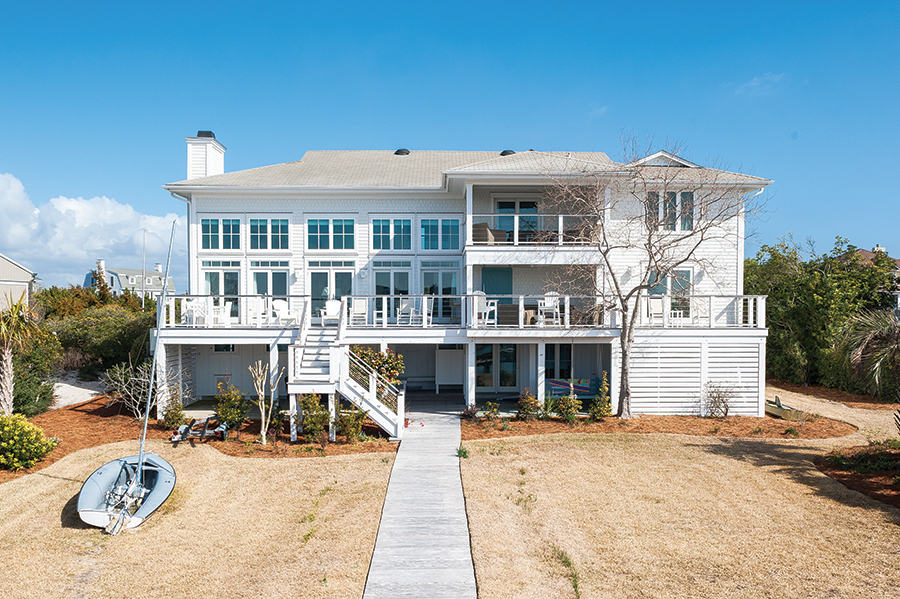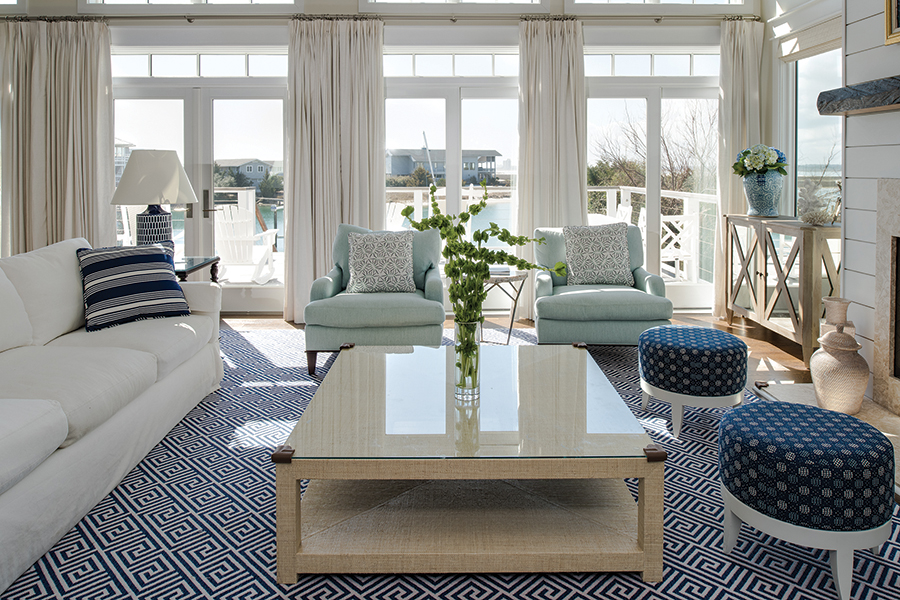 Carroll's design solution was completely transformative: Old plank vinyl siding was removed and replaced with cedar shake siding. The facade is now a clean-lined classical wooden beach cottage with a coat of fresh white paint. The back of the house features an enfilade of exterior porches with distinct seating areas that run the entire length of the house and take advantage of the water views. There are a total of seven bedrooms, as well as a bunk room that sleeps four children.
Upon entering the living room on the first floor, a double-height aerie streaming with light, the ocean and sound views are spectacular. Surprisingly, the previous design had no windows on either side of the fireplace or on the ocean side of the house. "It was bad," Carroll says. "We ended up redoing the windows in almost every room of the house to take advantage of the views."
Her solution was to add large transoms above all the French doors on the water side. She also added custom details. The living room mantelpiece, for instance, is a solid piece of old heart pine from the bottom of the Cape Fear River, which matches the color of the dark wooden beams, added by Carroll to make the cathedral-ceilinged room more human in scale. The enormous space serves three functions — living, dining and cooking in a sleek, modern kitchen. "The kitchen was separated from the living room by a windowless wall with a pass-through, so we took that out to add a more bright and open space," Carroll says. The result is stunning: A large kitchen island at the center of the room abuts a curvilinear countertop with dining space for four. There are white floor-to-ceiling cabinets with display cases atop and backsplashes of bright blue ceramic tile. A more formal dining area adjoins the living room, which contains an elegant table for eight with white Chinese Chippendale-style chairs.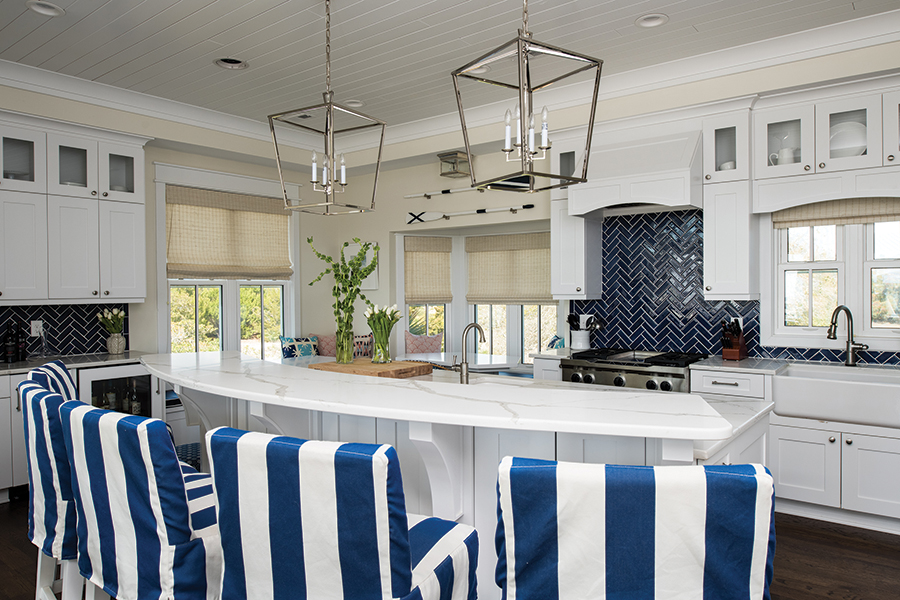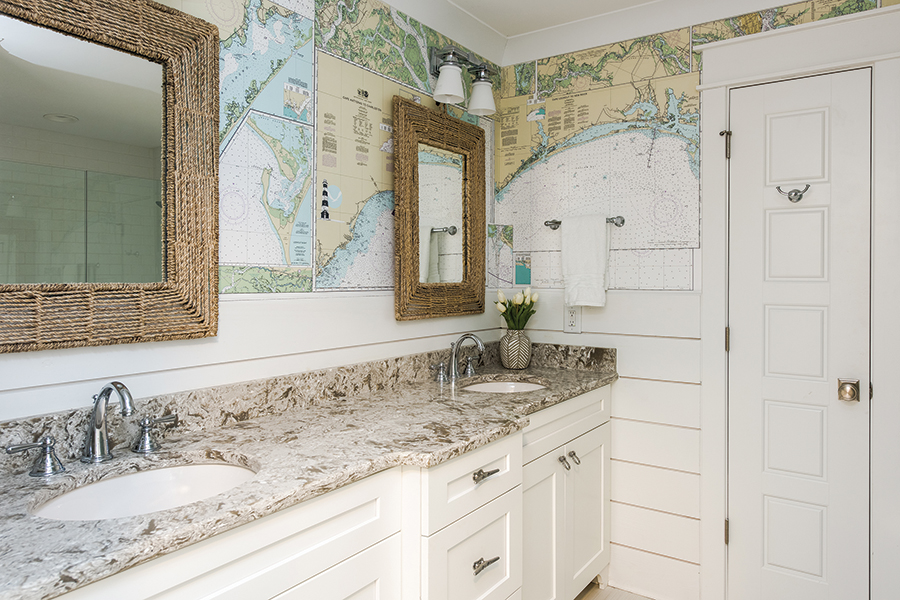 The second-floor sitting room overlooks the living area; it had a heavy wrought-iron balcony, which Carroll replaced with glass in order to bring more light up to the sitting room level. Soothing blue and green upholstered pieces and a landscape painting, Prairie Views by Soicher-Marin, create an intimate private space; it also has its own ocean-view terrace. The owner has a passion for maritime and naval history, and the adjacent desk/study area, which Carroll carved from an existing closet space, features a desktop that is actually an old hatch door from a naval ship. An old framed life preserver was discovered by Carroll at Historical Americana at the High Point Market.
Thomas Taft, the paterfamilias, also has a longstanding interest in Asian art, and this was the directive for the design of the master bedroom suite. When Carroll first started the project, he took her to the family's former beach house in Morehead City to see if she could find anything inspiring. "Much to my surprise, the house was full of Asian antiques — unusual for a beach house," Carroll says. "A little of that goes a long way, and it broke my heart to tell Tom that I couldn't really use any of them." But there are a few concessions in the blue and white-themed master bedroom, which features a ceiling of applied trim pattern of Chinese latticework, a motif that is repeated on the walls of the master bathroom. Carroll also designed a white pagoda display cabinet which features Taft's collection of Chinese porcelain figures.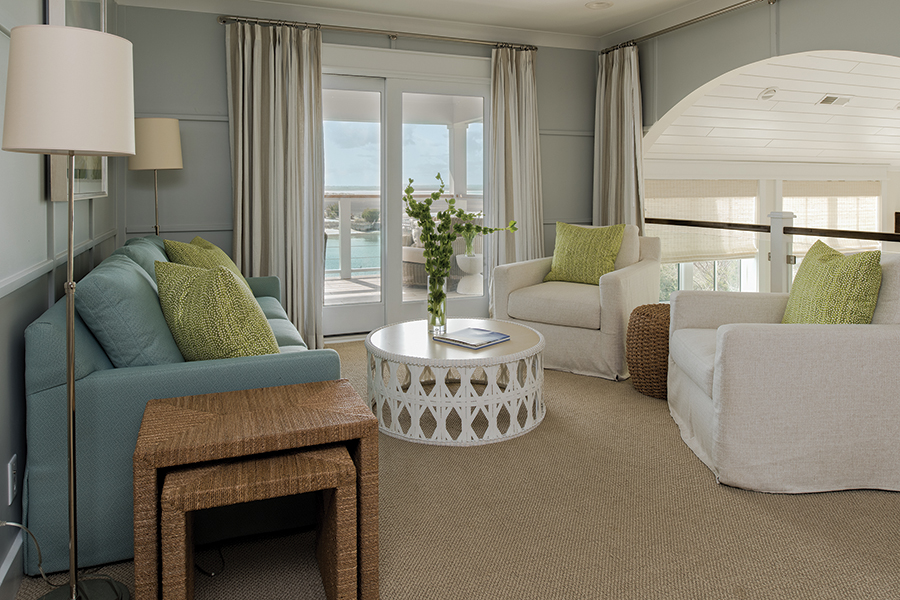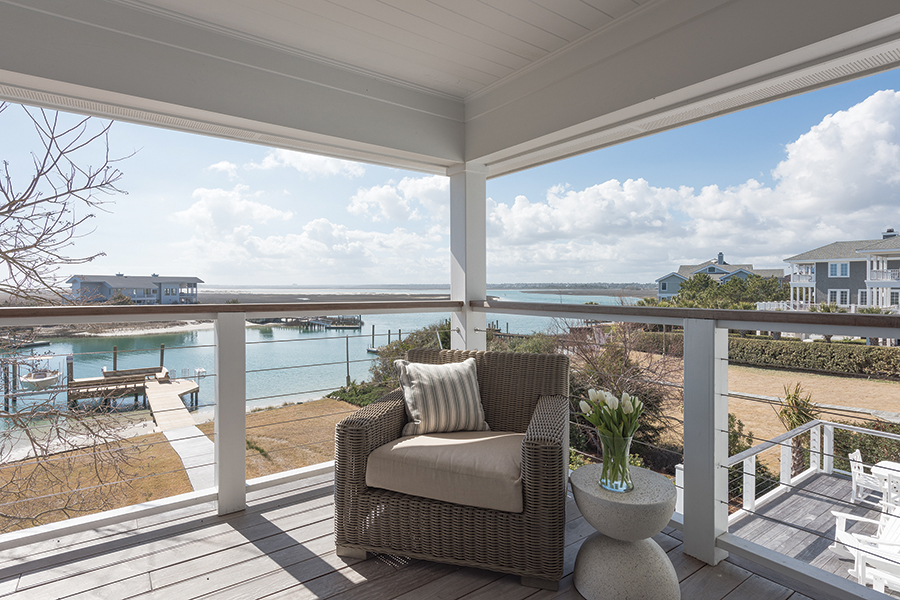 Each of the grown Taft children had individual design requirements. One daughter-in-law was pregnant, and so her directive was something calm and serene. Her bedroom features light-colored linens and wallpaper in an undulating grass-green pattern. (After their child, Thomas Taft III, was born, he was promoted to a crib down the hallway. Tranquillity remains.) Another daughter went for cool pinks with a wallpaper of coral grasscloth.
A third daughter preferred a crabby chic look — cottagey with old painted furniture, a style that contrasted with the overall design plan. "My challenge was to make this work with the decoration of the rest of the house," says Carroll. She managed to find custom furniture that appears to be vintage but is actually new, including a custom-designed, teal-colored wooden bed frame that features a carved headboard resembling a row of breaking waves. In the corner is a commanding mahogany Montauk search light on a tripod.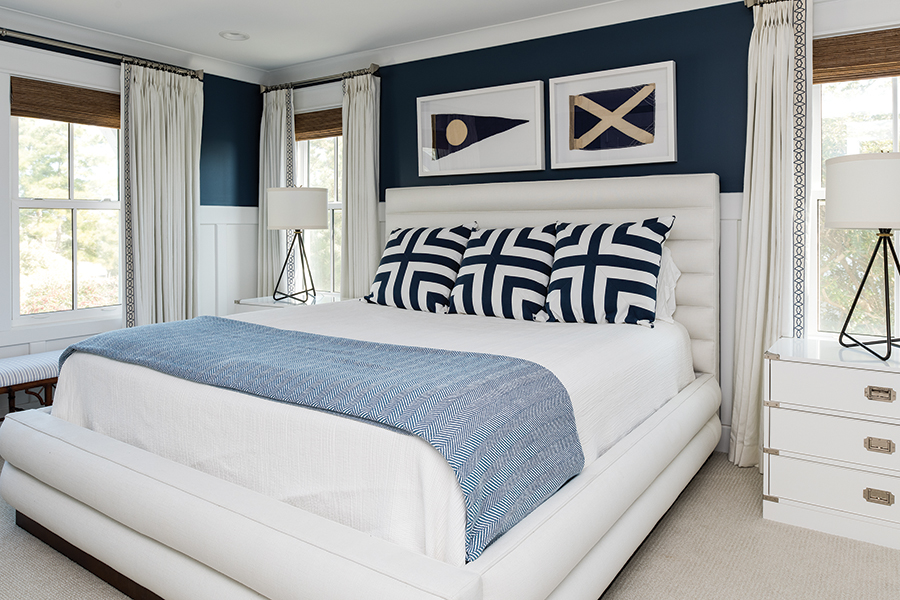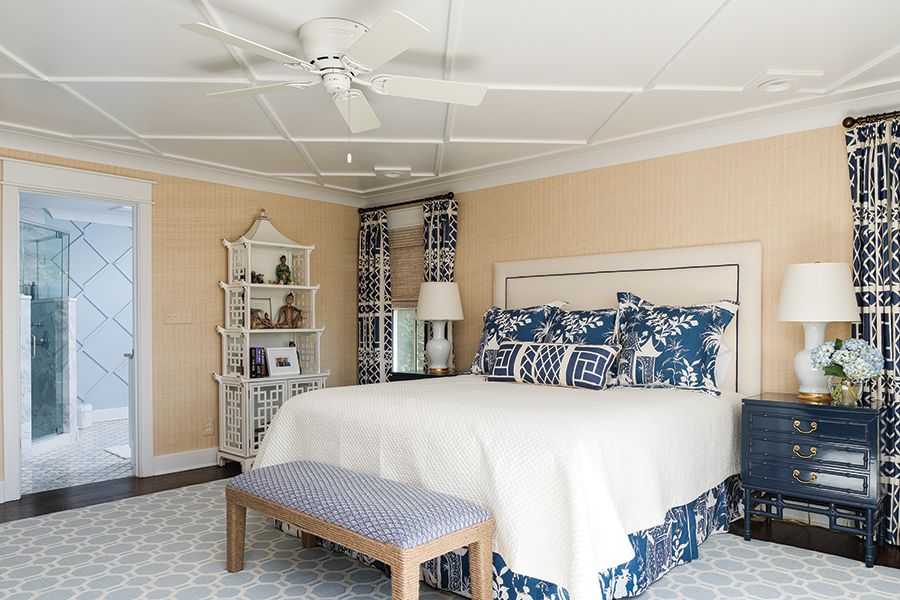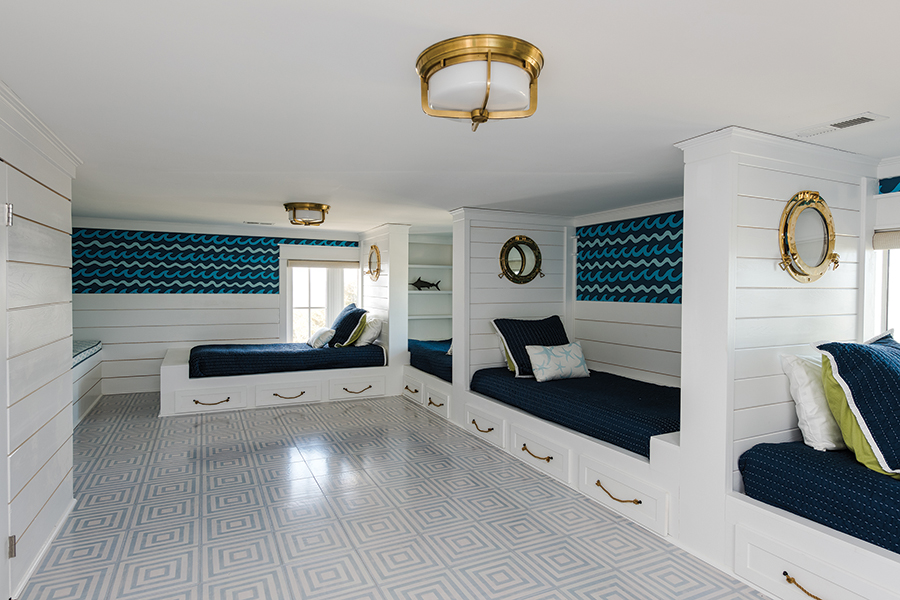 A son wanted a strictly nautical theme, so Carroll created a shipshape navy blue bedroom with framed yachting flags over the bed and a tripod reading lamp. And for stray grandchildren and their friends, there is the bunk room, a low-ceilinged room formerly used for storage that Carroll transformed with back-to-back twin beds, separated by dividers for privacy with real nautical portholes than can open and close.
Despite the fact that this kind of design project often ends in a mire of too-many-cooks discord, Coleman has made everyone happy. "Liz and her team have created the quintessential family beach house for us," says Thomas Taft. "Multiple generations can share in the blessing of sun, surf and family as much — or as little — as they choose." Sounds like paradise.
William Irvine is the senior editor of Salt.