The Cargo District downtown lifts all boats
By J. Michael Welton   •   Photographs by Andrew Sherman
Back in mid-2017, Wilmington-based interior designer Danielle Boisse was looking for new office space for her rapidly expanding firm, Port City Design Group. She needed about 4,000 square feet — to house offices, a design loft, a conference room and plenty of storage space. And she wanted to be downtown. It seemed an impossibly tall order, until she got a call from her real estate agent with some interesting news: "There's only one building that has what you're looking for — but it's a 1947 Quonset hut."
Really? A Quonset hut for a 21st-century interior design firm? A half-cylindrical, industrial prefab, World-War-II-surplus pile of rusting stainless steel and brick? Well, yes. "Perfect!" a delighted Boisse said. "It'll conform to a modern, creative, funky brainstorming space and be in a community that appreciates that."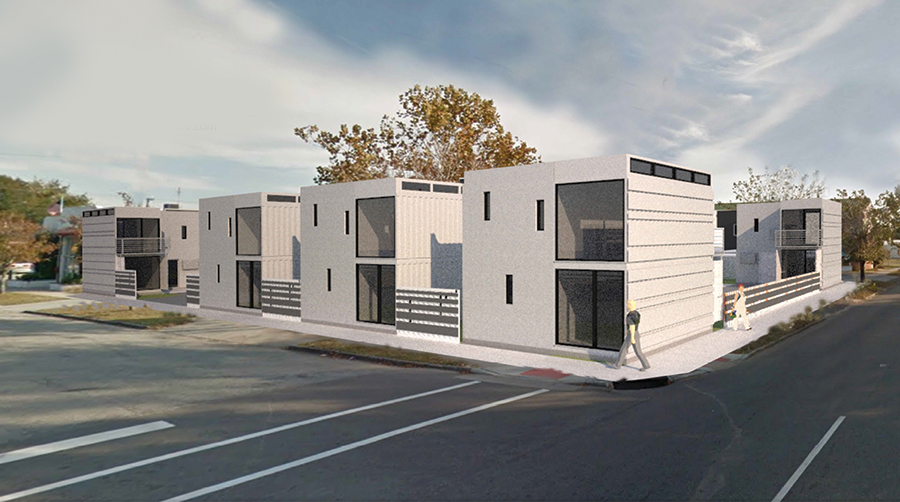 An Old District
The community she's referring to is in the heart of downtown. It consists of three blocks bounded by 15th, 17th, Queen and Castle streets. Up until a few months ago, not only was it deemed unsafe, it was populated mostly by abandoned properties — a long-gone car dealership, a bus depot, a roofing firm and a glass company. At best, its future was in doubt. "A number of different things had been there over the years, but they all moved out and it fell into disrepair," says developer, builder and landowner Leslie Smith. "So the question was whether to give it new life or demolish it."
Smith chose the latter — with a cutting-edge twist that holds special appeal for the Port City: He's now building a mixed-use community there — out of shipping containers. "It's currently the blue collar part of Wilmington, and this fits in with some of the legacy of that," he says. "There's always been some form of a transportation thread weaving through it, so the intermodal shipping containers are a connection." He brought in two new businesses headed up by entrepreneur Brian Kristof: Craftspace, a firm that's helping to market and brand the development's concept, and Coworx, an incubator that's home to about 10 more small businesses. Nine apartment homes are currently under construction.
"We're taking a container designed for one thing and turning it into a completely different designation," says Jacqueline Chase, director of marketing at Smith's firm, LS Smith Inc. "We're taking a shipping container and we're not putting cargo into it — we're putting people into it."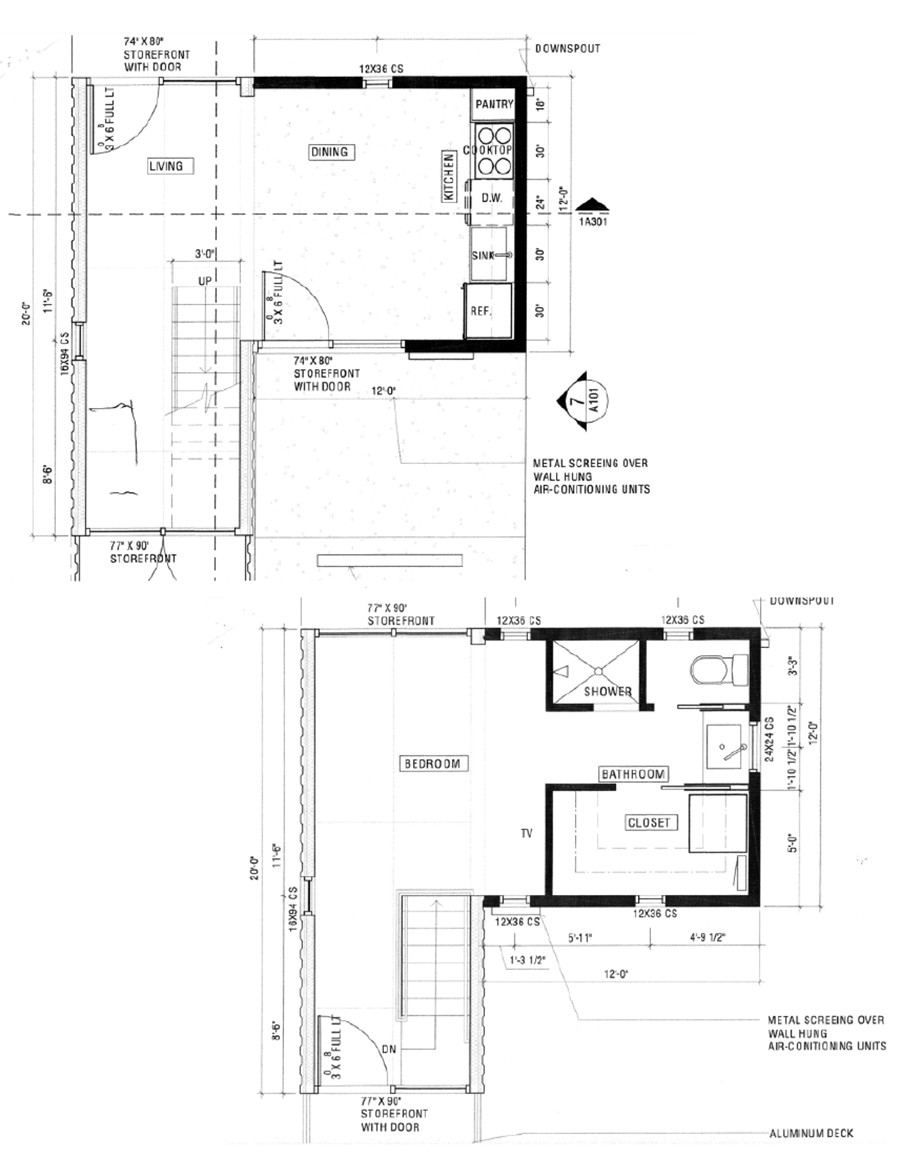 The Cargo District
It's not a new idea. Residential communities built out of shipping containers have popped up recently from Washington, D.C. to Oklahoma City to Las Vegas. But the ambitious and vision-driven Smith has more than just apartments in mind: He wants to build a community-based lifestyle. He plans to create an environment for living, working and playing in the area he and Kristof have christened the Cargo District. That means integrating homes, jobs and entertainment in this little three-block section of downtown Wilmington. It means revitalizing an existing industrial area — one that will increase substantially in value over time.
And he's seeking out the kind of people who are ready to embrace that kind of micro-economy. "Most developers build a community and make people fit into it," Smith says. "We're finding the people and making the community fit them." He's placing coworking spaces right next to living spaces, for a close-knit experience. "It's something to inspire creativity, to think differently about what you can do with building blocks," he says. The shipping containers and existing buildings are meant to meld together as if they were planned and built at the same time, while they breathe new life into a tired part of the city. "We're revamping an old section of town," says Boisse, the interior designer. "It's a huge deal, to have the resources, the vision and the heart to want to do something about that."
It may be Wilmington's first Cargo District, but it's also the city's first urban market and coworking village. The developer is in discussion with restaurateurs, food trucks and a commissary kitchen, in an effort to support local startups. "We're looking at a public, shared space that meets the health code, so food trucks can prep their food there and take it out with them," Kristof says.
In August 2016, Kristof's two companies became the Cargo District's first tenants. Inside his Coworx space are a number of small businesses that form a key core of retailers and service companies. Among them are a health care firm, a car detailer and a publisher. "The focus is to help small businesses benefit themselves," he says. "We're trying to design spaces that fit like-minded small businesses that thrive — to be a stepping stone to greater things for these companies."
The Cargo District's first phase calls for two-story apartments, built from 18 containers, 20 feet in length. They'll offer 600 square feet of living space, a full-size kitchen, bath, living room, bedroom, garden, paved patio, private balcony and off-street parking. Rents will run between $900 to $1,000 monthly. "We're making it affordable," says Chase.
The second phase is intended to include the commissary kitchen and a food truck park. Phase three will add 50 to 70 more three-story apartments built from 20-, 40- and 45-foot containers, with about1,000 square feet of living space. A bonus will be "Food Truck Friday at the Cargo District" in the community's food truck park — something Smith and company have already established, sans park at the moment.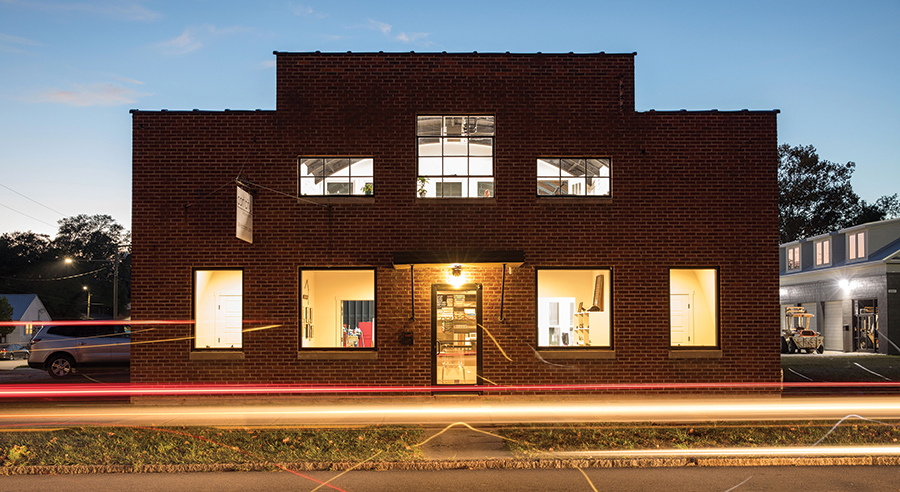 The Architecture
Castle Street is designated an art and antiques district, so the Cargo District architecture will complement that distinction — and take it a step further. "We want architecture that will be fascinating," says marketing director Chase. "Instead of just looking at art, you'll get to live in art and that's not something people get to do every day." The new apartments will be low-maintenance, urban-chic and high-end. They're not the usual shipping container housing solution — a series of stacked metal boxes with vinyl windows and doors punched into their corrugated steel skins. Instead, these will offer clean and contemporary lines. "It's up-cycled modern architecture," she says. "Normally, shipping containers are not aesthetically pleasing, but this merges functionality, art and architecture.
For that kind of design, Smith turned to Wilmington architect Rob Romero. "I'd done a little work for Leslie on something else," Romero says. "He was looking for something out-of-the-box, and I like to push the edge." One of his favorite architects is Le Corbusier, the Swiss-born modernist whose "machines for living" were famous for delivering sleek, modern residences to Europe from the 1920s through the 1960s. "This is a loose look at him and how he placed windows," he says. "I like his massing." Romero's stacking the containers and welding them together for an integral slab, then taking the flooring out and pouring concrete to lock them to the ground and to each other. "The foundation will be an engineered slab that's steel reinforced," he says. "It's an experiment in a lot of ways, and relatively innovative."
The big idea is to provide a design along the lines of Le Corbusier — and to show people how cool living in a shipping container can be. "A lot of people will be surprised, but it will be a pleasant surprise," the architect says. "It'll be streamlined, with glass and radiant flooring, nice cabinetry and lighting — it will be good quality, but on a smaller scale." Romero, who chairs the city's historic preservation commission, notes that none of the existing building stock from the 1940s, '50s and '60s will be demolished to make way for the new development. The Cargo District apartment and office complex is being designed as urban infill for existing lots. "We're not removing any other buildings," he says. That will lend an overall aura of authenticity to the entire area, and enhance its value and appeal by integrating the shipping containers into their environment, for a broader appeal. "They're for people who like being in the central area — there's safety, with fencing, parking and privacy," he says. "They're for all ages — we've gotten interest from everybody. People want to work and live there and feel safe."
His architecture is meant to be one of place-making — to create a one-of-a-kind community in downtown Wilmington, where he expects the Cargo District will become not just livable, but highly sought after. "People will feel like a team of pioneers," he says. "They'll be bonding with that area."
Before Smith and Romero tackled the development, these three blocks were a no-name area on a little piece of land tucked between industrial and residential communities. But now it's destined to become a hip, live-work-play, borderline development. And the appearance of its new apartments is more about questions than answers. "Is it a house? A building? A structure?" Romero asks rhetorically. And his response is a non-answer: "It's nebulous," he says.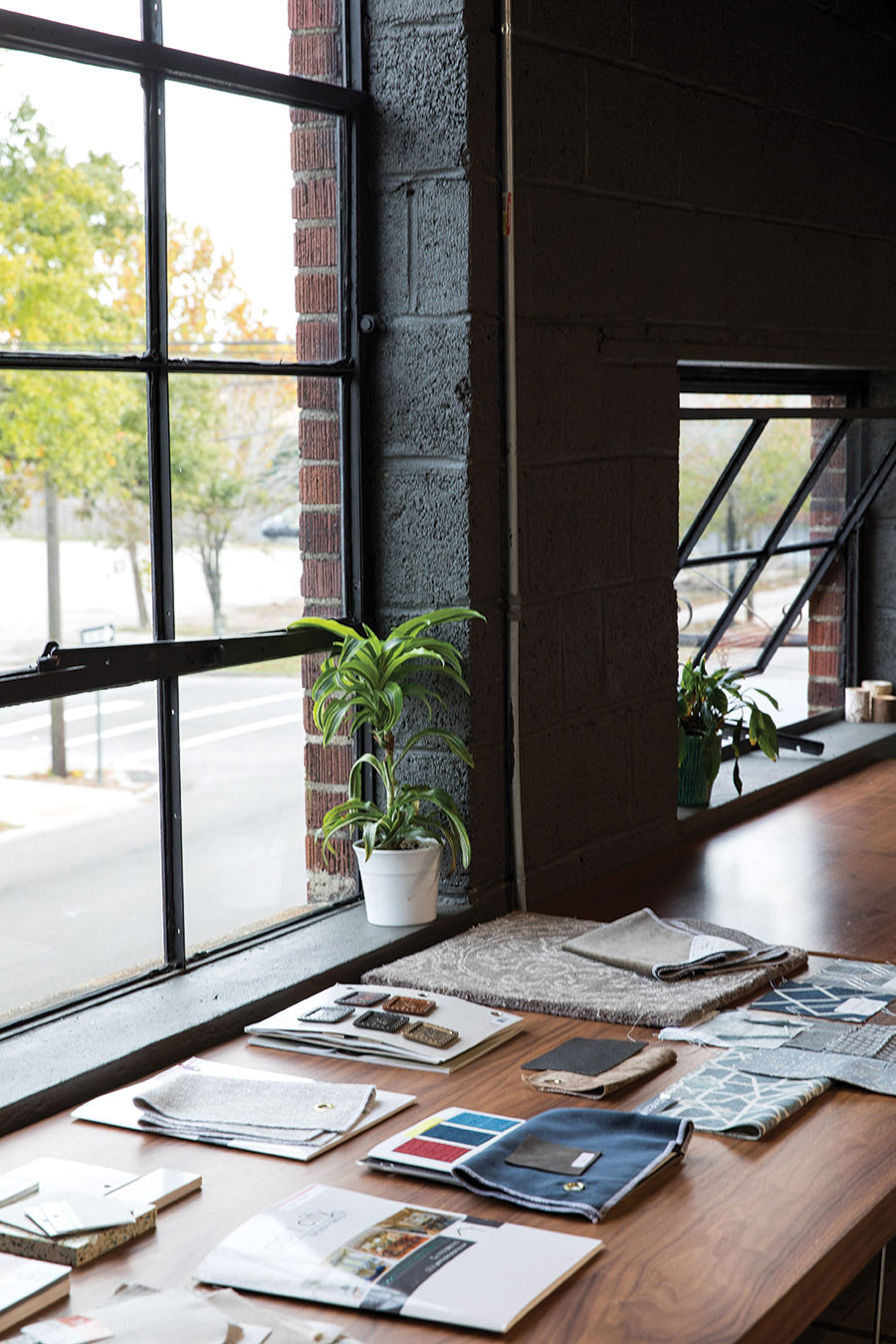 The Quonset Hut
Nebulous is the last word one might used to describe the new home for Port City Design Group. In November 2017, Boisse and her staff moved into their new Quonset hut, also owned by developer Leslie Smith, at Queen and 16th Street. They've never looked back.
Boisse, a graduate of Endicott College in Massachusetts with eight years of interior design experience, carved her new 4,000 square feet of space into a series of functional areas. There are 2,000 square feet of offices downstairs and a conference room upstairs. "It's a design loft with tables and whiteboard," she says. "We have subcontractors in the warehouse, receiving all the packaging, delivering all the jobs and hanging pictures. We're the only design firm here with everything in-house, so it's turnkey for clients from start to finish. None of it's removed, or coming from a third party."
Instead of tearing down the Quonset hut, she and Smith renovated it so that it could be part of the district's history. "We found some Quonset hut propaganda from 1947, so it's on the wall now, and we honor that history and the community," she says. "Everyone can appreciate it — it's pretty much right there when you walk in the front door."
The building was originally constructed after World War II to house a steel company, selling in 1947 for $7,000. It would eventually become home to a car dealership, among other businesses. In recent years, though, it has stood vacant. When Boisse and Smith started renovating the prefab structure, they embraced a minimalistic, midcentury modern design aesthetic. The drywall-clad walls are painted white, and the masonry walls are black. Concrete floors are gray; they introduced timber and plants for pops of color. In the loft they left the hardwood floors unfinished. "It's super-rustic," she says. And it's a hit with her clients. "Most are retirees and they all think it's cool," she says. "We have one of the only Quonset huts left in Wilmington, and it's the only one that's renovated — I'm not sure the others are in use."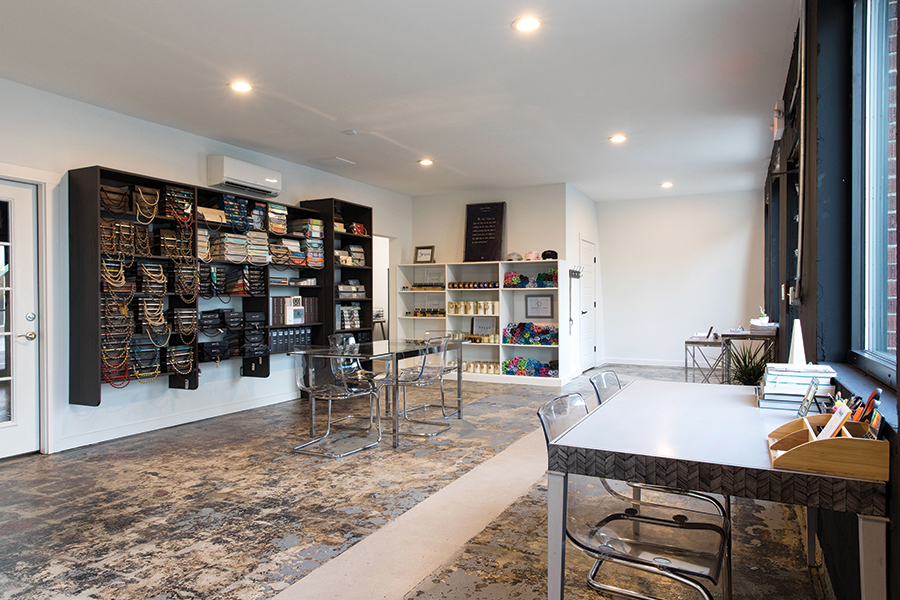 A New Downtown?
The Cargo District may be a harbinger of things to come for downtown Wilmington, which is now experiencing rapid growth in its formerly industrial areas. "This is a return-to-the-city movement like I've never seen in my lifetime," says Glenn Harbeck, who was a 27-year veteran of urban planning before he joined Wilmington as its director of planning, development and transportation. "And a mini-economy like that has got to be the wave of the future."
That's in part because the city recently and wisely liberated a number of urban lots — about 600 properties altogether downtown — from suburban-type restrictions imposed in 1984, to make it more zoning-friendly with on-street parking, enhanced landscapes and reduced setbacks. Developments like the Cargo District now are free to thrive downtown. "As far as we're concerned, if it meets the existing zoning for density and setbacks, you can expand if need be — and we're for it," he says.
That goes to show what can happen when a city, a developer and a series of like-minded tenants set out to revitalize a community, its economy and its culture — three city blocks at time.
J. Michael Welton writes about architecture, art and design for national and international publications, including Dwell, Ocean Home and Metropolis, and edits a digital design magazine at www.architectsandartisans.com. He is the author of Drawing from Practice: Architects and the Meaning of Freehand (Routledge: 2015). He can be reached at mike@architectsandartisans.com.