In a wild and natural world, says zoologist extraordinaire Karen Smith Linehan, everyone can be a child again
Story & Photographs by Virginia Holman
"Do you want to see my fort?" Karen Smith Linehan's blue eyes sparkle behind her glasses. I'm transported back to childhood, a time when friendships were forged by such simple invitations.
"Absolutely," I say. (I'd tell you the location, but I'm sworn to secrecy.)
When was the last time you made, or ventured inside, a fort? Probably about the same time you wandered through a field with a pal, looked him or her in the eye and said, "Race you!" before tearing off at top speed toward home. It's not the sort of thing you expect to hear from a professional educator in her 50s. But Karen Smith Linehan is no ordinary teacher. As the "nature teacher" at Friends School of Wilmington, she's become one of Wilmington's most invaluable natural resources.
Karen leads us down a small wooded trail in Carolina Beach State Park. The wind picks up as we approach the river. Up ahead, an Eastern kingsnake crosses our path. "Would you like me to get it so we can take a better look?" Then, just as matter-of-factly as you might turn a page, she reaches for the tail of the snake. She gently lifts it with one hand, then two.
The snake is surprisingly calm. It seems more compelled to explore its new environment than to escape. Karen's grip is relaxed, so the snake moves with ease. It wraps around her arm, then slithers toward the binoculars above her hip, forked black tongue flicking all the while. When it reaches her shoulder-length cornsilk-colored hair, she slowly lowers her hands to keep it in her line of sight. "What a beauty!" she says. The kingsnake coils around her wrists and hands, strung through them like a child's string game. We snap a few photos and then she releases it to the ground. "Thank you," she says to the snake as it glides away.
We continue walking to her fort until the path dead-ends, then we veer off into the leaf litter. Soon, we are waist-high in the grass several yards from the river's edge. Karen leads me along a strip of sand. Look west and there's an inky, deep tidal pool about 10 yards from the river's edge; look east and there's wide, grassy marsh, open as a prairie. It's so quiet here that you can hear the fiddler crabs as they scuttle through the Spartina and needlerush. We take a few more steps, and the path narrows until we reach a flooded spot where the marsh and the pond feed each other. A small plank serves as our bridge. Karen stoops to avoid a low-hanging wax myrtle — both a barrier and a point of entry to her sanctuary. "Here it is." It's a small space, far from the paths that people travel, but the perfect retreat to observe, reflect and record the happenings in this dynamic environment. Karen built her fort about five years ago, and she has been visiting this spot on the Cape Fear River for nearly three decades.
Even as a child Karen was most at home alone and out of doors. Though she grew up just 3 miles from downtown Raleigh, where her father, the pre-eminent criminal defense attorney Wade Smith, had his practice, there were a few wild places close enough to visit. Karen says her early years exploring the natural world served both as a refuge from the confusion of the world and as a place to discover its wonders. "As a child in the natural world, you have a sense that there is something unseen that is watching over you, but you don't know what that is. I think that's why you return to nature, to connect with that." It sounds vaguely spiritual, but Karen frames this connection more in terms of curiosity and inquiry. She says there's something powerful about being a child in the natural world and notes that children are often the most uninhibited creators. "When you are a child in nature, at first you don't know what things are called, so you name them." After children have, in a sense, created this world, she says they discover "the real names." In this way, she says, children begin the process of connecting and communicating the observed world with others. Karen speaks from personal as well as professional experience.
Unlike many children without regular access to natural areas, Karen knows she was lucky to be a young suburban girl encouraged by both parents to explore her outdoorsy side. Though her father was something of an amateur naturalist, "my mother," she says, "was not as comfortable out of doors; despite that, she worked very hard to nurture my interests. She allowed me to have any kind of animal in my bedroom." Snakes got loose, spider-egg cases hatched, but "she tolerated it all beautifully." Though her mother did not share her interests, Karen credits her for creating a safe space where her childhood passions could flourish. This space and openness to differences has become a key component of Karen's classroom; it's also a concept that is actively fostered at the Friends School of Wilmington.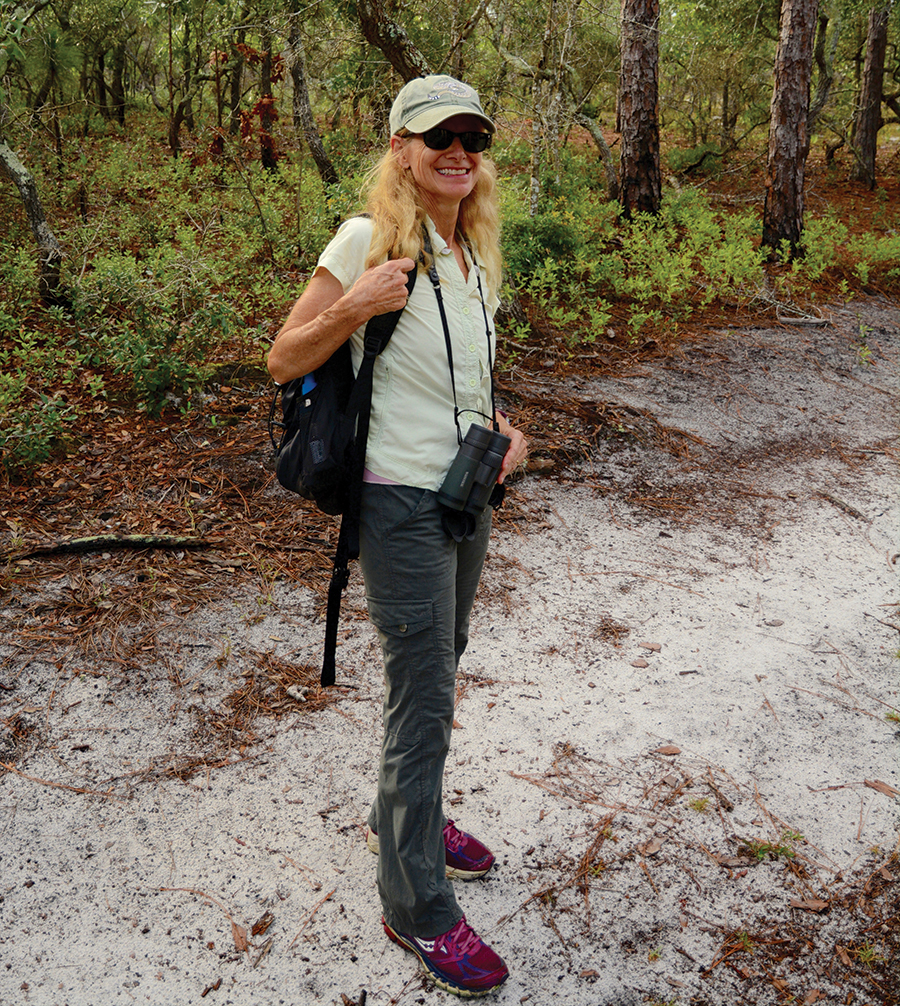 As a girl obsessed with the lives of animals, especially snakes, Karen "felt she was somehow different from most girls" her age. This feeling of separateness fostered a particular kind of loneliness. "Sometimes I was proud of this difference, but other times it felt isolating." This sense of estrangement drove her deeper into the natural world. "There were woods near my home, and a little creek. All through my elementary years, I went straight to the creek after school. It was my salvation and a sort of self-medicating strategy."
Later, as an undergraduate at Chapel Hill, she flirted with the idea of going to law school but soon discarded it to pursue zoology. Even though she was pursuing her passion, she felt a bit out of place. Her adviser said that she could only do a few things with an undergraduate zoology degree. "I was told I could go to medical school or I could become a medical illustrator. When I said I wanted to work with children to educate them about the natural world, they said I was in the wrong place, that I should be in the school of education." That path held little interest for her. She was interested in learning about animals, not pedagogy. She held fast to her dream and graduated with a degree in zoology.
Eventually, she was able to put together the life she envisioned. When she and her husband moved to Wilmington in 1989, they had an 18-month-old and she was five months pregnant. In order to retain some flexibility in her schedule, she "worked as a freelance natural science educator, sewing together a variety of jobs teaching children about nature." After she enrolled her daughters at the Friends School of Wilmington, Karen left her job as a contract naturalist for the North Carolina Museum of Natural Sciences, where she helped teachers across the state incorporate environmental learning in their classrooms, and took a job at the Friends School of Wilmington. At last, she had a classroom of her own.
Now 15 years on, Karen has mentored a generation of children. Over time, she's transformed her solitary time in the outdoors into a community of children, parents and teachers who appreciate and explore the natural world. "There many children like me who seek solace in the outdoors — who seek a kinship with the natural world." Though she laments that those natural spaces are dwindling each day, she is always looking for ways to deepen her students' relationship with the ecology and wildlife in the Cape Fear region.
Each grade at Friends School of Wilmington explores a placed-based theme to enhance instruction in math, reading and writing. "We intentionally focus on real-life subjects and issues within the Wilmington community. This year it's the Cape Fear River."
Karen and her colleagues emphasize that nature is not a destination. "It's around us all the time. All we have to do is look." The teachers help students form bonds with the animals and plants around the schoolyard by creating and maintaining pollinator and vegetable gardens, and enjoying what Karen calls a "loose parts" playground. This is a space where children can use random objects and the natural environment to create music, forts, sculptures and whatever comes to mind.
Karen also comments on the barriers women working in the environmental field can face. "As a child, I did not have many female role models who were naturalists. I knew about Rachel Carson and Annie Dillard's Pilgrim at Tinker Creek, which was published when I was 10." Karen and her colleagues are helping to eradicate this lingering retrograde sexism by example. She, her co-teacher, and their full time assistant form a trio of female teachers. Their monthly hikes are all led by women teachers, and as NC certified environmental educators they routinely handle wild animals. "We believe it is important for students to see us interacting confidently and positively with the outdoor environment."
Before we part, I take a look through my photos. I'm struck for a moment by how rare it is to see a portrait of a confident, middle-aged Southern woman out in the wild. Especially since many women now work as environmental educators, park rangers, scientists, writers and activists.
As Karen gets on her bike to head home, I think about the notion of the butterfly effect, and how small movements can lead to dramatic shifts in the environment. Karen is one such creature — moving to her own beat, extending the walls of her classroom to include the outdoors — quietly shifting the focus of the old status quo by the simple radical act of being herself, and offering children spaces where they may do the same.
Virginia Holman is a regular Salt contributor and teaches in the creative writing department at UNCW.