A motorcycle and the open road helped social worker Paula Ackermann find the way to serenity — and changed her life
By Dana Sachs
One day in 2012, Paula Ackermann walked out onto the road in front of her house and climbed onto the seat of the 2009 Suzuki TU 250X motorcycle that she'd just bought on eBay. Then, she took off.
Well, "took off" isn't exactly the right way to put it. "I puttered off," Paula tells me, laughing, over lunch one day at Foxes Boxes, a bright and stylish new eatery on North Fourth Street. "I knew nothing about bikes — how to push them, or anything." But she'd completed a motorcycle safety course at Cape Fear Community College, so she was ready to try. That first day, Paula limited herself to loops around her neighborhood, but even that abbreviated run hooked her on the sport. "It was blissful," she says.
Paula had long dreamed of learning to drive a motorcycle, but it took a tragedy to convince her to do it. A month earlier, Paula's brother had died, and his death made her consider her future in an entirely new light. "It was that whole 'fragility of life' thing," she says. "You don't know what will happen next, so I want to do the things that I care about."
In conversation, Paula is soft-spoken and thoughtful, and she has a deep, melodious voice that, in her career as a social worker, probably serves as a soothing asset. As a mental health professional, she easily makes the connection between finding a passion — in her case, cool motorcycles — and surviving trauma. It wasn't that motorcycles saved her, but that the sport gave her a new source of solace and joy. "I have to have a passion, and the hardest times in my life have been when I don't know what that is." Driving the open roads, she discovered, affected her like meditation, providing "a way of letting go of everything (I've) been thinking about. It's like peace and freedom wrapped up in a sensory experience." Soon after that first cruise around the neighborhood, she was exploring the world on two wheels.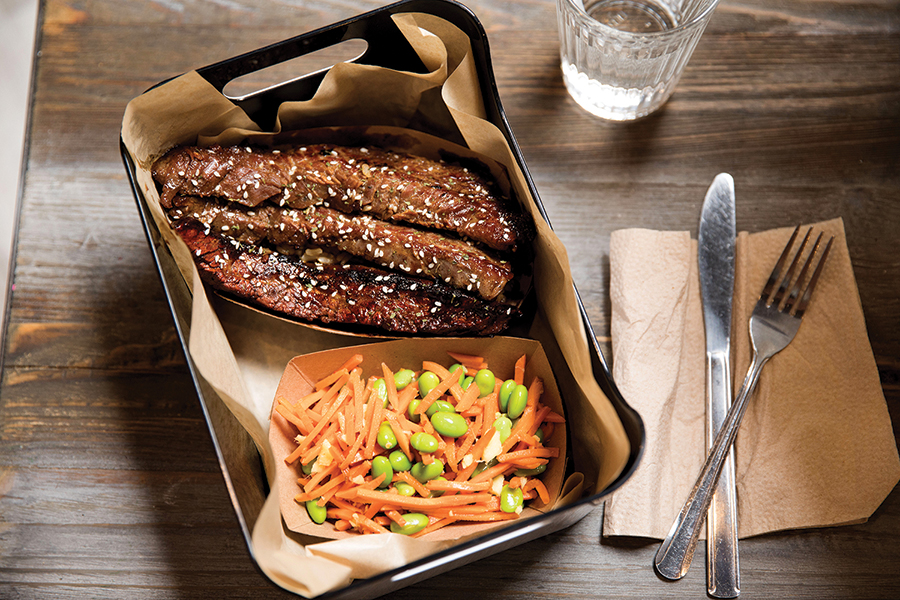 Paula named that original Suzuki 250 Gracie, because "she was my grace." Over time, her stable increased with two additional bikes, both Triumph Bonnevilles — Sophie, a 2013 T-100, and Sadie, built in 1971. (Sadie actually appeared in the film The Choice, which, Paula says, "is about the only thing that would make me watch a Nicholas Sparks movie.") It turns out that many women find similar pleasure in riding motorcycles. In Wilmington, Paula says, "I probably know 40 women riders."
There's an irony, she admits, in "doing something that's perceived as dangerous and finding it life-changing." And she doesn't dismiss the risks associated with motorcycles, either. Before getting on a bike, she dons boots, a jacket, gloves, thick jeans and, of course, a helmet. She obeys traffic laws, never consumes more than a single alcoholic beverage if she's riding, and adheres to the biker's mantra: Assume that car drivers don't see you. "You're invisible," Paula says, "so you have to make choices based on that."
Since that first ride five years ago, Paula has become a leader in the community of motorcycle hobbyists here in southeastern North Carolina. In 2015, she organized Wilmington's first Distinguished Gentleman's Ride, an international event that takes place every September and raises money to support prostate cancer research and men's mental health. Paula also founded the Cape Fear Kick Down, a motorcycle show and swap meet that launched last year at Satellite Bar and Lounge on Greenfield Street. "The goal is about community," explains Paula, who measures the event's success not only by the number of bikes on display (hundreds) or the range of styles (vintage bikes, classic choppers and modern retro), or the amount of beer sold (a lot), but also by the crowds of people engaged in bike-related conversation. In other words, it thrilled her to hear, "Oh, do you have that fender? I need that one!"
It seems fitting to talk about life changes and discovering new passions while eating lunch at Foxes Boxes, a restaurant that provides on-the-job training to people entering the workforce from marginalized communities. The menu mixes healthy fresh fare with beloved comfort food, often uniting both in a single dish. The straightforward, simple Bacon, Egg, and Cheese Waffle Stack, for example, tastes as hearty as an Egg McMuffin but doesn't leave you worrying about artificial ingredients. We also tried the Chicken with Brie and Pear Chutney, a grilled split breast covered in a layer of melted cheese and chunky preserved fruit. To Paula, the mix of sweet and salty were "not really my flavors." As someone who smears jam on a turkey sandwich, however, I loved it. While I concentrated on the chicken, Paula picked up a roasted green bean, snapped it in half with her teeth and declared, "nice and crunchy, not overcooked."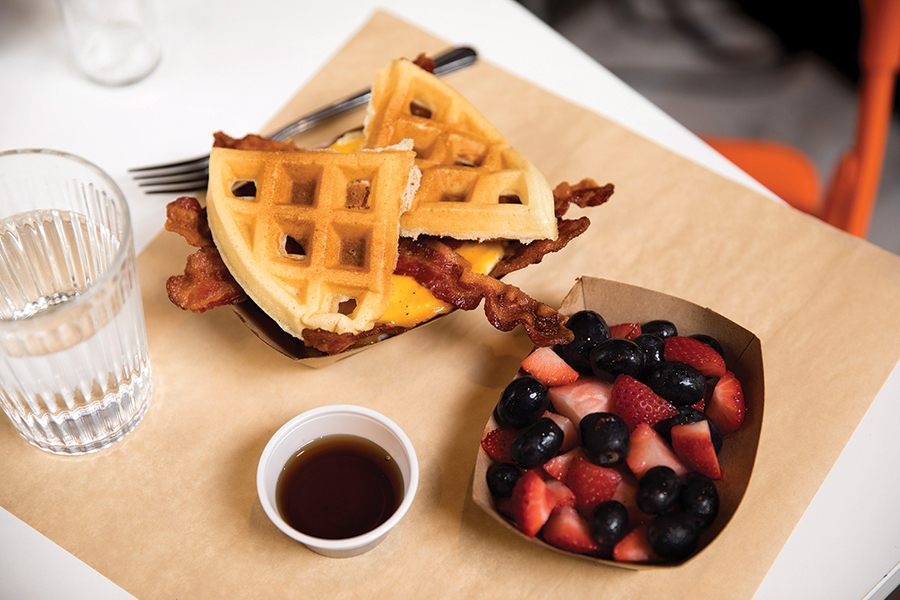 Paula did not arrive at Foxes Boxes on the back of Gracie, Sophie or Sadie. Earlier this year, she began suffering from severe vertigo, which led to a diagnosis of Meniere's disease. The dizziness associated with the condition has restricted her ability to ride a motorcycle long distances, and she often takes a car in situations when she might previously have ridden. "You can't ignore what's happened or pretend it didn't happen. You have to go through it," she tells me, but she firmly rejects the notion that we lack control over our own lives. "I don't believe that 'everything happens for a reason,'" she says. "We have a lot more power than that idea gives us credit for. We create our own story."
As it turns out, motorcycles remain central to Paula's story, even if she's not taking long rides these days. After her diagnosis, Paula worried that her health issues would prevent her from organizing the second annual Cape Fear Kick Down. "I'm not running at my full capacity and couldn't ramrod it," she explains. As it turned out, her fellow bikers were there when she needed them. After Paula disclosed her situation, people who had helped out last year came forward to take on extra responsibility to ensure the event's success. Paula still managed to participate, but she could do so at her own "new speed."
These days, Paula continues to ride motorcycles when she feels up to it. As for the future, she approaches it with an equanimity that might stem, in part, from her love of new discoveries. "I'm not tied to doing one thing for the rest of my life," she tells me. "I wouldn't like that."
The Foxes Boxes is located in the Brooklyn Arts District at 622 North Fourth St. For more information, visit thefoxesboxes.com, or call (910) 769-0125.
Dana Sachs's latest novel, The Secret of the Nightingale Palace, is available at bookstores, online and throughout Wilmington.