They picked a historic house — or did it pick them?
By Isabel Zermani   •   Photographs by Rick Ricozzi
"Everybody comes here by accident," says Sydney Penny, actress and former Azalea Festival Queen who was first bewitched by our town in 1997, when she came to film a movie titled — of all things — Enchanted. Chance encounters have brought Wilmington many of its finest residents, some who leave only to be drawn back, others who visit once and can't bear to go. Her husband, Robert Powers, agrees: "It's a strange vortex."
"Xanadu! Brigadoon!" chimes Penny.
Powers recalls the logic of why the couple chose to relocate here 12 years ago: "There's no other coastal city that has the infrastructure and the beach." But he was charmed on the first visit, Penny reminds him: "You said, 'Keep your eye on Wilmington.'"
Perhaps 'twas the same subtle powers that drew the couple to their historic Queen Anne home on Fifth Avenue in the sphere of Saint Mary's Basilica and the Tileston Center. Penny recalls seeing the photos while in L.A. when Powers was scouting homes. "I kept seeing this house . . . I couldn't get past this house," remembers Penny. The fireplace in the kitchen, the stained glass windows, the breathtaking twin stair that leads up to a landing. "I always imagined someone getting married there," she says. "Maybe it calls to you. It chooses you."
The house was built in 1890 by Dr. James H. Durham, a dentist who practiced at 114 Princess St. The Wilmington Messenger printed a happy notice of the move-in day on August 6. A society column from 1905 praises the family and mentions a "dance and bowling party" for his daughter, Miss Nellie, hosted at Lumina on Wrightsville Beach.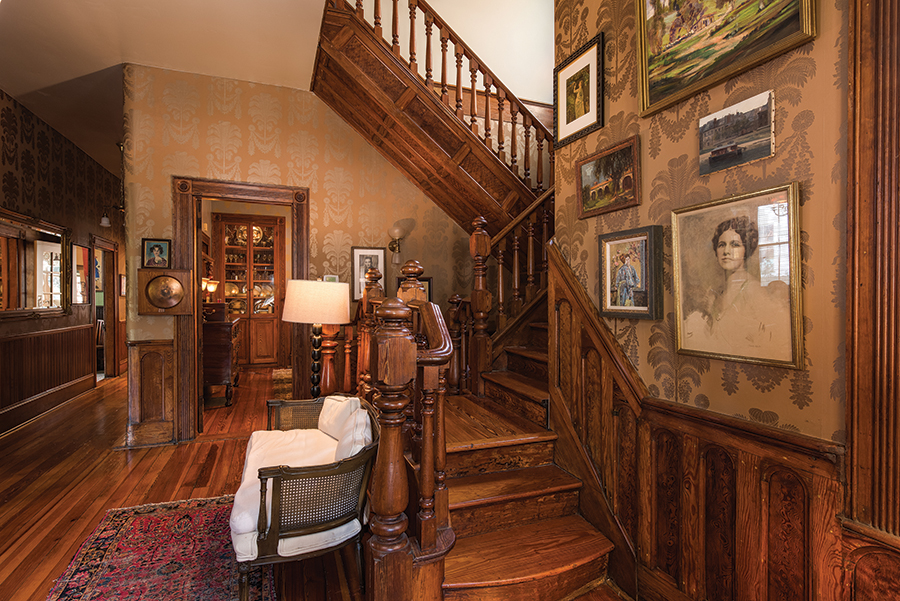 The Historic Wilmington Foundation plaque reads: "Durham-Davis House," also honoring Charles B. Davis, a clerk for the Atlantic Coastline Railroad. Davis acquired the house in 1923 after a brief possession by William McEachern (who appeared in last month's "Story of a House" as the banana importer who kept pet monkeys). The Davis family owned the home until 1966. It did not lack for visitors.
"It became a boarding house," says Powers, standing in the foyer, where gleaming heart pine floors and skirting show no signs of this chapter of heavy use. Nail holes in the 10-foot pocket doors were found where plates with the room numbers had been tacked on. It's tough to imagine now, post-preservation award, but the city directory lists the names of salesman, seamen and seamstresses, clerks from the Great A&P Tea Co. and the Grand Five Ten and Twenty-five Cent Store who all passed through this great and grand Victorian home.
And some return to visit their memories.
"A couple of guys — " starts Powers.
" — They were brothers — " says Penny.
" — used to come every year," continues Powers. "They were the Davis children. They grew up here." They slept in bunk beds in the kitchen. Their laundry crisscrossed overhead from the second floor to the carriage house. Out back, a garage built from an old carriage house photograph gained the approval of HWF, but more so, the neighborhood matriarch, Mrs. Dolly Pearson.
Another man, who had grown up next door and then, as a newlywed, rented a room in the house, returned just to touch the past. Often there's a Peter Pan quality to the drop-ins. "My favorite story about the boys who come to visit — I call them boys because of the way their faces change when they see the house — is about the pecans," says Penny. Huge pecan trees still tower in the backyard. Apparently, Mrs. Davis told one boy he could help himself to enough pecans to fill his pockets only. The enterprising lad promptly cut holes in them, cinched up his knickers at the knees and proceeded to stuff his pant legs to the shape of Elizabethan breeches.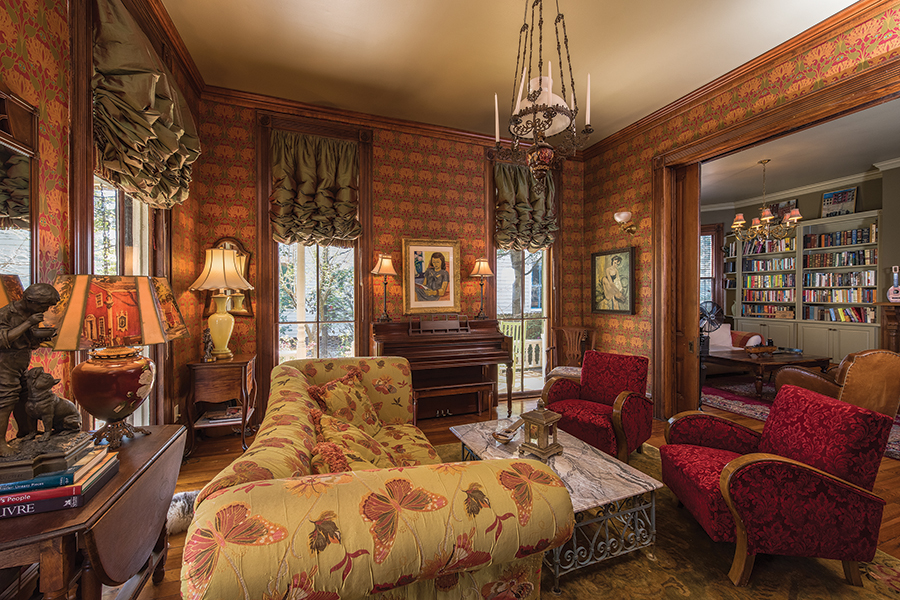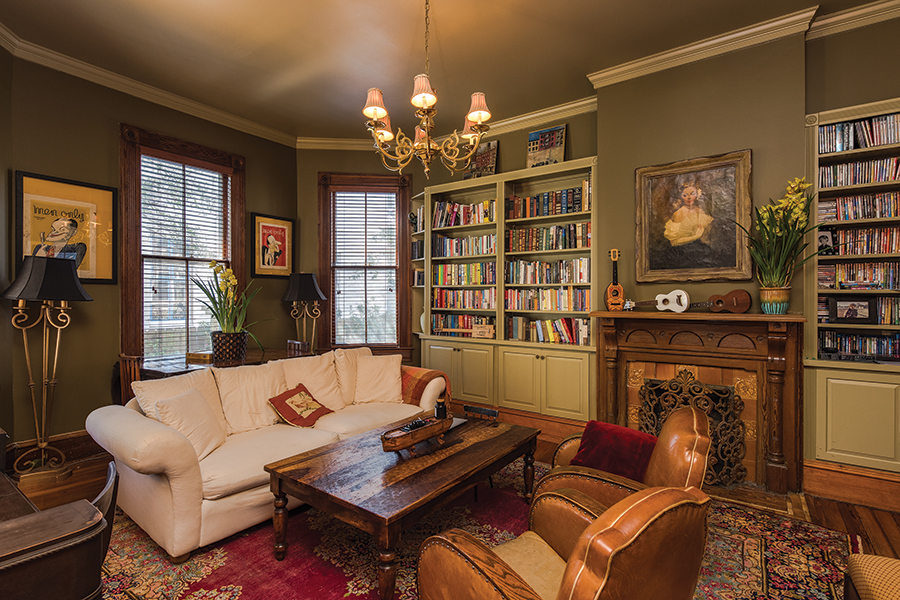 Like many visitors from the old days, they tend to come to the side door. Wrap-around porches, typical of a Queen Anne, arrive at a separate door for family (or, at times, an office).
On especially hot days, the triple hung windows would have been opened and used as throughways. Heating and cooling has been on the mind of every homeowner, as evidenced by the nine coal fireplaces and 1915 copper thermostat — rigged to a boiler in the basement — that controlled the temperature, releasing steam from a valve once the copper disc was sated. Guests often mistake this for a dinner gong, but it was once the height of technology.
Downstairs the bath reflects its own golden age. "All the rage of the '90s . . . the 1890s, that is!" vamps Powers. A classic claw-foot soaking tub on black and white hexagon tile is elevated by the room's Asian-inspired elements. Japanese prints influenced the major painters and graphic artists of the period, and it would have felt — as it does in this context — exciting and alluring.
True to the period, with a twist, Penny and Powers committed to a Victorian palate. The wallpaper, by Bradbury & Bradbury, reflects motifs like a decorative palm, but in a metallic gold. The front parlor paper is a period reproduction print that recalls the preserved-by-a-miracle pink tile in the ornate fireplace. One can admire the spindle work from matching red velvet club chairs. "It has the original overmantel," says Penny gleefully, a very commonly lost crowning glory. Though not original, the majolica chandelier oil lamp is period and lit "on special occasions." A séance, perhaps?
The drama is not lost on Penny, perhaps most famous for her role as Julia Santos on All My Children. A child star of such films as Clint Eastwood's Pale Rider, the actress reached "a funny point in my career: an awkward age, not a lot of roles," when first asked to audition for a soap opera. "I never thought they'd hire me! They did." NBC's Santa Barbara lasted one season — though it earned her an Emmy nomination — but it introduced her to Powers, who was working in production and changed the direction of her career. "Never say never," says Penny, who extols the camaraderie of some the hardest working actors in the biz.
A portrait of Powers' great aunt, the actress Helen Wagner, hangs above the piano. Daytime royalty, she played Nancy Hughes on As the World Turns for 50 years.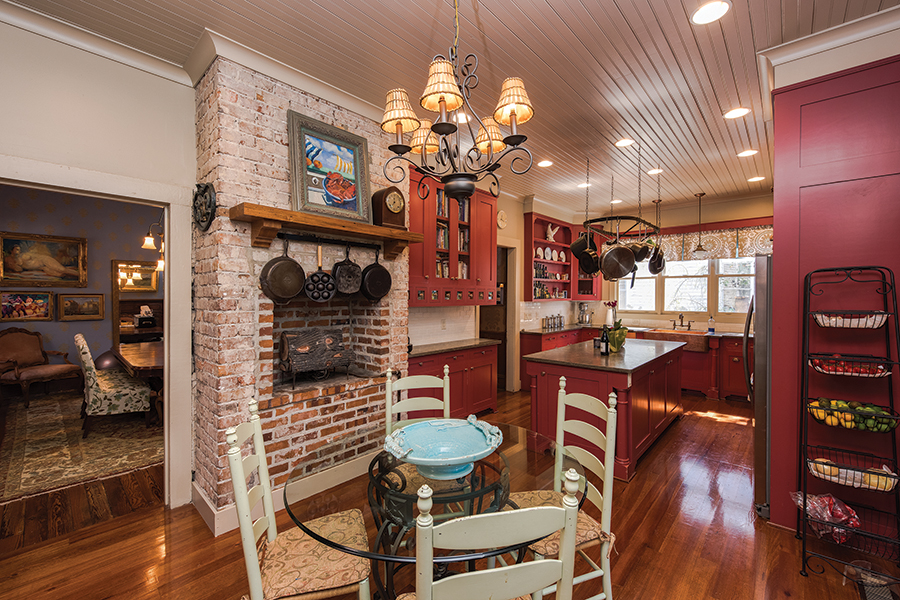 Nods to the classic age of Hollywood also abound. Not only do they display original graphic art by Rea Irvin (first art director of The New Yorker), and show poster originals, but Powers' own paintings draw inspiration from the early days of entertainment. "I don't let him sell them," Penny says of Powers' hyper-detailed watercolors. One scene shows a wrestler and a barker with a megaphone drumming up an audience outside the Fox Theatre in Santa Ana. Each character is imbued with inner life, and Penny and Powers improvise their voices. Another turn-of-the-century-style watercolor of Powers' is a beach scene from Newport Beach in 1918.
His recent paintings are oils, but similar in subject: people and water. "Rob's from Laguna Beach," says Penny. "He, like Chasen (their son), is a water guy." The new paintings are reminiscent of David Hockney's pool series, but with more joy. The figures are leaping, suspended in reverie.
"I'm an actress," explains Penny. "I'm an interpretive artist. Give me parts, I'll build you something. What he does terrifies me. A blank canvas."
"It's the exact same thing," Powers insists. "I see pictures, you see words." Penny is not convinced. Their banter is as charming and watchable as a vaudeville duo.
Powers' painterly sensibility pervades the home inside and out. The exterior gray-greens lend an understated mystery to the gingerbreading and showcase the backlit stained glass. Pops of color on the porch furnishings can change to match the season, as does the landscape. A bountiful border of hostas soaks up the shade, while the Southern sun feeds a stunning display of old growth azaleas. A single palm stands out front.
Botanical and Audubon prints carry nature indoors, as do built-in bookshelves in the back parlor painted a strong green — as if an answer to the dark rose color and ballooning silk drapes of the feminine front parlor. "Like Maxim's in Paris," says Penny. The languid longhaired cats, Percy and Mr. Darcy, are straight out of central casting. A French blue dining room displays impressionist paintings and a stately table with inlays, one of the few pieces they moved from California, where they'd restored both a 1923 Prairie and 1933 Spanish-style home.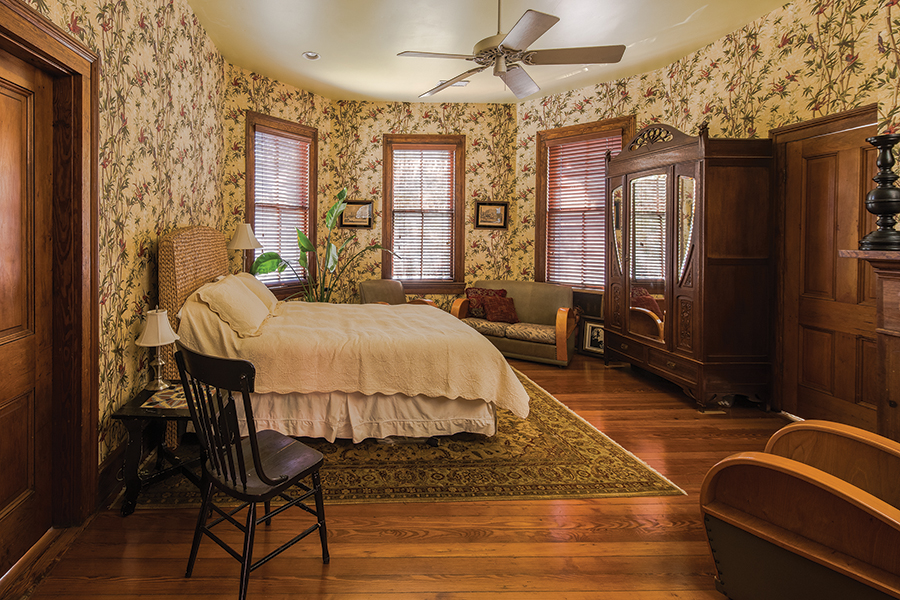 Upstairs the bedrooms take on neutral tones, clay yellow, linen white and slate. Off the master is a cozy sitting room with a Victorian daybed overlooking the garden. "This is my treehouse view," says Penny. "I love the feeling of being perched."
During their initial renovation, they doubled the size of the kitchen and added a screened-in dining porch, but preserved the ornamental hearth that called to them. Red custom cabinetry, a copper sink, a limestone island, and other chef's kitchen elements make one salivate — or could that be the ribs smoking?
Not only do Penny and Powers love to cook, Powers trained at the Cordon Bleu in Paris and owns his own line of barbecue sauce, Curly's Q. Out back is a wood-burning pizza oven and barbecue, where the couple serve up homemade pizzas by the dozen for large parties.
Recently, they took on a new food endeavor: buying the beloved Jester's Cafe just a few blocks over on Castle Street. "Our home down the road for 12 years," says Penny. "We thought if Jamie (the previous owner) really wants to move on, we better buy it so it stays." Powers, who has been cooking there for some time, was a natural inheritor (after all, who do you think "Rob's Club" on Jester's menu was named for?). The couple wants to assure devoted diners they don't intend on changing Jester's, just adding a few specials and "freshening" the look.
Since being crowned Azalea Queen in 1999, Penny has played many roles (on and off screen) in our enchanted city, but says she feels like "I'm shifting gears." A lifetime in showbiz isn't likely to fade, but what gets Penny most excited now is off-camera. Next year she will chair the Azalea Garden Tour, a first for a queen. Standing in her garden surrounded by the blooms she once reigned over, Penny delights in saying, "I'm being a mom, being a wife, being a business owner. I'm not playing one on TV."