God talk and divine crepes on Front Street
By Dana Sachs
At Betsy's Crepes on Front Street, Vic Frederiksen and I start talking about God. Vic serves as priest of St. Mark's Episcopal Church downtown, so God is his business. Somehow, though, I didn't expect to talk about God. I expected to hear the history of his church, which is old (148 this year) and gorgeous (hand-carved wood, no nails in the ceiling, all dovetail joints) and home to one of Wilmington's most storied congregations. I also wanted to hear what it's like for Vic, who is white, to lead a predominantly African-American church, as he has been doing for the past 11 years.
But, first, God.
People who go to church, Vic tells me, are "looking for God. They want to find God and they want to be found by God." Episcopalians, he explains, find the "real presence of Christ" through the Sunday sacrament of bread and wine. "It's a mystery. We don't know how it happens, but it strengthens us and provides us spiritual direction." Catholics and Methodists also take the sacrament, he adds, but regard it in different ways. Catholics describe the sacrament as literally consuming the blood and the body; Methodists conceive of the ritual symbolically, as a memory of the blood and the body recalling the Last Supper. Episcopalians fall somewhere in between, believing that the taking of the sacrament transforms bread and wine into the blood and the body of their Lord.
I find these distinctions interesting, but Vic is less concerned with differences than with similarities — not just among people who take the sacrament, but also between people of all religions. "I believe that everybody is searching for God," he says. "They may not be looking through the same window, but they see the same thing."
This conviction about the things that connect us as human beings may, at its core, explain why Vic has successfully led a black congregation for so many years. "I don't even see color," he says, but he's also fully aware that, as a white man, "I don't presume to speak for the black experience." Talking with his parishioners, he'll sometimes say, "You're going to have to help me understand it."
Vic came to St. Mark's following a career as both a congregational priest and a chaplain. For nine years, he served at Cincinnati Children's Hospital Medical Center, where his chaplaincy brought him into contact with very sick children and their families. "My first day," he tells me, "I lost four kids." And that was typical. He regularly had to help parents making excruciating decisions. Some, in agony, would turn to him and ask, "Is God going to agree?"
"I don't know," he'd answer, "but whichever way you go, God is with you."
Over time, Vic came to see life itself as being intimately connected to Christianity. He regards the Pascal Mystery — the story of Jesus' arrest, trial, crucifixion, entombment and resurrection — as, at its core, the story of the human experience. Trauma — be it grief, illness, addiction, divorce — is itself a crucifixion. "It's not a question of whether you're crucified, but when you're crucified. Something has to die. Without death, there is no life."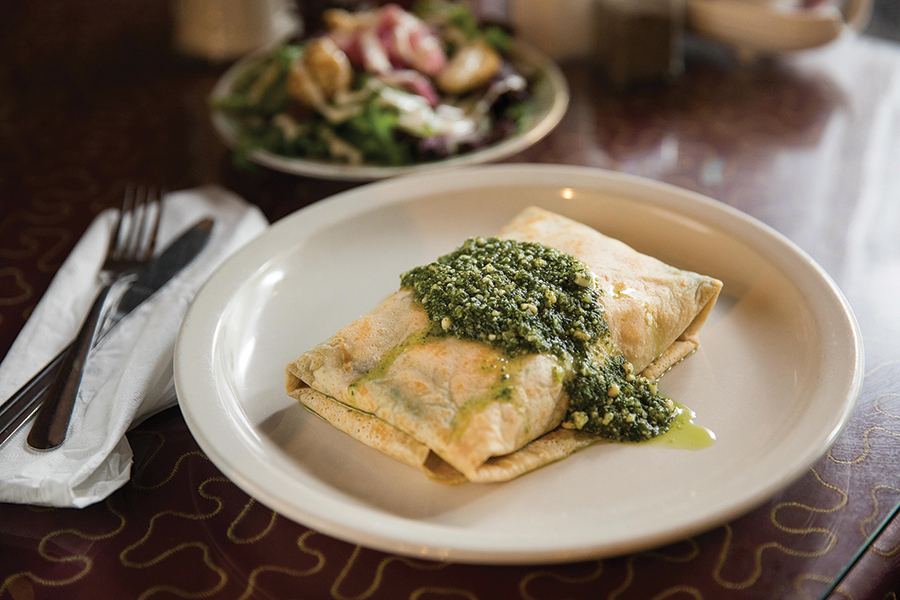 At the children's hospital, Vic tells me, "There was never a day when I left and I'd say that it didn't matter." The experience, however, wore him down. One day, while trying to minister to a very sick child, he realized he "felt nothing at all." He saw the lack of feeling as a sign that "I couldn't do it anymore." He resigned the chaplaincy and returned to congregational work, ending up at St. Mark's in 2006.
Once quite large, St. Mark's is now a small, tight-knit community of about 100 members. Vic says that "most of them now are, like me, gray-haired, on fixed incomes, don't like to drive at night." They are also deeply committed to social justice. After a white supremacist murdered nine people at Charleston's Emanuel A.M.E. Church in 2015, St. Mark's held a vigil for the entire Wilmington community.
Members volunteer in assisting teachers at a local elementary school. And, when they cook for homeless people, congregants and their guests sit down and enjoy the meal together.
Food plays a big role in the life of the church. After funeral services, the congregation holds a "repast" for everyone attending and, Vic tells me, "the food just keeps coming out. Rice and gravy, turkey wings, fried chicken, black-eyed peas. We've got cobblers. We've got butter beans." Early on during his time at St. Mark's, Vic proved himself to be such a fan of Southern slow-cooked vegetables that one of his parishioners told him, "We knew you were all right when you went for the greens."
At Betsy's, he goes for everything. We start with a Parfait Crepe — tart yogurt hidden within a crepe topped by blueberries, strawberries, banana slices and a crumble of granola. "Beautifully done," Vic says. He starts to put his fork down, then changes his mind. "Stay with this one," he tells me.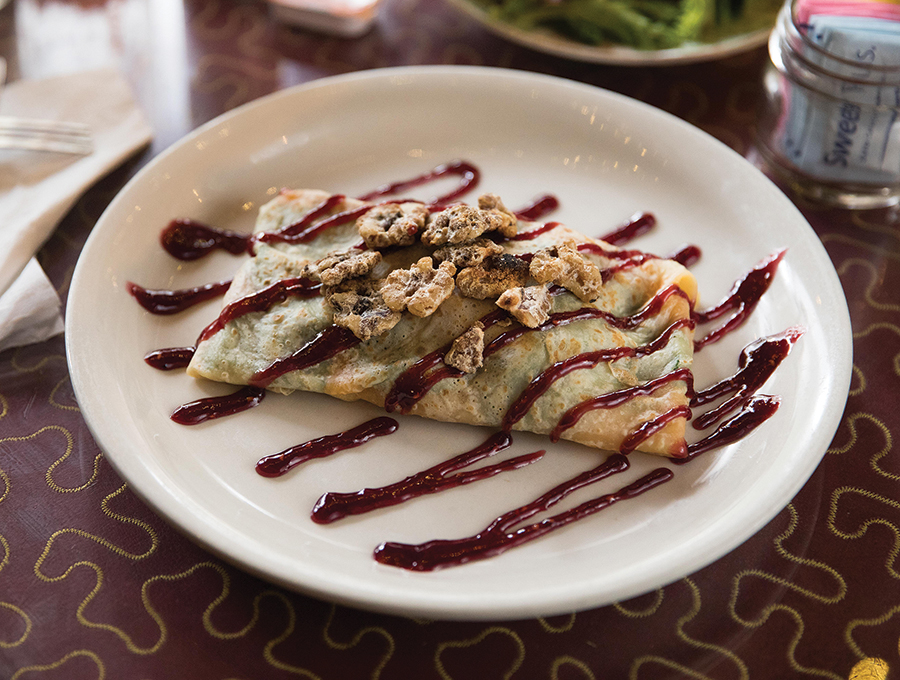 Betsy's crepes play with texture and color in unusual ways. The La Turquie, for example, contains chopped turkey and bacon, sautéed onion, tomato and chunks of feta. A dollop of pine-nut-speckled pesto covers the crepe, creating an unexpected combination of flavors that, somehow, remain sharp and distinct. Similarly, the dessert crepe Le Sweet Gabby is filled with melted Brie, a robust cheese that balances the sweetness of strawberries, brown sugar and honey.
At St. Mark's, Vic regularly performs a Healing Service at which parishioners come forward looking for solace and healing. "What do you want me to pray for?" the priest will ask before anointing foreheads with oil, the "Christmation" ritual that he calls "an outward and invisible sign of an inward and spiritual grace." It's a kind of spiritual medicine — "no magic, but mystery," he says.
In the end, Vic's path makes room for both the sublime and the practical: the divine strawberry and the earthy Brie. After his Healing Service, he makes clear, for example, that religious worship does not replace good medical care. "Now go home," he'll tell his parishioners, "and take your insulin."
Mark's Episcopal Church is located at 600 Grace Street in Wilmington. For more information, call (910) 763-3292.
Dana Sachs's latest novel, The Secret of the Nightingale Palace, is available at bookstores, online and throughout Wilmington.