A Landfall house takes its design cues from France
By William Irvine   •    Photography by Andrew Sherman
Finding a decorator can be a tricky business, and often comes down to the counsel of stylish friends or a visit to a spectacular house and making an inquiry. Raleigh resident Linda Baddour knew about Paysage, the home design store in Wilmington, but she had never met its talented owner, Gigi Sireyjol-Horsley. Then, when Baddour found the perfect house in Landfall, she took a trusted friend to see it. Her first comment? "You are going to need Gigi in here." Crisis averted.
But they were not starting from scratch. The exterior of the house resembles a streamlined, modern version of a French chateau with a painted white brick exterior. You enter through a pair of solid oak doors flanked by topiaries and baroque-style sculptures of putti. Very French indeed. "The house had very modern decorating, and so we switched it all around," says Gigi as we enter the sweeping entrance hall, where a visitor is greeted by a pair of purple velvet bergeres underneath a large pier mirror.
Gigi leads me down the hall to a pretty powder room, which has been transformed into an aviary with a lively wallpaper of birds. "I added copper tiles to frame the walls in here—it gives a lot of character to a small space."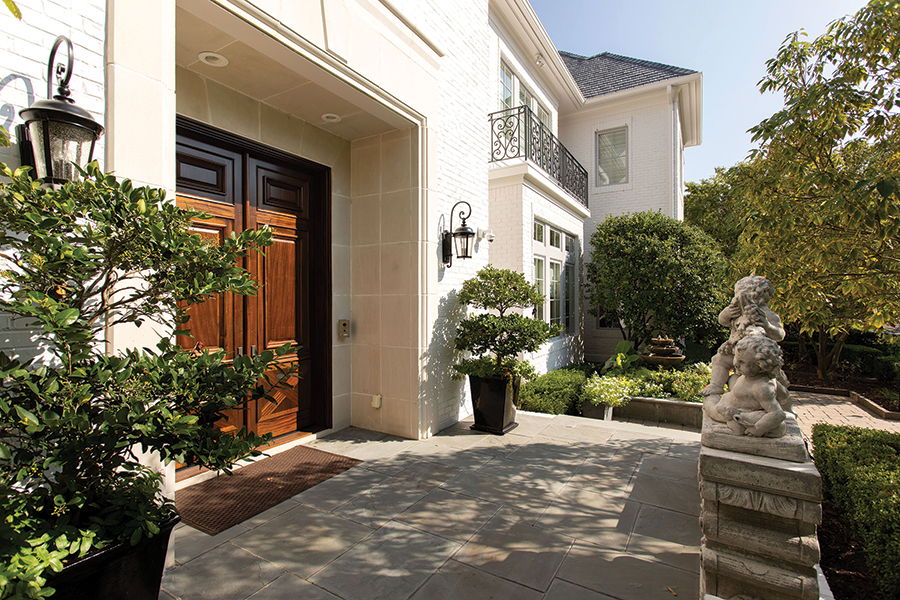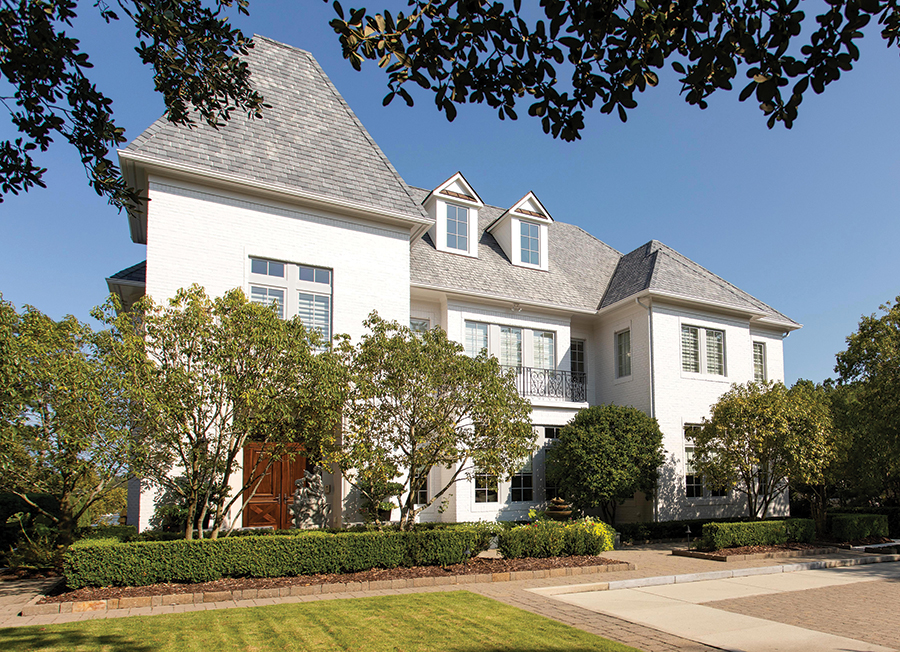 The house's 14-foot ceiling heights create a level of spaciousness that influences all the rooms on this floor. There is an en-suite guest room with a mammoth bathroom tiled green; the attractive bedroom in soothing creams and greens features an antique French chest. The bed is flanked by a crazy pair of crystal and gold-toned lamps with parrots. "You know who also had these lamps?" Gigi says with a glint of conspiratorial mischief in her eye. "Michael Jackson!"
A formal living room reveals a cool, calming palette — a serene balance of gray sofas from E.J. Victor sit atop a large faded Oriental carpet. Above the fireplace is another work by Peggy Vineyard "but it's actually a framed print that conceals a TV," says Gigi. Flanking are shell-inspired mirrors and demilune consoles from Baker. On the table is a large shell-form piece by North Carolina sculptor Marty Allran.
The adjacent dining room is also a show-stopper, a nice balance of modern pieces in a space that maintains an airiness, with a feeling of French elegance. A Baker table is surrounded by cream-colored chairs by E.J. Victor. But the centerpiece of the room is an over-the-top 19th-century crystal chandelier with bead and flower-form crystals. On the wall is a large abstract painting by Peggy Vineyard; in the wall, wheat-sheaf-style gold sconces from Visual Comfort.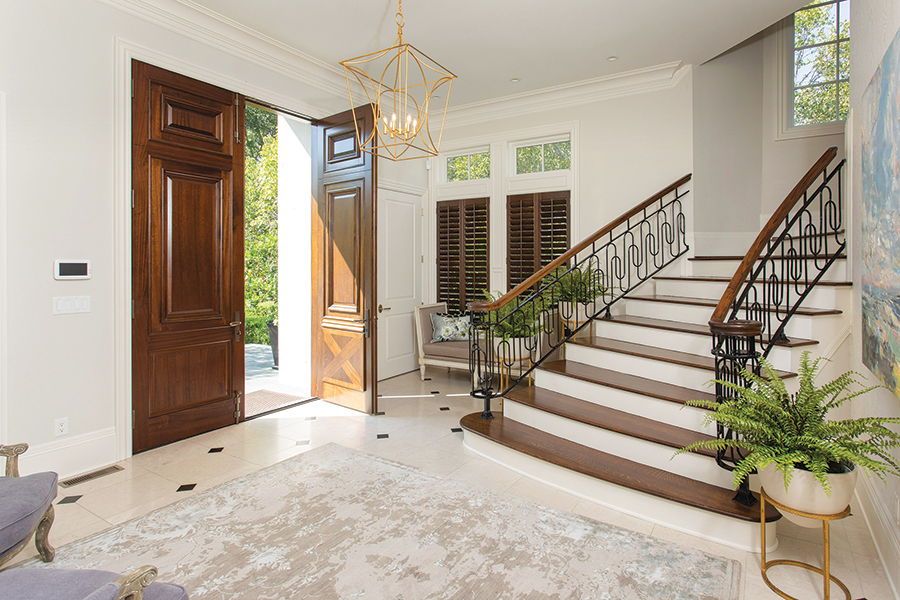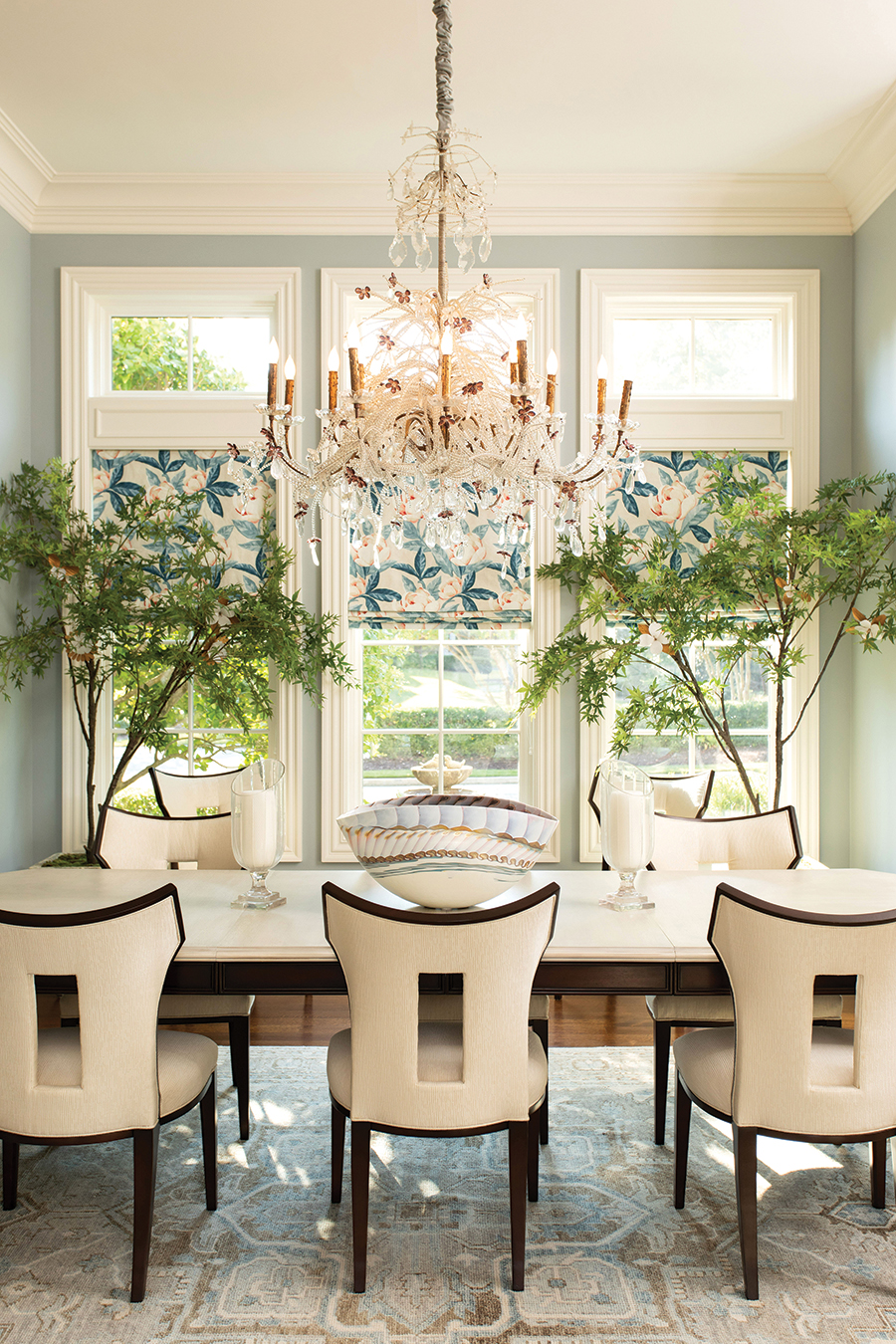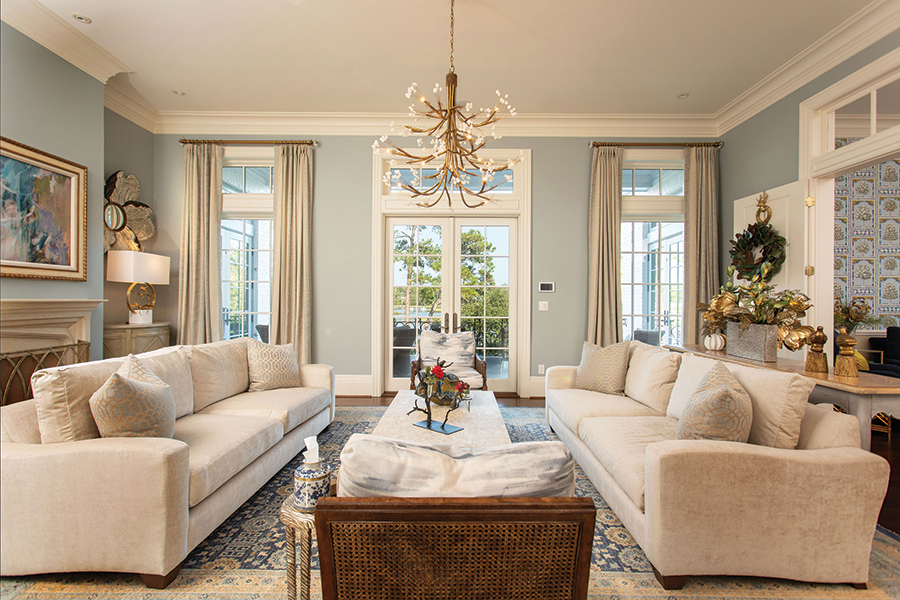 In the kitchen, one is first greeted by an elegant wallpaper of topiary trees in individual frames. "Linda's mother is from Egypt, and I wanted to find something that evokes Morocco in the design," says Gigi. The kitchen island is dominated by two large custom-made Ralph Lauren lanterns with carved glass, reminiscent of lighthouse lamps. The result is a room that seems both spacious and shipshape. "I also replaced all the hardware in here with brass, which unifies the space and is more elegant," she says.
Off the kitchen is a casual dining room for informal entertaining with a wall of French-waxed gray cabinets and a wet bar with a countertop of ambrosia maple, river-bottom wood with insect holes that give it a distinctive patina.
Both the first and second floors have living spaces that take advantage of the water views of Howe Creek, a tributary of the Intracoastal Waterway. The upstairs is a soothing spot, with a Lee Industries sand-colored sofa and reclining leather chair, the latter looking like the most stylish La-Z-Boy of all time. There is a commodious ice-blue round ottoman, also from Lee Industries.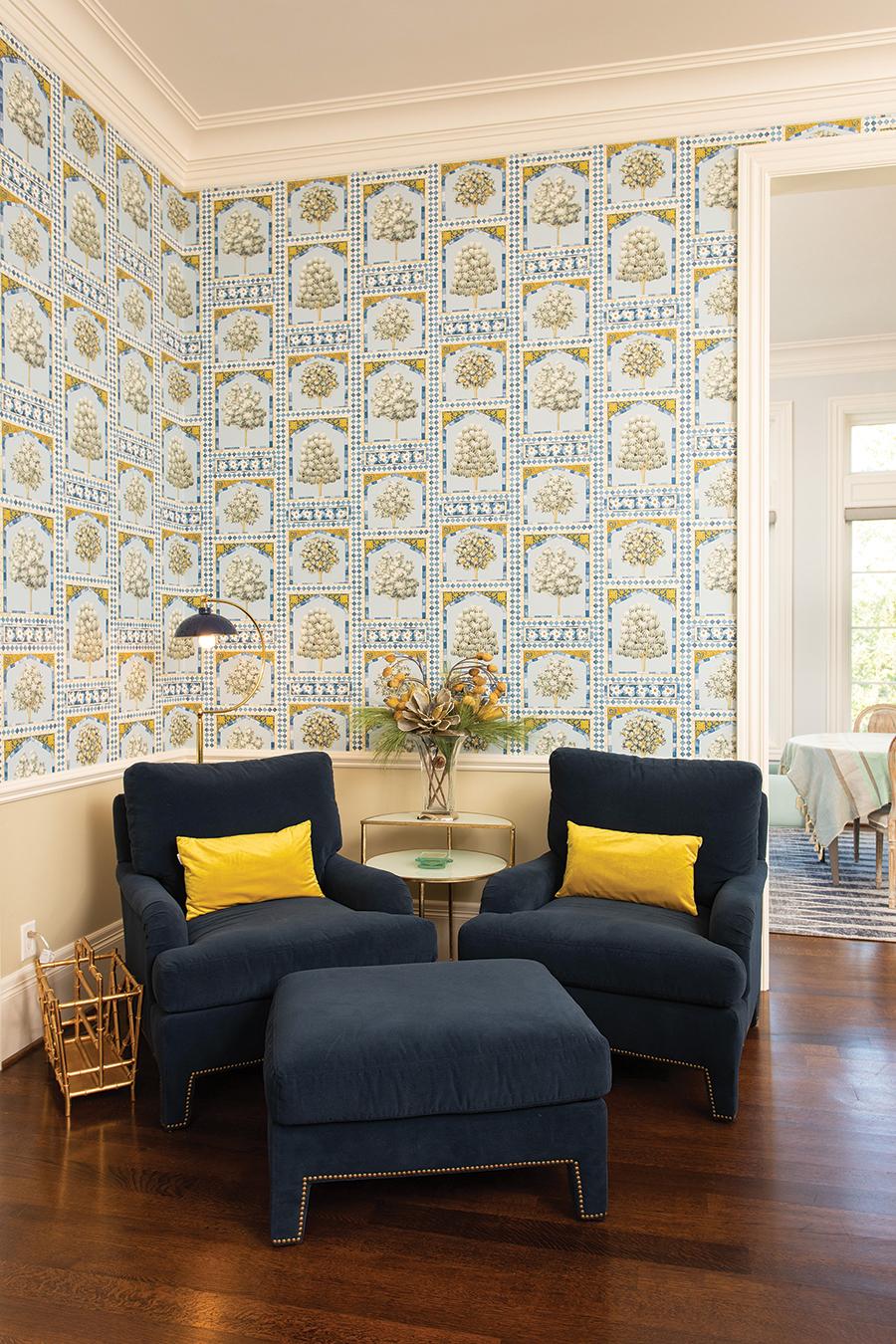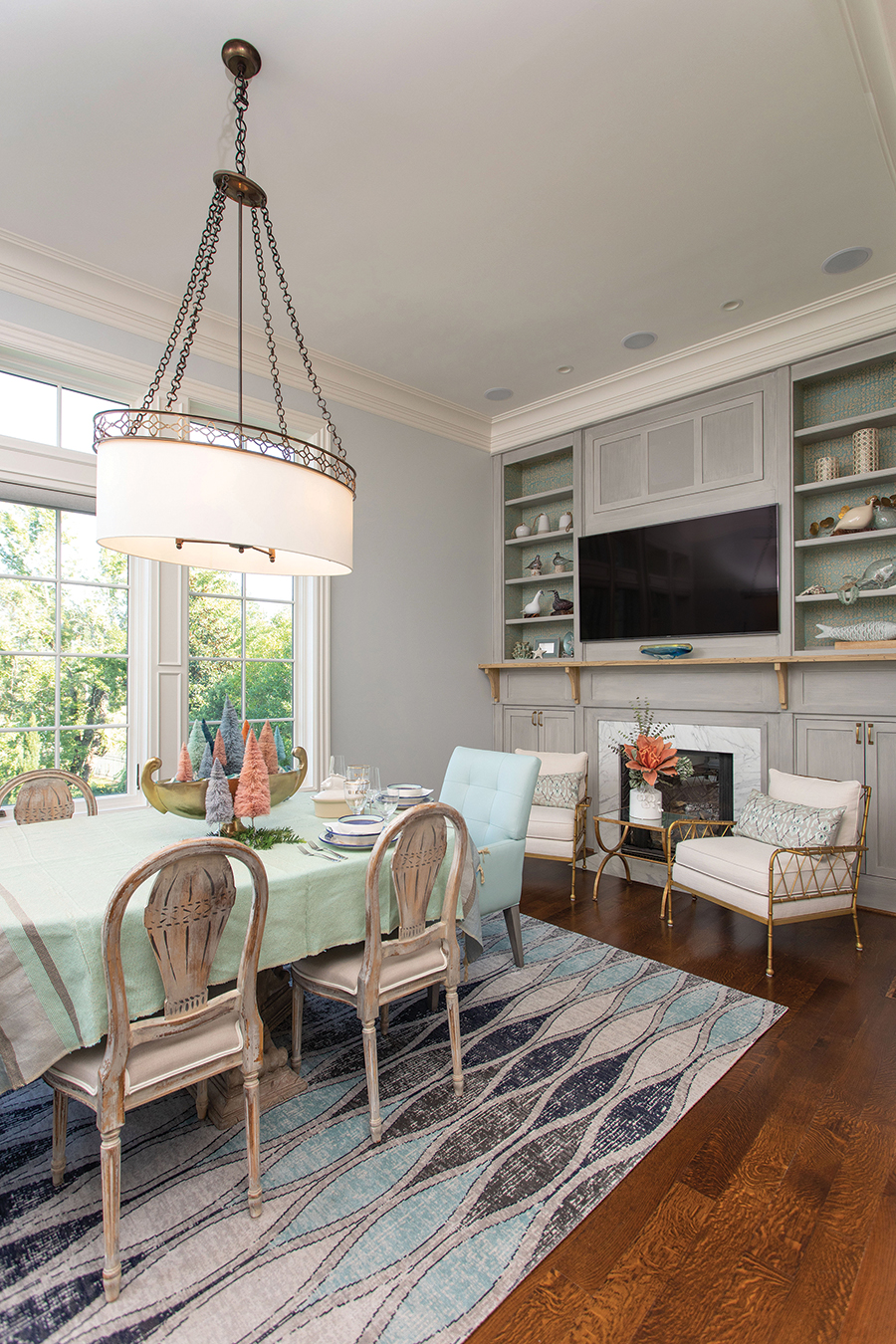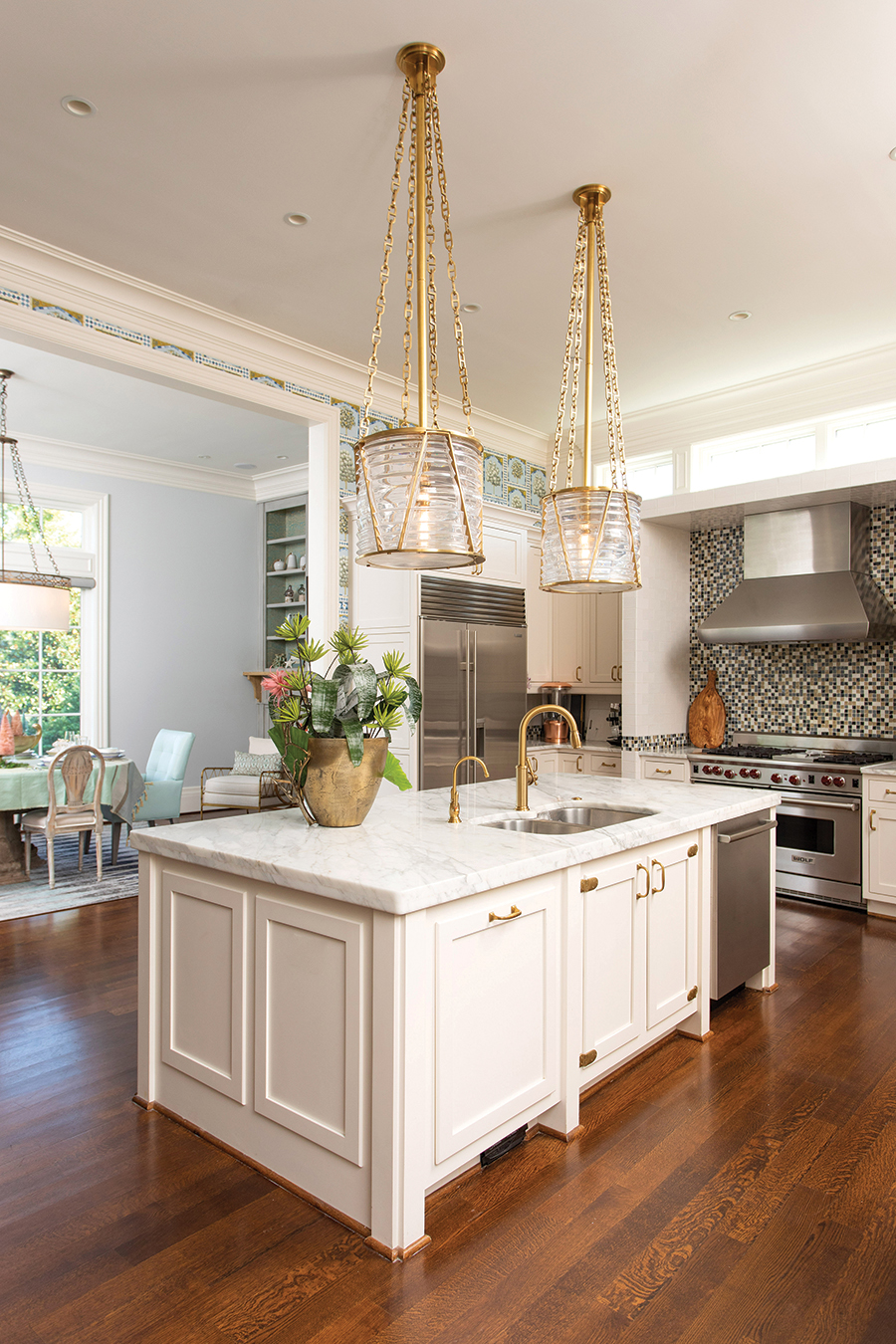 Baddour and her fiancé, David Dockhorn, both had a keen interest in the design of the master bedroom. "Unlike many men in these projects, David had opinions," Baddour says with a laugh. "Gigi and David worked beautifully together — she would send him websites to look at and they found things they both liked."
The first glimpse of the master bedroom suite is through a tall doorway with a navy-blue-painted wall, hung with a large Peggy Vineyard painting. A large dressing room with a marble-topped wooden chest of drawers is surrounded by a dark blue jute wallpaper from Philip Jeffries. The bedroom suite takes advantage of its sweeping water views, overlooking a swimming pool below and the more distant Howe Creek. Above the Lee Industries bed with an icy-blue headboard are a trio of paintings by Amy Gaweda, a Fayetteville artist who specializes in cloud scenes of Charleston. And perhaps the best feature of a North Carolina bedroom — a large overhead light fixture/fan combo to make everyone happy.
And after half a year working together (which included Hurricane Florence), client and decorator are still good friends. "And I feel like it's my house, not hers," says Linda. "Which tells you a lot about its great design, and speaks so well of Gigi."
William Irvine is the senior editor of Salt.