How 15 minutes shaped artist/architect Chip Hemingway's remarkable life and career
By Jason Frye
I think Chip Hemingway dreams of clouds.
Out on his boat, at the beach, in the mountains, surfing, in his backyard, his eyes always wander to the horizon to see what clouds hang there. I've seen him holding each of his three sons in his arms, pointing at the sky, whispering to them about the clouds, the light there, the bilious shapes, the crisp flat line of the bottom of summer thunderheads.
In his studio, canvases are filled with clouds. Blue skies peeking around the edges. Crepuscular light creeping through breaks in their cover. Mirrored in the ocean, the marsh, tidally locked forever in oils. Birds pinned to a cloudy background.
Hanging on the wall of his studio until recently was a painting of Captain Charlie's Cottages, an icon of Bald Head Island. Sitting high on the dune ridge, these cottages were once home to Captain Charlie — the Cape Fear Lighthouse keeper — his family and assistant keepers. The lines of their roofs and walls a sharp contrast to the undulation of the dune, the windblown curve of dune grass, the twist of live oak branches and the dream of clouds overhead.
Each line is perfect. Though Hemingway's love for clouds — and waves, trees, landscapes — stands out in his paintings, his other love, architecture, shows as well.
"This is my favorite view in Wilmington," he says, pointing at a canvas. In it, the courtyard of the Burgwin-Wright House as seen in spring. It's a big canvas, and Hemingway laughs when he says, "I walked down to the courtyard every day for three days with this canvas and my easel to paint this."
There's only a sliver of sky in the painting, so only the suggestion of clouds; what sky there is holds the steeple of St. James Episcopal Church, a crescent moon suspended above the spire. Trees in the courtyard reach overhead, their branches just beginning to leaf. The house itself is rendered nearly flawlessly. Lines straight (as straight as they get on a house built in the 1770s), shadows just so, porches deep in shade, windows somehow rippled with reflection. In this painting the house is as natural an element as the trees, grass and clouds.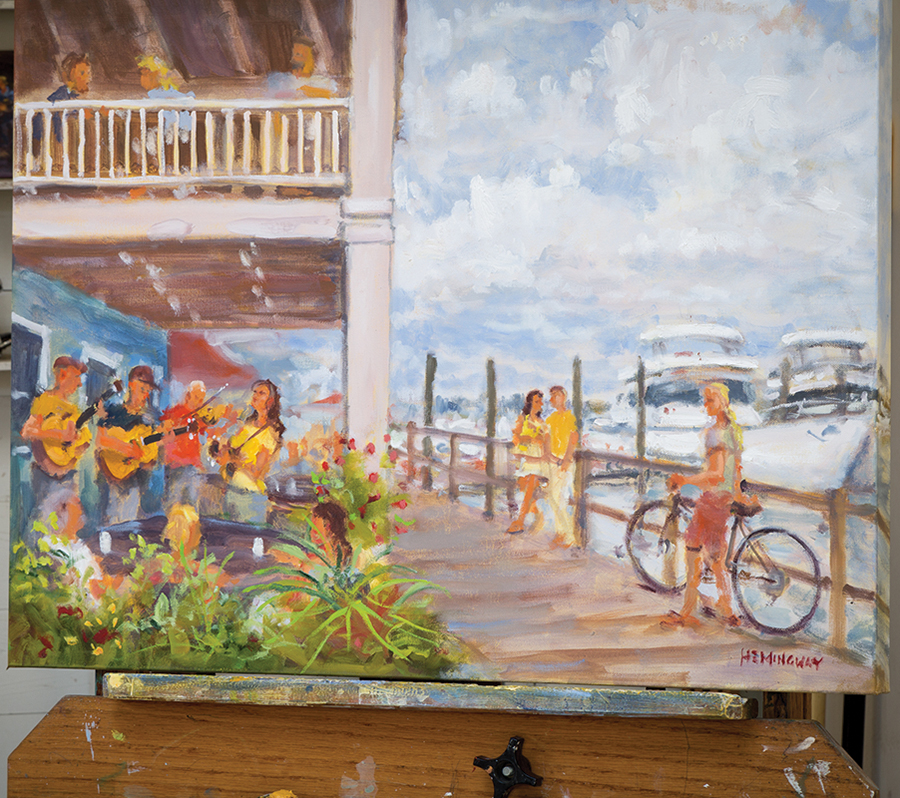 Hemingway, an artist and architect for 30 years, says his work is "a journey into nature through art and architecture." His work as a partner at Bowman Murray Hemingway Architects proves it true. As a firm, the partners have their own areas of passion and expertise. Hemingway's is — no surprise — nature. His projects include Jennette's Pier, a LEED Platinum fishing pier and NC Aquarium facility in Nags Head; the in-progress Audubon Center at Pine Island; the Oregon Inlet Lifesaving Station in Cape Hatteras National Seashore; the NC Aquariums at Roanoke Island and Fort Fisher, and an expansion at the Aquarium at Pine Knoll Shores; and the USS North Carolina restoration project. In everything he does, Hemingway finds ways to tie architecture, nature, art and the user experience together in a seamless package.
"I believe there's a beauty to architecture, that man can create something to enhance the experience of nature," he says. "My work on the aquariums 20 years ago shaped me. So did surfing. A love of nature drove me to both."
Looking around Hemingway's studio there are a hundred peeks into what inspires him. Paintings on canvases and practice boards hang on walls, lean on shelves and rest precariously on windowsills and door casings. Waterfalls; mountains wrapped in summer's emerald green and the garnet flashes of autumn; waves; surfers; marsh creeks; shrimp boats; a sky so big it takes up two-thirds of a painting, a thin strip of Masonboro Island at the bottom; here a fly fisherman, there a quartet of boys swimming the creek and daredeviling on a rope swing; figure studies; the coasts of Italy, Maine, North Carolina; city scenes of Beaufort, Wilmington, Italy. Guitars hang on the wall and rest in cradles and cases. Raw canvases in one corner, a quiver of surfboards in another. Skateboards and scooters — he and his sons will ride them — and toys. A child-size easel with the first attempts at emulating Dad.
"People ask me how I became an artist, and that's a funny question with a lot of answers," says Hemingway.
He cites a book in his school library, You Should Have Been Here an Hour Ago, by Phil Edwards. "It was a surfing book that probably didn't belong in a fifth-grade library, but we had it and I read it. The book says, 'A man should have two houses, one for his formal self and one for his experimental side.' I took that to heart, and in every home I've owned I've built a studio where I can create and experiment, where I'm free to paint."
Another influence came from school. A teacher taught the class to draw rudimentary stick figures and gave the assignment of practicing drawing over a holiday break. Hemingway, finally fascinated by an assignment, drew and drew until his older sister said, "That's not how you draw people" and showed him a better, more complex way to do it. "She opened my eyes and I said, 'Yeah! This is better!' and I practiced drawing people her way. I was so excited about it, but when I got back to school and showed my teacher how proud I was of the people I'd drawn she said, 'That's not how I showed you to do it.' I was crushed, but I became determined to find a way to express myself and show that the way I saw the world was more beautiful than the way she saw it."
A final influence was an architect who told Hemingway that fortunes are made and lost 50 cents at a time. "I say they're made and lost 15 minutes at a time. When I have 15 minutes, I come out to the studio and pick up a brush. I paint, I draw, I'm always working on something. I guess I've been creating this body of work and now, a few decades later, here I am."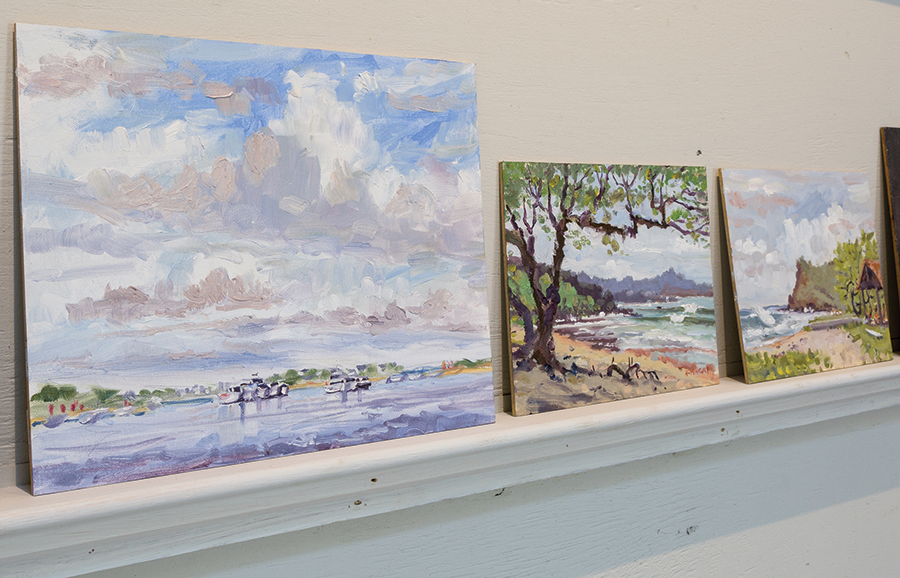 Here is his studio, a 1,500-square-foot barn with skylights and a big open floor. With the barn doors open and light flooding in from overhead, it's ideal for painting. And gathering. He and his wife, Kimi, have had the barn packed with people. Kids running round or skateboarding through swarms of adults. The grown-ups talking and laughing, looking at Hemingway's paintings like the most informal of gallery shows. Other groups outside around the fire pit. More sitting on couches or huddled in front of the wood stove or talking to Hemingway about whatever work-in-progress rests on the easel.
"I don't know what's more complex, the art or the architecture," he says on a summer evening. We're sitting by the firepit as night comes on, and it's getting hard to see my notebook. Still, we talk. "Buildings, they're very complex things. You're putting together all these subtle components and major elements, trying to achieve this aesthetic, this ideal you have. Sometimes it requires a two- or three-year vision. But art, well, I do plein-air paintings, which are born out of this quick moment of expression. You're trying to capture the light, represent the atmosphere and time of a place as best you can. I see them as two sides of the goal — short and long term — and having both in my life keeps me balanced."
He sits quietly for a moment, shifts in his seat, then leans back.
"True mastery comes only when you can removes yourself from the technique," he says. "I think about this concept a lot. Artists, musicians, writers, we all want to get to the point where the technique doesn't hinder you, when it's just pure expression. For me it's Brain > Heart > Canvas. When I achieve that, I'll have mastered it. I don't know if I'll ever get there or if I'll know I've gotten there, all I know is I keep painting in hopes of doing it."
Jason Frye is a regular Salt contributor. You can follow him on Instagram: @beardedwriter.