An antiques road trip to a Christmas country house
By Isabel Zermani   •   Photographs by Rick Ricozzi
A half-hour drive from Glendal Jenkins and Michael Moore's historic downtown Wilmington home is their getaway in the sleepy former railroad town of Atkinson. Here, cell service is scant, but the church manger scene is life-size. Both the days and nights are quiet. One can relax in the glow of the fireplace or the Christmas tree and pass the time talking with friends waylaid by a rare Carolina snowfall. Here, they renew some of America's favorite forgotten pastimes: resting, restoring and collecting, in a mostly forgotten town.
Jenkins and Moore bought their 1912 farmhouse house in 1987, shortly after Jenkins retired from his career as a high school chemistry teacher in Washington, D.C., moved to Wilmington and opened an antiques shop on Dock Street. Now Michael Moore's name is synonymous with antiques in Wilmington, but it was Jenkins who got him into the business.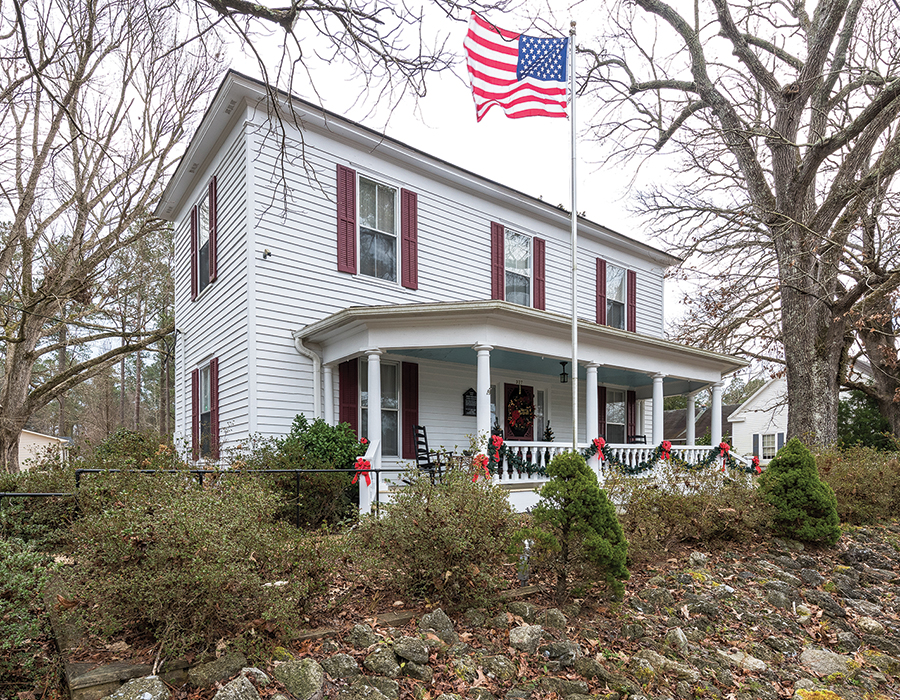 They aren't afraid of uncharted territory. Jenkins moved his antiques shop to Castle Street in 1992 when "people thought, 'You're absolutely crazy,' but I came from D.C. and things didn't bother me." Since 1998, Moore has run Michael Moore Antiques on Castle Street, a stronghold of the arts and antiques district.
They were looking for a weekend country house on the river, but stumbled upon Atkinson.
The T-shaped farmhouse, now registered as the Johnson-Pridgen House by the Atkinson Historical Society, had great bones, but was a failed Section 8 rental when Jenkins and Moore came across it in 1987. Jenkins had restored a whopping 17 houses in the D.C. area and collected many of the antiques that are displayed in their country house: For instance, a lamp from the Library of Congress now graces the bedside of the blue room. Jenkins restored this house to the era of its glory and while he was at it, elevated the entire town. He started the historical society, restored the library, and has researched and documented the rise and fall of the original 100 acres that blossomed into this picturesque railroad town and blueberry boomtown.
A home is always at its best around Christmas. Christmas exists in a time and place all its own, where memory, fantasy and reality touch like layers in a shortcake. Outfitted in Victorian antiques with at least one tree in every room, this home is well-dressed for the holidays all year round. Here, not only can one escape from regular life, one can time-travel to the most wonderful time of the year (and never have to lug the decorations back to the attic).
Downstairs, gold-leaf cornices top each window. Ten-inch crown molding surrounds the gleaming beadboard ceilings. "Most of the lighting fixtures I created for the period of the house," says Jenkins. Moore is quick to point out one meant to burn whale oil. They've even installed a period phone and . . . it works. They test-call it to demonstrate a robust brrring!
In the dining room, the table is set for an elegant feast with a kind of Depression glass called American Sweetheart Mona, which was produced only between 1930–36. "They never reproduced it," reports Moore. "It took me 25 years to collect this set." Delicate skim-milk-colored glass plates with ruffled edges on the bold red tablecloth feel romantic, like a valentine for each guest at the table.
After climbing the very steep original staircase — not for the faint of heart — one finds a selection of treasure box bedrooms to tuck in for a long winter's nap.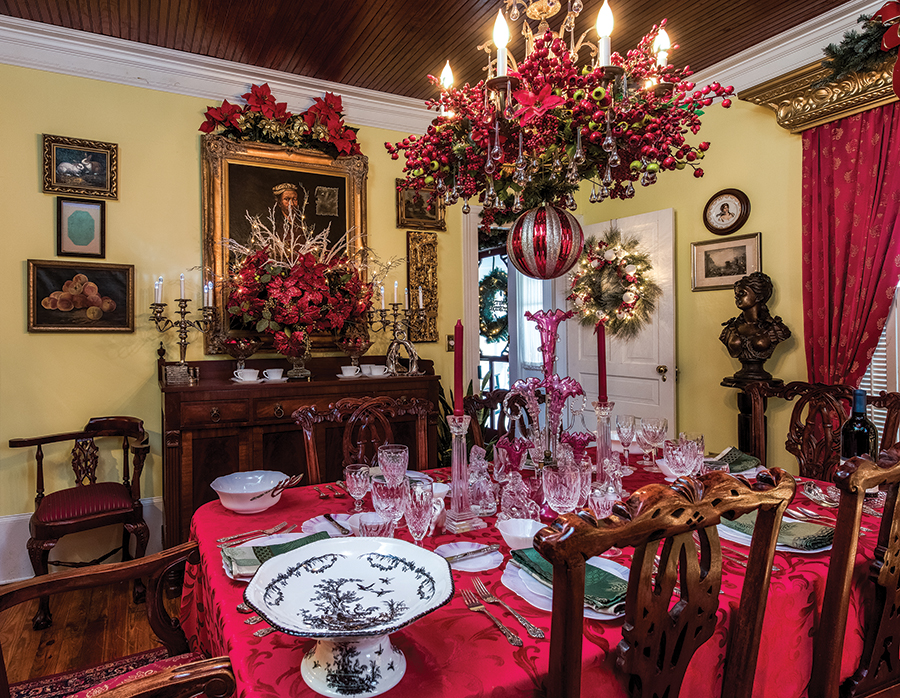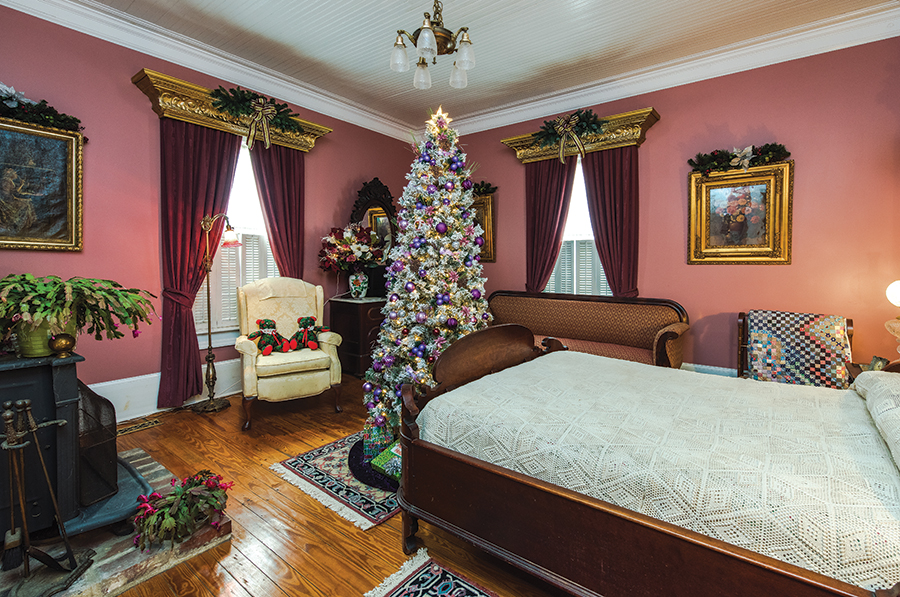 The blue room boasts a stunning Victorian claw-foot sleigh bed and Venetian glass chandelier. A collection of celluloid items from the teens and '20s — sometimes called "French ivory" — makes for a delightful display. (Our modern magic of throwing everything away truly has nothing on a well-curated collection.) Perhaps the only country thing about this country home is Moore's collection of cow creamers. "Glen collects Wedgwood, I collect cows," he says with a laugh.
In the red bedroom, a cluster of framed silhouettes reminds me of one of the home's namesake families, the Pridgens. Albert H. Pridgen Sr., a gentlemen farmer, bought this house from the Johnsons in 1920, during Atkinson's heyday. He and his wife, Sarah, raised five daughters and one son here. Their joyous holidays still echo in the bones of this old house. They kept the home in the family until 1971, just after the railroad closed for good.
Of all the pristine antiques in the house, the master bedroom headboard and vanity are exceptional. Ornately carved into the wood are birds that are practically three-dimensional. Jenkins knows its august history: "This bed was displayed at the World's Fair in 1877 in Philadelphia." It took him years to find the vanity to match, but persistence restored the pair.
It's no exaggeration to say there is no nightlife in Atkinson. But there's one exception.
After settling into the country house, Jenkins took on an even larger project with his Castle Street neighbor and antiques auctioneer Angel Mintz. At one end of Atkinson sits a large and well-preserved brick high school designed in 1924 by Wilmington architect Leslie Boney at the height of Atkinson's population boom. Jenkins bought it.
Again, the naysayers came to scoff. "People said, 'You're not going to get anybody up there'," remembers Jenkins, "I said, 'You offer a good product and they'll come.'" They worked on it for 14 months and opened with a black tie auction — "Guys in tuxes, ladies in furs" — and have held auctions on the first Saturday night of the month ever since. (No tux needed.)
Business was strong. Jenkins remembers 300–500 people attending each month. Dealers and bidders from "Wilmington, Raleigh, Fayetteville, Myrtle Beach, even Virginia" were making the trip to stock their shops and homes with treasures from Atkinson.
Sad news came just after last Christmas. His longtime business partner and auctioneer Angel Mintz passed away. Any loss for a small town is impactful, but this one especially so.
Thankfully, Rhonda Strickland has stepped in to run the auction house, allowing Jenkins to focus on documenting the town history as he has in the museum room in the schoolhouse. Although the crowds are smaller now (maybe 100–150 people), the lights of the schoolhouse are still the brightest things for miles on a Saturday night, and the scene draws action from all over. A hot dog or homemade BBQ sandwich can be had for a song, and the show is free unless you want to take something home.
Auctions are the first Saturday of every month beginning at 6 p.m. in the old Atkinson schoolhouse, 300 W. Henry St., Atkinson, NC 28421. You can find previews on Rhonda's Auction Treasures on Facebook and on www.auctionzip.com.
Former Salt senior editor Isabel Zermani is enjoying the desert life in Santa Fe, New Mexico.