Lindsey Cheek refreshes a stately Tudor with a
colorful jewel-tone palette and serene and stylish accents
By William Irvine   •   Photographs By Andrew Sherman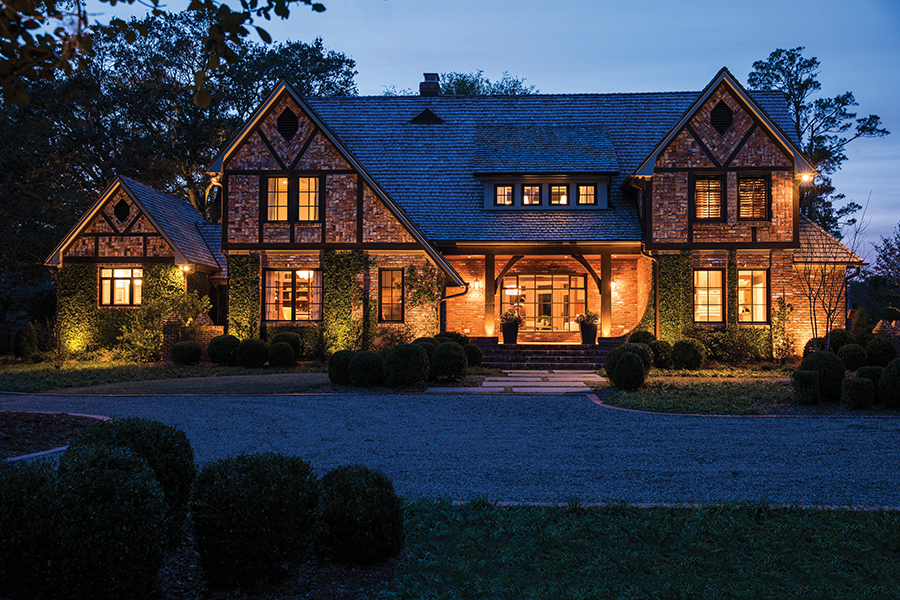 There are not too many designers who can also claim to have planned their clients' wedding. But Lindsey Cheek, the founder and owner of Gathered, did just that. In her previous life as a wedding planner, she met Torri and Mike Winstead, a real estate developer and local business owners of the Wilmington Yoga Center. They all got along so well that eight years later, when the couple purchased a large neo-Tudor house and needed some decorating advice, there was no question who they would call for help.
The house is set on a large wooded property that backs up onto the Arboretum, a very private and serene space. The Tudor-style brick and wood house, built in the 1970s, is set back from the road and is approached on a winding drive through a series of defined outdoor spaces: There is an outdoor dining room with seating area; a water feature with a small waterfall and stream that adds a soothing note to the proceedings. And there is a tennis court painted in stunning colors by the artist Brian Davis. Behind the house lies a swimming pool and his-and-hers outbuildings; the latter also features a gym.
A house this size can be intimidating and require lots of furniture on a large scale, something the clients had in abundance. But other than that, the house was incomplete. They were missing key items — rugs, pillows and other decorative pieces — that give a house personality. "Torri and Mike both have a great sense of personal style," says Cheek. "They're well-traveled, worldly, and they appreciate original art. We loved working with them because they think outside the box and go way beyond traditional coastal style."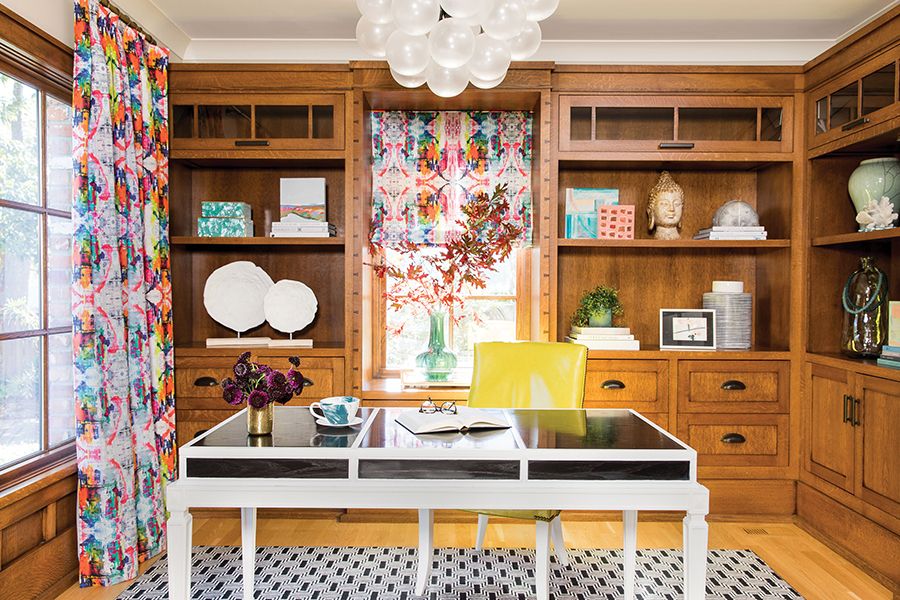 Upon entering the front door, you are (surprisingly) greeted by a small office on the left. It is a hint that the floor plan might be unconventional, and it is.
"The layout is probably my favorite of any of the houses I have worked on," says Cheek. "It's the progression of rooms that reveals itself very slowly — you're not sure what's going to be around the corner." The office is where Mike routinely spends time reading. Cheek added a neutral black and white-patterned Stark carpet to bring everything together, and bright colors with curtains from designer Lindsey Cowles. A citron leather desk chair brings another punch of color, and there is a turntable for some old-school record listening.
The centerpiece of the downstairs is a large, baronial living room, with beautiful dark wooden beams and a whitewashed ceiling that creates a cozy English country look. The woodwork is an important architectural element — there are stunning dovetailed corners and old wooden paneling. "The challenge here is that it's such a big, bold room that it needed softening," says Cheek. She brought in lots of fabrics, and textiles and patterns in eight different pillows. A neutral Stark carpet is topped with a colorful dhurrie rug. "We needed to bring in a lot of jewel tones in untraditional colors in such a masculine space. It's a good foil to the solid architecture and dark wood tones."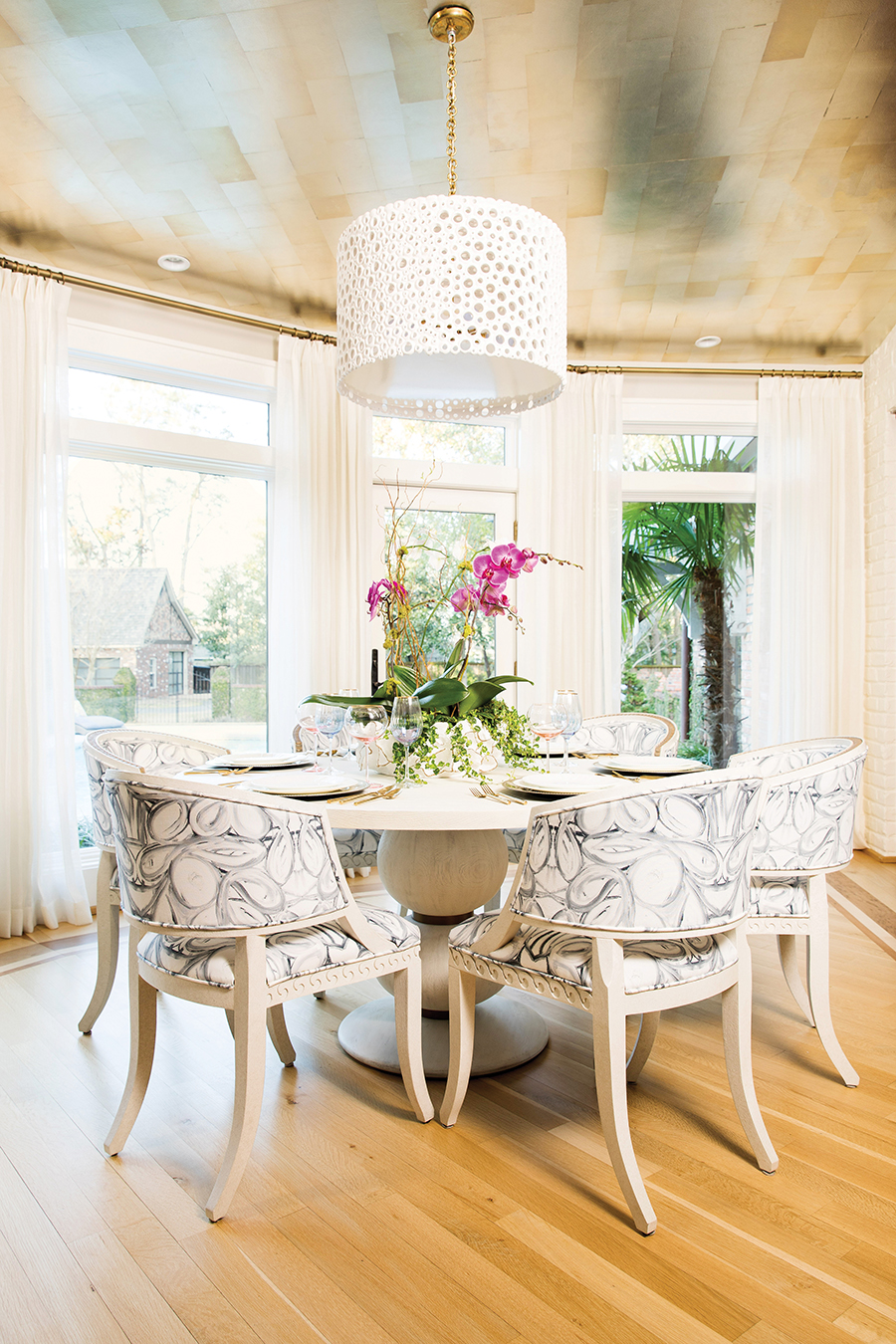 The kitchen at the other end of the room also needed some style assistance. The centerpiece, a custom kitchen island mounted on what looks like a piece of antique cabinetry with columns, is covered in a gray marble top. Cheek added some bold Drum pendants in brass from Urban Electric Company in Charleston and surrounded the island with four vintage-looking black leather and brass barstools from Arteriors.
"We wanted to make this a dressy room but still cozy," says Cheek of the adjacent informal dining room, which overlooks the swimming pool. She added custom chairs from Mr. Brown that are evocative of Second Empire French side chairs. They are covered in a bold abstract expressionist-patterned fabric from Lindsey Coles. The red brick wall was painted a flat white to add texture and contrast to the sheer curtains by Laura Perroni on the windows to the pool.
Bold statements can be made in the smallest spaces, and Cheek enlivened a pair of downstairs bathrooms, one with a lively Russian-colored wallpaper with the look of tilework, the other with a printed black wallpaper reminiscent of Louise Nevelson sculptures and rectangular Arteriors mirror and sconces.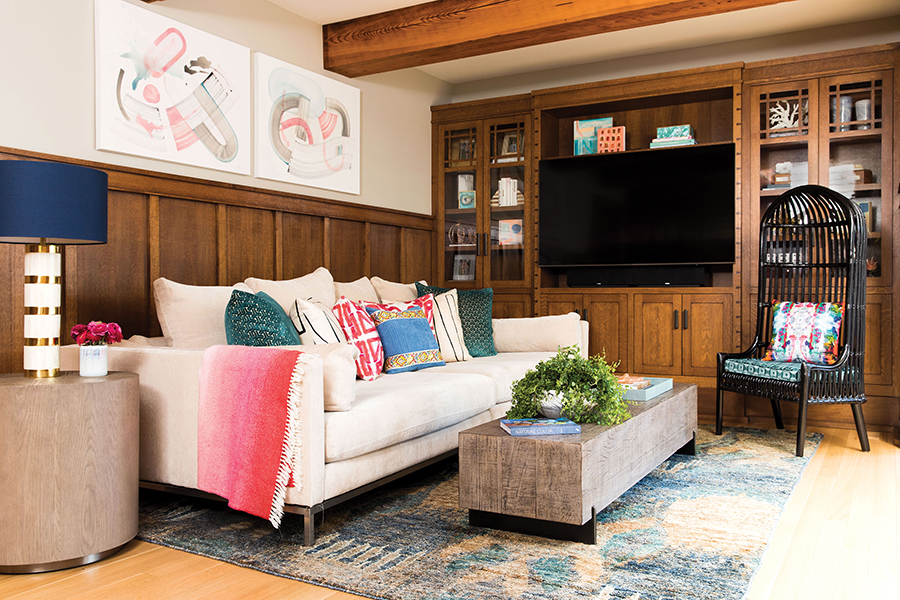 But how to enliven a dull wood-paneled stairhall? No problem. Cheek added a Missoni fabric in jewel tones with brass rods as a stair runner. And on the first landing is a vignette from the Coastal Succulent flanking a Buddha statue underneath a stunning gold branch and crystal chandelier from Curry and Company. The result is calming. "It's very soothing up here — very Zen," she says.
Climbing the stairs brings you to an upstairs office, which would work for just about any business: The room is dominated by a big square architectural drafting table with marble top in the center of the room. Cheek jazzed things up with some bold cocoa and black Kelly Wearstler wallpaper, reminiscent of Matisse drawings, which wraps around the room, and a sculptural pendant light from Visual Comfort.
The overall effect is a house with personality and style to spare, and a client who is up for anything. "We also just get along really well, and that makes the process fun," says Cheek with a smile. "In fact, we are currently helping them design their fabulous new condo in Miami. It's going to be incredible." 
Stay tuned.
William Irvine is the senior editor of Salt.