The Cape Fear Sail and Power Squadron teaches boaters how to sail safely
Story and Photographs by John Wolfe
There is a beach that lies deserted, just across the water from our mainland, where wind and wave have worked to carve the sand into dazzling patterns: Shark-finned striations stretch downwind of small shells, while the edges of tidal pools are carved cosines, echoes of the ocean. Brown-backed ospreys plunge into the sound, hunting fish with beak and talon, as gray dorsals of dolphins porpoise through the sea offshore. The spartina-rimmed marsh behind the island is alive with oysters and blue crabs; the low maritime forest blooms with sea ox-eye daisy and Spanish bayonet.
What wonders await us, out in the wild world! But no modern highway leads here — you cannot drive your car. You must instead master the tools and techniques humanity has been refining since the days of Odysseus. Tides, currents, winds — these elements can be used to move you, if you know how to read them. The more you practice, the better reader you become.
At the beginning, it's often overwhelming. Without a working knowledge of seamanship and boat handling, that island on the horizon might as well be on the other side of Mars. The best way to start getting out there and exploring is by having a friend with a boat, and perhaps the best place to find one is in our local chapter of "America's boating club," the Cape Fear Sail and Power Squadron.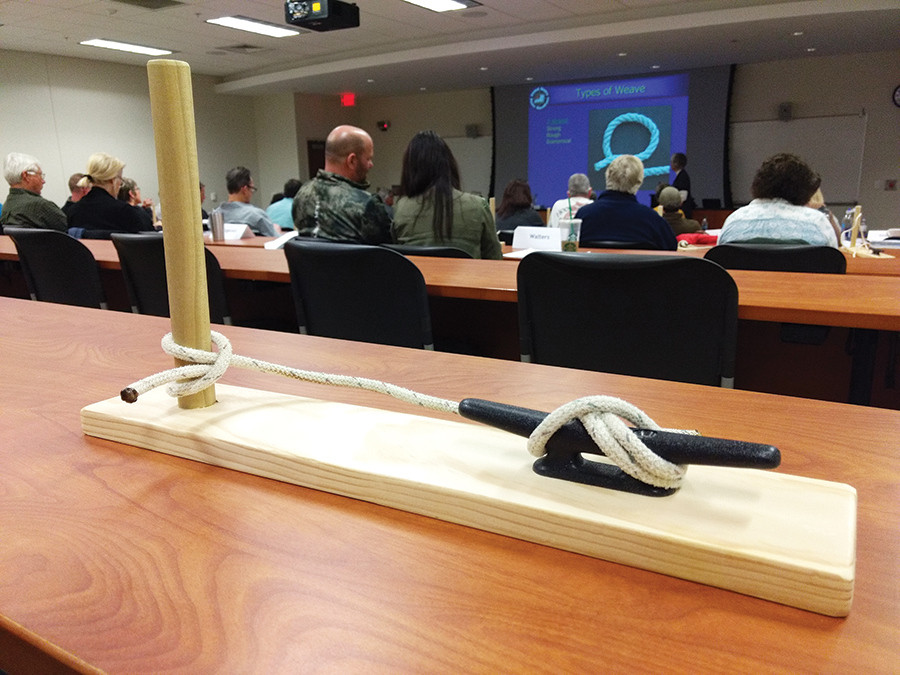 The Power Squadron can trace its roots back to the Boston Yacht Club in 1912, when the organization's first commander, Roger Upton, saw the need to organize a fledgling group of motorboat enthusiasts at the primarily sailing-oriented club. Gaining traction through the support of Charles Chapman — then-editor of Motor Boating magazine and author of one of the premier texts on seamanship, piloting and small-boat handling — the organization has grown to include nearly 25,000 members in 343 squadrons nationwide.
Our local chapter was chartered in 1951, the oldest in the district, and remains the largest in North Carolina, with 230 members. They conduct courtesy vessel safety inspections, teach courses in navigation and piloting, and even escorted the Coast Guard's flagship sailing vessel, the Barque Eagle, up the Cape Fear River in 2003. The fundamental function of the organization, however, lies where it has since piloting and boating safety classes were first held at Wilmington College in 1949: educating local recreational boaters in safety and seamanship.
To see for myself what exactly this group does, I attended their "ABCs of Boating" class, hosted one Saturday in February in a sleek, modern classroom at Cape Fear Community College. While the Power Squadron may have started due to differences in preferred propulsion, gone is the old division between "raggies" and "stinkpots," pejorative terms for sailors and powerboaters often heard hurled as insults across VHF Channel 16. All kinds of people can be found on the water these days, in anything from jet skis to sportfishers, and the class contained folks from every category, all here to learn more, together.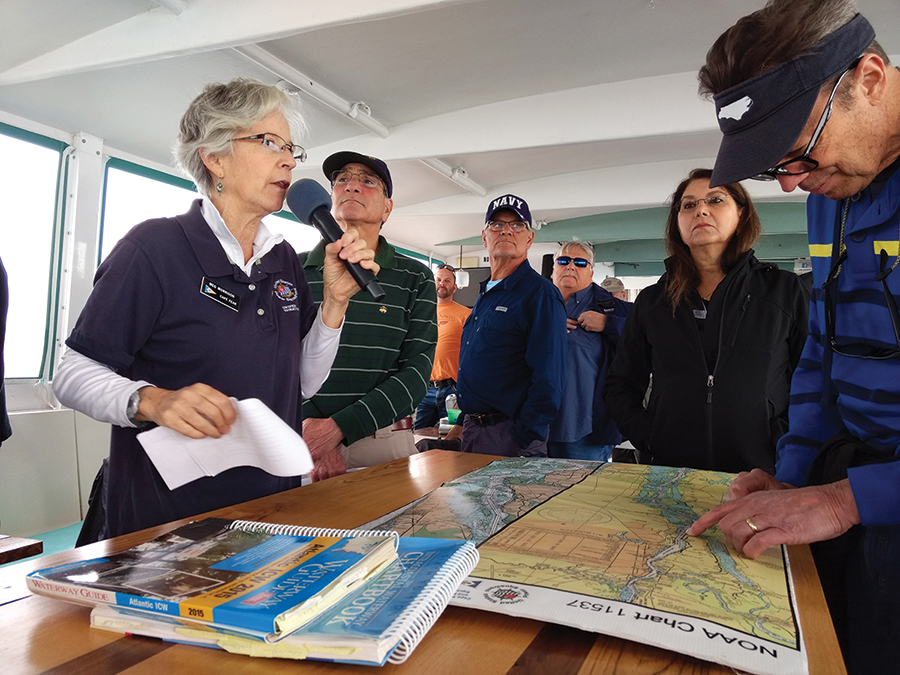 As it was adults teaching adults, the class had an informal feel. A rotating roster of instructors offered words of wisdom (such as, "anchor as if you intend to stay for weeks, even if you'll only be there for an hour"), with a generous sprinkling of humor throughout (one instructor defined blindly following the chart plotter onto a sandbar instead of keeping a proper lookout as an "electronically assisted grounding"). The class covered a wide variety of topics, ranging from an overview of the rules of the road, to basic stability and boat handling, to pertinent government regulations surrounding boating, and did a terrific job of boiling down complex ideas into a format easily digestible for beginners. There were even practical demonstrations to keep things interesting: Each student was given a wooden board with a line and cleat and taught how to tie a bowline and a cleat hitch. Instructors also demonstrated the operation of a CO2-inflatable life vest (sadly, they didn't demonstrate how the flare gun operated, as that probably would have led to a practical demonstration of the fire extinguisher).
Despite the instructors' best efforts, it's impossible to distill all the lessons learned from a lifetime of practicing good seamanship into one Saturday class. That's why they offer advanced classes as well, which cover such topics as engine maintenance (taught by Josh Roberts of Specialized Mechanical Services); piloting and advanced piloting; boat handling and seamanship; fundamentals of sailing; and navigation, including how to use a sextant to take position-determining celestial sights at sea. "People have complained to us that we didn't cover enough ground (in the introductory class)," said education officer Ned Rhodes. "But it's much more than they knew when they came in."
The next morning, we met again for the on-the-water portion of the class, a three-hour cruise aboard M/V Wilmington, the 46-foot cruising catamaran operated by Wilmington Water Tours. Capt. Doug Springer, the former Cape Fear riverkeeper who has introduced countless people to the water aboard this vessel, remembered that some of his first boating instruction came from a chapter of the Power Squadron when he was a teenager in Michigan. "You're going to learn something every time you go out on the water," he told the class before taking the helm.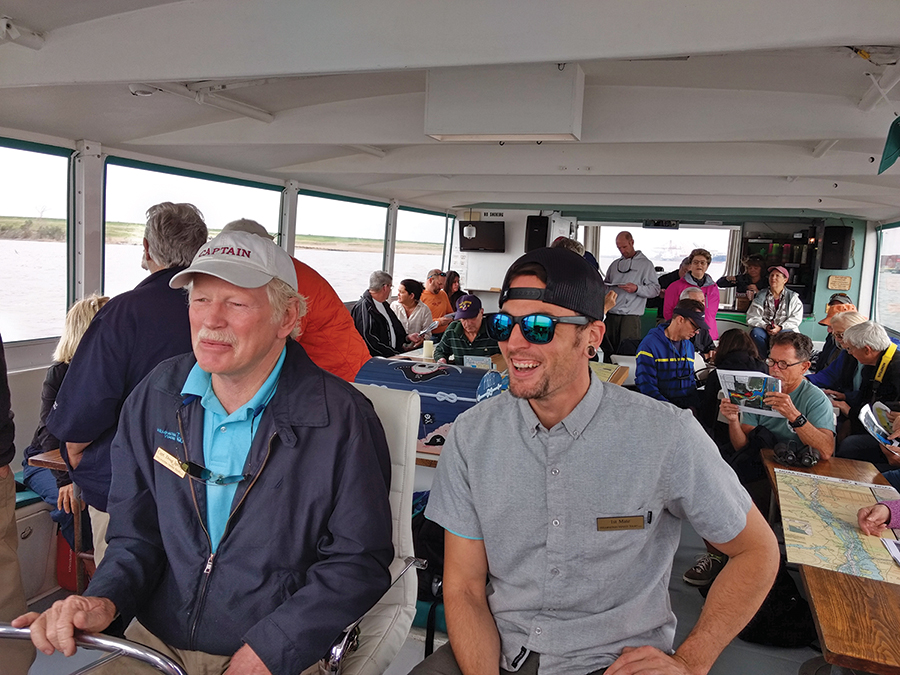 We left the dock. It was a breezy day, with low lavender clouds, and the river rippled like quicksilver. Cormorants dove in pursuit of fish, their snake-like heads peering at us when they surfaced. Assistant education officer Meg Morrison led the class in their chart work, having them follow along with our progress on laminated charts on the tables, and asked them questions as we motored along. What's the vertical clearance of the Cape Fear Memorial Bridge? Those who could provide the correct answer (65 feet closed and 135 feet open at mean high tide, if you're curious) received a bite-size Snickers bar.
We passed giant steel ships, which loomed over us like monoliths at the state port — the Durban Bay from Panama, the Independent Spirit from Monrovia. As the river wound its way to the sea, Ned Rhodes pointed out the differences in buoyage systems using a visual aid made from two soup cans spray-painted red and green ("We spared no expense," he quipped). Where the main river channel meets the Intracoastal Waterway by Snow's Cut, things get confusing quickly, and it's not always easy to tell where the deep water is. We covered this yesterday in the classroom, with much head-scratching, but it's a far easier thing to comprehend when you see it.
The current here is tricky, too. With two powerful waterways joining and the wind blowing stiffly in opposition, conditions got to be "sporty," as Rhodes called it. Short, choppy waves broke high against our rocking hull as we came about in a brief moment of excitement, but an expert maneuver by Capt. Doug put us sailing smoothly again (that's why he's the captain, of course). I think of what might happen if all these people on this boat hadn't been out here to see it done the right way first — the great and dangerous learning curve that exists out here. Last year in North Carolina there were 117 boating accidents; 15 of them, unfortunately, were fatal, and in 80 percent of those cases the operator had received no boating safety instruction. In the six years that this cruise has been taking newcomers out onto our wide waterways, how many accidents have been prevented through education? It's impossible to know, of course, but it's a safe bet that the number is greater than zero.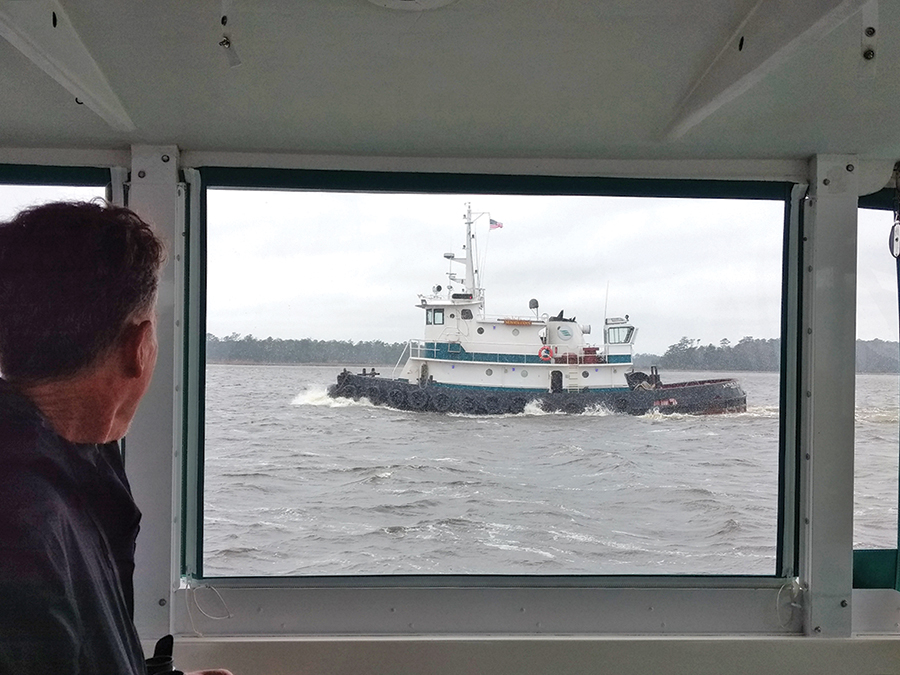 Our training cruise wasn't all chart work and battling waves, though. While the Power Squadron's brain may be in the classroom, at their heart they are a social organization, a communion of people united by a common love of boating. Their monthly meetings always have a business and educational component, often featuring guest speakers, but the true highlight is always the fellowship, shared over good food and "docktails." As we turned back upriver and headed for the hill, the conversation onboard became vibrant with people meeting each other, sharing their lives with strangers who were quickly becoming friends.
There is something about the closeness of being on a boat together, the necessity of proximity, that brings out an easy sort of chumminess rarely glimpsed ashore. I found myself among people with a shared commitment to education, safety and the environment, and as we landed on the dock, I was glad indeed that the people who make up the Cape Fear Sail and Power Squadron are around to make our waterways a safer and friendlier place.
John Wolfe studied creative nonfiction at UNCW. He can be found online at thewriterjohnwolfe.com.
For more information on classes and programs, visit capefearsailandpowersquadron.org.