The Right Boat
And a gift from a world hidden from us
By Mark Holmberg
I almost bought the wrong boat.
As most coastal Carolinians will tell you, that's an easy thing to do. In fact, some may say any boat you buy is the wrong one. Being able to use a friend's . . . now that's the right boat! But by early spring we decided we must have our own. For health reasons, mind you.
You see, almost every night for 32 years I had an adrenaline bath. We're talking heart-racing, gut-wrenching, brain-sweating, don't-know-if-I'm-going-to-make-it terror. For 21 of those years, I was a night reporter and columnist for the Richmond Times-Dispatch in Virginia, famous for immersing myself in the city's grit and stretching deadlines past the 1 a.m. breaking point. Then came 11 years as a night reporter and columnist for CBS-6 in Richmond, often shooting and editing my reports right up to the very last second of their 11 p.m. broadcast. Then you sweat over whether you got the story right.
During those three decades I helped raise four children, often laying bricks in my off time because a reporter's salary couldn't support my family. I could get by on three or four hours of sleep and frequently did. I have no idea how I survived it. (Or my poor editors, for that matter.)
But when I first visited Wilmington and its neighboring beaches in 2013, I immediately realized I had to move to this coast or die. The cure for all those cumulative adrenaline baths, I immediately discovered, is Carolina salt water. I imagine it's the cure for many other ailments, given the number of folks who are so absolutely compelled to be in or around it.
It took four years to wind down my career while buying and rehabbing a house in downtown Wilmington. Thus began a loving and healing exploration of our amazing seashores. My first mate, Lady Je, and I have walked almost every single island and cape from Myrtle Beach to the Outer Banks. We have fished them, swum them, tried-to-surf them (I can't yet call what I do "surfing"), shelled them, cooked on those that allow grilling, and bicycled them at low tide with fishing poles bungeed aboard so we could stop where the pelicans are and cast out.
We bought beach-driving passes for Freeman Park, Fort Fisher and Emerald Isle. We have savored all of it in all weathers and met so many others — good, sweet souls — doing the same thing. The adventures we've had!
A bit more than a year after my 2017 retirement, I could actually feel myself awakening. I found myself breathing — really breathing — for the first time in my adult life. I've increasingly been able to sit and relax, to be calm and quiet. To truly see, smell, taste, hear and feel the world as it is in that moment, instead of racing through it, trying to shape it to my will, always moving restlessly like a shark.
But we could see all the other healing wonders we were missing — thousands of miles of sounds, estuaries, creeks, rivers and island preserves — because we didn't have a boat to reach them.
But what kind?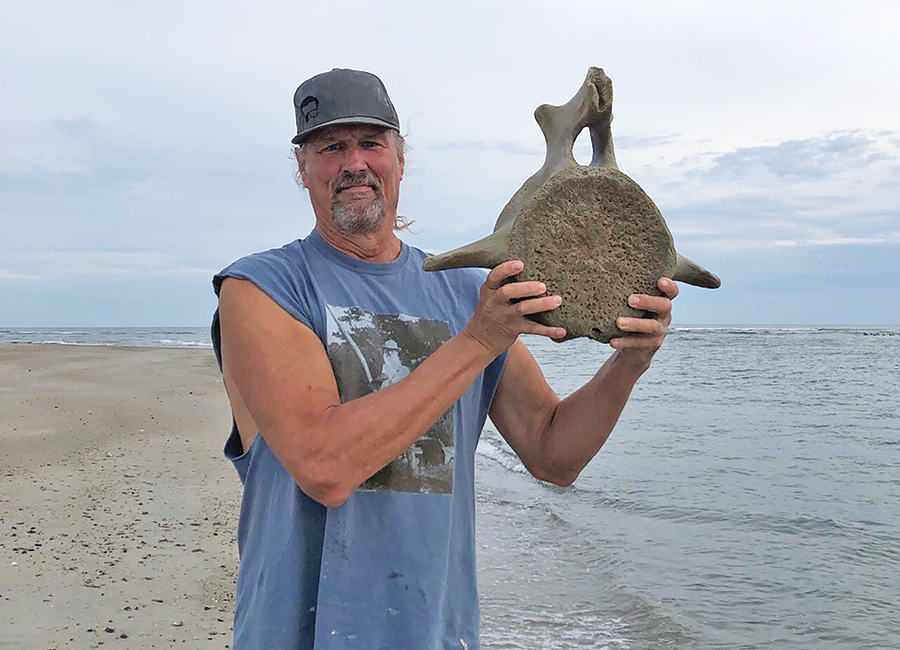 Our explorations included walking many of the countless marinas in this briny state. It's wild how many million-dollar boats there are, capable of racing out into the ocean to challenge the big fish. And everywhere you turn is a new or almost-new $40,000-plus beauty with all the cool accessories.
But the coin of the realm are skiffs and jon boats, which can navigate this coast's shallow waters. So much of this state's almost endless waterways are knee-deep to an egret at low tide, impenetrable to any other kind of craft.
I had decided on a net boat, or well boat, as they are called. The outboard motor doesn't hang on the transom at the back of the boat, but sits forward in a well, so you can haul nets or crab pots in at the back of the boat. It also enables the boat to travel flatly for better navigation of the shallows.
The wrong boat was a big well boat, an old salt that had crabbed and netted the shallows of Queens Creek by Swansboro for a generation. It had a good 100-horsepower Suzuki motor but was missing the steering controls and other essentials. It sat heavily on a worn-out trailer, all for $3,500.
I admired the young man who owned it. He is a commercial fisherman and had worked that boat most of his life. He had downsized to a smaller well boat. The price was right. The motor alone was worth that. But the gunwales were high, which would make it hard to get in and out of it when we hit the beaches and sandbars. It needed a newer, bigger trailer and lots of work. (I later learned that Queens Creek was deeper during this boat's heyday. Bottlenecking this tidal estuary during the construction of Queens Creek Bridge has caused it to silt up.)
I was strongly considering buying it when Lady Je showed me an online listing for another net boat not far away that had just come up for sale. It's a 17-foot Diamond, a durable work boat made in Snead's Ferry. It still had its commercial fishing license, a nice 60-horsepower Yamaha, a fresh steel prop and a healthy trailer. It was the right boat, with low-rolled gunwales and everything turnkey: lights, life jackets, a whistle, even a full tank of gas. The owner, one of our ferry captains, looked us over and decided we were the right people for the right boat. Without asking, he lowered the price to an irresistible $3,000.
We call it the Sanford and Son boat. Parked next to newer, much pricier boats on the islands and shorelines we visit, it looks quite shabby. But it is frequently complimented as the right boat. We have launched it from a score of North Carolina's sweet boat ramps. We have explored long stretches of the White Oak River, Queens Creek and Bear Creek. We've gone several times to the amazing Cape Lookout, one time absolutely swarmed by big pole-bending blues and Spanish mackerel that were practically leaping into the boat.
We've explored a good bit of the Intracoastal Waterway and have fallen in love with Bear Island, an oceanfront state preserve beside Emerald Isle, not far from the Swansboro fishing shack we bought and started rehabbing as a retirement project.
We frequently have the lower end to ourselves, making the shelling the best we've encountered. (Except the days after Hurricane Florence on Wrightsville Beach. That was epic.)
Recently, Lady Je and I boated there on a calm, sunny day and went for a long walk. We had the entire beach to ourselves. The calmness made for poor shelling, but it was all oh-so-soothing. I walked out knee-deep into the low tide shallows and found a sweet little underwater plain rich in treasures.
In just a few minutes I found a murex, a whole moon snail, a nice knobbed whelk, two sand dollars and . . . what is that?! It was a strange, creepy kind of shadow on the wave-riffled sand. I had to steel myself a bit to pick it up to see what it was.
A whalebone as big as a basketball! An intact vertebra! I knew our biggest backbones are about the size of a fist. I could imagine the size and age of the whale and marveled that this one bone (whales have seven vertebrae and many other bones) would be waiting for me months or years after he or she died.
I know it sounds corny, but I felt a kind of spiritual rush, a connection to this big creature and its vast world hidden from most of us. I waved Lady Je over, and we searched that stretch for any other bones until the tide deepened and the sun reached for the sea.
We walked back and loaded up the lone bone into the right boat and eased back through the tricky channel leading to the Intracoastal, knowing how lucky we are to live on this ever-shifting coast.
Mark Holmberg was a finalist for the Pulitzer Prize for commentary in 2003. He started writing for Salt in 2013, most recently under the guise of Spencer Compton, First Earl of Wilmington. He lives in Swansboro.