The late actor Dennis Hopper's customized loft is really a kid-friendly paradise
By William Irvine   •   Photographs by Rick Ricozzi
Dennis Hopper always had a soft spot for Wilmington. Beginning with the filming of Blue Velvet, which first brought the actor to town in 1986, he invested in real estate, both downtown and at Landfall. But Hopper was best known for the restoration of the Masonic Temple building (1899), the five-story, 61,000-square-foot structure on Front Street. It is here that he hoped one day to establish an acting school, a dream that ended with his untimely death in 2010. In the back of the building is the three-story Kress Building Annex, and it is here that Hopper designed a loft apartment that became one of his permanent residences in 1994. It is now the home of Donn Lashley and his family, and will be featured on this year's Back Door Kitchen Tour, an annual benefit for the Residents of Old Wilmington, to be held on Oct. 14.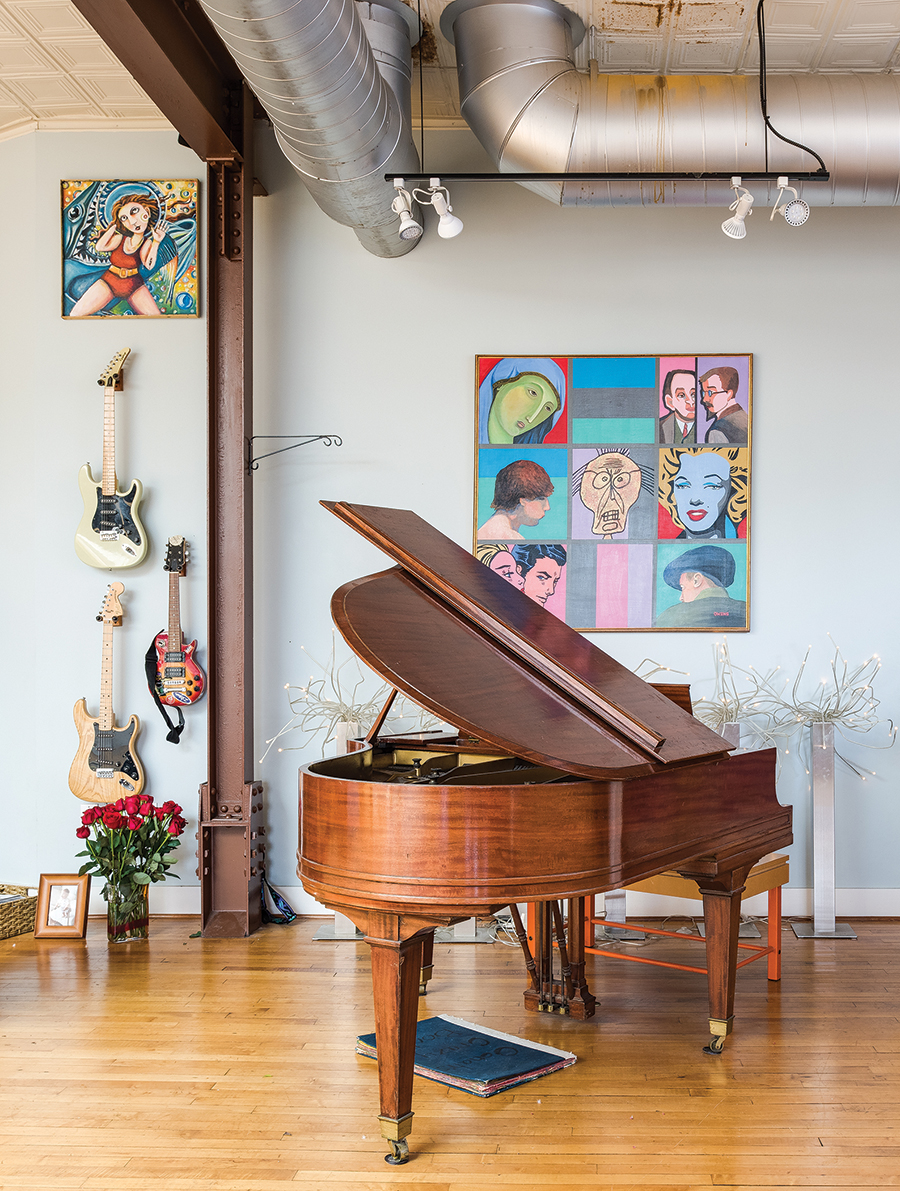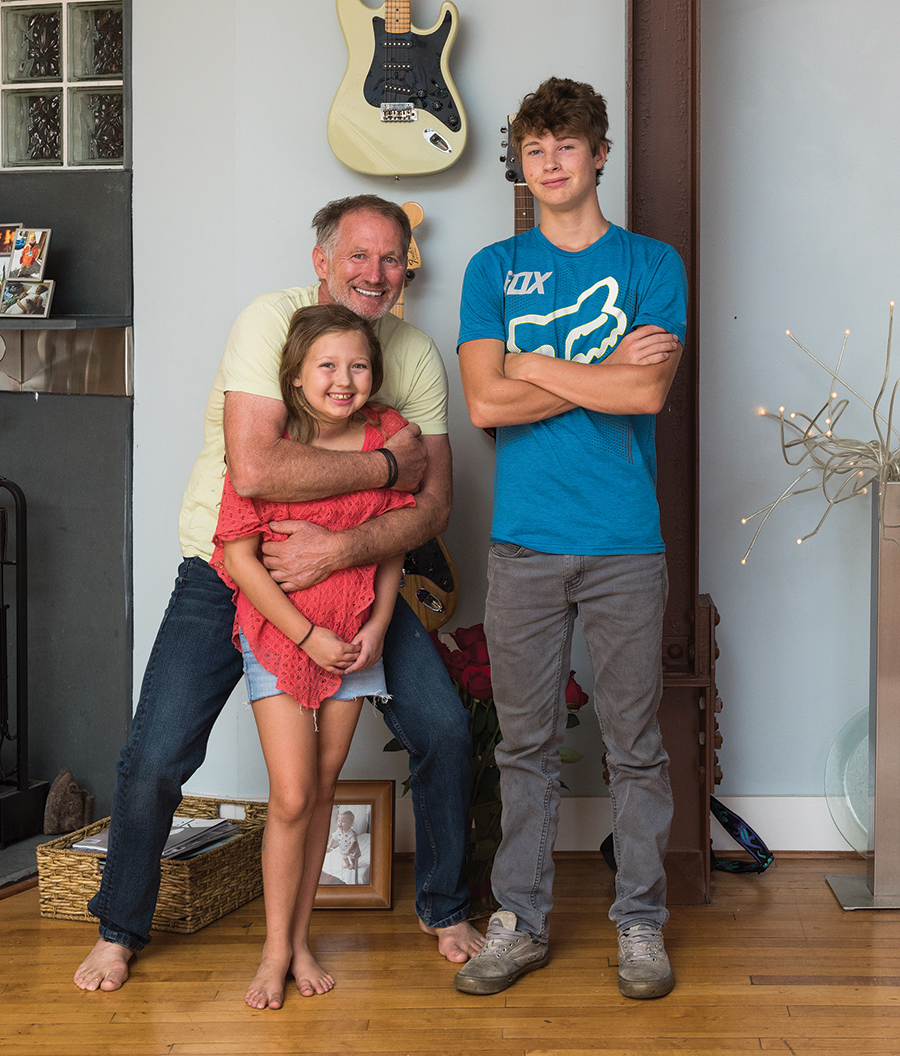 The 4,200-square-foot commercial loft was on the market for more than 2 1/2 years after it was first offered in 2008. And the listing was not for the faint-of-heart: The space was completely raw — one huge room that required a potential buyer with a lot of imagination. Before its renovation, the space served as the third-floor storage and pricing area for the By-Rite Five and Dime and Department Store, whose sales area was on the floor below. Most people were deterred, but not Lashley. " I saw a diamond in the rough," he says. Hopper had installed a massive skylight and glass French doors leading out to a deck. "He had created a beautiful light box," says Lashley, who bought the loft in 2011 and spent more than a year configuring an elegant new space, which includes three bedrooms and two bathrooms. He lives here with his son, Kade, 16, and daughter, Oonah, 8.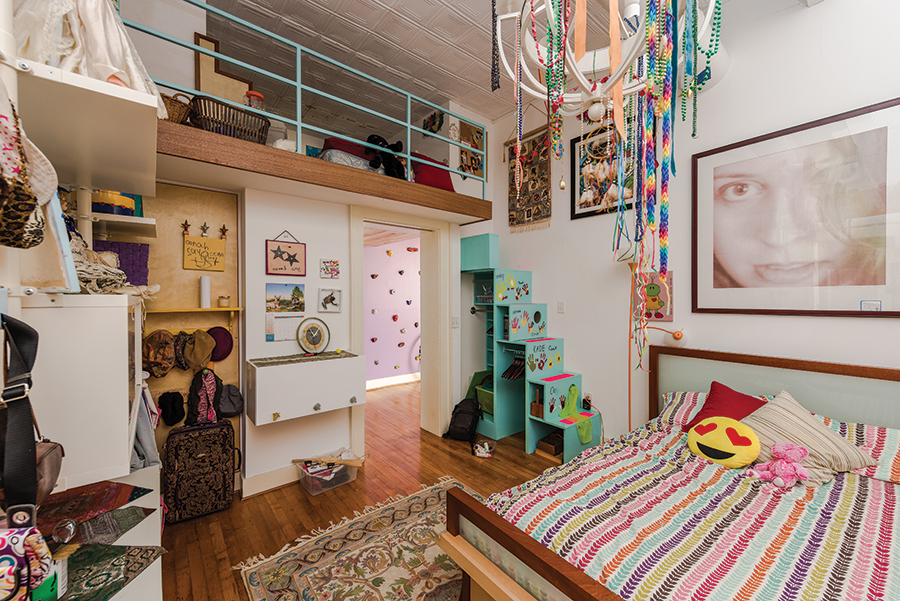 Donn Lashley has taken a circuitous route to his life now as a construction developer. A resident of Wilmington since 1982, he trained in mountaineering and is still an avid climber (his bedroom features a collection of summit rocks from his climbs around the world). He began his working life doing height-related construction tasks, which evolved into window cleaning and exterior painting. He now owns Carolina Commercial Coatings, a painting company that specializes in high-rise work, and has bought and restored several houses in the historic district, which is another passion: "I am truly a restoration person." He also owns the Roudabush Building, among other historic downtown properties.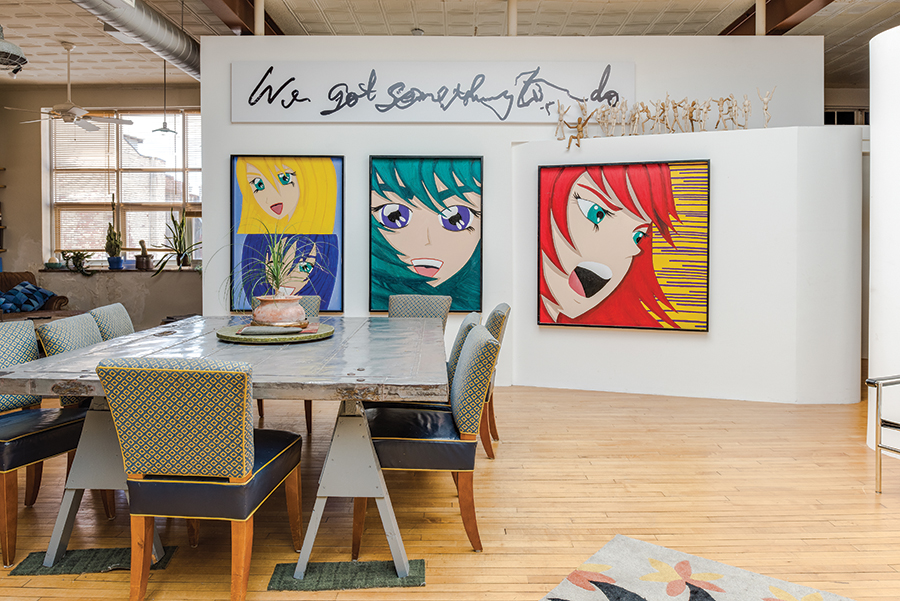 Initially, the old-house fix-ups were a way to finance a round-the-world sailing trip, which he figured would require him to be away from Wilmington for three to five years. "That was a dream that never happened," he says. But travel is very important to the whole family. His son, Kade, has a passport that would make a 60-year-old green with envy. In 2015, father and son shipped a car to Buenos Aires and drove 1,500 miles to the tip of South America before driving the car all the way back home: "And there was also Patagonia, trekking, Easter Island, the Galapagos . . . we have had some great travel experiences. It's such an important thing," says Lashley. Evidence of their world travels can be seen throughout the house.
To call this a kid-friendly loft would be an example of extreme understatement. There is a climbing wall, Oonah's outdoor storefront on the deck — she has a thriving soap and candle business and a culinary enterprise, Oonah's Mud Kitchen — as well as aerial silks for acrobatics, exercise mats, electric guitars . . . anything you could ever want to do. "The thing that's so great about this space is that you can be loud — skate, have hula-hoop lessons, pretty much have total freedom to do any activity," says Lashley. In addition to serving as Lashley's garage, the immense ground-floor level features — in no particular order — bongo drums, drum sets, microphones, dirt bikes, motorcycles, Ping-Pong and other game tables. Kid paradise.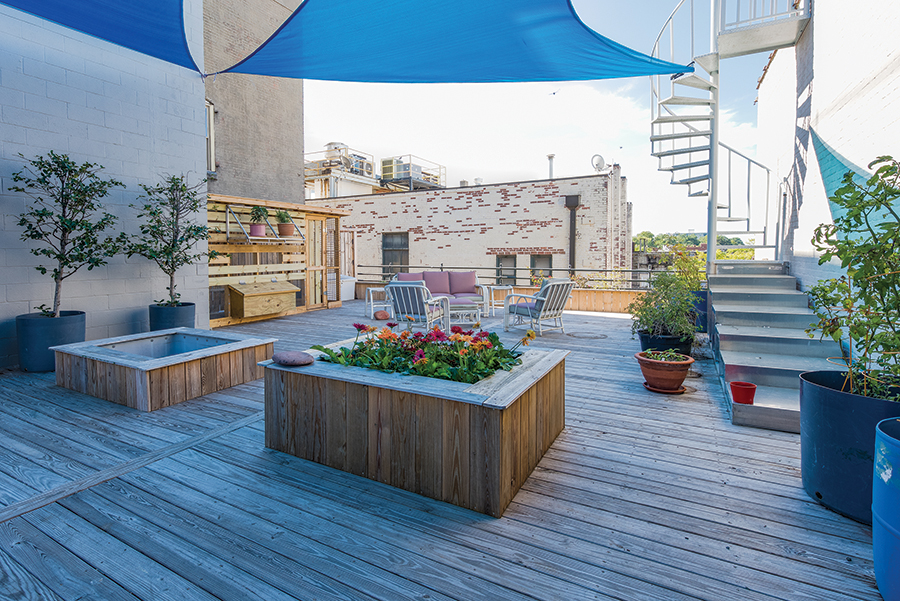 Oonah's colorful bedroom has a built-in upper level reached by its own staircase. "I love my bedroom," she says. "I like to have my friends over and hang out in the loft." As she is a big reader, her room has many retrofitted bookshelves and storage spaces throughout.
One of the most stunning features of the loft is the generous 2,000-square-foot outdoor deck space, which can be reached through French doors installed by Hopper. Originally used by the actor as a plein-air art studio (he liked to work on large canvases outdoors), the feeling is very Californian, with rope hammocks and superior views northward to the Murchison Building and south to the Cape Fear River and the bridge. A spiral staircase now leads to Oonah's rooftop clubhouse ( a birthday present from her father) and will be the future home of a roof garden.
And then, of course, there is the kitchen. Dennis Hopper installed the massive 20-foot-long kitchen island/counter, which is composed of black granite and industrial-grade stainless-steel panels. Lashley tore out floor-to-ceiling plywood cabinets that lined the back wall and designed an ingenious round pantry pod, a wooden sliding-door structure that features a window with natural light. There is also a large commercial stove and prep sink, and butcher-block countertops. And it's made for entertaining. "The great thing about this kitchen is that you can be part of the action — it overlooks a 3,000-square-foot room. We often eat dinner at the counter. And it flows so well with great storage and counter space," says Lashley. When they're not eating in the kitchen, meals take place around a massive square dining room table that Lashley made: "I just found this old metal fire door downstairs, stripped off the paint, and added these metal sawhorses. It's a great table." Dennis Hopper would approve.
William Irvine is the senior editor of Salt. His latest book, Do Geese See God?: A Palindrome Anthology, was published last month.
Residents of Old Wilmington's 12th annual Back Door Kitchen Tour will take place on October 14 from 11 am to 5 pm. In addition to the Lashley loft, there will be several other properties downtown, including an artist's studio designed by architect James Post. Tickets go on sale September 1 and are $25 in advance at Ivy Cottage, Finkelstein's, or online at rowilmington.org. Since its founding in 1973, Residents of Old Wilmington (ROW) promotes preservation and beautification of the downtown historic districts through advocacy, volunteer projects and monetary grants.