The Lord of the Mosh Pit
Spencer Compton happens upon the first family of Cape Fear rock and roll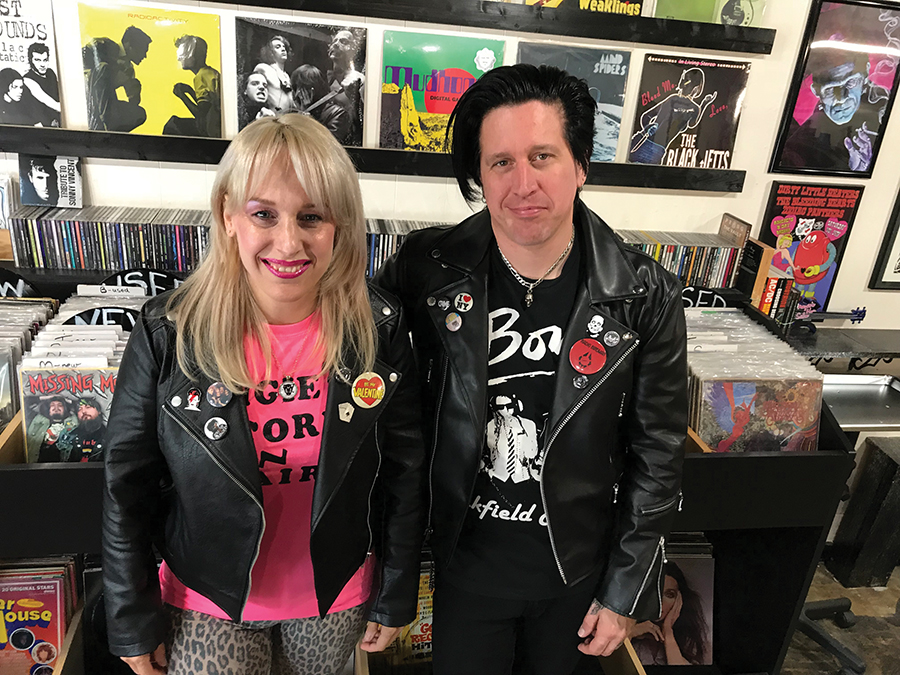 You didn't know that I, Lord Wilmington, have applied my manicured fingers to many musical instruments. It's not in the thin and mean gruel of my available history, but let me assure you that I was an absolute brute on the lute and a violinist of the first order. When I chose to seat my silken figure at the Kit-Cat Club's piano in London, the incessant smoke-wreathed political chatter would cease in profound anticipation.
My wonder of a mother, Mary Noel, insisted that "a man without music will never be in tune with the world." Our vast and moated Compton Wynyates estate was filled with instruments and, at key times, England's finest instructors. Verily, my musical talent was what first drew King George's attention to my tall and willowy self. That friendship would change the history of the British empire during the late 1600s to the mid-1700s and lead my protege, Gabriel Johnston, to name this town after me.
And thankfully, this Wilmington is delightfully musical! Of course I've seen nearly every show at the royal Thalian Hall and savored a variety of styles at the Cameron Art Museum — including rap and hip-hop. Blues, of course, at the Rusty Nail, bluegrass at the Satellite and, at the Duck N' Dive and the Goat & Compass (among other locales), dusty folk and "Americana."
I have savored a wide variety of rock and roll and dance music during my nightly walks downtown. There are also several interesting and accomplished street musicians (although one certainly needs his instrument confiscated). I have heard, numerous times, Wilmington's piano man as well as its heartbeat musician, Randy McQuay.
But to my surprise — and the delight of my rugged landlord — I have found that my most favorite local musicians — and local music is what I love best — are playing the heaviest and toughest kind of music. Me, the gentlest and best-dressed of Britain's aristocracy who never allowed sweat to streak my face powder —a hard-rocker! "You, Spencer Compton, have become a headbanger," observed Marcus, owner of my Queen Street digs, with a burst of laughter. It was he who loaned me a Harley-Davidson motorcycle and taught me to ride and love it. That machine's distinctive rumbling voice, I suspect, first nudged me toward music with a similar timbre.
He took me to see the amazingly active Madd Hatters perform a sweat-drenched show that really opened my eyes. Horn players in short dresses, growling, jangly guitars, an acrobatic bassist, a gargoyle screamer, all driven mad by a beast upon the drums. Their sticker now graces my motorcycle. Then we saw the local "hardcore" band, Down In It. After watching open-mouthed at the wild energy in the so-called "mosh pit" unleashed by this primitive music, I understood how Marcus got his nose broken during a Down In It show at Red Dogs on Wrightsville Beach. This band should lead an infantry invasion.
It is strange to admit that I, Lord Wilmington — who rarely wielded the gavel during my many years as speaker of the House of Commons because it made too much racket — was sorely tempted to dive off the stage into the writhing crowd!
Marcus also introduced me to Reggie's on 42nd Street, a club that quickly became my favorite destination to experience this more untamed variety of music. It was there I first saw Johnny and Angela Yeagher perform together in their exquisite punk band, the Zodiac Panthers, the musical equivalent of riding a stripped-down Harley. I have seen them many times since in other places, both as the Zodiac Panthers — Johnny on guitar and vocals, and Angela on drums — and as Ironhead, with Angela switching to bass beside Johnny.
This happily and busily married couple are, in my estimation, the First Family of Rock and Roll in Wilmington. They are punk rock royalty, which is why I've inked my quill to tell you this story about love and music.
"We do everything together," Johnny said while we relaxed in their homey and punky hair salon and record store attached to Reggie's. "We enjoy all the same things: play music, do hair, buy records."
"I don't know how we would do it any other way," added Angela, who also books the shows at Reggie's.
This is one of Wilmington's sweet spots. Elderly ladies getting their hair washed and rolled sit next to — and chat with — youngsters getting their hair fashion-colored like unicorns and rainbows, a specialty at Angie's Records and Hair. The aroma of hair products blends with the aura of a couple who have toured regularly and widely as successful punk musicians and songwriters.
It's a place that inspires, much like my house in London that drew young politicians yearning to learn about leading with style. One of the youths who began hanging out and learning at this salon when he was a little skateboard kid, J.P. Verardi, has grown up to lead the popular local punk band The Girls.
"People ask me, 'When's your kid playing again?'" Johnny said with one of his distinctive smiles. He's got the punk rock look, I've learned. And it's not just the black-on-black hair, leather jacket and Converse sneakers.
Punk has been his life for much of his 42 years. He grew up in Piscataway, New Jersey, the son of a rock-and-roll-loving biker — the real tough kind — and a mother who played folk music professionally. "I think I kind of ruined that when I came along," Johnny told me.
He was born with interesting hands. The little finger on his fretting hand is webbed, and his strumming hand is missing tiny bits. Two smaller fingers born as one had to be surgically split. Those singular fingers found an instant home on the guitar when his parents gave him one at age 10. He never let it go. "I was the guy sitting in my room, playing guitar," he told me.
By age 14 he was in a local heavy metal band, opening shows for international heavy acts. But he quickly found punk was more to his liking. It was just as heavy, but more direct, sort of like my pithy and profound utterances in Parliament, which were often decried by my foes — those callow fellows — as moronic and puerile.
"You're not hiding behind anything else. It's bare bones," Johnny explained of punk's allure. "It's honest — all about the songs." His original punk band, the Runarounds, became quite popular, and he found himself touring the eastern side of the Colonies.
Enter Angela, a bright and lively Winston-Salem girl with cosmetology and psychology degrees, and an absolute passion for rock music, particularly live music. She's also been playing since she was 14, first drums (which her parents pawned because she played them too loudly) and then guitar.
She was organizing shows at the Millennium Center in her hometown when, in 2001, she booked The Runarounds. "I loved his band. Motörhead, Ramones style. I thought they were so cool! They looked cool!" When she learned they needed a bassist, she tried out.
"They said no," Angela recalled. But Johnny asked her out. While they were dating, "I really wanted to be involved in it all," she says. She took bass lessons and practiced relentlessly. "I was super-determined."
Johnny's father was killed by a hit-and-run driver that year while riding. Their relationship deepened, and her bass playing finally made the grade. When they moved to Virginia Beach in 2003, The Runarounds became the popular Ironhead, and they toured the U.S., Europe and Scandinavia.
A friend thought they'd feel at home in Wilmington, so they moved here in 2010 and fell in love with the location and the worthy music scene. Wanting to simplify their act, they gave Ironhead a rest — they still do occasional shows — and formed Zodiac Panthers as a two-piece band, Johnny on guitar and singing with Angela driving on drums.
By the time they opened Angie's Records and Hair in 2015, they had added a bassist. They do shows regularly, mostly in the eastern U.S. "It's a lot of fun, no drama," Angela said.
"Super-short, catchy songs," Johnny added.
Being a lifelong bachelor, I couldn't help but feel skepticism about mixing a touring band, a business and a marriage. But every time I've seen Johnny and Angela together, they seem like the happiest people in the room. Their toughest arguments — and even those are mild and brief, Johnny said — have come when they're working on a new song and can't agree on an arrangement.
My beautiful mother always told me the gifts you receive in life come in direct proportion to your gratitude, and I can't remember meeting a more grateful couple. Each told me how they can hardly believe how beautifully their dreams have come together.
In conclusion, my loyal subjects, I have asked Angela to come up with a plan for my lengthy tresses and Johnny for guitar-slashing lessons. Who knows, some day soon you may see your Lord Spencer Compton onstage in Wilmington — maybe with rainbow hair atop a black leather jacket with brocade trim — playing his lute like a brute with these two royal punks. — Spencer Compton  b