By Gwenyfar Rohler
"So this has been a labor of love. We have been trying to do this show on the Main Stage for a while," Kevin Lee-Y Green, the co-founder and artistic director of Techmoja Dance and Theater Company, notes.
He is talking about Dreamgirls, the 1981 musical by Henry Krieger and Tom Eyen and his efforts to bring it to Thalian Hall. In many ways, it is has become Techmoja's signature show or anniversary show. Green points out that it was the first show Techmoja produced as a theater company, and they celebrated their five-year anniversary with another production of it, both at the Hannah Block Community Arts Center Second Street Stage.
"That used to be Techmoja's home as far as theatrical productions," Green observes. His mother and Techmoja's co-founder, the late Donna Joyner Green, managed the Hannah Block Community Arts Center with Thalian Association for many years. But she and Kevin both dreamed of bringing Dreamgirls to the Main Stage of Thalian Hall.
"Even back to when my mother was alive and with us, we have been trying to do it on the Main Stage for a while," he says. Last year was the 10th anniversary of Techmoja, and Green hoped to celebrate the occasion with the long- awaited show on the Main Stage. However, getting coveted dates at Thalian Hall is easier said than done.
"But this go-round we finally got in there, and our goal is to celebrate — it would have been our 10-year anniversary if we were able to do it last year, but this will be 11 years that the company has existed on the theater end," says Green. "The dance end, we actually were in existence two years prior to that."
There are very few people in the world as fortunate as Kevin Lee-Y Green when it comes to having family support for their dreams. His interest in the arts began at an early age. "I started from watching different dancers on television and mimicking what I saw," he recalls. With a laugh he admits that Saved By The Bell figured heavily into this. But it was really the "popcorn parties" that his mother helped him put together that held the key to his future.
"I started writing shows at the age of 5, and I would cast the children in my neighborhood," says Green. "The way I would persuade them to be involved was I would throw popcorn parties. The kids would come and sit at picnic tables and we would do a read-through and then we would stage the show."
Not long after that, an audition opportunity for Thalian Association Children's Theatre in Wilmington was spotted. The Greens were living in Bolivia, North Carolina, but made arrangements to commute into Wilmington for Kevin's rehearsals. The show was Babes in Toyland.
"Michelle Reiff cast me as Little Boy Blue. From that moment on I was constantly coming over here. I was still writing my shows," Green says. "Then I was doing all these musicals and the thing I realized I loved the most was the dancing, the choreography. So I took classes on and off with Judy Greenhut at Theatre Dance Workshop."
All the while, the Greens arranged life to make sure Kevin was supported and transported to a never-ending roster of rehearsals and classes. When he was accepted to the dance program at the North Carolina School of the Arts, while everyone who knew him and his family was proud, no one was surprised: He had talent, commitment, and a support network that came together to make his dreams possible. But it was after he graduated and found himself contemplating the next step that the real grace of his parents' love became manifest to him.
The Greens realized they had a talented young son with a degree in dance on their hands. Many of his classmates were heading off to New York to pursue their careers there. But both Donna and Kevin's father would face major health problems in the next few years.
"I don't know. There are people who don't feel that they owe their parents, that they have obligation to them. But that's not how I was raised," Green says. Clearly, the Greens had sacrificed and made major efforts to support their son's dreams. When he chose to come home, they had one more surprise awaiting him: "You should call it Techmoja," his father suggested as the name for the new dance and theater company. "Because it's a combination of what you do: TECHnique, MOdern, and JAzz." So Donna and Kevin launched Techmoja.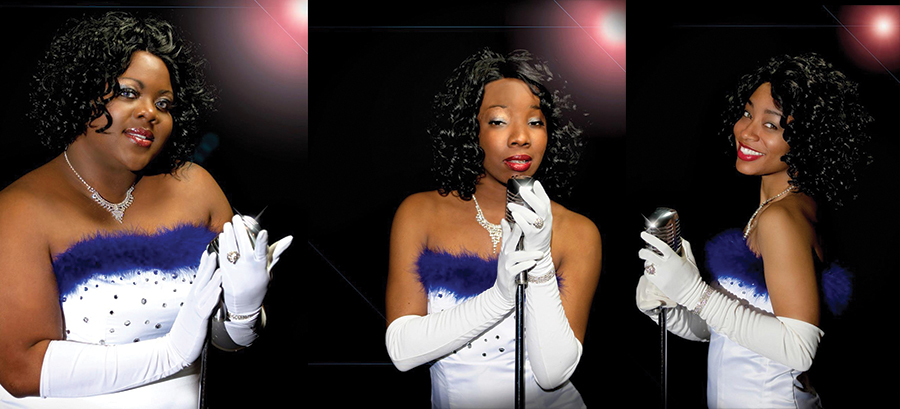 Interviewing a dancer/choreographer is a tough assignment. By nature they communicate most effectively visually, and verbal communication is a second language to them. Perhaps the best example I can give is that Green choreographed and danced his eulogy for his mother at her funeral. That was the most genuine and complete way he could honor her memory.
As Green noted earlier, they began Techmoja with dance productions. Many Wilmington audience members have seen his dance and choreography work at Dance-a-Lorus, the live dance and film collaborative event held every year as part of the Cucalorus Film Festival. His dance and choreography work has also been presented at the NC Dance Festival in Greensboro, Dixon Place in New York City, and this past year Techmoja was a finalist for a grant from the National Dance Project (NDP). One-hundred-and-seventy proposals were considered for 2019, and 36 were selected to go on to the final round. Twenty projects were ultimately chosen to receive funding. The NDP further noted finalists who were not selected for the full funding still received $1,000.
Green's proposal centered around the development of a work called "Quiet As It's Kept. "
"It is about historical sexual trauma through the lens of Southern blackness," Green says. While he continues to work on the development of that piece, he also teaches at DREAMS of Wilmington, the after-school and summer arts education program for kids in our community. "I am also the choreographer for the West Brunswick High School show choir," Green grins. "I started the show choir at my school — South Brunswick. I came back when I had breaks (from NCSA) and continued choreographing for the groups."
The teacher he worked with at South Brunswick retired, and in the meantime the program had expanded to West Brunswick. "We've competed at the state level. The highest they've gotten so far is second place by three-tenths of a point." Green shakes his head. He also teaches private dance classes, and somehow the pieces have come together for him: "I've been able to make a living off that." Yet he still finds time and funding for the passion projects.
This year his work at Dance-a-Lorus, "Sin papeles/Without Papers," received a standing ovation. "I remember this summer seeing . . . about a little girl and her father trying to cross the border and drowning. I remember that affected me very much, and I wanted to do something about it or say something about it, " Green recalls. "I was doing the DREAMS summer camp at the time. I created a version that was accessible to children."
But the more he read about the border crisis and discussed it with people, it continued to turn over in his mind. "This is not my story, but I wanted to make sure that if I was going to tell it, it was authentic. That it was informed. We have so many times that stories are told that are not our own and are not informed, and then therefore they may not be authentic," Green says. He brought in Yolanda House to consult on the Latina perspective of the story: "There was sand for the soloist at the beginning, because I felt sand was a very important element to put us in the mindset of what these people travel on, what they have to deal with, what they lay in . . . it was really helpful for the dancers: it took them to another place."
That concern about authenticity in storytelling is important to Green as an artist and has been part of the guiding force for Techmoja from the beginning. Dreamgirls is a great example: The show is about three young women pursuing their dreams of singing professionally in the 1960s-'70s, and the exploitation of African-American artists in the industry. Parallels have been drawn between the script and the story of The Supremes.
"In Dreamgirls they take on the styles and the fashions that they think will help them cross over (to a white audience) and then they deal with people taking their work, culturally, and deal with people doing it through an unauthentic lens," says Green. "I think the show is very much a part of me, and that's why I take to it so much. This idea of people trying to belong somewhere and not feeling welcomed."
He pauses, then adds: "It even gets to the point where it's like he (the manager) replaces the lead singer because she's not supermodel quality: She isn't thin, she doesn't have the lighter voice, she's too soulful, she's too African-American. So he goes with the lighter sound and the thinner body.
"I will admit that when I directed the show the first time, I was fresh out of college. There are some things that I might have been too young to understand and may not have experienced yet. It still turned out to be a great show. When we did it again in 2013, I started to notice things that I didn't notice the first time. So coming back and doing it on the Main Stage, I will be able to do it the way I think it was supposed to be."
Part of this production of Dreamgirls will include the unveiling of the Donna Joyner Green Scholarship of the Arts. "My mother was very much about getting kids to college or getting them to their next point in life," Green says. "She was very good about helping the youth. She really took to misfits, the ones that everybody else was like, 'I don't know what else to do.' She was like, 'I know what to do.' She had a very caring, genuine spirit. I want to create it for that reason. To get someone each year to the next stage of their life so they can be successful."
This February, audiences are invited to watch the bumpy road to dreams coming true: While three young women learn the lessons of life and art, the man who has dedicated his life to pursuing those same dreams shyly notes, "The second Thursday performance is my birthday."
What better way to celebrate a life lived for the art, than onstage? It will be a very special show that honors Donna Joyner Green's memory with two of the most visible pieces of her legacy: her son Kevin Green and more than a decade of Techmoja's success.
Gwenyfar Rohler spends her days managing her family's bookstore, Old Books on Front Street, in downtown Wilmington.