The Bald Head Island Conservancy celebrates its most celebrated summer visitor — the sea turtle
By Virginia Holman
Part of Bald Head Island's appeal is the island's relative inaccessibility. Though Bald Head is no longer an island separate from Pleasure Island — Corncake Inlet shoaled in after Hurricane Floyd, making it possible to walk the 10-mile beach strand between Fort Fisher and the remote coastal village — trying to access it on foot during the hot months remains an unappealing, crossing-the-desert-like option. Official island or not, most people prefer to access Bald Head by private boat or on one of the town's comfortable passengers-only ferries: the Sans Souci, the Adventure, the Patriot and the Ranger.
This 20-minute trip affords visitors expansive views of the Cape Fear River. As soon as visitors arrive on Bald Head, the "real world" and its troubles melt away. One reason is that it's soul-soothingly quiet, so quiet that you can hear the gentle squeak of pelican wings when they pass overhead. The ever-present low-level traffic noise of the mainland doesn't exist here.
The other thing that visitors notice straight away is the dappled light. Bald Head villagers cherish their trees. Most of the island's narrow paved roads meander through an extensive network of pristine maritime forest. Even on the hottest days, visitors are often out and about enjoying the day beneath this shaded canopy of live oaks. All of this is possible because this forward-thinking town made its mission to develop the island thoughtfully, with particular emphasis on preserving and protecting the town's natural beauty, watersheds and wildlife.
Enter the Bald Head Island Conservancy: This impressive nonprofit, formed in 1983, is the environmental stewardship organization of the island. If you aren't looking for the Conservancy, it's easy to miss. This small compound is housed in an understated network of buildings designed to blend in with the surrounding maritime forest. Staff offices, classrooms for ongoing education programs, wet and dry lab spaces, and even a small dormitory for the Conservancy's 17 summer interns coexist side-by-side. Throughout the year, staff and scientists run education events, conduct research, and assist visiting researchers with everything from chemical contaminants in rainwater to sea turtle navigation.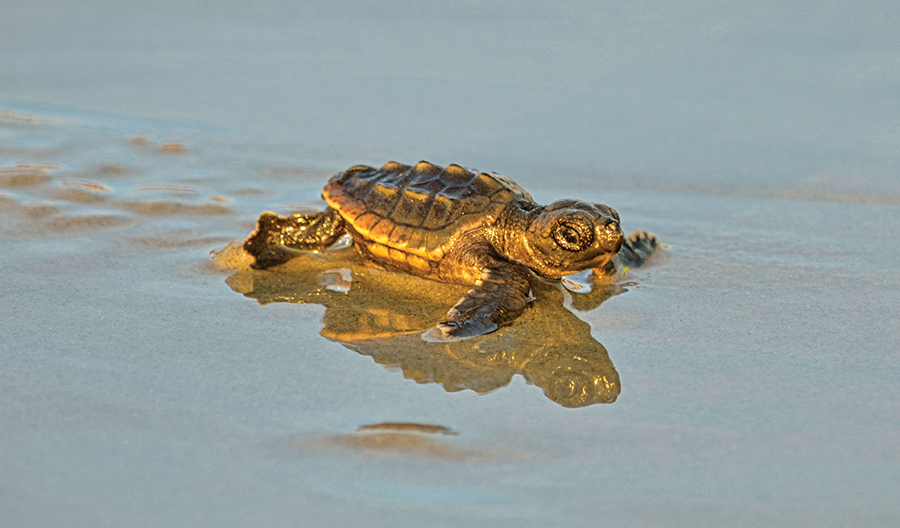 The Conservancy's mission is threefold: It "fosters community barrier island conservation, education, and preservation." Community, for the Conservancy, includes homeowners, vacationers, as well as mainlanders in nearby coastal counties. Dr. Beth Darrow, BHIC's senior scientist, says that in 2017, the Conservancy was awarded a grant from Duke Energy to fund the Barrier Island Botanists Program, an initiative to bring nearly 1,000 Brunswick County sixth- graders to Bald Head to learn about the island's ecology. Students will work with coastal ecologists to learn about barrier island habitats as well as the unique plants and insects that thrive on Bald Head. Though the program was interrupted by Hurricane Florence, it is scheduled to restart in the fall of 2019.
The island is also a haven for many creatures: deer, alligators, lizards, snakes, eagles, coyotes, osprey, painted buntings and butterflies. The Conservancy offers a wide variety of coastal programming aimed at educating the next generation to be thoughtful stewards of this unique barrier island. Programs include a fishing school, kayaking trips, birding courses, and a day camp that offers the opportunity to "be a sea turtle biologist in training."
Bald Head's most notable celebrities are, without a doubt, the sea turtles that migrate to its shores to nest each summer. With three appealing oceanfront beaches that face south, east and west, the turtles have a number of nesting options. There were 52 recorded loggerhead turtle nests in 2018. Despite six lost nests — two to Hurricane Florence, two to drowning, and two to coyote predation — a total of 4,400 hatchlings made it to sea successfully. Even with such impressive numbers, if you want to catch a glimpse of a sea turtle, you have to watch and wait, and wait, and wait. That's because most sea turtles that nest in North Carolina (with the exception of the Kemp's Ridley) are nocturnal nesters. They also like their beaches as dark as possible — bright light can disturb and disorient nesting sea turtles and their hatchlings. That's why Bald Head has stringent protocols for outdoor lighting near its beaches, and allows only red light use on the beaches at night during nesting season.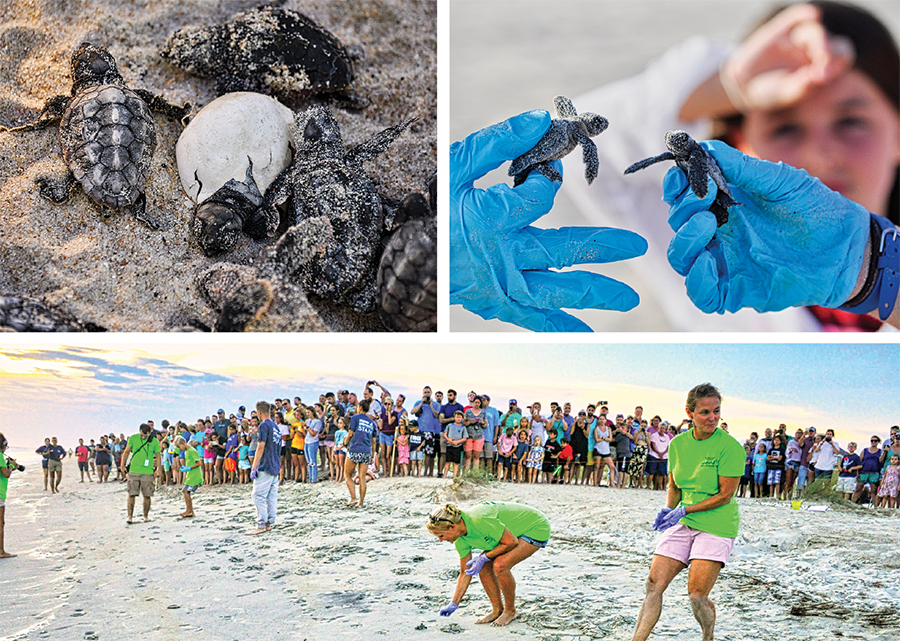 "Most beach communities with turtle patrols use dawn patrols," says Paul Hillbrand, BHIC's sea turtle program coordinator. In communities with dawn patrol programs, sea turtle volunteers hop on small golf-cart-like utility vehicles each morning and look for evidence of turtle crawls. Hillbrand sketches out several distinctive types of turtle tracks in the sand. "The volunteers will look at these tracks to see what kind of turtle came ashore, and then determine the location of the nest," he says. "On Bald Head, we do saturation tagging. In other words, two teams of trained turtle interns patrol the beaches every hour from dusk until dawn with the goal of intercepting each nesting mother that comes ashore." It's a labor-intensive process, but one that yields a tremendous amount of turtle data over time.
BHIC coastal scientist Emily Goetz explains saturation tagging: "When a turtle begins to deposit her eggs, the interns tag the turtles with both PIT and flipper tags, obtain a small DNA sample from the nesting mother's flipper, remove one egg to send to the state for DNA analysis, and take measurements of the carapace." BHIC is the only private organization in North Carolina currently permitted to use PIT tags (similar to a microchip you might get for your dog or cat). Before a nesting mother is tagged, she is first scanned to see if she already has a PIT tag. If so, it will emit a unique code. With this code, researchers can identify and record how many times a particular mother has returned to Bald Head, document her health and development, and so on. This information is then logged into BHIC's database, which contains 30 years of nesting sea turtle data — making it perhaps the most significant repository of nesting sea turtle data in the state.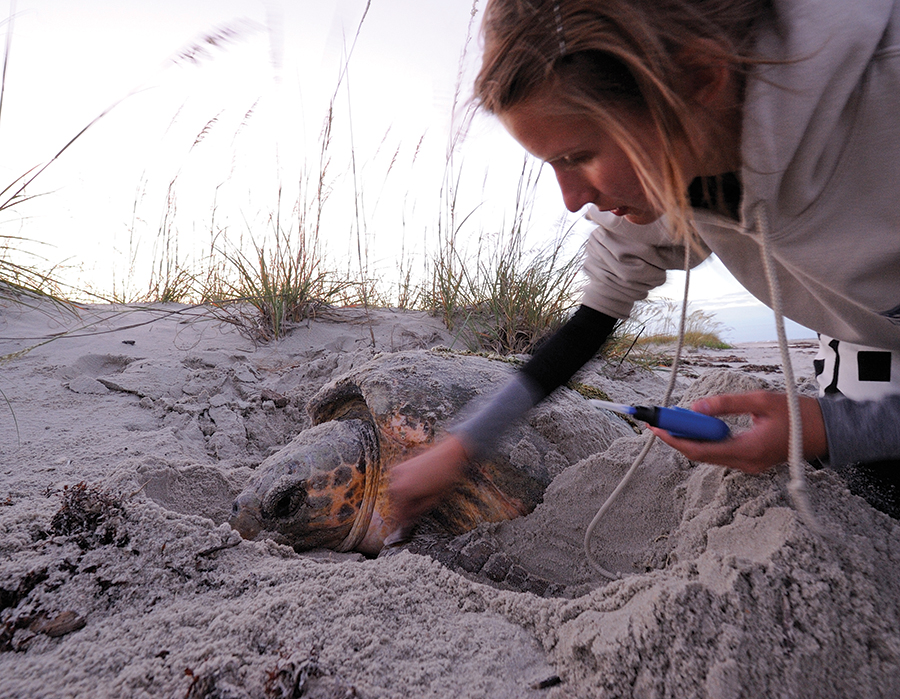 BHIC is a nonprofit, so to keep its programs running and its staff paid, they work hard to raise awareness about their work. Substantial ongoing funding on the island comes from the the Conservancy's stand-alone retail shop, Turtle Central, managed by Pam Smith and Hannah Newcombe. This charming store stocks eco-friendly, environmentally sustainable clothing, gifts, jewelry and art, and a fine selection of books about Bald Head and the surrounding area. All profits from the shop support the work of the Conservancy. And on June 19, BHIC will host its first event in celebration of World Sea Turtle Day. Melissa Blackmon, director of development at BHIC, says that the day-long, family-friendly festival will start with a 5K turtle trot and 1-mile fun run, and that educational and crafts events for kids will run all day. There will also be a wine tasting, live music, and even a fashion show. A free shuttle will run from the marina to the event site. What could be better than a day spent on Bald Head celebrating North Carolina's cherished sea turtles?
Photos taken during conservation activities authorized by state and federal agencies
To learn more about Bald Head Island Conservancy and their World Sea Turtle Day event, visit https://www.bhic.org/blog/282509/world-sea-turtle-day-celebration. The ferry to Bald Head runs out of Southport, North Carolina: https://www.baldheadisland.com/island/ferry.
Author and creative writing instructor Virginia Holman lives and writes in Carolina Beach.