Thunder and Lightning
Thalian Hall is the proud owner of America's only operating Thunder Roll, a 19th-century sound effect that originally employed cannonballs running down wooden troughs in the stage's rafters to re-create the sound of an indoor thunderstorm. Thalian Hall still uses its Thunder Roll, which has delighted generations of audiences. Come in from the heat and travel back in time. Admission: Free. Aug. 10, 1 p.m. and 3 p.m. Thalian Hall, 310 Chestnut St., Wilmington. For info: (910) 632-2285.

To the Lighthouse
Take the ferry to Bald Head Island for the annual Run for the Light, a scenic race through the island's coastal dunes and maritime forest. There will also be an afternoon festival celebrating National Lighthouse Day with music, beer and barbecue. In addition to timed 10K and 5K courses there will be a 1-mile untimed run. Proceeds benefit the Old Baldy Foundation. Tickets: $35-$72, depending on ferry ticket purchase. Aug. 4, 6 p.m. Old Baldy Lighthouse, 101 Lighthouse Wynd, Bald Head Island. For info: its-go-time.com/run-for-the-light.
Catch a Wave…
Three important surfing events will take place along the coast this month:
On Aug. 11, Life Rolls On, an organization founded by world champion quadriplegic surfer Jesse Billauer, hosts an Adaptive Surf Clinic for people living with disabilities. The organization hosts skating and surfing events all over the country. Admission is free for everyone. Aug. 11, 7 a.m. 2 Carolina Beach Ave. North, Carolina Beach. For more info: liferollson.org/northcarolina.
On Aug. 16 to 18, the O'Neill-Sweetwater Pro Am Surf Fest will take place in Wrightsville Beach. It's one of the largest surfing contests on the East Coast and attracts professional surfers from around the world. There is a pro purse of $20,000. Admission: Free. Aug. 16-18, 8 a.m.-4 p.m. Birmingham Street, Wrightsville Beach. For info: (910) 256-3821 or sweetwatersurfshop.com.
On Aug. 24-25 check out the Wrightsville Beach Wahine Classic. Open to female surfers of all levels and age groups, there will be shortboard and longboard competitions as well as an SUP division. Best viewing spots: Wrightsville Beach Public Access 37 and 38. Awards ceremony will take place at 3 p.m. on Sunday. Admission: Free. Aug. 24-25, 8 a.m.-3:30 p.m. Wrightsville Beach (South End). For info: (910) 465-9638 or wahineclassic.com.

All That Jazz
Artistry in Jazz is a Wilmington-based ensemble of 21 musicians and a vocalist who love to play big band jazz, particularly the West Coast stylings of the legendary Stan Kenton. The group plays arrangements by Kenton, Count Basie, Benny Goodman, Tommy Dorsey and Glenn Miller, among other greats. They will perform an outdoor concert on Carolina Beach on Aug. 9. Be there or be square! Admission: Free. Aug. 9, 7 p.m-9 p.m. Carolina Beach Boardwalk, Cape Fear Blvd., Carolina Beach. For info: (910) 686-7451 or artistryinjazz.net.
Starry, Starry Night
Founded in 1983, the Cape Fear Astronomical Society welcomes all night-sky enthusiasts and offers field trips to sites of astronomical interest. Carolina Beach State Park will be the setting for observing the heavens at the society's August astronomy program. Telescopes will be set up for viewing stars, the moon and Jupiter. Admission: Free. Aug. 3, 8 p.m. Carolina Beach State Park, Visitor's Center Parking Lot, 1010 State Park Road, Carolina Beach. For info: (910) 458-8206.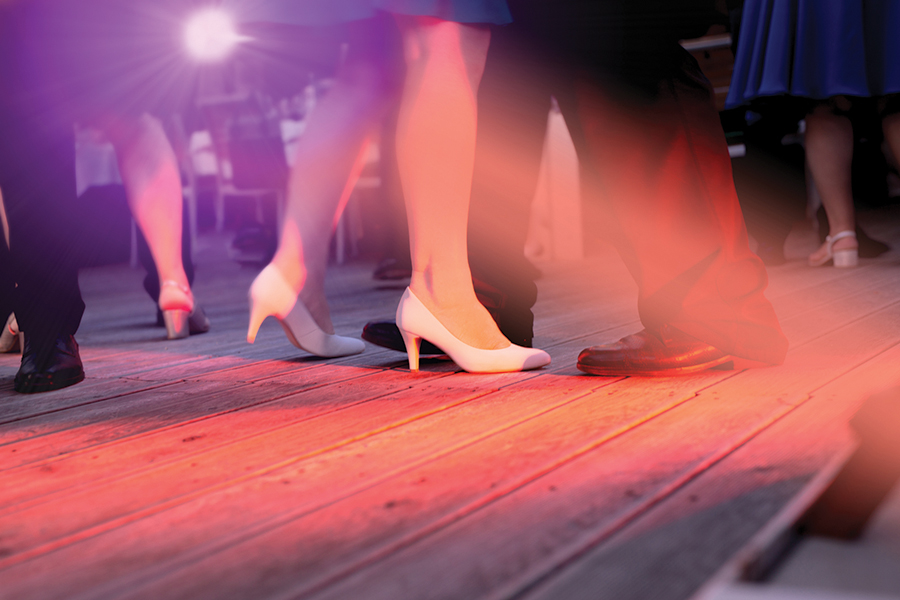 Farewell to Summer
Still looking for party? Here are three ways to end the summer in style:
The 14th Annual Wilmington Fur Ball's theme this year is Roaring Twenties Speakeasy. Dress accordingly. Tickets: $100. Aug. 24, 6:30-10:30 p.m. The Terraces on Sir Tyler, 1826 Sir Tyler Drive, Wilmington. For info: wilmingtonfurball.com.
Lumina Daze, a dance party, benefits the Wrightsville Beach Museum of History. Music provided by the Wilmington Big Band, the Dixieland All-Stars, and The Imitations. Tickets: $35-$45. Aug. 25, 6 p.m.-9 p.m. Blockade Runner Beach Resort, 275 Waynick Blvd., Wilmington. For info: (910) 256-2569 or
wbmuseumofhistory.com.
Celebrate the end of summer at the Last Chance for White Pants Gala, a party to benefit Lower Cape Fear Hospice. Tickets begin at $150. Aug. 24, 7 p.m.-12 a.m. Audi Cape Fear, 255 Old Eastwood Road, Wilmington. For info: lcfh.org/event/2019-last-chance-for-white-
pants-gala.

She Sells Seashells
Malacologists and amateurs alike from across the state will be attending the 43rd Annual North Carolina Shell Show, which offers something for everyone—from scientific displays to a wide range of shell dealers with stunning specimens for sale. Admission: $4. Coastline Convention and
Event Center, 501 Nutt St., Wilmington. For info: (336) 693-4492 or ncshellclub.com.