The New French
Re-imagining a classic plantation house at Shandy Point
By William Irvine   •   Photographs by Rick Ricozzi
Shandy Point is one of the most scenic neighborhoods in Wilmington. A canopy of ancient live oak trees lines its lanes, and the neighborhood's centerpiece is a small harbor for local boats, which leads through a channel to the Intracoastal Waterway.
Lee Garrett's house holds pride of place at the edge of the boat basin here, a three-story wooden plantation-style structure that she renovated with the help of High Maintenance Builders. And Lee has always been a lover of all things French, and that's where Gigi Sireyjol-Horsley, her decorator of choice and the proprietor of the stylish shop Paysage, came in. "She is a Francophile in all aspects of it," says Gigi. "She had been a Paysage regular client for several years. One day she popped in while we were unloading a truck and saw on the sidewalk a beautiful Swedish clock. This piece started the renovation of her previous house; while we were working on making changes to her townhouse, the opportunity of this fantastic property arose and we switched gears!"
The goal was to create a beautiful and comfortable house that would accommodate Lee's children, grandchildren, two dogs and everyone's friends — but also with an undercurrent of French style and furniture that was sympathetic to Lee's family pieces. "She also wanted a home in which each room will be used every day," says Gigi. "I call the style purposeful and timeless French elegance."
The approach to the house is welcoming — a visitor is greeted by a large pair of Rodin-style lanterns from Bevolo in New Orleans that flank the door, which is evocative of a Parisian appartement — a custom-made replica by Stephenson Millwork in Wilson of a French example with beveled glass and handsome hardware.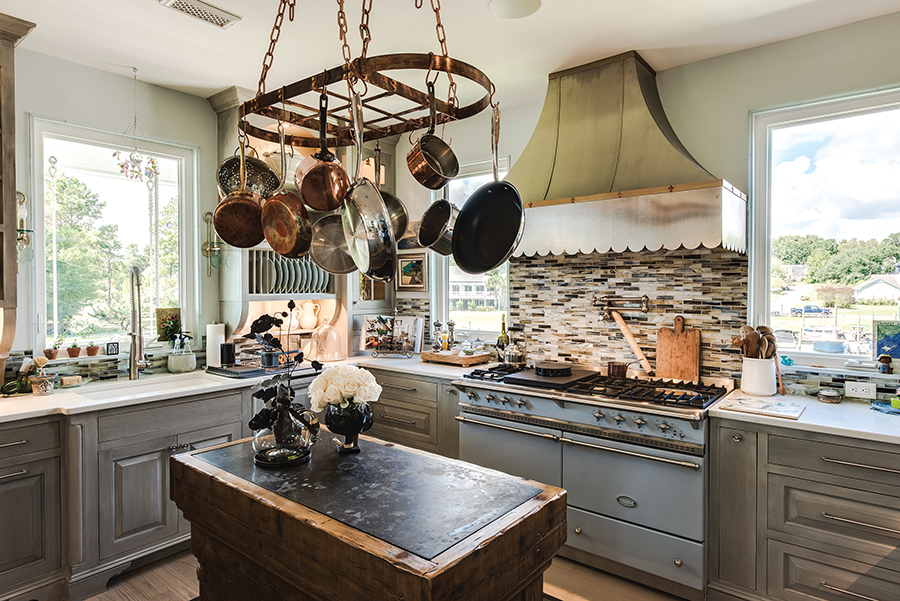 Inside, the first-floor public rooms show Sireyjol-Horsley's elegant touch. The front of the house has an office with a mixture of new and old pieces, with a palette that is soft and gentle — a French gray and a soft green to echo the water views outside. There are family pieces from Lee's mother, Lucy Brewer, who grew up on Rose Hill Plantation near Nashville, North Carolina. The living room's welcoming feature is a beautiful French marble mantelpiece and a large fish tank set in a French Provincial composite cabinet.
"Lee wanted the kitchen to be the focal point of the whole house," says Gigi. The result is classic and very French: a center hanging rack lined with copper pots, a French butcher block table in the center of the kitchen with a bluestone top, the stove from Lacanche Fourneaux de France. An all-white cabinet full of Limoges china lines the wall. The adjacent wet bar from Anchor Hardwoods is made from spalted pecan, which gives it a marbleized look. In the dining room, wallpaper resembles the outside reflection of water, and the large antique Swedish clock dominates the corner.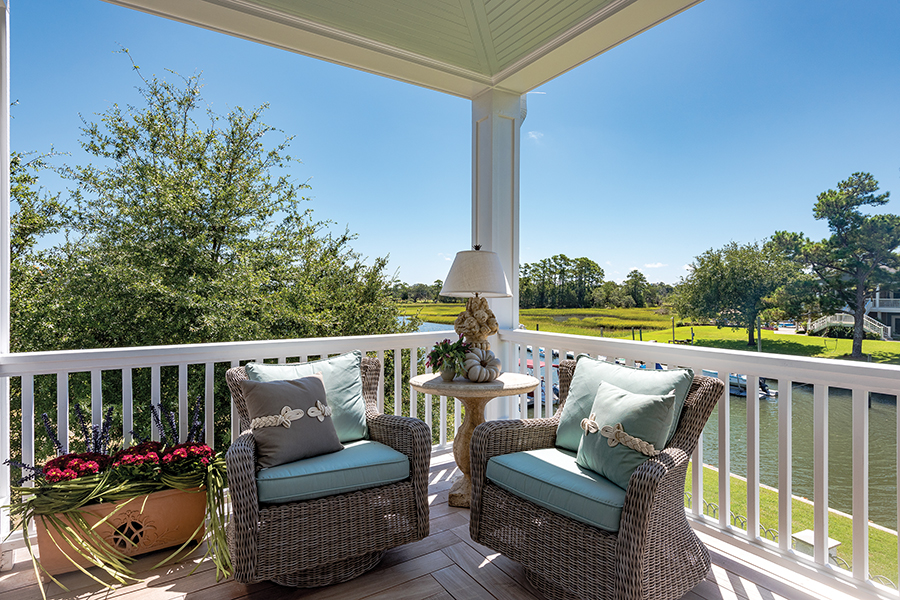 The stairhall is enhanced by metalwork gates custom-made by Roy Mended of R Mended Metals, with fish swimming through reeds on both sides. An upstairs balcony features another Mended railing, this time of seagrass, reflecting the imaginary view out to the channel.
Upstairs, the French influence can be seen in the entrance to the master bedroom, which is quite formal, with a pair of mirrored antique doors flanked by a pair of French sconces. The room contains beautiful curtains, heavily embroidered in an Osborne and Little fabric. A large reproduction French bed is surrounded by a pair of 19th-century French medallions; there is also an attractive seating area in French grays. The overall effect is elegant, calm, and so very chic. "We wound up with a sophisticated design that reveals only the details that matter," says Gigi. And it certainly helps when you have a dream client who shares your Gallic enthusiasms. "Lee is a light breeze that calms the soul," she says with a smile.  b