Cottage Chic
In the heart of historic Carolina Place, a gem from 1920 begins its second century with style
By William Irvine  •  Photography By Rick Ricozzi
Carolina Place is a lovely historic residential neighborhood, the first of the three so-called "streetcar suburbs" — along with Carolina Heights and Winoca Terrace — that were developed in Wilmington at the turn of the last century. In 1906, a 68-acre parcel of land at 17th and Market streets was purchased by the American Suburban Corporation of Norfolk, Virginia, which envisioned an attractive but architecturally modest neighborhood for the middle class, with curving streets, wide sidewalks, hundreds of shade trees, and easy access to downtown via trolley line.
Aside from some new paint colors over the last hundred years, little has changed in Carolina Place, which seems frozen in time at around 1910. And this is the sense one gets upon approaching Laura Kokesh's 1911 Craftsman-style bungalow, a serene oasis mid-block on Perry Avenue, which you can see for yourself as part of this year's Historic Wilmington Foundation Azalea Festival Home Tour.
Like many new arrivals (she moved to Wilmington two years ago from Illinois), Kokesh was drawn to the warm coastal climate, but she also had some fairly specific requirements: "I wanted an old house, first of all — that was at the top of my list. I was interested in a small, historic city with a downtown area where you could walk around, with restaurants and shops. I looked in Georgia, where my sister lives, but no success."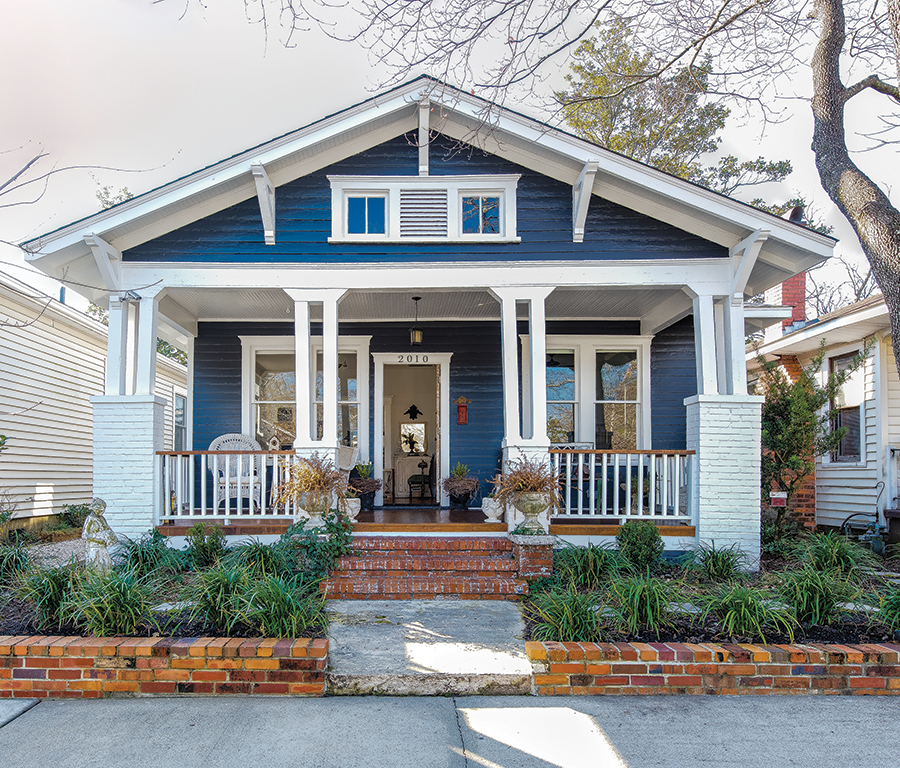 Wilmington kept coming up in her Google searches; she had never heard of it, but was intrigued. Soon the handsome architecture beckoned. She flew down for a long weekend, looked at five houses and then: Sold. In the course of three days, she 1) bought a new house; 2) quit her job; and 3) decided to move to North Carolina within the month. "A lot of life changes at once, but I don't regret it for a minute," she says with a smile.
The floor plan of the 900-square-foot, one-story cottage is deceptively modest; the unadorned floors and windows emphasize the ceiling height and make it feel like a much larger house. Luckily for Kokesh, the house was remodeled right before she moved in. "You should have seen the before pictures," she says. "It was nasty. Pink."
Looking around the house, you can see how this would be anathema to Kokesh, who has furnished the cottage with all neutrals, an effect that is very calming. "Well, you nailed it when you said calm," she says. "The natural palette I have chosen truly gives me a sense of peaceful calm . . . and even on a dreary day the house feels bright and cheery." The walls are French grays, with bathrooms in charcoal black. "I love using plants as my 'pop' of color," she says. "Their beauty and simplicity seem to naturally complement the neutral background in the house."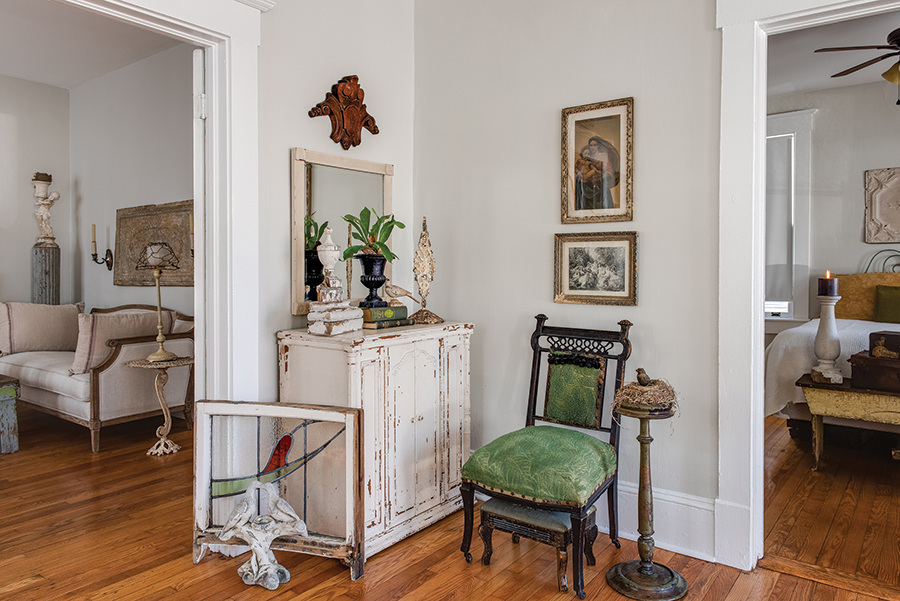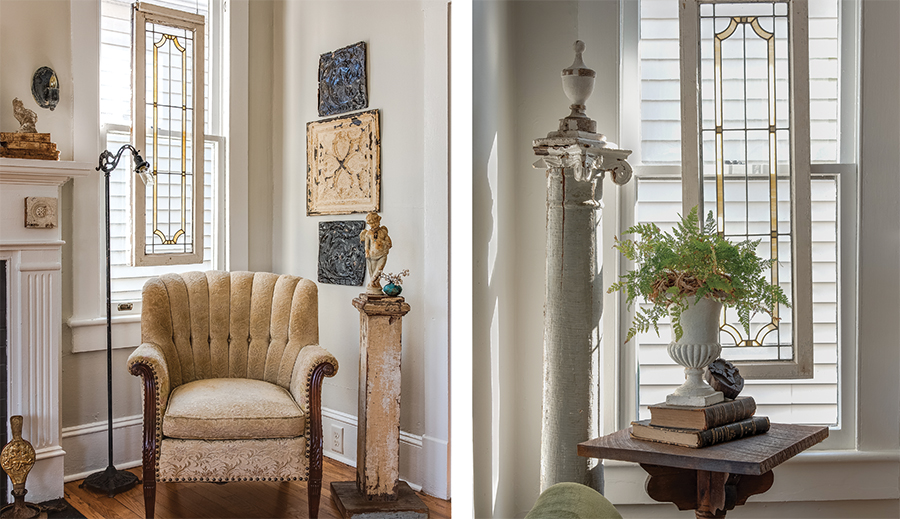 Upon opening the front door, you enter right into the living room with a large fireplace. But most noticeable are the details: no carpet. Classical cast-iron urns painted white, a freestanding wooden column topped by a large finial, tin ceiling panels hung on the wall as artwork. "I would describe my decorating style as vintage with an emphasis on chippy, repurposed and architectural pieces," says Kokesh. "I love collecting old books, mirrors and unique garden pieces." So it is no surprise to learn that Kokesh volunteers at Legacy Architectural Salvage (a project of Historic Wilmington Foundation), where she clearly gets first dibs on some of the new merchandise: "I initially came upon the shop where I first moved to Wilmington because I was looking for pieces for my own house. So it naturally seemed fitting to become a volunteer at a place that felt like my own home in many ways."
Moving through the parlor doors, a visitor enters the former dining room, but is now a second seating area. No dining room? "I don't really need one — no use for it," she says. Instead, the carpet-free room reveals pretty hardwood floors. A French sofa upholstered in white linen overlooks a rustic painted chest of drawers topped by a pair of large metal carriage lanterns; a painted urn rests atop an Ionic capital on a makeshift coffee table.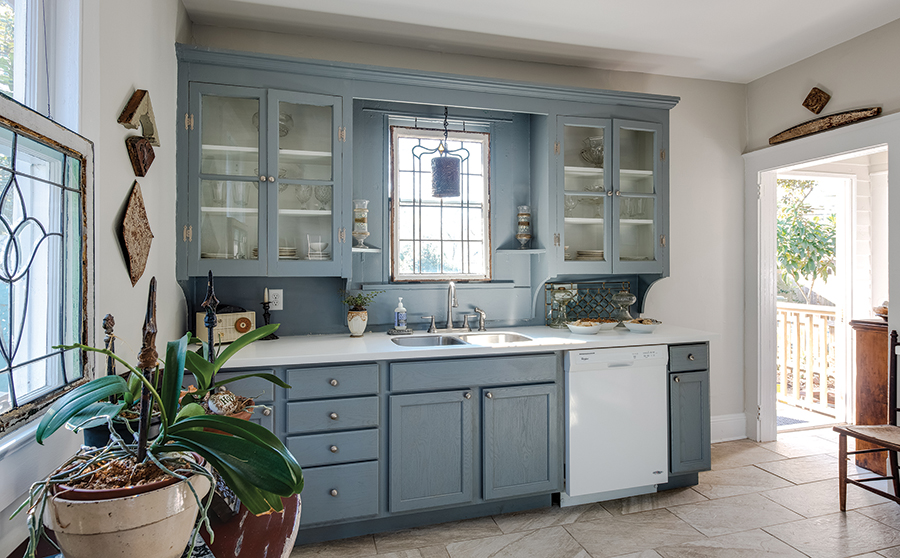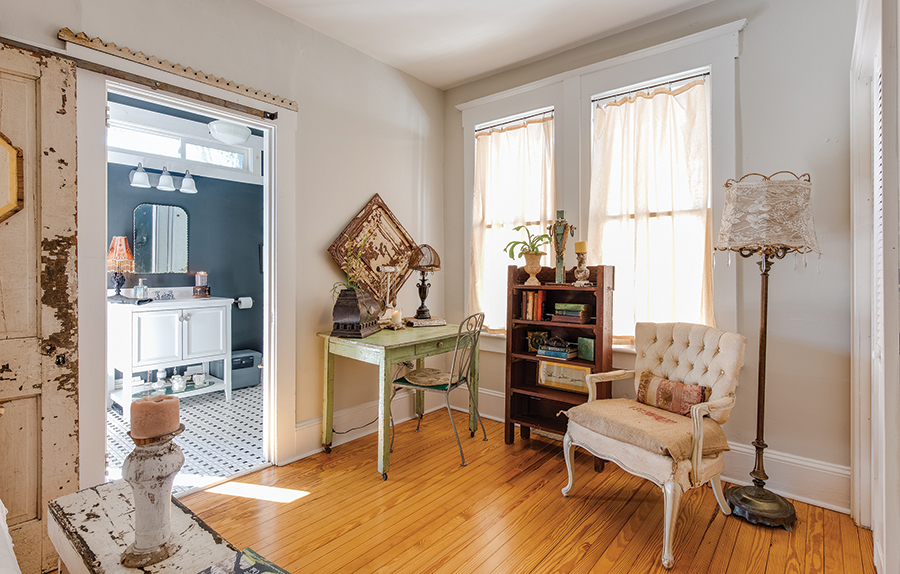 The right side of the cottage is an enfilade of master bedroom, bathroom, a guest room with a handsome cast-iron daybed, and a former outdoor porch, which has been converted to a guest bath with shower. The serene kitchen, at the back of the house, has as its centerpiece a large built-in glass-door pantry for china and glassware, and ample under-counter storage and work surfaces. The back door leads out to a small yard, where Kokesh has laid a brick path and removed a large dead tree. "It is still a work in progress, but it brings me great joy to spend time out there now," she says.
But most memorable of all in this tiny house are the captivating tableaus of antiques that occupy every corner — here, an old painted metal lozenge, there an elegant urn-shaped 1930s lamp, pillar candles on old wooden balusters. It's all a result of Kokesh's refined eye. "My family likes to joke that I am an 'old soul.' "she says. "I really think there is a story to be told in each and every piece I own, and I love the connection antiques have with the past."
William Irvine is the senior editor of Salt.
The Historic Wilmington Foundation Azalea Festival Home Tour features 10 houses in three historic neighborhoods. April 4-6. For more information and tickets: historicwilmington.org/azalea-festival-home-tour.