The Baker's Apprentice
How cookbook guru Ken Haedrich saved Thanksgiving from the clutches of Sara Lee
By Virginia Holman   •   Photographs by Mark Steelman
It may be immodest to say so, but I'm a delightful Thanksgiving guest. So wonderful (or at least so cunning) am I, that until a few years ago, I had managed never to host a Thanksgiving meal. I always arrived with a good bottle or two of whatever our host enjoys, a funny story, and dessert in a charming porcelain dish. (Who would ever know if it was Sara Lee or me? Reader, I confess; if it was good, it was Sara Lee.)
Then, a few years ago, at the tender age of not quite 50, I rose to the occasion and hosted my first home-cooked Thanksgiving dinner. My family, well aware that my skills in the kitchen are remedial, dispensed basic recipes and advice. (Keep it simple. Rome wasn't built in a day. Lower your expectations.) By the last measure, my dinner, I'm happy to report, was a roaring success. Hot food was served! My family ate it! No one else had to cook! I had a few days of post-Thanksgiving afterglow and felt quite pleased with myself. Then I began to doubt my experience. Maybe things hadn't gone well. Maybe by "pleased with myself," I meant "relieved it was over." This escalated to the point that I became convinced the meal had been terrible and I was simply the hapless victim of good etiquette.
Alas, there is only one way to know, so this year I have volunteered to host Thanksgiving a second time. This time, I have decided to up my game. Knowing that all's well that ends well, I have decided that my best shot at improving my holiday hostess game is to make a killer dessert. When I found out that nationally renowned cookbook author and baking teacher Ken Haedrich had retired to Wilmington, I talked my way into his kitchen for a private lesson. As it turned out, I couldn't have had a more generous, delightful, or accomplished instructor. Ken guided me through the assembly of an apple pie, taught me how to use a rolling pin (yes, I'm that remedial a baker) and was utterly unflappable, even when I mistakenly put in 3/4 of a teaspoon of salt instead of cinnamon and ruined the dough. I was annoyed with myself and half-ready to call it quits out of sheer frustration, but Ken just shrugged, matter-of-factly tossed everything into the trash, and we began again. No guilt. No judgment. Ken manages to be both focused and easygoing at the same time.
Ken's a tall, lean man with silver hair and a measured, calm voice. He grew up as one of seven children in New Jersey, and his fondness for baking pies was fostered by watching his parents in the kitchen. "My parents loved making pies together and on fall weekends, they would load all of us in the car and we'd go to the mountains of New Jersey and buy a bushel-basketful of apples," he says. "My parents made the pies together, just the two of them, while we kids watched and waited. I loved watching them bake — they took such joy in it." Ken describes pie making in much the same way one might describe a mindfulness practice like meditation or yoga.
Though Ken always enjoyed food and cooking, he came to be a baker after pursuing other jobs. "In 1972, I joined the Navy as a Seabee and shared a home off base with other sailors. I gravitated toward the kitchen and enjoyed preparing our meals." Later, he worked as a cook in a home for abused children who were wards of the state. He also began writing and collecting his recipes into self-published cookbooks that he sold for extra income. Over time, as it became clear to him that he was interested in a niche career in pie making, he began writing for magazines like Bon Appetit, Food & Wine, and Cooking Light. In time, he was publishing cookbooks with Harvard Common Press and Workman Publishing. His cookbook, Pie, is a fastidiously compiled accessible collection of recipes that was warmly received by the likes of The New York Times and Williams-Sonoma.
After a long, successful career in traditional cookbook publishing, as Ken approached retirement age, he found he wanted something more. He wanted a pie-making community, and so he founded The Pie Academy. Through the academy Ken is able to deliver recipes and instructional videos all over the globe. He also runs regular Weekend Pie Getaways in locations like Charleston. At these gatherings, people not only learn to make pies, they form bonds with one another, laugh, bake, and eat together. Ken tells me that attendees often comment that they find the weekends an antidote to their workaday lives. "There's something tactile and contemplative about pie making; it's very different from sitting at a desk all day." he says. Ken has also returned to his roots in self-publishing. His recent book, Pie Zero to Pie Hero, a short e-book, is an accessible and concise guide to the basics of pie-dough making.
Once we've finally made our pie crusts, he advises me to only use apples for my Thanksgiving pies that are good baking apples. "You really want apples that are both sweet and tart, and ones that will hold their shape after baking." He recommends Jonagolds and Northern Spy apples. I immediately think I should make up a whimsical recipe of my own — a Southern apple pie of Northern Spies — but then I realize that not following the recipe is likely to make  me more Pie Zero than Pie Hero at Thanksgiving. I follow Ken's example and return my focus to making the crumb topping. After 30 minutes in the oven and some time on the cooling rack, we've made a classic American apple pie to cap off my Thanksgiving dinner. The turkey and ham, however, will be outsourced.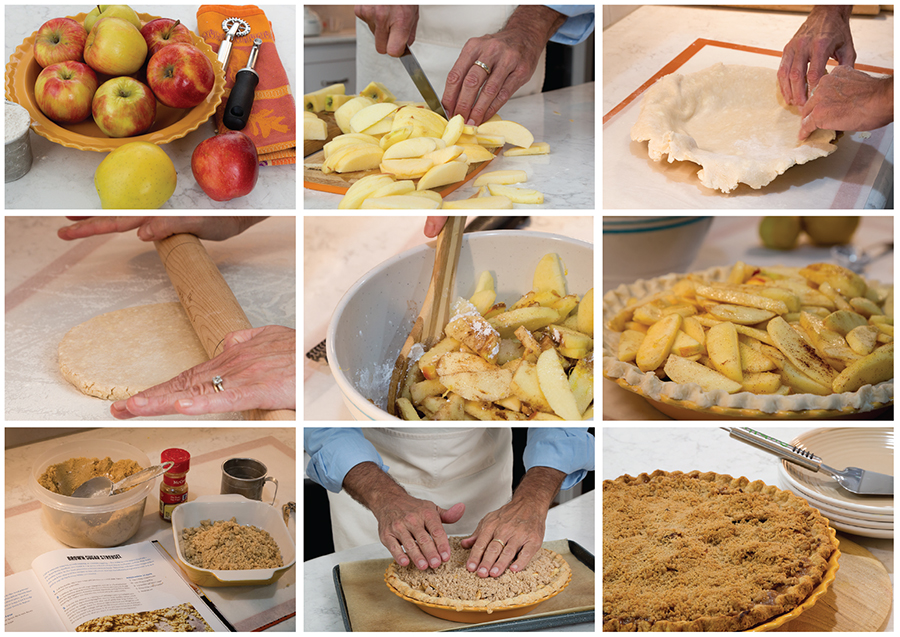 Ken's Favorite Apple Crumb Pie
Food Processor Pie Dough (see below)
Filling
7-8 cups peeled, cored, sliced apples.
2/3 cup packed light brown sugar
2 tablespoons cornstarch
1 teaspoon cinnamon
1/4 teaspoon nutmeg
1/8 teaspoon salt
1 1/2 teaspoons lemon juice
Crumb Topping
1 1/4 cups all-purpose flour
1/3 cup granulated sugar
1/3 cup packed brown sugar
1/2 teaspoon cinnamon
1/4 teaspoon salt
1/2 cup (one stick) cold, unsalted butter, cut into 1/4-inch pieces
1. If you haven't already, prepare and refrigerate the pie dough. Roll the dough and line a 9 1/2-inch deep-dish pie pan with it, shaping the overhang into an upstanding ridge. Flute the edge, if desired. Refrigerate the shell while you prepare the filling.
2. Position one of the oven racks in the lowest position and another in the middle of your oven. Preheat the oven to 375 degrees. Line a large baking sheet with parchment paper or foil to catch any spills.
3. Place the prepared apples in a large mixing bowl. Combine the brown sugar, cornstarch, cinnamon, nutmeg and salt in a separate bowl. Mix briefly by hand, then stir into the apples. Stir in the lemon juice.
4. Transfer the filling to the chilled pie shell, mounding it in the center. Place the pie on the baking sheet. Place on the low oven rack and bake for 25 minutes.
5. While the pie bakes, make the crumb topping. Combine the flour, sugars, cinnamon and salt in a food processor. Pulse several times to mix. Scatter the butter over the dry ingredients. Pulse repeatedly, until the topping has a texture like coarse sand. Don't let it form large clumps. Transfer to a bowl and refrigerate.
6. When the pie has baked 25 minutes, remove it from the oven, on the sheet, and carefully — so you don't burn yourself — cover the apples evenly with the crumb topping, patting it down gently. Continue to bake the pie, on the middle rack, for 30 to 40 minutes, until the juices bubble thickly around the edge. If the topping starts to get too brown, cover the pie with foil. Transfer the pie to a rack and cool for at least an hour or two before serving. Makes 8 to 10 servings.
Food Processor Pie Dough
1 1/2 cups all-purpose flour
1 1/2 teaspoons cornstarch
1/2 teaspoon salt
10 tablespoons cold unsalted butter, cut into 1/2-inch cubes, or 8 tablespoons cold, unsalted butter plus 2 tablespoons vegetable shortening or lard
2 teaspoons white vinegar
Scant 1/3 cup cold water
1. Combine the flour, cornstarch and salt in a food processor. Pulse several times, to mix. Remove the lid and scatter the butter — or butter and shortening/lard — over the dry ingredients. Pulse the machine 8 to 10 times, until all the fat is broken into small pieces, none larger than green peas.
2. Add the vinegar to a 1-cup glass measuring cup. Leaving the cup on the counter, add just enough cold water to equal a scant 1/3-cup liquid.
3. Add the water through the feed tube in a 7-to-10-second stream, pulsing the machine as you add it. Stop pulsing when the mixture is still fairly crumbly but starting to form larger clumps. Turn the mixture out onto your work surface and shape it into a ball, then flatten it into a 3/4-inch thick disk. Wrap the dough in plastic wrap and refrigerate for at least 1 hour before rolling. Makes enough dough for one 9 1/2-inch deep-dish pie. b
To learn more about Ken Haedrich's books and instruction, visit The Pie Academy at https://thepieacademy.com
Virginia Holman lives and writes in Carolina Beach.