The Gift of

Grace
In the storms of life, she reminds us what it means to be human
Story and Photographs by Virginia Holman
When our fox-faced, curly-tailed dog Susie passed away at age 16, I told my husband that I was done: She was the last dog. For a while, my soul was raw and my heart broken, and then, as human hearts so often do, it mended and life continued. Our son had grown and flown and our nest was truly empty, save for the two of us. Our new status was hard-earned and often quite pleasant. Neighboring families who at times seemed to be teetering under twin burdens of their growing human and fur families would sometimes say how much they envied us our freedom. We walked into and out of our home without concern for anything other than each other.
This was quite liberating and enjoyable. For the first time in 30 years, it was just us — no pets, no child. If we decided to have a long dinner with friends after a movie, we weren't worried about rushing home. We could leave town without arranging and paying for a sitter — or even thinking about it. The house was so clean we could go two weeks without vacuuming our floors. Every so often, however, a small tumbleweed of white fur would arrive from some unseen place; I found such moments comforting yet bittersweet, like a paw-wave hello across the cosmic divide.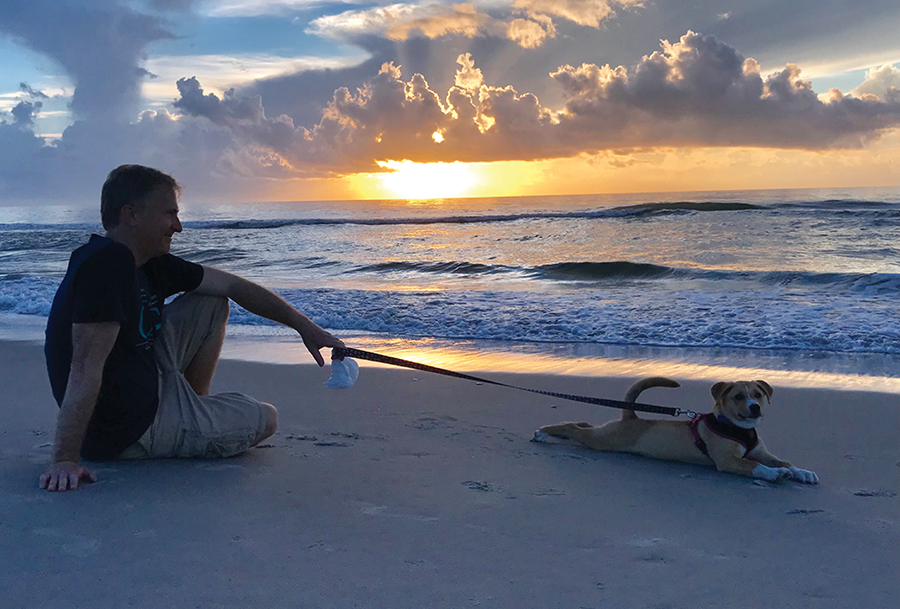 Then last December, I began visiting dog adoption sites online. My husband knew better than to surprise me with a dog I hadn't met and selected. Dogs are gifts to us in many ways, but we were in agreement that a living creature shouldn't be a holiday present like a scarf or a book. We did think a thoughtful adoption made during the holiday season might be a lovely way to ring in the new year. Even so, I just couldn't commit. When I opened the box of holiday decorations, I put Susie's stocking aside, and felt a bit wistful.
Soon the holidays passed and it was springtime. My husband began folding the paper to the pet page on Saturday mornings. Before long, I was enchanted by the snazzy outfits and adventures of Sunny, Salty, Shorty, Sissy and Sweet Pea, the Star News' favorite adopted quinpuplets. I insisted that I wasn't interested in getting another dog. Are you sure? he'd say. On warm spring evenings we'd have a glass of wine on the porch and pass the phone back and forth as we admired various dogs, and debated their merits. Eventually, we found a 2-year-old dog we liked, and someone else adopted her the day before we were to meet. I felt my heart wobble. I wasn't up for this sort of pain. I told him, again, another dog was not meant for me. Then a day later, my husband pointed out a puppy on the same rescue site with an RCA Victor head-tilt and four white paws.
"A puppy's a baby," I said. "Who's going to take care of a puppy?"
Sophisticated reader, you understand (as I did not) that was a rhetorical question. I brought home a little 14-pound rescue puppy we named Gracie. I crated her beside our lumpy guest futon and slept there so I could be available to get her outside when nature called, and so my husband could get a solid eight hours of sleep. (Why ruin sleep for two people? He'd carried plenty of the burden when we had a human baby.) Truly, I didn't mind taking on the night duties; I wanted her to bond with me; I wanted to be her human. Gracie woke five, then three, then two times a night and I'd carry her down two flights of stairs. She'd take care of things and then she'd sit beside me for five minutes or so, enjoying the breeze in her hair. Occasionally, she was distracted by the toads in the dewy grass. One night during our second week together, she stared straight up at the night sky and refused to come inside; it took a while before I understood she was gazing at the moon.
About the same time, we began watching a distant speck on the weather maps that in a week turned into Hurricane Florence. As it began its inexorable journey toward the coast, we put up our storm shutters, raised items in our garage, packed our clothes, sorted heirlooms (I took the photo albums but left the china) and gathered important documents. We loaded the truck. Then I cleaned the entire house, knowing full well it might be destroyed. Before bed, I watched as my husband and a couple of guys from the neighborhood stood in the driveway and shot the breeze like it was any other night.
That Tuesday afternoon, we headed to Virginia to stay with my brother and sister-in-law. My husband followed us in his car. Gracie was my co-pilot, curled in her puppy crate. The drive to evacuate was slow and stressful. Every time my eyes stung or my heart started to race, Gracie would need something: another treat, a waggle of my fingertips through the crate, a soothing word. Around Goldsboro, we searched for gas, and finally found a station with two working pumps and a long line. While she grumbled and whined in her crate, I sang "Shady Grove" to her until she settled, the same way that I did when our son was a colicky infant.
We were fortunate to have family in Virginia to host us (all of us unaware that we would be stranded in their lovely home for a week and a half as the rivers flooded, roads collapsed, and Wilmington became an island). Once safely evacuated, the long days and nights leading up to the storm were almost as exhausting as the long days and nights after its arrival. I felt both fortunate (our home sustained little damage) and despondent (a few people we knew had lost nearly everything). Soon, the storm had left me adrift emotionally, stuck in a reactive loop to the escalating bad news, and frustrated that we were unable to return home. I grew tired of explaining our situation to people we met who had not followed the disaster or who had no sense of the devastation. "You're still evacuated?" "When will you get back home?" "How bad is it?" In my exhaustion, these kind inquiries grew to feel like vague accusations or disaster rubbernecking. I struggled to maintain a cheerful, or at least polite, composure. I spent several days feeling like I was about a hair's breadth from a full-blown panic attack.
Just when I'd feel overwhelmed, Gracie would lick my hand or whine at the door to be let outside. She needed a walk. She needed to be fed. She needed puppy play time. She was the only thing that soothed me because she needed me so completely and because she was never interested in talking about the storm. When I'd watch too much weather news at night, Gracie would sprawl on the sofa and close her eyes, and I'd rest beside her. She was reminding me of the basics: When you are hungry, eat; when you are tired, sleep. See, human? This is how it's done. I'd stroke her soft ears, turn off the television, and drift off into a dreamless sleep.
We eventually made it home. Life regained a bit more normalcy in October, when the schools reopened. Gracie was our companion, our anchor, through it all: cleaning up, helping folks in need, writing checks to friends who'd lost their homes, supporting groups engaged in the rebuilding of our region, and returning to work.
When I hang our stockings this year, there will be a new one with Gracie's name on it. I'll fill it with things she likes: something that squeaks, something tasty, something to chew. Of course, Gracie is the best gift of all. When I think of the storm, I am grateful for the help we received and the help we were able to offer others. She kept me grounded, reminding me to pace myself, to express gratitude for kindnesses offered, and to sing old songs when I'm overwhelmed. During this season of light, I am grateful for this sweet companion, whose presence is most certainly the gift of grace. She shows me, every day, what it means to be human.  b
Virginia Holman lives and writes in Carolina Beach.