How to 'stache the cash for local kids
By Jason Frye   •   Illustration by Romey Petite
Teddy Roosevelt. Sam Elliot. Burt Reynolds. Alex Trebek the Younger. Yosemite Sam. Albert Einstein. John Waters. Tom Selleck. Steve Harvey. Their contributions to manliness run the gamut from winning the Nobel Peace Prize to a sultry Cosmo spread to fantastic over-pronunciations of foreign phrases to the cult classic film Crybaby to some of the funniest "Family Feud" moments in decades, but there's one factor you can't overlook in this group.
The mustache.
That gorgeous patch of hirsute real estate between the upper lip and nose. Beloved by some, reviled by many, ridiculed by most, the mustache is easily the most divisive of all facial hair styles (except maybe the chinstrap beard, which offends me deeply). There was a time when the mustache was socially acceptable and everyone — from my dad to your uncle to that kid in junior high that somehow had a full-blown mouth-merkin on day one of seventh grade — wore one. Today the mustache is the facial hair of choice of police, porn stars and the bitterly ironic barista.
Except in November.
In November anyone who can grow a mustache should, and not just because it's starting to get cold and a thick, luxurious mustache will retain a little heat and a dribbling of sauce for a mid-afternoon treat. No, in November you should grow a mustache for kids.
Let's clarify. You don't grow a mustache, somehow remove it and then donate it to kids without mustaches; you use your own public humiliation as a way to raise money for local kid-centric charities through Mustaches for Kids. It's like running a marathon for charity except there's no exercise involved.
Mustaches for Kids — or M4K — works like this: You have four weeks to grow a mustache (the month of November), you raise money to grow said mustache, the money from all mustache growers is pooled together and distributed to local charities.
The Wilmington-chapter of M4K is one of the top chapters in the U.S., bringing in anywhere from $25,000-$50,000 per year over the last 12 years. That money goes directly to charities right here in the Cape Fear Region, and according to Adam Keene, M4K participant and fundraiser extraordinaire, "since day one, we've been providing the Make-a-Wish foundation with enough money to grant at least one wish for a local kid." Additionally, past funds have gone to the Miracle League of Wilmington, Brigade Boys and Girls Club, DREAMS of Wilmington and others.
There are rules; this isn't just some mustache free-for-all. Chad Harris acts as Mustache Referee, donning a too-tight referee outfit — complete with whistle and penalty flags — and mullet (which may or may not be a wig) and oversees all things mustache-growing.
"Chad shows up at Shave Day, our first meeting, then oversees mustache growth and settles mustache disputes at every meeting throughout the month," says Keene. "He's not afraid to throw a penalty flag if someone is breaking or bending a rule."
The M4K rules are simple. You show up on Shave Day — the first Tuesday in November— with your face clean shaven ("We like to say 'if there's stubble, there's trouble' and Chad will make you shave your lip on the spot if you come in with a little shadow. No head starts," says Keene). For four consecutive weeks you grow your mustache and solicit donations for growing it. There are weekly meetings where you share grooming tips with the group, admire and poke fun at every mustache within earshot, and turn your donations in to the treasurer. At the final event — the 'Stache Bash held the first Friday in December — there's an awards ceremony and the announcement of the total raised by the group. The funds are distributed to the local charities a day or two later.
As for your mustache, it's au natural. No gel, oil, wax or other enhancement; no growth enhancers; nothing but the mustache as it grows. You can grow from one corner of the mouth to the other but may not grow the mustache below the corners of the mouth. And you must otherwise remain shaved clean.
The effect is hilarious.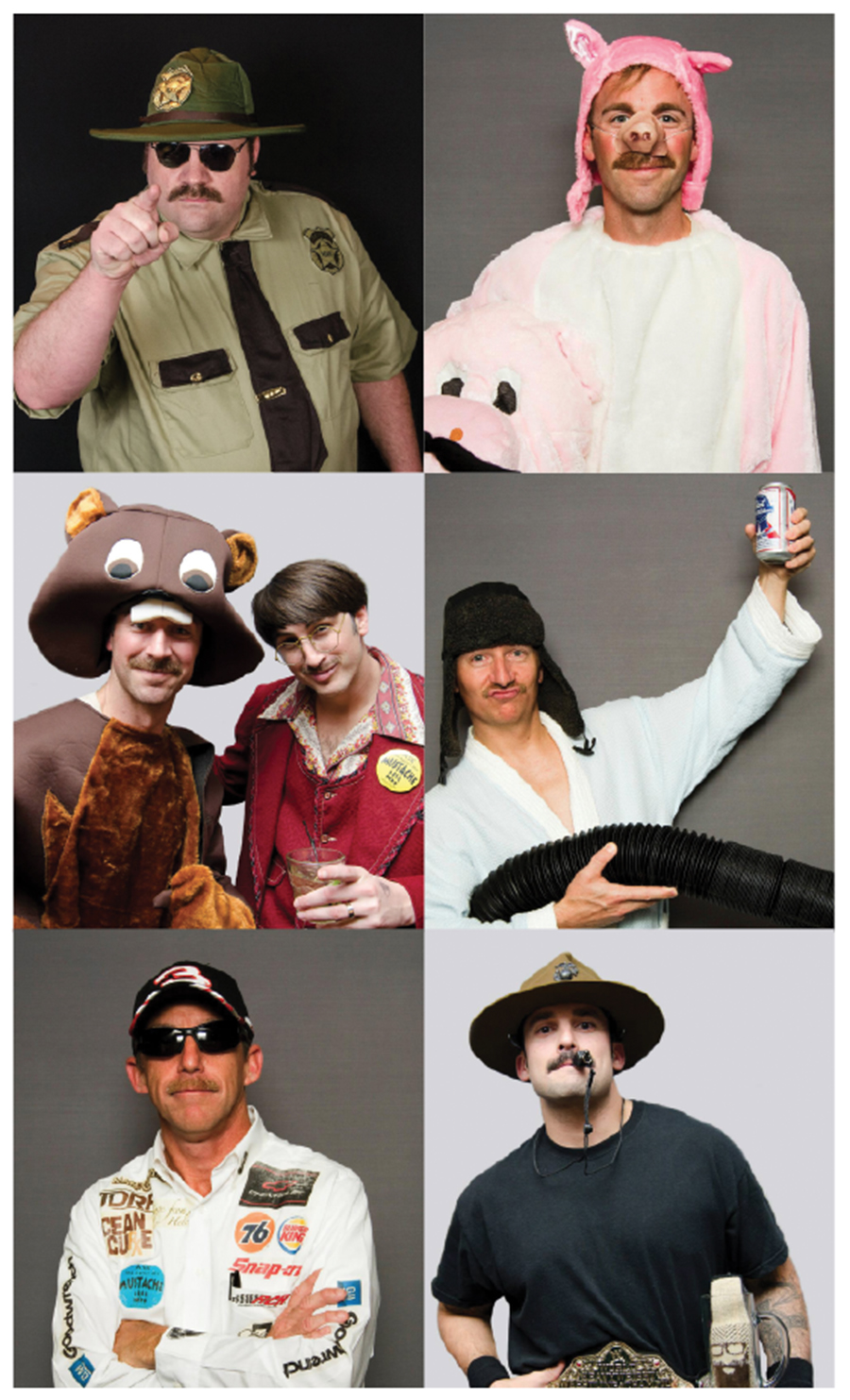 Mustaches large and small; blond, brunett, black, red and silver; grown in the image of aforementioned icons or lesser known members of the mustache set: Steve Prefontaine, Pedro from Napoleon Dynamite, your burly 13-year-old nephew. At the awards ceremony they celebrate the beauty and hilarity of the various mustaches with prizes going to the Saddest 'Stache (thin, patchy, and otherwise pathetic), the Push Broom (thickest mustache), Golden 'Stache (most money raised), Rookie of the Year, and the Silver Fox (best grey mustache).
Keene received the Golden 'Stache for his efforts one year when he raised $7,000. He says it was a glorious mustache.
Can you get involved? Absolutely. Past participants have spanned ages 17 – 70. You can grow your own and raise a little (preferably a lot of) dough. You can find someone with a mustache and give them money (not just anyone with a mustache as some people sport the look year-round).
Can women join? Certainly. You can grow your own mustache and see just how much money you can raise before you run off to join the circus, or take a more lady-like route and help raise money and provide moral support for the mustachioed men by not giving them too much flack for their silly face-fur. Your call.
November will be a hairy month for the Port City. You may think there's a '70s-era cop drama filming here or that ILM is the next oddball millennial boomtown, but it'll just be some good guys "sacrificing their good looks" to do a very good deed for kids.
Do it. Grow that 'stache. Head to www.facebook.com/M4K.ILM/ to find out the particulars for signing up and how to attend the free 'Stache Bash Dec. 2, 8 p.m., Banks Channel, Wrightsville Beach.
Jason Frye is a food and travel writer, author of Moon North Carolina and Moon NC Coast. Follow him on Twitter @beardedwriter or @tarheeltourist.