Rebirth of the Burgwin-Wright House
By William Irvine   •   Photographs by Rick Ricozzi
John Burgwin was a mover and shaker in Colonial North Carolina. Born in Hereford, England, in 1731 and educated at Cambridge, by 1750 he had landed in Charleston, where he worked for a merchant firm that also had offices in North Carolina. Shortly thereafter, Burgwin resettled among the merchant elite of Wilmington, where he eventually became a prominent lawyer and financier. After an advantageous marriage to Margaret Haynes, of Castle Haynes Plantation, the daughter of a wealthy planter, Burgwin received a number of important appointments, including as private secretary to Gov. Arthur Dobbs. Gov. William Tryon appointed Burgwin treasurer of the Province of North Carolina. He also served as the member of the General Assembly from Bladen County. And most importantly, he managed to deftly walk the tightrope between Whig and Tory (an astute tactic for a merchant).
Burgwin amassed his vast fortune through real estate. "He was a flipper," says Christine Lamberton, the director of the Burgwin-Wright House and Gardens. "Like George Washington, Burgwin was a second son, and second sons were a lot more anxious about their financial situation." At one time he owned seven properties, among them his wife's plantations, Castle Haynes and The Hermitage, March Castle at Lake Waccamaw, and vast forest holdings in Duplin County and Fayetteville. He also owned several houses in downtown Wilmington. Not to mention five ships that sailed to England and the Caribbean. He also owned more than 200 slaves.
As more of Burgwin's time was spent attending to his far-flung holdings, he realized that he needed a house in Wilmington to conduct business and entertain. Soon a lot was found on Market Street, and an elegant two-story Georgian townhouse began to rise, perched on top of a masonry cellar that used to house the early city jail.
"People often come to the house and ask, 'How much did this cost to build?'," says Lamberton. "Well, for Burgwin, it was next to nothing. He had longleaf pine on his plantations, the house was built with enslaved labor, so it didn't cost him anything at all. Even the decorative moldings were based on designs from Philadelphia but rendered by enslaved workers."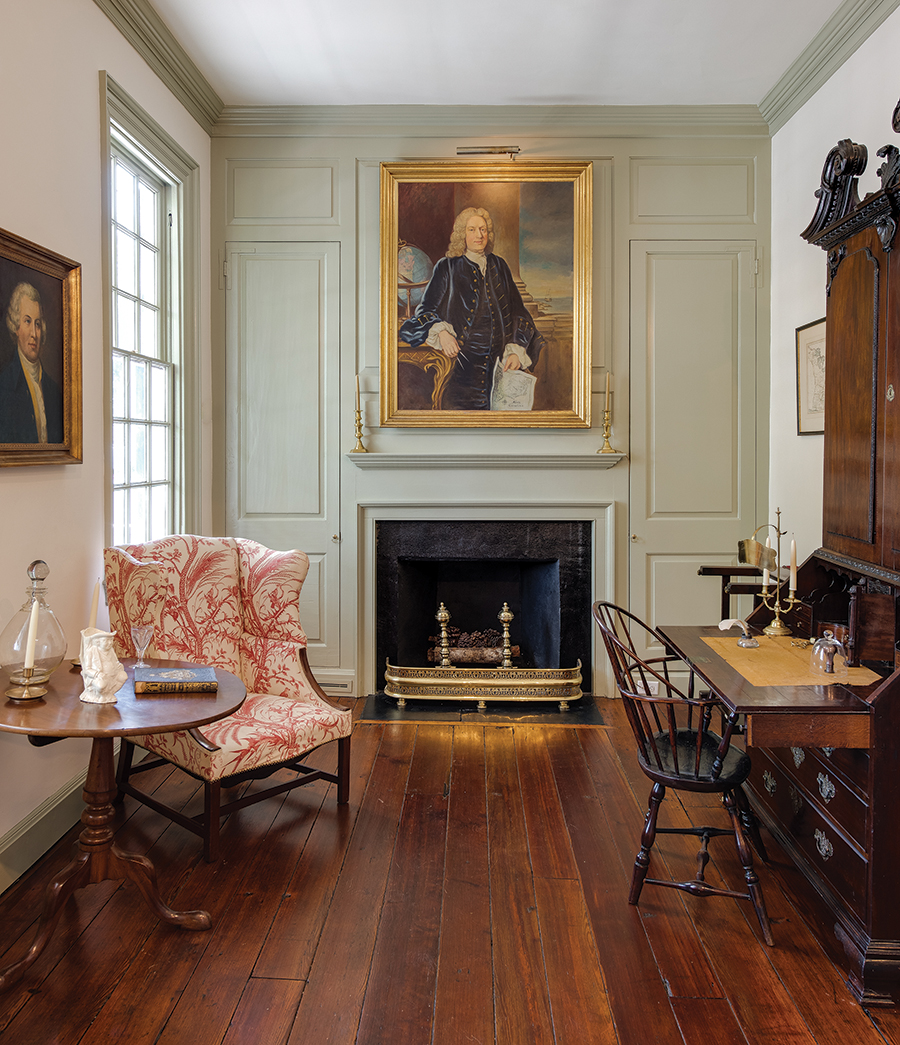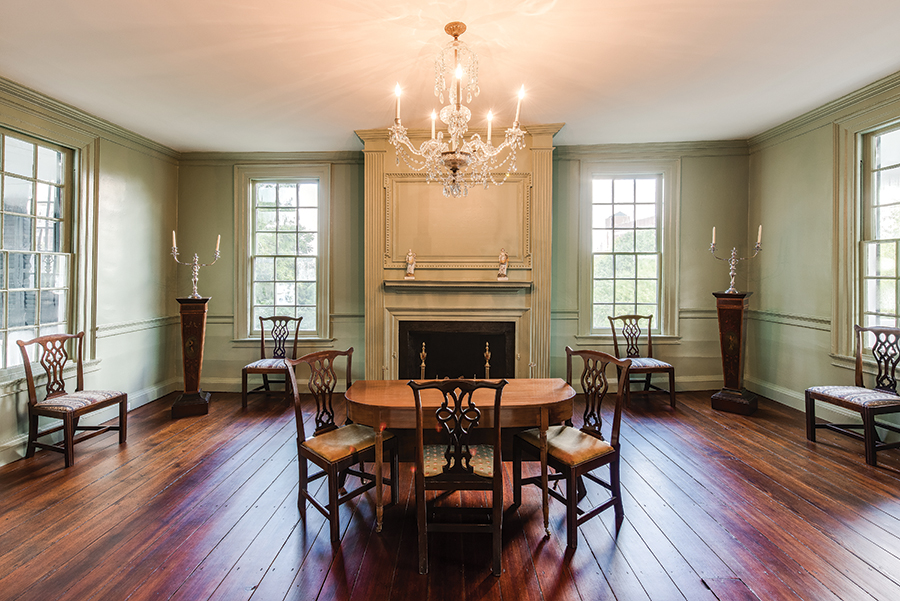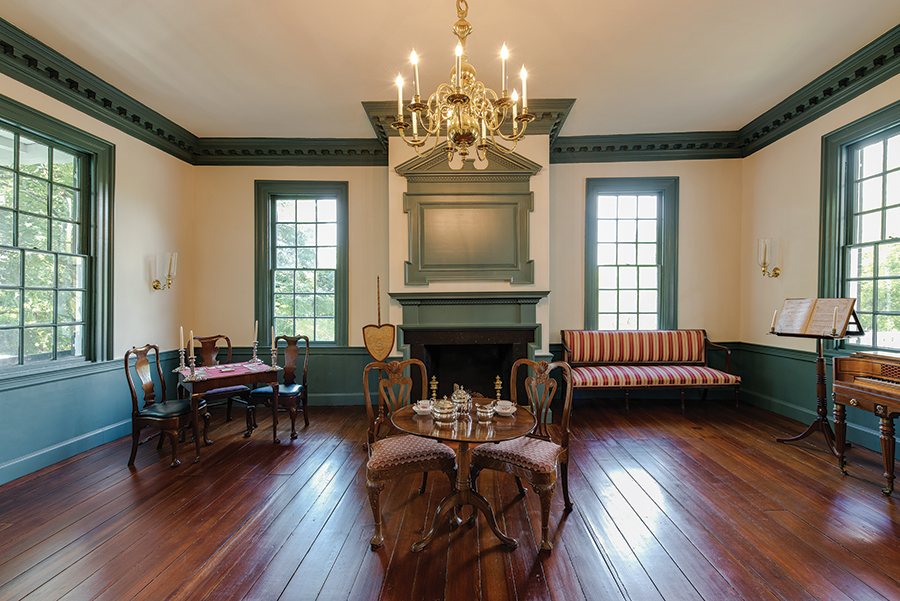 As you look around the elegant Burgwin-Wright house today, it is immediately apparent that this was a house built for entertaining: The dining room occupies half of the second floor. "This house was just for business and parties. A showhouse to convey Burgwin's prosperity," says Lamberton. "You did business downstairs and if you were socially accepted you might be invited to a dinner party upstairs."
So it is exciting news that thanks to the generosity of Lillian Bellamy Boney — a preservationist and longtime member of the National Society of Colonial Dames in the State of North Carolina, the stewards and saviors of the property — the house has received a generous gift that has paid for a much needed restoration, its first in nearly 70 years.
The gift arrived in February 2018, right after the house museum had reglazed and replaced all 41 of its windows with historic glass. It seemed logical to proceed full-steam ahead with the museum's checklist of projects. "It was totally unexpected," says Lamberton. "I never thought we would close for nine weeks."
Local architectural historian and paint consultant Ed Turberg was recruited, and he conducted paint analyses to scrape down and identify the first colors of each room. "The house was last painted in the 1950s, and they were totally Colonial Williamsburg colors — cranberry and gray," says Lamberton. The results were very surprising. Original analysis started on the third floor revealed variations of green. "We were completely surprised by the richness of the colors," says Lamberton. "The interaction of beautiful light makes sense for the colors of the rooms."
And it seems that Burgwin was very keen on green. Upstairs, the dining room has been repainted a cool, luxurious shade of cucumber soup. "At first I didn't understand the color, but when the gold mirrors and silver were added, it all made sense," says Lamberton. "This was a room to show off, in a subtle way. To be here for dinner, with the breeze coming in the window, the candlelight reflecting off the gold and silver must have been a remarkable experience for a visitor." Two upstairs bedrooms also revealed greens: The guest bedroom is a vibrant green, matched using Kendal Green by Sherwin-Williams. The master bedroom features a semigloss trim in Jadite, also by Sherwin-Williams. "To have such a rich color is a show of status," says Lamberton. "At Mount Vernon, Washington specified glossy paint to reflect back the outdoor light and color."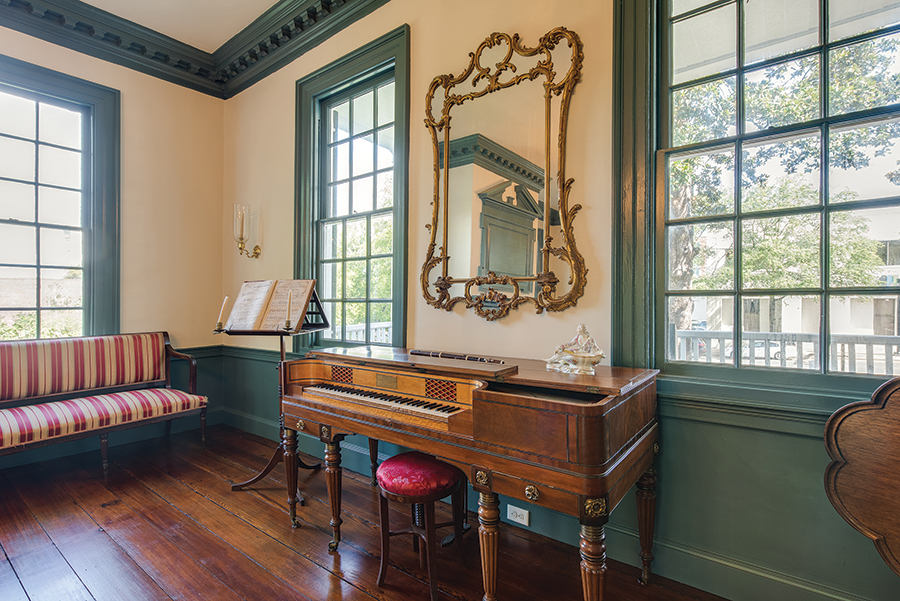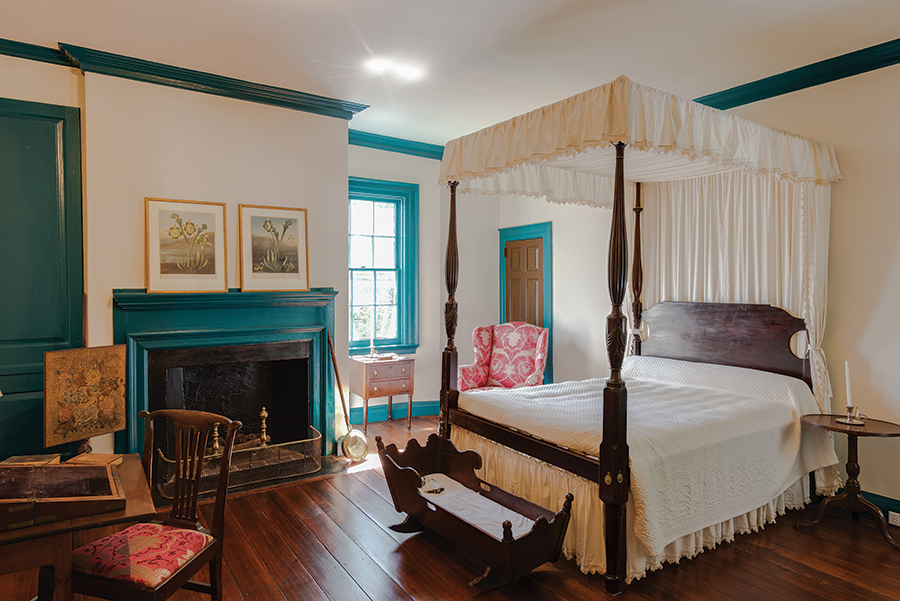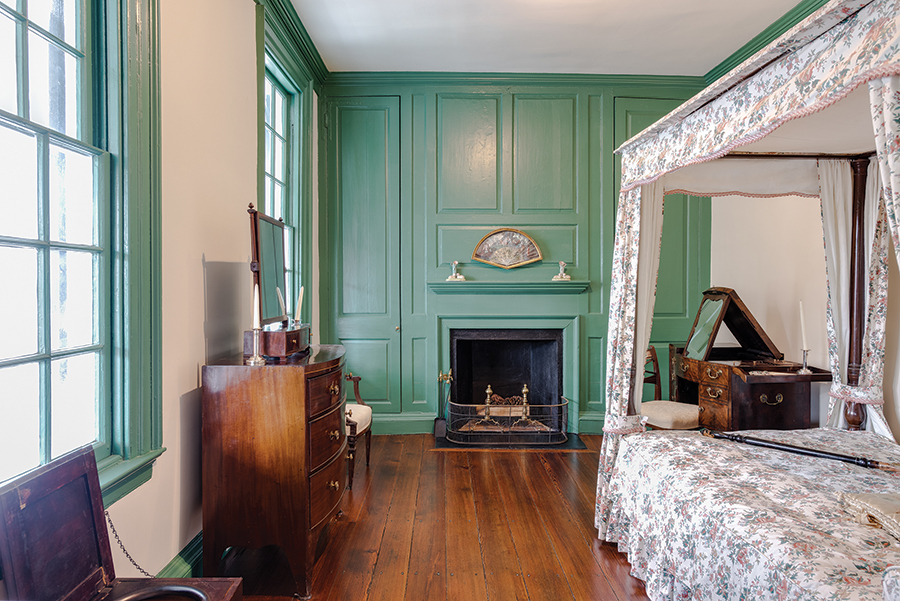 Descending the fine late Georgian staircase, the first thing one notices is the stunning original heart-pine floors. "These had been waxed and stained for years, causing the furniture to get stuck in the wax," says Lamberton. "Never a good idea, because longleaf pine is already so dense that the wax does not get absorbed." The wax was removed and the floors lightly refinished.
The new paint colors have helped the museum's decision to flip the locations of the parlor and business office downstairs. The parlor is now a bright and creamy white; historically it was not uncommon for sitting rooms to be white or yellow. The public office, formerly the parlor, is now right off the front door. "This made much more sense," says Lamberton. "People could come in from outside to do their business without entering the rest of the house."
The decorating scheme has been changed as well. Heavy 19th-century pieces were put into storage and replaced with family heirlooms from the Burgwin and Wright families. "One of the most extraordinary things is that many of Burgwin's descendants still live in North Carolina, Virginia and Pennsylvania," says Lamberton. "Facebook has been a valuable tool — many of the descendants have gotten involved through our Facebook page."
The overall effect is stunning. So what's next on the wish list? "Window treatments and curtains for all the rooms would be a long-term dream," she says with a smile. And there is a book about the Burgwin-Wright House in the works. "We have done all the research, but we want the house to be picture-perfect first." It seems to be well on its way.
The Burgwin-Wright House and Gardens, 224 Market St., Wilmington. Open Monday – Saturday, 10 a.m. to 4 p.m. Guided tours are given on the hour. For more information, call 910-762-0570.
William Irvine is the senior editor of Salt.