A thoughtful modern estate creates the ideal coastal getaway
By Isabel Zermani   •   Photographs by Rick Ricozzi
Let's begin with the guesthouse. That's what lendingtree.com founder Doug Lebda, of Charlotte, and Wilmington architect Michael Kersting decided when Lebda acquired an awe-inspiring piece of property on Futch Creek in Porter's Neck — the former house of the Episcopal Bishop, Right Reverend Thomas Henry Wright. Situated so uniquely, the property sits on a knob in the creek, which snakes around it, surrounding the house with water on three sides. At high tide, you feel like you're floating.
"We call this place 'On Water'," says Kersting. Standing in the all-glass first floor living room gazing out at Rich's inlet or the steps-away wet-deck pool, one can see why. "It's almost like an aquarium," says Kersting, but floor-to-ceiling sheers can slide across hidden tracks to diffuse the light or create privacy. An open kitchen with quartz countertops and rift cut oak cabinetry overlooks the aquarium. Painted glass as a backsplash recalls the impossibly still ocean in August or a clear blue sky.
The master bedroom feels like a proper Captain's quarters, but it's the second floor that stuns. "The entire second floor comes down on four steel columns," says Kersting emphasizing, "this is a 12-foot cantilever." It doesn't take an architect to appreciate the engineering necessary to suspend the upstairs two bedrooms that far out, giving unimpeded water views downstairs and a cloud-like experience upstairs.
Kersting posits the idea that good architecture is like good food: "There are very few ingredients, you just pick the right ingredients." There's an effortless confidence that pervades when each element works in harmony: rift cut oak, glass, raw concrete floors, painted steel beams.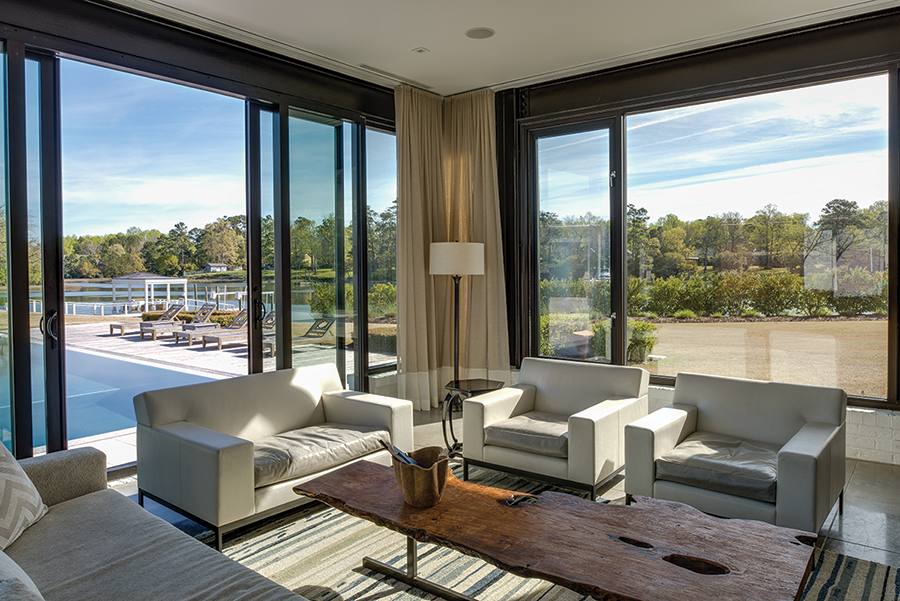 This ultra-modern nautical guesthouse demonstrates the mastery of efficiency that's so satisfying  — pocket doors, built-in cabinets, custom queen-sized bunk beds with a ladder that vanishes inside the frame itself  — each challenge met and achieved.
"Earlier, Doug had wanted to do something more traditional, cottage-y," says Kersting who is best known for modernism. "I had asked Michael to design something without any real restrictions or guidance from me," says Lebda, "something that he envisioned as both an artist and an architect." Carte blanche doesn't always end up with both parties happy, but Kersting promptly sketched out "On Water" and showed it to Lebda. "I was hooked," says Lebda. They set their course to Modern. With both AIA (American Institute of Architects) and Matsumoto (North Carolina Modernist Houses) awards won, it's certain their course correction was a wise one. The family's full-time Quail Hollow home in Charlotte is more traditional, says Megan Greuling, Lebda's wife,  "Wilmington is our modern 'getaway' place." 
If the guesthouse was the prototype, extrapolating that aesthetic to the main house presented a challenge: to keep the footprint of the house as large as desired, they'd have to adapt the previous 1966 ranch-style structure.
"This house is not about high ceilings," says Kersting with a laugh. What ranch is? Opting to play up the horizontals and install floor-to-ceiling glass walls, towering heights is not something to miss in this home. "We aimed to really blur the lines between outdoors and indoors." And what you want to see is the horizon. The living room's east and west-facing walls are all glass, showcasing the meandering creek and the unique position in the natural world. "We're fortunate enough to see both sunsets and sunrises reflecting over water," says Greuling. There's so much light, one could practically have a functioning sundial in this room. The original fireplace from the Bishop's house is the only original element, "a little honoring the past."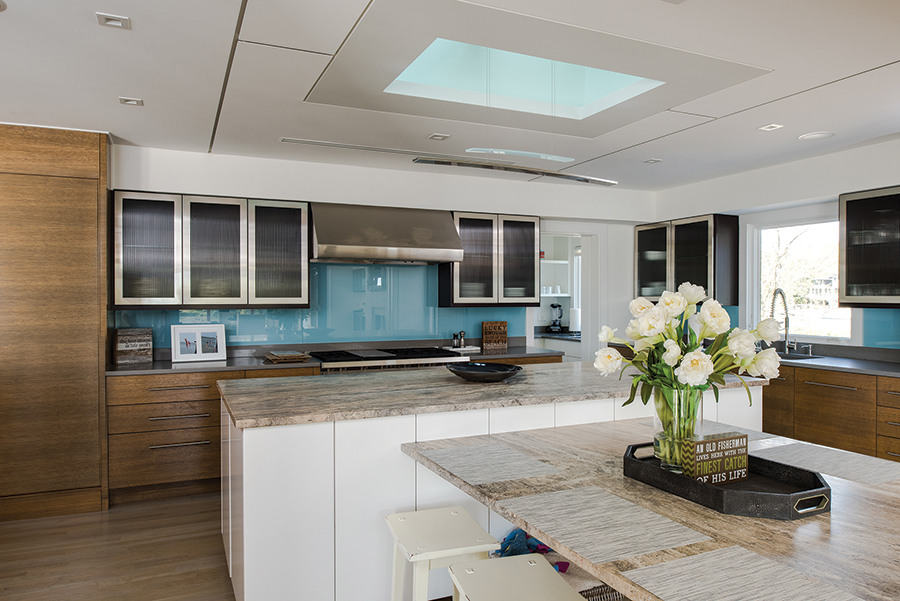 The Bishop of East Carolina (1904–1997) and his wife, Hannah (1916–2001), built the original home and lived out their golden years on this property, where author, historian and friend Susan Taylor Block remembers, "There was so much laughter in that house." A native of Wilmington, born to one of our town's most important families, Thomas Henry Wright was baptized at Saint James Episcopal Church where he would later serve. In his career, the Bishop traveled worldwide for the church, sometimes risking his life to carry out missions in Vietnam or Liberia, but spent most of his time in eastern North Carolina. He helped restore Saint James' Mt. Lebanon Chapel in present day Airlie Gardens that was once the Wright family estate.
Central to the home is the formal dining room. An eat-in kitchen features a travertine "dry-island" where the family can pull up a stool for snack post-swim, but the home is  — with a second scullery kitchen  — poised for a dinner party. Suspended from the ceiling (the highest in the house, only second to the lanai) is what can only be called an art installation by New York blown-glass collective Shakuff. "Chandelier" just doesn't describe the series of dangling illuminated glass globes reminiscent of a bloom of jellyfish. The lady of the house chose a pair of expressive oyster shell paintings to frame the patio doors, the pool view.
Another door from the dining room leads to perhaps the world's largest screened-in porch, the family's favorite room in the house. "The views of the water are unbeatable," says Lebda. Here's where the ceiling reaches up at an impressive angle, mirroring the second floor of the guesthouse. Seamless wrap-around tiled porches extend from the porch and trace nearly the whole perimeter, offering any number of places to lounge, curl up with a book, or birdwatch.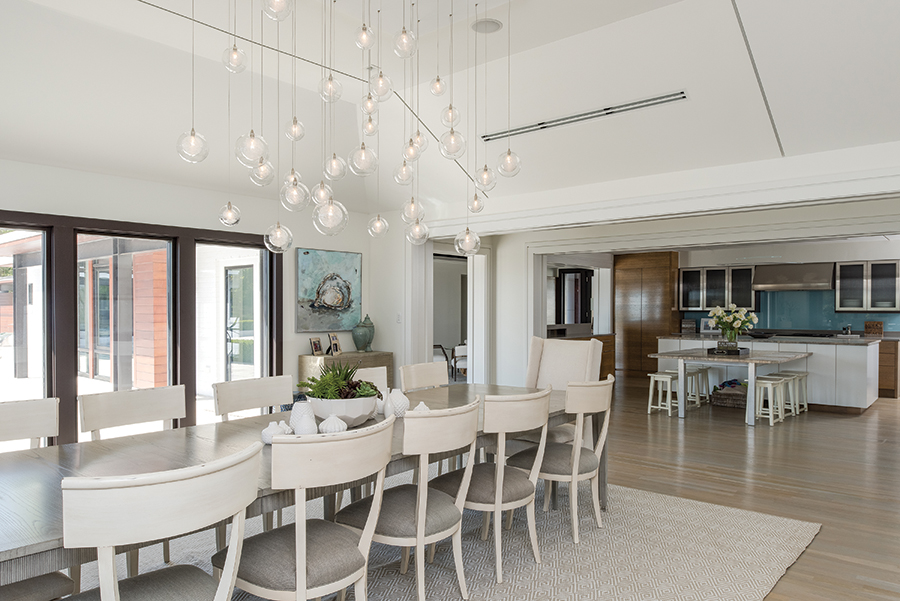 If entertaining is more on your mind, step over to the cabana. Play bartender at the poured concrete countertops and draw one off the built-in keg tap. The Ledba family may be watching the Wells Fargo Championship in person, but the cabana's flatscreens could keep one up to date in comfort. Plus, you can watch from the hot tub. Outdoor showers and a garage-turned-game-room remind us this is a beach house, though the appearance is so stately.
Outside, the long driveway connects to the front walk by way of long, skinny gray pavers, inspired by The Highline in New York City. The driveway circles none other than a putting green. When not catching a round at nearby Eagle Point Golf Club  —  "I joke that it's my 'happy place'"  — Lebda can practice his short game at home.
Bright white brick and dark mahogany stain  — meant for log cabins  — creates a nautical elegance inspired by classic "Riva and Chris Craft boats," notes Kersting. Trained hedges disguise the retaining walls and give the estate an air of propriety. But just before you drift off on an Italian garden daydream, the stair-step Bermuda roofline locates us firmly on the water with that island feel.
Situated creekside with a private porch under a cantilevered extension, echoing the guesthouse, is the master suite. (It's a short walk to the sunset viewing deck, the fire pit, or the dock.) Inside, a new texture emerges, an entire wall covered in velvet resembling a giant headboard. Simple, oversized furniture offers a soothing ambiance. As a trick to give a sense of depth to the ceiling, Kersting dropped the edges, recessed the lights, and painted the highest plane dark umber.
In the hallway, hidden away, is a small, built-in desk where cufflinks can be removed, letters written, and keepsakes kept. Also a mini-bar disguised as a dresser, keeps a cool drink on a hot day just a few steps away.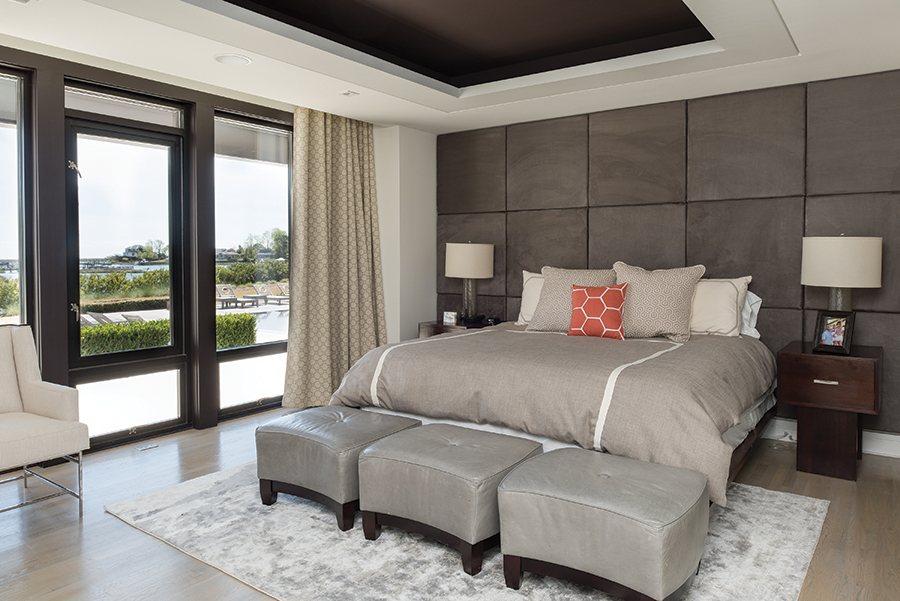 His and hers closets, and his and hers sinks and toilets  — "a democratic bathroom" as Kersting puts it  — offer the serenity of symmetry. The centerpiece of the master bathroom is the "wet room," where the shower and tub are housed together for a spa experience. Here, one could spend all day. No, seriously, there's Netflix in there. Kersting is quick to sing the praises of Bluewater surfaces for their stonework. Grueling is quick to credit Jane from Paysage Home and Julie Bray from Luxe Home Interiors Wilmington for "furniture pieces, floor coverings and accents" to add to Lebda's modern furniture collection from his days in New York.
Color makes few appearances, save for the three children's rooms which feature wall coverings, ceilings or drapery in bright pinks, grass greens, and yellows. Tasteful, bold choices personalize the daughter's rooms. A garage-turned-home-theater bears a darker palate, a projection screen, and an over-sized leather wrap around couch, apt for a rainy summer afternoon movie. Another room guests can look forward to is the powder room: a perfectly designed, chic room with metallic gold geometric wallpaper and a pair of stunning up-close watercolors of the rings inside a tree.
Though guests of the North Carolina Modernist Houses coastal tour spring party, held this year at "On Water," will likely be more interested in the cantilevers. "On Water" won NCMH's 2014 George Matsumoto prize for residential modern architecture, which Lebda proudly displays in the master bedroom.
George Smart, Board Chair of NCMH, speaks of the paradoxical state of architecture in the modern south: At the same time as many Southerners "want our homes to look like our grandparents'," North Carolina has the third largest number of modern homes in the country. Most of these are located in the triangle, a result of NC State University's architecture school founded by design guru Henry Leveke Kamphoefner. Some graduates, like Kersting, meander south and east until they hit water.