For busy interior expert Susan Covington, the best answer is "simplify"
By Dana Sachs
Interior designer Susan Covington and I are sitting on the deck of the Fish House Grill on the Intracoastal Waterway. From our table, we can watch the marsh grass wave in the wind, the seagulls . . .
OK, forget the seagulls. Susan is redecorating the Fish House, so she's concentrating on a row of five gooseneck metal lights attached to the side of the building. "See how there are two black and three blue?" she asks.
I squint. The difference between midnight black and charcoal blue is almost imperceptible. "Um, yeah?"
"I need more exterior light on the outer deck tables," she says, so she has had two more goosenecks installed. As of now, the new lights don't match the old ones, but that will change. "Later this week, they'll all be blue."
Other diners can admire seagulls and marsh grass, but it's Susan's business to make sure that the Fish House's paint colors work, that the chairs look stylish, and that the lights give off light. Susan runs Sac Art, which specializes in interior design, renovation and construction. The company also provides caretaking services for area vacation homes. Right now, Susan is redecorating both the Fish House and its partner restaurant and neighbor, the Bridge Tender. These days, her portfolio includes 18 houses under construction or renovation and 20 more that she maintains year-round.
So, she's busy. In fact, by the time we meet for lunch at 11:30 in the morning, Susan is seven-and-a-half hours — yes, seven-and-a-half hours — into her day. She wakes at 4:00, spends two hours at the gym, then jumps into a schedule that might involve overseeing the construction of a $2 million home, picking cabinets for a kitchen and decorating a house for an upcoming holiday. If the owners of one of her caretaking properties are planning a weekend visit, she makes sure there's fresh orange juice in the fridge and flowers in the bathrooms, too.
Soft-spoken and steady, Susan's like the friend you call in a pinch, the one who doesn't freak out and, instead, responds with a comforting, "I'm on it." She's also a successful businesswoman who deflects compliments by heaping praise on an extensive team of associates — architects, construction contractors, landscapers, upholstery cleaners, plumbers and electricians, to name just a few. "I don't have to babysit anyone," she says. "If I ask them to do something, they take care of it."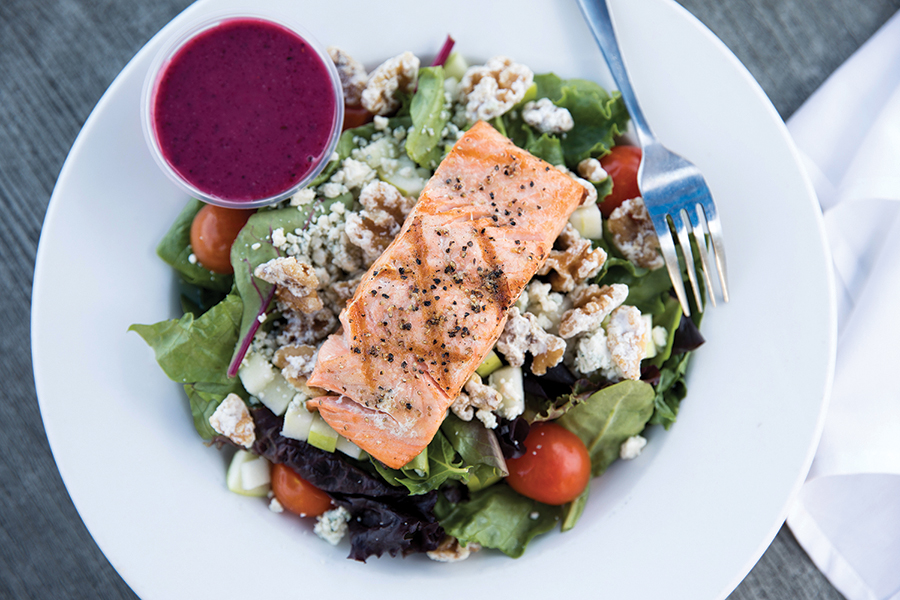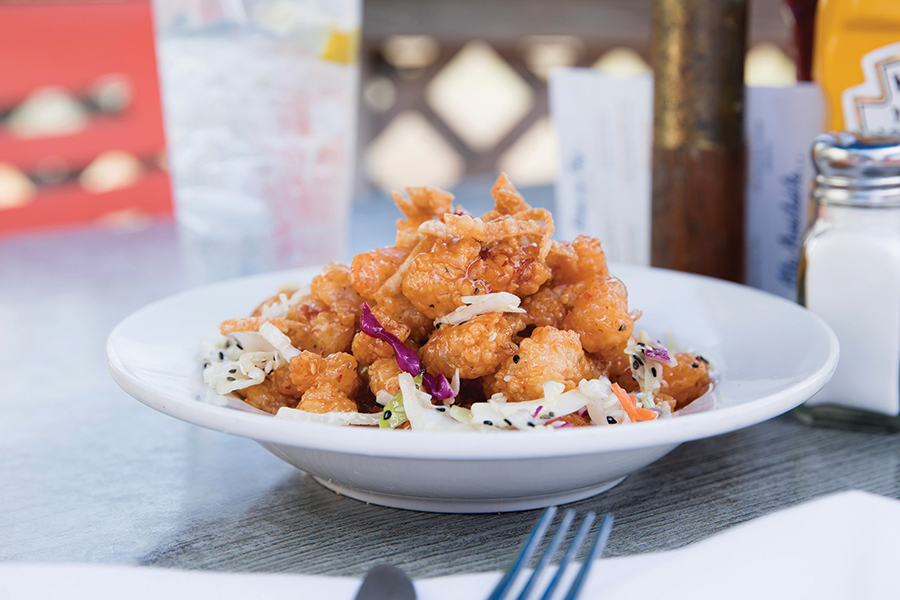 Susan has barely started the redesign of Fish House, but the owners are her friends, and she's been eating here for years. She has never tried the restaurant's Thai Popcorn Shrimp, however. The Fish House version of the coastal staple turns up the heat and pairs the shellfish with sweet and crunchy Asian slaw. "A lot of people would have trouble with this much kick," Susan says, "but I love it."
Most of the tables at the Fish House are outside, overlooking the Intracoastal. The menu, which centers on fresh seafood, is fairly simple, concentrating on starters, tacos, salads, burgers and sandwiches. "I like that it's not just pub grub," Susan says. "You can get good healthy food here." Indeed, all the sauces are house-made, which gives each dish a signature flavor. Lines of spicy sour cream squiggle across the top of the grilled mahi stuffed into our tacos. In the Gorgonzola Walnut Salad, a bright purple walnut-berry vinaigrette combines with a mix of arugula, spinach, red leaf and romaine to create "two totally different tastes — the bitter with the sweet." We end with a White Chocolate Bread Pudding, which is soaked in cinnamon, topped with ice cream and not too sweet. "I like that it's still bready in the center. I like the crispy top." Susan takes another bite, then adds, "My mother would die for that."
Naturally, Susan is a fount of information for the armchair interior designer, especially on the question of "What do I do with all my stuff?" For starters, get rid of it. "Simplify," she says. For those who are fearful of purging, she breaks the process into manageable steps: "If you're talking about your den, simplify the cabinets and shelves first. Then, the tables. Do that until you've simplified the whole room."
She also builds tidiness into her master plans. For pet owners, she will "incorporate an area in the kitchen that has a little nook for bowls," and construct an easy-to-reach hidden cabinet to hold containers of dog or cat food. Because her company builds custom furniture, she can avoid clutter by hiding charging stations in tables and beds. Often, she finds solutions in artful rearranging — eliminating the need for a bulky changing table, for example, by buying a cute pad and letting a dresser do double duty.
Design magazines might call Susan's style contemporary or modern, but "those words are too stark," she says "It's hard to be totally minimalistic and have your children's paintings and photos up." When the desire to simplify competes with a fingerpaint masterpiece, Susan finds a middle ground. One mother of four boys, for example, created a gallery of her children's art on a back staircase. "It's how you frame them and the placement that makes it work," she says. In her own house, she hangs family pictures in her closets, turning them into hidden treasures. "When you open the door," she says, "you see something fabulous." Not that she bans children's art in public spaces. Even on the walls of a living room, "you can mingle kid art and real art, too."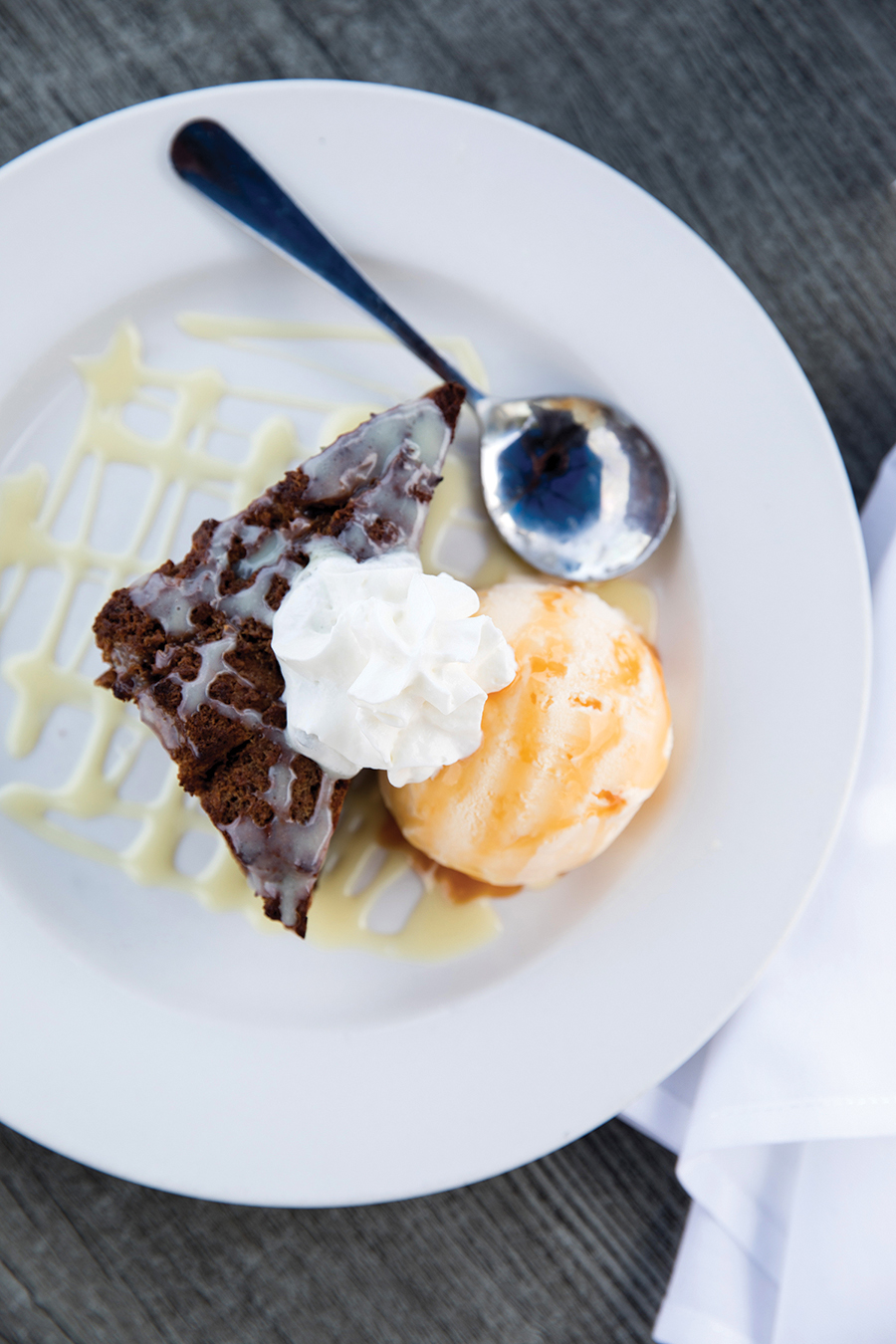 The truth is that whimsy works best in small doses. When a client asked Susan to decorate their vacation home in advance of an Easter visit, she did not race to Dollar Tree for Peeps and eggs, and she avoided pastels, too. Her plan relied on natural props, like dried grasses and limbs from trees. On a bare table in the children's playroom, she arranged two straight lines of tiny neon-colored chicks and rabbits. "They're made of soft chenille," she tells me, "so the children love to play with them."
It's nearly 2 p.m. by the time we finish lunch and Susan's still got five houses to visit before the end of the day. At one, she will spend three or four hours taking measurements for countertops.
As we leave, Susan tells me she's going to switch her heels for a pair of flats. "I could run a marathon in these," she says, looking down at her stylish wedges, "but they don't work on a job site."
The Fish House Grill, at 1410 Airlie Road, is open seven days a week. For information, call (910) 256-3693, or visit www.thefishhousegrill.com. You can find out more about Sac Art by visiting Sac Art on Facebook, or calling (910) 262-5111.
Dana Sachs's latest novel, The Secret of the Nightingale Palace, is available at bookstores, online and throughout Wilmington.