Why should neighborhood ghosts and goblins get all the treats?
By Jason Frye   •   Photographs by Andrew Sherman
As a kid, two days stood out for a candy-binge-eating
bonanza: Easter (why? we'll never know) and Halloween. But now I'm an adult, and the craving for Cadbury Eggs or Fun-Size candy bars is behind me. My palate has expanded (I won't say it's more sophisticated because I still love a log of cookie dough) and refined. Those sweets of my childhood and the twice-yearly gluttonous holiday sugar orgies have given way to simply, dessert. Like a civilized person.
I'll have a cheese course for dessert or even just an after-dinner drink, but still nothing satisfies like something sweet, rich and at least a little decadent. Oh, and since I am a grownup, something a little boozy ain't half bad either.
So where do I turn for dessert? Where should you look to get your fill of sweets? I talked with a trio of dessert mavens about some most excellent treats us grownups can enjoy this Halloween. No costume required.
Amanda Corbett
Pastry Chef, Circa Restaurant Group: Brasserie du Soleil,
Osteria Cicchetti, Circa 1922 and Boca Bay
Amanda Corbett makes my absolute favorite dessert in Wilmington (and maybe all of the world): the pot de crème at Brasserie du Soleil. Rich chocolate, the perfect texture, an appropriate portion size, this is my go-to.
"My philosophy when it comes to desserts for adults is 'Not too sweet,'" says Corbett. "That's why I often incorporate a pinch of salt in my recipes, for balance."
Corbett will go savory on a dessert, opting for the cheese plate from time to time. "The thought of replacing an amazing slice of Circa 1922's seven layer chocolate cake with a plate of cheese may be a faux pas for some," says Corbett, "but I dare you to try Osteria Cicchetti's crumbly, creamy Danish blue cheese with orange honey and lavash crackers paired with a cabernet."
Challenge accepted, but on to the sweets.
"My current favorite is my newest addition to Osteria Cicchetti's menu: the peanut butter cake. I'm talking layers of smooth chocolate ganache, creamy peanut butter mousse, roasted peanuts and salted caramels. I use almond flour, so it's gluten free, plus the flour adds some nuttiness. I like pairing it with an aged port wine; it's like a play on the classic PB&J."
Corbett shares a family recipe with Salt, a childhood favorite and holiday classic: peanut brittle.
"My grandmother used to make a huge batch to give out on the holidays, and watching my mother and grandmother cook and share their love for others through food sparked a flame in me." Find this treat atop a Brasserie mini or make it at home.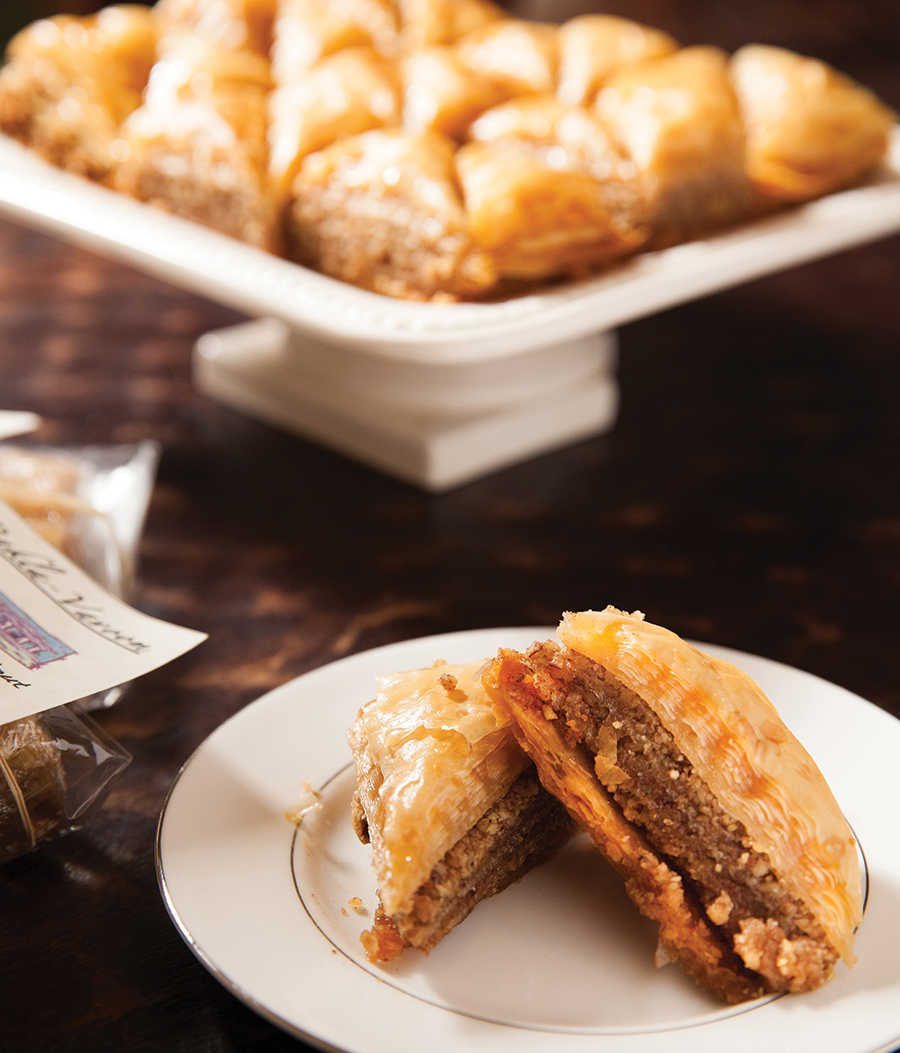 Peanut Brittle
Roast 1 pound of shelled peanuts in your oven for five minutes, until warm to the touch. Stir 2 tablespoons soft butter and 1/2 teaspoon baking soda with peanuts until butter is melted. Set aside. Combine 1/2 cup water, 2 cups granulated sugar, 1 1/2 cups corn syrup and 1/4 teaspoon cream of tartar in a saucepan. Bring to a boil, cooking until golden brown.
Once syrup is golden brown, pour over peanuts. Stir once, quickly pour mixture in a thin layer onto a cookie sheet. Allow to set about 20 minutes, then break apart by hand.
Kathy Rayle
Bakla-Vavoom
"My Greek grandmother — who I'm named after — lived with us when I was growing up, and she made the most incredible Greek pastries," says Kathy Rayle, owner of the aptly named Bakla-Vavoom. "Baklava was my favorite, and I've never, not even once, enjoyed a baklava the way I enjoyed hers."
Baklava is so simple — phyllo dough, butter, nuts, honey syrup — that it's hard to get right. Rayle has it nailed. She's been making baklava for 15 years, and every time a tray of it appears at a party, I surreptitiously eat as much of it as I can.
"A good baklava is about contrasting textures. The top layers of phyllo are crunchy and the bottom portion moist from the syrup," she says. "Although it's a sweet dessert, I enjoy a bit of a savory note for balance."
But a great baklava, like the one that inspires Rayle, is about proportion. Like a good party, too many nuts and too little phyllo and it falls apart; too much phyllo and too few nuts and it's doughy.
"Ultimately I try to recreate the lingering taste that my grandmother's baklava had. I can only hope mine comes close."
Rayle's take on baklava is both traditional — like her grandmother's — and totally new. As in vegan. She removes the butter and honey, replaces them with similar vegan ingredients, and makes a batch that sells like crazy at Tidal Creek Co-Op. Her traditional batch sells too; you can buy directly from her, from a handful of Harris Teeter stores or at The District.
Like any good cook, she's passing her love along, and her 10-year old daughter, Ava, has started her own YouTube cooking show ("Cool Classic Cooking," check it out). I sampled one of Ava's mini-pumpkin pies recently and she's on the right track.
"I only cook desserts on my show," Ava says. Seems like we've come to the right place.
Amanda Benoit
Surf House Oyster Bar & Surf Camp
"I have a really bad sweet tooth," says Amanda Benoit, pastry chef at Surf House in Carolina Beach. "I mean, practically the only thing I eat is dessert."
Which explains why her dessert menu and I became such fast friends.
Her chocolate bar — a flourless torte with caramel, bourbon sugar and vanilla ice cream — is the perfect fix for a sugar-junkie, but so is her pecan pie (which probably has a splash of bourbon in it; this is, after all, a list of treats for grown ups) and her key lime pie and her ice cream.
"I'm moving into my fall/winter desserts in October," says Benoit.
That means hot chocolate made the old-fashioned way: real chocolate (she prefers Valrhona), heavy cream and milk. Oh, and mint or cayenne pepper or a splash of something tipsy. Like all creative types, she's got to switch things up — stretch and challenge — to keep it inspired.
Benoit likes to experiment and encourages home cooks to play, try a recipe, use a new ingredient — like Old Grand-Dad bourbon, which she uses for the lingering vanilla notes — "Make something you've never had before."
"What would basil ice cream be like? How can I use thyme? Would lavender bring some balance to this dish? Those are questions I ask and things I try," says Benoit, who also enjoys the sweet-savory paradox, but isn't going to deprive her need-for-sweets. "I mean, I'm not into the $24 cheese plate — that's not dessert — but savory can really set off the sweet."