By William Irvine
Elizabeth Darrow knew from an early age that she wanted to be an artist. "I always enjoyed painting as a kid and doing art assignments in school," she says. "In college I wanted to be in the studio all the time. That feeling carried over once I left school, so I kept on making art. I guess that makes me an artist!" Born in Hartford, Connecticut, she studied painting at Oberlin College and has lived in Wilmington since 1977, enough time that her work has taken many different directions.
"My art does not seem to have evolved in a linear way. I seem to circle around and return to a particular way of working for a time, then I'll move on to a different medium and things will change completely," she says. In the early 1980s, for instance, Darrow had a photorealist period: "The outcome was impressive, but the process was not exciting — even tedious. I wanted the process to feel more alive, like a journey into the unknown . . . otherwise, what's the point?" She works in a variety of styles, depending on the medium. "I seem to move from oil painting to collage and back again, and often combine the two. The show I am having at Art in Bloom in August will showcase both my abstract collages and my figurative painting — two distinctly different bodies of work. You wouldn't think it was the same artist."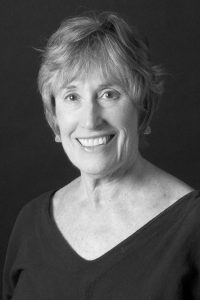 Darrow's work is often imbued with humor (and sometimes an undercurrent of anxiety) and often features layers of pattern and lush colors. "Color is so exciting to me. It's like putting together just the right notes to get the sound you want. Rich and velvety is often the sound I'm after now in my figurative work, with people and animals in relation to one another.
"My only plan when embarking on a canvas is to layer colorful, gestural strokes that will set the stage for what is to come," she continues. "All the canvases in this show were painted over existing paintings of mine, and likely more than once — paintings that no longer resonated with me. There is quite a buildup of paint that lends its voice to the texture of these pieces now — they've been through a lot and it shows."
In addition to showing at Art in Bloom, Darrow has work in many private collections and institutions, including those of Mr. and Mrs. David Rockefeller Jr., the Cameron Art Museum, the Wilson Center and the corporate collections of R.J. Reynolds, Lowe's and NationsBank, among many others. She has also participated in many fundraisers at Landfall over the past decade to benefit organizations such as the New Hanover Humane Society, the Butterfly House at Airlie Gardens, and the N.C. Coastal Land Trust.
Ultimately for Darrow, it's all about the process: "Images come to mind, and one thing leads to another as I play with color, shapes and design. In the tradition of Abstract Expressionism, discovery comes through the process itself."
"Fresh Take: New Art by Elizabeth Darrow" will be on view from Aug. 3 – 25 at Art in Bloom Gallery, 210 Princess St., Wilmington. For more information, call (484) 885-3037.