How the innovative Youth Ambassadors program shapes lives and grows a more sustainable world
Story & Photographs By Virginia Holman
When you're sitting in traffic on Market Street, shopping at the new Publix or Aldi, or visiting one of the local microbreweries, it's easy to forget that Wilmington is a booming coastal town surrounded by substantial rural areas. Country life has many pleasures — one of which is privacy — but it can also be isolating, especially if you're short of resources. Say you live in Whiteville, and you're looking for a new job, but don't have reliable computer access or transportation. Say you are single parent in Delco and need support and education about conflict resolution and parenting. Perhaps you want to get your GED diploma or obtain basic computing skills. If you live in Columbus, Brunswick or Bladen counties, one of your best bets is to call Men and Women United for Youth and Families.
Men and Women United offers a wide variety of resources. Most offerings are located at their centrally located TriCounty Resource Center in Delco. There, on the aptly named Dream Avenue, residents can take high school equivalency, computer and masonry classes, participate in a biweekly food pantry, gain free computer access and obtain résumé preparation assistance, job search guidance and help with interview preparation.
Executive director Randolph Keaton says that Men and Women United for Youth and Families was founded in 2006 with a simple mission: to offer scholarships to students. The organization's mission soon expanded from offering financial support to individual students and now includes services aimed at strengthening families and communities. Randolph describes the organization's growth as an organic one, arising from both the needs and the strengths of the people it serves. "First, we established a summer camp and an after-school program," he says. "It kind of grew from there and became a community hub where people can come and have access. We were able to obtain items like computers through an initiative established by President H. W. Bush." In recent years, the foundation has received grants from the Z. Smith Reynolds Foundation and the North Carolina Department of Public Safety.
One of the most popular and ambitious initiatives is their youth and junior youth ambassadors program. Randolph says the unofficial motto of the group is "Know your history and know your culture." For rural kids growing up in communities with long agrarian histories, that means "learning about their roots from farmers in the community." Students must apply to participate, write an essay and attend an interview. They are mentored by working farmers about the basics of planting, maintaining and harvesting a garden crop. In addition, the Youth Ambassadors have several garden plots throughout the Cape Fear region, including one behind the Boys and Girls Club in Wilmington. They also sell seasonal vegetables with Feast Down East at the Weekly Fresh Market at Rankin and 11th streets during the summers and throughout the growing season on Saturdays at the Columbus Farmers Market in Whiteville, North Carolina.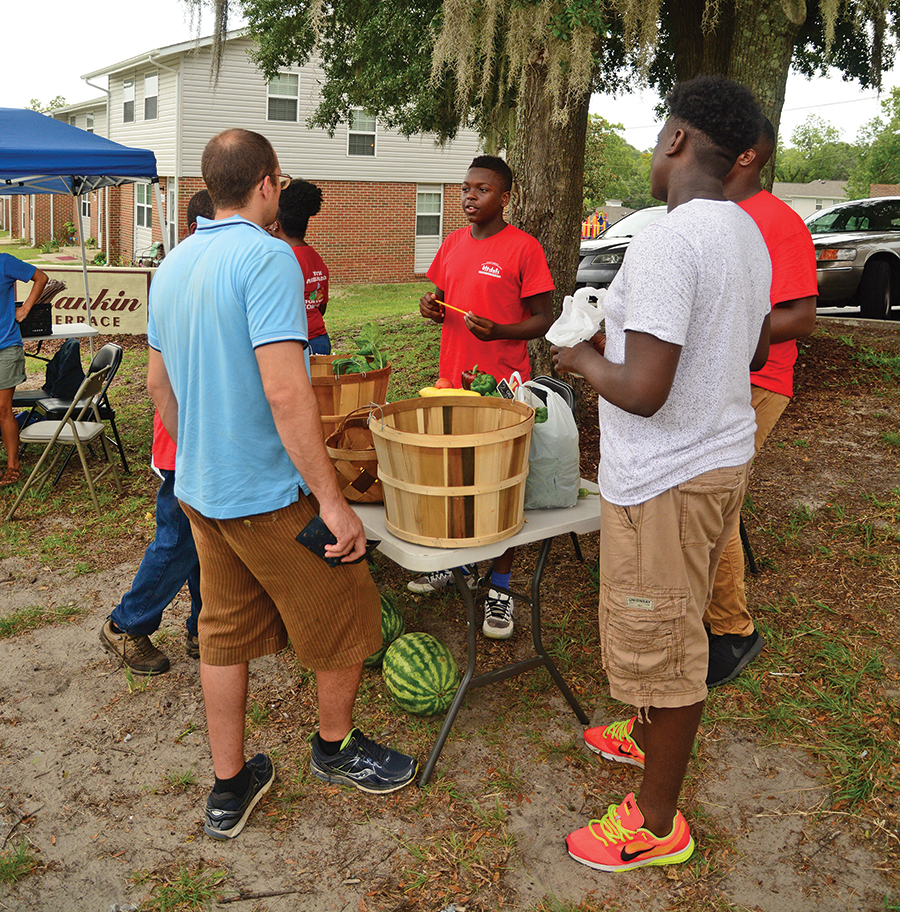 The Youth Ambassadors program does more than just teach students about farming and entrepreneurship; it involves the students in their communities. The area around Rankin is something of a food desert, an area with a low-income population and limited access to fresh, nutritious food. The Weekly Fresh Market not only allows the students to take pride in selling their harvest, they also learn firsthand about issues of social and environmental justice by partnering with the folks at Feast Down East and extending their impact.
Randolph also comments on the importance of raising a new generation of students who are informed about agrarian practices. "When we first started going to the Columbus Farmers Market, the kids were the only youth participants. They were also the only farmers of color. It's been great to see the Columbus farming community welcome the Youth Ambassadors and encourage their efforts in the community." He says that the skills learned — hard work, collaboration, responsibility and reliability — transfer to all lines of work. That's a good thing, because the Youth Ambassadors I spoke to have dreams as diverse as becoming farmers, engineers, graphic designers, filmmakers and entrepreneurs. When they talk about college, they mention schools like UNCW, NC State, NC A&T and UNC, but they also mention Yale, Georgia Tech, Spelman and Howard. These are students whose dreams are fostered not only by the Youth Ambassadors' leadership, but by one another's skill, ambition and confidence.
In a mere two years, this program has enrolled approximately 75 students. In addition to their farm entrepreneurship, they have attended conferences like Rooted in Community in Greensboro, where the students learned about sustainable food systems, refugee struggles and food equity. Ambassadors also assume roles as leaders in their communities; they have given presentations about their work at the Optimist Club in Elizabethtown, and organize an annual golf tournament scholarship fundraiser at the Land O Lakes Golf Club in Whiteville.
Randolph points out that it's the notion of ownership — owning one's responsibility to self, others and service to the community — that is the core of the Youth Ambassadors' mission and the heart of Men and Women United for Youth and Families. What better way to reap a sustainable future for the youth in our rural communities than by sowing seeds of support and empowering them to share the fruits of their labor?
To learn more about Men and Women United for Youth and Families, contact Randolph Keaton:
rkeaton@1csa.net
910-655-3811
www.menandwomenunited.org
Author Virginia Holman lives and writes in Carolina Beach.