For recent graduate Sandra Gonzalez, each day is one step closer to a way better life
By Dana Sachs
When the New Hanover High School class of 2016 graduated last spring, Sandra Gonzalez's parents, Jesus and Angelica, sat alongside hundreds of other proud families in UNCW's Trask Coliseum. Every one of those families overcame challenges so that their student would graduate, but the Gonzalez family's journey was more arduous than most.
Sandra, 18 years old, tells me her family's story over brunch at the Dixie Grill downtown. Their journey began, she says, in the small town of San Juan Bautista Guelache, in the Mexican state of Oaxaca. Born into poverty, neither Sandra's mother nor her father graduated from high school. In fact, Sandra's mom never even made it to middle school, having dropped out in order to work and care for her sick mother. In 1996, when she was 16 years old, she met Sandra's father. Two years later, she was pregnant.
Young couples were expected to build their own houses, but Jesus and Angelica had no money to build a house and no prospects for earning any money. The father-to-be had a friend, though, in the United States, and the friend said that a hard worker could earn a decent living there. Should they head north, they asked themselves? The young couple tried to assess the prospects for their baby's future. "My dad saw that they didn't have enough to give me," Sandra says. What's more, "they both dropped out of school, and they didn't want that for me."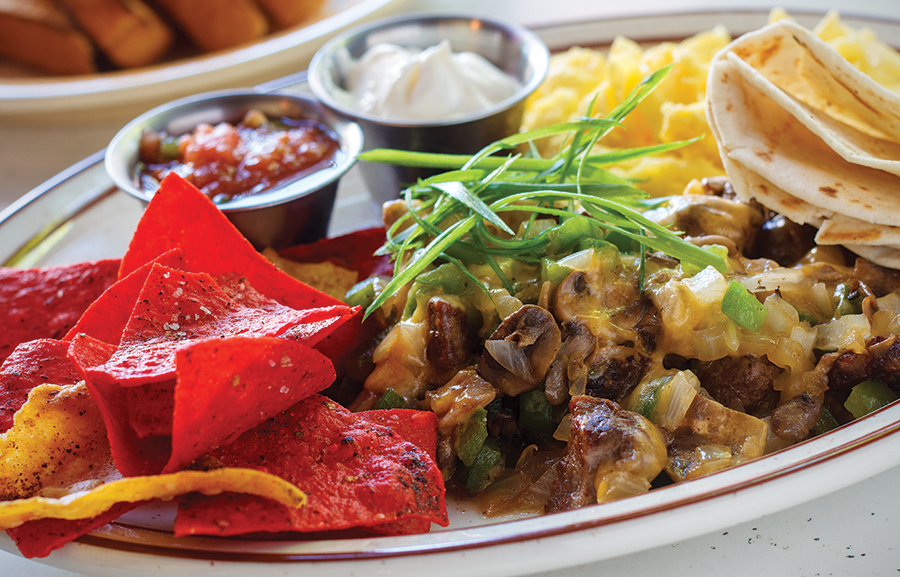 They decided to emigrate so that their daughter would have a chance of a better life. Sandra's father left first, in 1998, only a few months after Sandra was born. After a grueling trip, he ended up in Wilmington, living in a house full of immigrants and working as a landscaper. He saved his money for a year and, when he had enough, he wired it back to Mexico so that his wife and baby could travel north and join him. Having crossed through desert on his own trip, Sandra's father saw other migrants suffering terribly in the heat. Fearful that his wife and daughter would not survive that route, he sent extra money so that their journey would be safer.
It wasn't. The smugglers who guided them made them cross the Rio Grande with nothing but tires to keep them afloat. Sandra's mother had to make the crossing with a baby in her arms, terrified that her daughter would drown. Once they made it to Texas, things didn't get any easier. They had to walk long distances and the baby screamed and cried, not letting anyone but her mother hold her. When the mother fell behind, one of the smugglers said, "If you keep slowing down, we'll leave you."
Sandra says, "That's when she realized that she had to keep going."
Meanwhile, in Wilmington, Sandra's father waited by the phone, hoping to hear from them. A week passed. Then two. He knew that some migrants died trying to cross the border, so when he didn't hear from them, he began to panic, feeling that he'd made a terrible mistake.
Then he received a call from Texas. They were safe.
Soon the reunited family began their new life in Wilmington. Sandra can't remember any of that difficult journey herself, but she has watched how hard her parents have worked to give her, and, later, her little brother, support and stability in life. These days, other family members are living in Wilmington, too. "When my uncles go to my house now they always talk about how hard (the journey) was, how much they wanted to give up."
The Dixie Grill is a downtown favorite, with people lining up on the sidewalk for weekend brunch. For Sandra, the meal offers a combination of familiar and unfamiliar flavors. For example, she has never eaten French toast before. The Dixie Grill serves its French toast covered in fruit, and Sandra likes the combination of bananas and maple syrup, plus the fact that, through a few decorative cuts in the kitchen, the cook has transformed a large strawberry into a blossoming flower. The French toast is "not just artsy," she says, "but it has flavor, too."
The Louisiana Hash — fried eggs over chopped spicy potatoes and chorizo sausage, served with a biscuit — is a dish that's more familiar to her. "It's like 'papas con chorizo'— basically sausage and potatoes — that my mom makes," Sandra says, "but she scrambles the eggs." Sandra recognizes the Mexican-inspired Huevos Rancheros, too, but she's interested to see that Dixie Grill offers its own particular take on the dish, serving scrambled eggs, seared beef tips with onions, peppers, mushrooms and black beans, all blanketed in melted cheese and served with tortillas. Dixie Grill's version is not what Sandra expected — her mom makes the dish with a spicy homemade salsa, refried beans and crumbly Oaxacan cheese — but she finds the restaurant's results appealing. "Cheese," she says, laughing, "is my favorite part."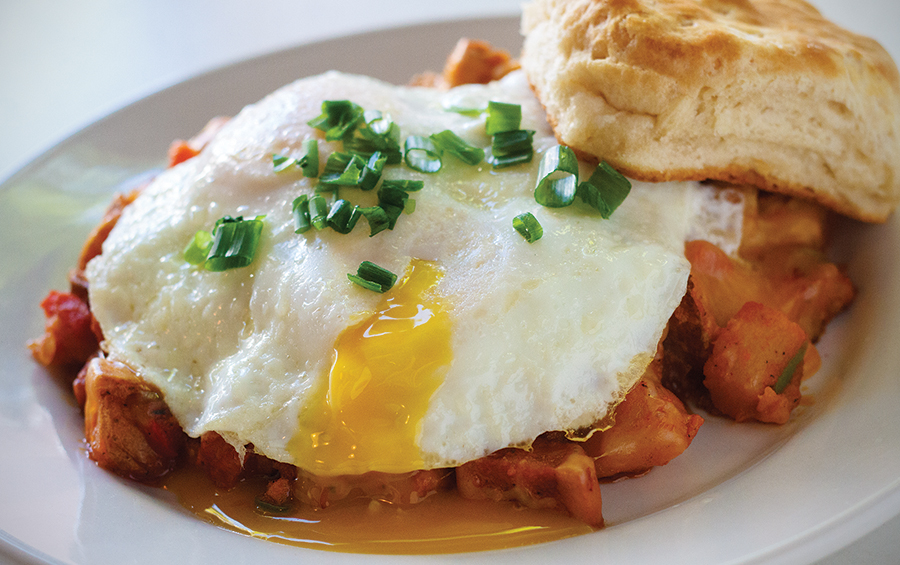 Sandra understands that a lot of people in the United States resent migrant families like hers. In fact, as a small child she was bullied in school for "how I talked, how I looked." She accepts the fact that she and her family are not welcomed by everyone here, but she'd like people to see how much they have in common with people born in this country, and how much they can contribute. "We're all humans," she says. "We're all fighting for our children to have better lives. I think we all want for them to be successful."
Because Sandra arrived in the United States as a child, and subsequently grew up here, a program called Deferred Action for Childhood Arrivals allows her to legally work and go to school, but she can't receive federal financial aid. These days, she goes to school at Cape Fear Community College and holds down a job at a restaurant. She dreams about a career in criminal justice, and she hopes to become a voice for immigrants.
After graduation last June, Sandra's extended family gathered at her house for a celebratory feast. Her mom, Angelica, made Camarones a la Diabla, a Mexican dish of spicy shrimp served with rice and beans. It was a happy afternoon, but Sandra knows she still had a long way to go with her education. Her parents "have huge hopes," she tells me. "They say, 'We always want you to be not just better than what we did, but way better.'"
The Dixie Grill, at 116 Market St., is open every day for breakfast, brunch or lunch. For more information, call (910) 762-7280 or visit https://thedixiegrillwilmington.wordpress.com.
Dana Sachs' latest novel, The Secret of the Nightingale Palace, is available at bookstores throughout Wilmington.