How concept-driven set designer Gary Ralph Smith elevates local productions
By Nicholas Gray
"Let me just putter around for a bit," Gary Ralph Smith says as I enter his workshop space. A slim, blue-eyed, paint-speckled man, Smith is a set designer from Raleigh whose high demand keeps him more often in Wilmington. Though Smith has artfully created some of our community's most thoughtful, aesthetically charged and intoxicating sets in decades — On Golden Pond, The Fantasticks, It's Only A Play — he is not the braggadocious artist that many gifted aesthetes can be. Rather, he is humble and modest, seemingly without knowledge of the scope of his skill. So putter he does, seeking out flaws to fix while I press him for insight into his craft.
Smith, a UNC School of the Arts grad, worked for years in the New York theater scene doing sets, costumes, props — "You take what you can get as far as work goes" says Smith.
Smith comes to Wilmington under the widespread wing of theater-patriot-at-large Tony Rivenbark – executive director of Thalian Hall Center for the Performing Arts and artistic director of The Cube Theatre. Upon the completion of Thalian Hall's massive renovations in 2010, Rivenbark sought an avenue to reintroduce our trepidatious local theater companies to the rental advantages of the Ruth and Bucky Stein Studio. Though the lighting is top-notch and the audience seating is careful in its comfort and visibility, the stage itself is quite shallow — requiring great imagination — and not necessarily one's first choice.
Thus, The Cube Theatre company was born. Rivenbark initially proposed a challenge for the company, "with every show (we produce) in the Studio, there should be a problem to it, with regard to the technical parameters," that they overcome. Enter Gary Ralph Smith, with the solution to the endeavor at hand.
Smith solved the problem of suggestive realism, with the well-known and often set outdoors play On Golden Pond, by Ernest Thompson. Smith created the feel of a sweeping landscape in a contained space. And then, he tackled the problem of shrinking the Rob Zapple Thalian Hall annual Mainstage favorite A Christmas Carol — Dickens set in the dustbowl era — into the Studio, which he did with the wonders of cardboard. The humble shack with tin roof was crafted, imperceptibly, out of quick-to-move cardboard.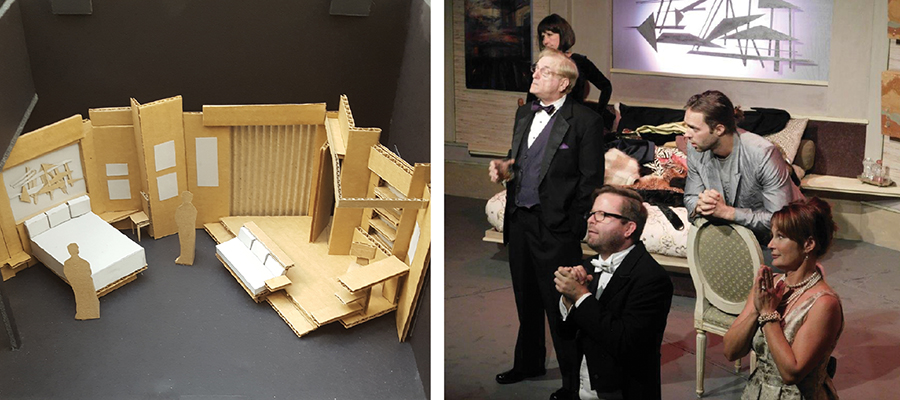 "How do we produce a musical in this space?" Smith stepped in for The Fantasticks, by literally pulling an entire show out of a box. At the top of the show, the characters, their props and set pieces emerged from a treasure chest on stage.
The self-referential comedy It's Only a Play brought the steep challenge of creating a gorgeous 1980s New York City penthouse with many technical tricks — an offstage dog in the bathroom, a raucous party just downstairs — to be played, aside from creating opulent decadence on a black box budget.
"He has a real concept, a light touch, but incredibly immersive," says Rivenbark. "He cares extensively about each aspect of the show and how it caters to his design or how he might cater to those — actors, costuming, the props, all of it." Simply put, "He is not the 'I'm gonna build my set and go' guy."
The Fantasticks director Shane Fernando affirms Smith's assets. "He might fight like hell for his point of view, but he also understands the need to make the performers' and other creatives' jobs easier. And that is very rare."
In the workshop, Smith continues to putter about as I wander uninvited into the Dreams' Garage theater space to behold another set of Smith's. Immediately, I'm blitzed. I glamoured by the sheer work laid out well in-advance of this show's opening night. I'm also privy to the quaintest of intricate cardboard models created by Smith, so that — even before this early date — each and every collaborator can picture exactly what they are walking into.
"Unfortunately, too often, our actors and crew have no idea what they're going to be dealing with, but Gary Ralph provides something different, (where ultimately audiences) can see a whole, consistent piece of theater," says Rivenbark, who is quick to credit Smith for the success of The Cube's productions.
Lastly, I ask Smith about his dream project, and he answers without pause, Tennessee Williams' The Glass Menagerie. Any takers? It's for certain we'd be stunned.
Up next for Gary Ralph Smith: Ira Lavin's murder mystery Deathtrap, directed by Shane Fernando, May 18–29, Ruth & Bucky Stein Theatre at Thalian Hall, 310 Chestnut Street, Wilmington. Thursdays-Saturdays, 7:30 p.m., Sundays 3:00 p.m. Tickets: www.thalianhall.org 
Nicholas Gray is the former artistic director of City Stage Co.