A millennial family wants for nothing in their custom tiny house on wheels
By Isabel Zermani   •   Photographs by Rick Ricozzi
In recent years, the tiny house trend has become something of a craze, launching prefab builders like Tumbleweed Tiny Homes (starting at $50,000); TV shows like Tiny House Nation; and the trending hashtag #vanlife, where one can follow bikini-clad Instagrammers doing Downward-Facing Dog on the roof of their full-time home, a VW Westfalia. It surely seems like a millennial movement. But is it such a new idea?
Henry David Thoreau's book Walden recounts his life in a tiny home he built on Walden Pond in Concord, Massachusetts, scandalizing 1845 society by choosing to live separate from it. Thomas Jefferson lived as a bachelor in a one-room brick house for two years before adding a second when he married. Together, the couple lived 3 1/2 years in this honeymoon cottage until he finished building Monticello around 1775. Frontier cabins dot the United States recalling a time of exploration, self-sufficiency and a Laura Ingalls Wilder-style family where a one-room cabin with sleeping loft is cozy, not crazy.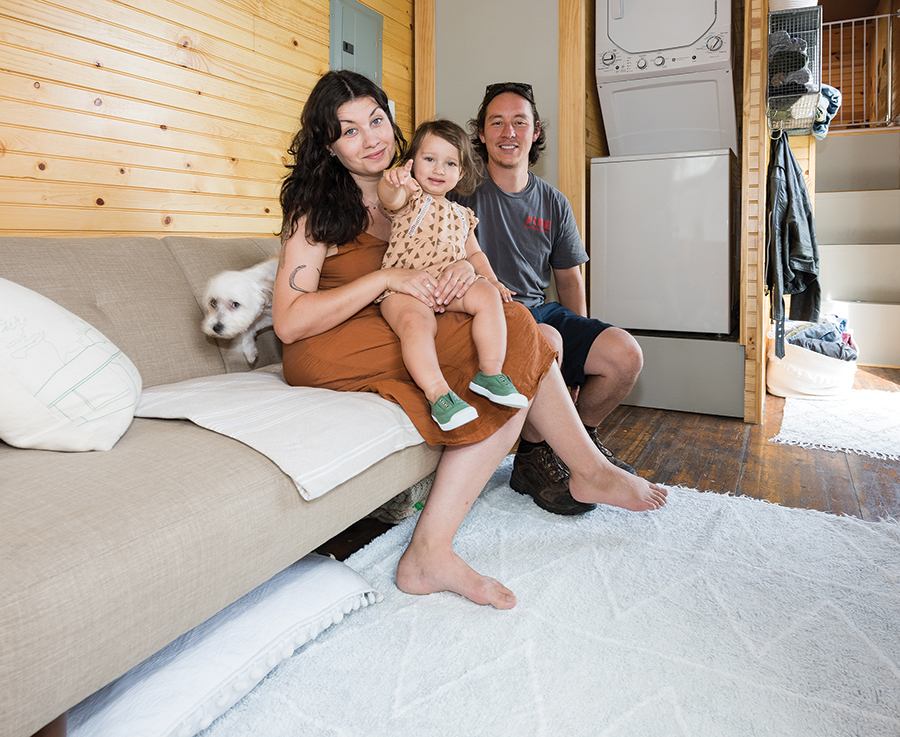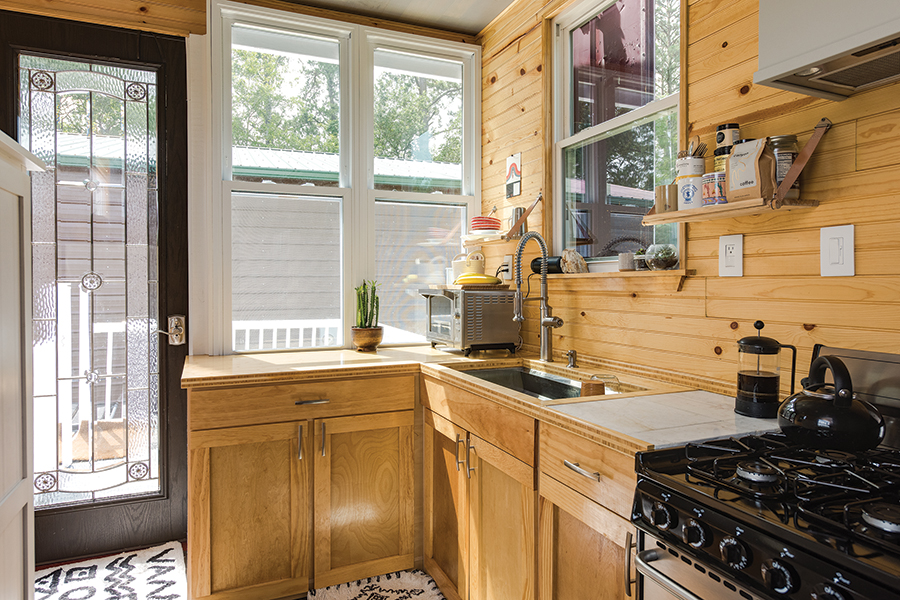 Indeed, small living is woven into the fabric of America, and the desire for freedom is the prominent thread. The only difference now is that many tiny housers are driven less by necessity and more by choice. And what many were trying to amass is what some want freedom from.
One pioneering family in Brunswick County made a bold choice to trade in their three-bedroom starter home and L-shaped sectional for a 192-square-foot tiny house on wheels.
Scott and Jess Young McCaffrey had been toying with the idea of a tiny home for a few years, but put it on hold to have a baby girl, Phoenix. But they couldn't shake the desire. "When she was 6 months old, we thought, 'Maybe we can do that,'" says Jess inside her sunny tiny home built inside an old film production truck. "We looked it up on Craigslist and bought it within 48 hours." That was last year. They started the build in October and were moved in by February.
"I'm not a micro-minimalist," says Jess. It's true. A glance around the room notes many elements totally atypical of a Portlandia-worthy tiny house (where the cat box is attached to the ironing board) like a full-size washer and dryer, a full-size fridge and range-top, a 55-inch flat-screen TV and 1 1/2 bathrooms. With water, electricity, gas, mini-split AC/heating units, the yet-to-be-named tiny home has regular amenities, just super-low bills and the ability to go off the grid. Jealous yet?
The age-old question: "The beach or the mountains?" can be answered by releasing the parking brake and heading west: "We'd like to travel with her (Phoenix) as many places as we can before school schedules." At 18 months old, a bubbly Phoenix gives a tour of her toy basket, her best friend Lola (the dog) and the T-shirt she sports that says, aptly, "Save Our Planet. Raise a Hippie."
Ample windows make the living area feel spacious. A floor-to-ceiling glass door can be opened for a breeze or covered for privacy with an on-trend barn door. The full-size kitchen sink and custom wood countertops shine in afternoon light. A neutral color palette and select furnishings like a tufted futon (for overnight guests), antique white hutch and textured rug create a little interest while keeping a soothing mood throughout.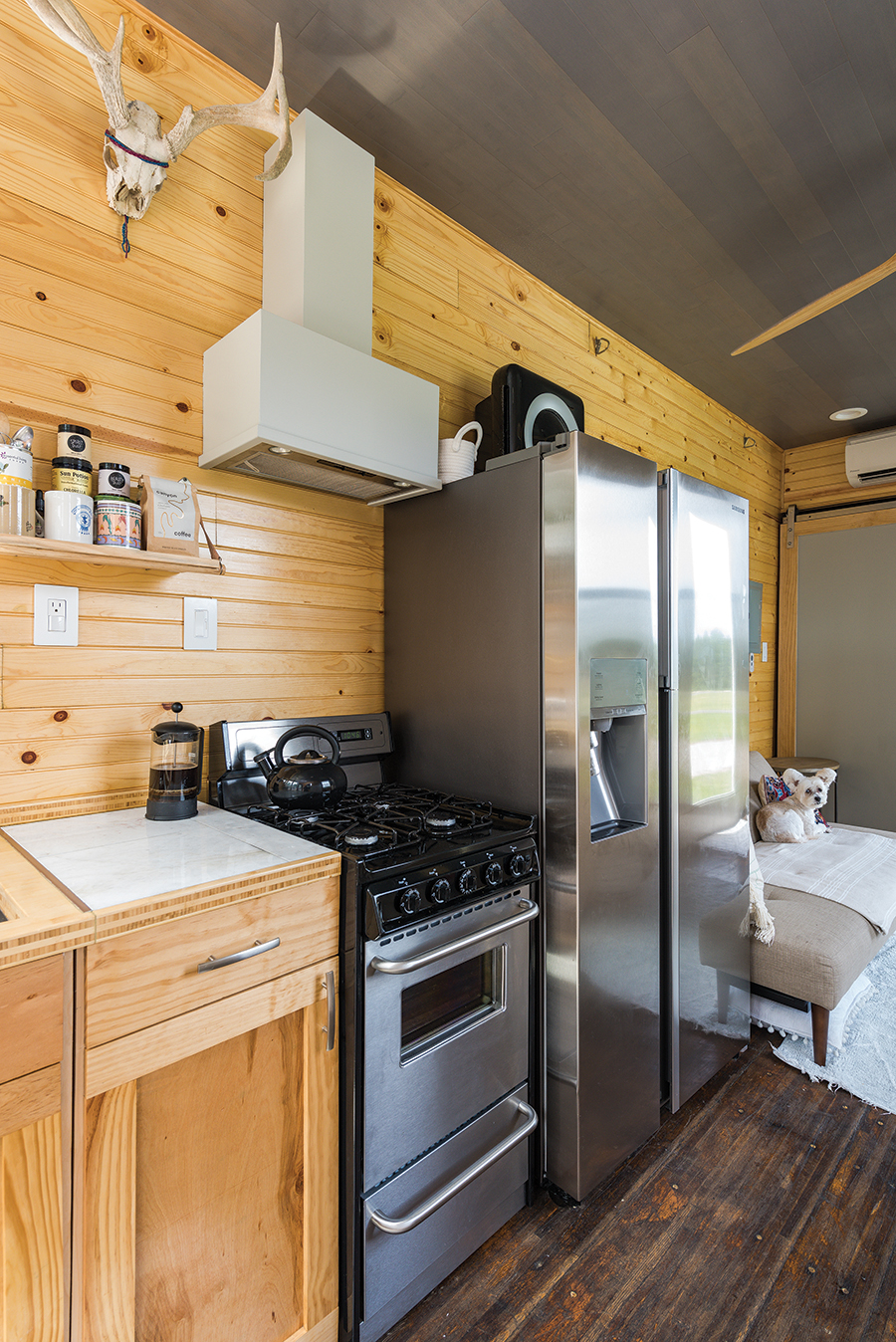 Jess is a designer by profession. After nine years at local style institution Edge of Urge, she's begun her own jewelry line, Phoenix Makes, and shifted focus: "My heart has a passion for wellness." Scott works with commercial cooking equipment and HVAC, making him indispensable for planning the functionality of the home.
Perhaps wellness is the new frontier, one millennials are pioneering with less stuff instead of more. The McCaffreys have figured out exactly what they need — "A tiny house definitely keeps you accountable." And what they don't. "We worked on the purge for months," says Jess, remembering the plethora of kitchen tools she sifted through. "We got it down to our Vitamix and a few pots and pans."
"Luckily, I listened to a podcast when I was two months pregnant that said, 'Get rid of all your clothes now because you're not going to fit in them,'" and she did. Their current clothes storage uses open shelving. "An open closet keeps us honest," says Jess with the knowing wink of someone who, mid-move, has shouted to the skies, Why do I keep all this crap? The difference is that she and her husband did three rounds of stuff purging before this last move and now have consciences as clean as Jon Kabat-Zinn, one of authors on their shelf to make it past all three rounds.
Is there anything you miss? I ask. "Not really," says Jess, who notes that now they spend 50 percent of their time outside doing things, but concedes, "My husband misses our couch." Ah, the lure of the big sectional.
As far as tiny homes go, this is a pretty posh one. There isn't a lot to miss because it's all there, neatly organized into one main living space, a closet, a bathroom and a sleeping loft.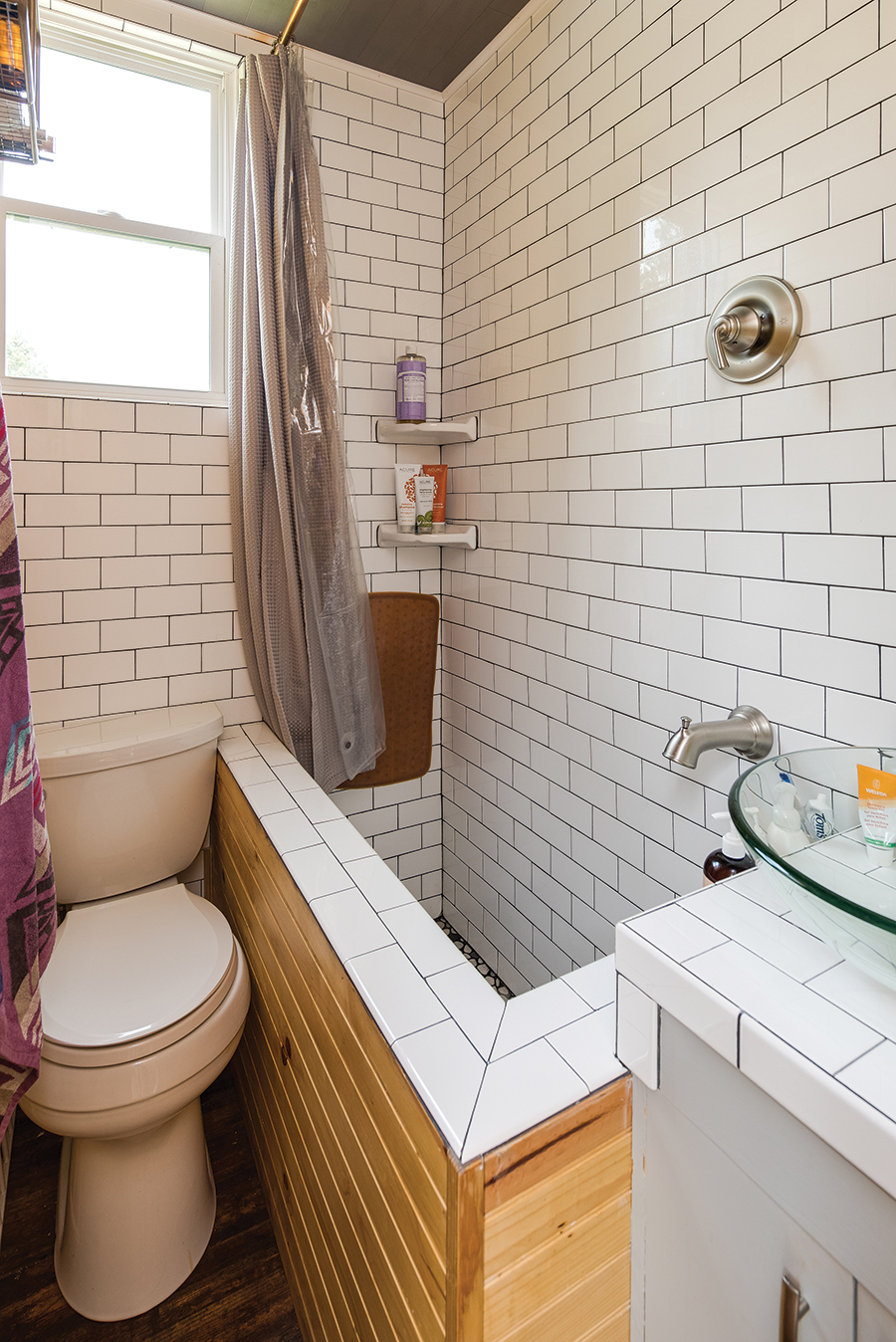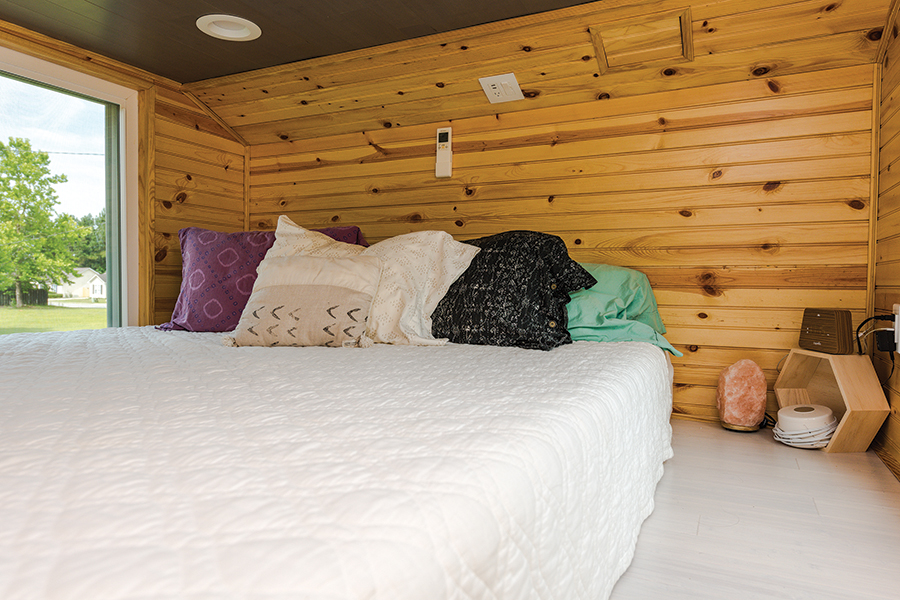 Up a staircase of hidden cabinets, the sleeping loft sits above the cab of the truck with a California king-size bed and enough headroom to sit up and lounge in comfort. Before moving in, "My biggest concern was: Is the bedroom going to feel cramped?" Jess happily reports that it does not. "We also get a nice cross breeze," she says and can sleep with the windows open or flip on the mini-split and cool it in an instant.
A small footprint means low energy consumption — an important principle for this eco-friendly family — and high-end finishes are more accessible when used in smaller quantity: custom cabinetry, quality windows, bamboo flooring, a custom-built tile tub that's perfectly child-size. Here, they get to have what they love, what they've designed together, and they don't have to stress if they want to go spend a few months in the mountains. They definitely get some looks from "big housers," but it doesn't faze them. Thomas Jefferson, Henry David Thoreau and Laura Ingalls Wilder probably got some looks, too.
Kacey Musgraves sang it best: "Who needs a house up on a hill when you can have one on four wheels and take it anywhere the wind might blow?"
Find Jess's jewelry and wellness products online at www.phoenixmakes.com
Isabel Zermani, our former senior editor, prefers the storied — and mobile — life.