Peter Peter Pumpkin Eater

Orange you glad? Locals know it's October by the Christo and Jeanne-Claude-like transformation of the church at the corner of College and Peachtree. A pumpkin paradise. A wash of orange. The churchyard stays stocked all month. Stop by to snap a photo with the mounds of bounty or load up your wheelbarrow. What many may not realize is the purchase of these pumpkins supports the Navajo Nation Indian Reservation in New Mexico that grows these non-GMO, sustainable orbs, plus a laundry list of youth ministry and mission projects. Recently, the Pumpkin Patch provided bicycles for local foster kids, repaired the homes of flood victims in West Virginia, and sponsored job training for orphans in Malawi through ZOE Ministry. These orange globes may soon be carved into scary faces, but their hearts are in the right place. Info: The Pumpkin Patch, Wesley Memorial United Methodist Church, 1401 South College Road, open daily from 9 a.m. – 7 p.m., Monday–Saturday, 12 p.m. – 7 p.m. Sunday. Pumpkins start at 50 cents. www.pumpkinsusa.com
Let It All Hang Out
The annual Riverfest blankets our historic downtown the first weekend in October. We don't do a lot of river worship or water sports; in fact, it's all about fried Oreos, medieval-size turkey legs and classic cars. Like the song that never ends, we don't know how it got started or what it's all about, but we enjoy singing it year after year. Local and commercial vendors set up gooey treats, beer gardens and arts and craft booths for sampling and shopping. In addition to a weekend of free concerts and Saturday night fireworks, the festival brings us something new to celebrate, a Miss Riverfest. The inaugural title is held by Miss Felicia Jones, a UNC Wilmington senior majoring in criminal justice. So, act right y'all! Info: Admission is free for the three-day festival in downtown Wilmington, beginning Oct. 7 with a concert at 6 p.m., all day festivities Oct. 8 and 9, beginning at noon. Details at www.wilmingtonriverfest.com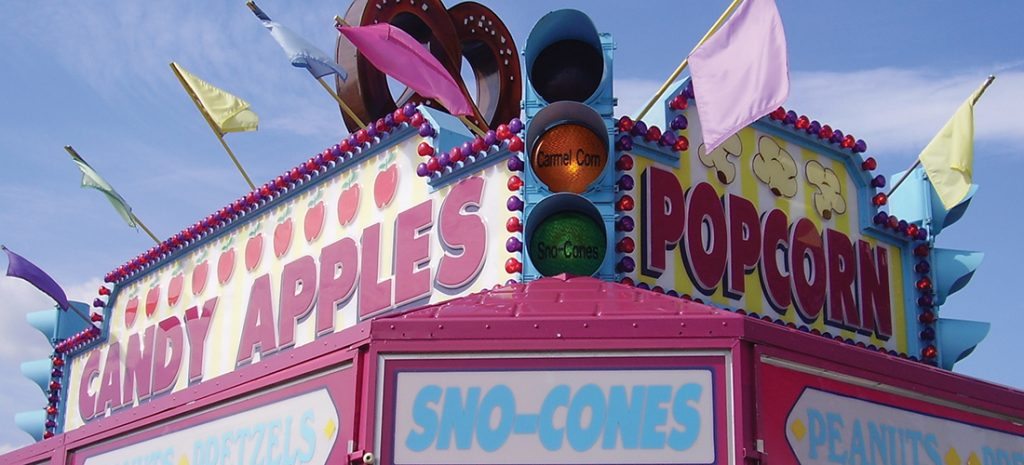 Devil Went Down to Wilmington
On the way to Georgia, the devilishly talented Charlie Daniels Band stops off in Thalian Hall to celebrate Charlie's 80th birthday with a concert. The North Carolina boy who came to life in our fair city and hails from the pines made good, winning both Dove awards for gospel and CMA awards for country music. The Southern rock of Charlie Daniels is indisputably valuable to our musical landscape. Ain't it nice we can claim him? Info: Oct. 22, 7:30 p.m., tickets: $125, available at www.thalianhall.org
Flour Power
Design may be the intersection of industry and the arts, which can tell us a heck of a lot about the values and aspirations of a society. In the Cameron Art Museum's new exhibit, "Art from Flour: Barrel to Bag," the history of flour as fuel and a vehicle for visual language is sieved through. The Great Depression left many without clothes, giving rise to purposefully patterned flour sacks to be sewn into garments — an early example of targeted marketing. The rise of advertising paralleled the rise of industry in the once prominent and competitive field of 19th and 20th century gristmills. Competitors like King Arthur Flour and Pillsbury offer a window into the frontier of logos, branding and marketing. Design geeks and history buffs alike will find this exhibit Poppin' Fresh. Info: Exhibit runs Oct. 8 – February 12, Cameron Art Museum, 3201 South 17th Street, Wilmington. Call (910) 395-5999 or visit www.cameronartmuseum.org
Piney Flames
Stop. Put the phone down. This is a controlled burn. And not like when you leave your toast in the toaster too long and have to pretend you like it that way. This burn is both controlled and essential to the health of our pine ecosystem. Come learn why! Hayrides, raptors and food trucks are not essential to our ecosystem, but they sure do make it enjoyable. Info: Fire in the Pines Festival, Saturday, Oct. 8, 10 a.m. – 3 p.m., Halyburton Park, 4099 South 17th St., Wilmington. Admission is free.
Get Deco'd Out
Gatsby-old-pal, fetch me a glass of giggle water. This town sure does love its flappers. If you missed your chance at a hotsy-totsy or a fine tomato last month, shrug it off, old pal, the Deco Ball shines on. Perhaps you've amassed a wardrobe of drop-waists, wingtips and turbans that need to be shown off more than once a year. Maybe you've got a flapper soul just dying to Lindy hop her way out, or the fancy foxes in Woody Allen's Cafe Society got your engine running like a Ford Model T. Any reason is a good one to liberate yourself like it's the 1920s with live jazz, Prohibition-era cocktails, portrait sketches and tarot readings. Info: The Deco Ball/sixth annual Gatsby Gala presented by Kusek Financial Group and hosted by Jess James. Thursday, Oct. 13, VIP cocktail hour: 6–7 p.m., Deco Ball: 7–10 p.m. Wrightsville Manor, 1952 Allens Lane, Wilmington. Tickets: $60 (VIP: $100). Visit stylegirljessjames.com to purchase.
Dead Men Do Tell Tales
The final resting place of many a key player in the Civil War, Oakdale Cemetery is the oldest rural cemetery of its kind. Historian and steward Ken Newland leads a tour about history, service and sacrifice through the premier Confederate cemetery. The Union soldiers were buried in the nearby National Cemetery on Market Street. Highlights of this walking tour include no less than five Confederate generals, an intrepid lady spy, a famous sea captain, and the widow who started the United Daughters of the Confederacy in North Carolina. No need to fear, this tour takes place in the safe cloak of daylight. Info: Oct. 16, 2–4 p.m. Admission is free for Friends of Oakdale members and $10 for non-members. Oakdale Cemetery, 520 North 15th St., Wilmington.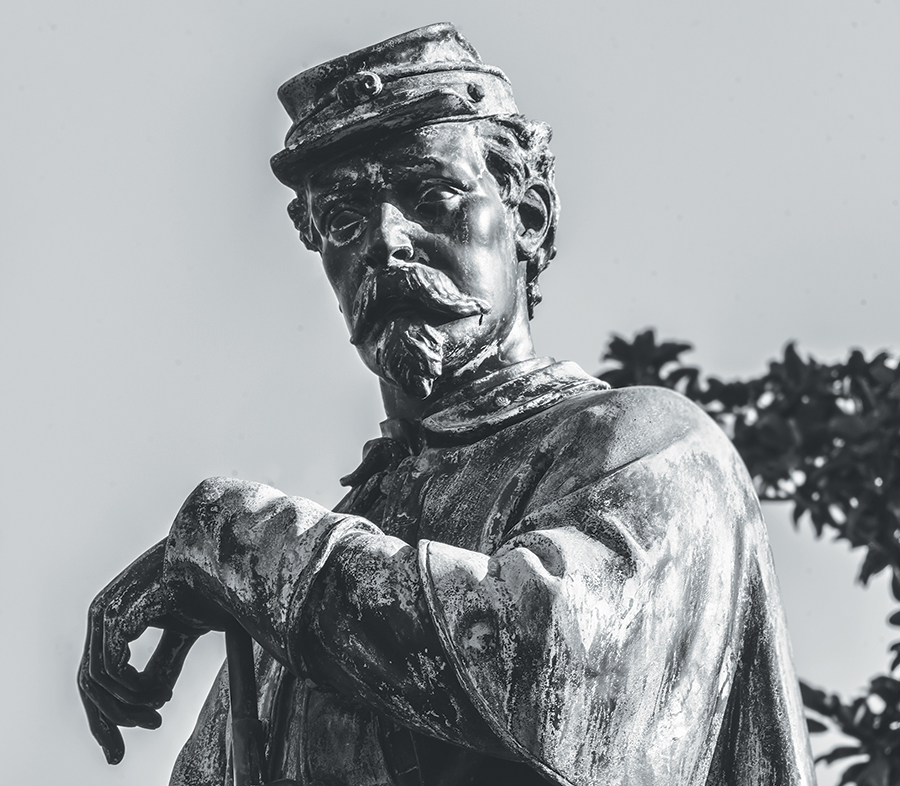 Ye Highland Roots
Lads and lasses of Scottish heritage or simply fans of "Outlander," come one, come all. Learn the history and heritage of the Scottish Highlanders who settled North Carolina's Cape Fear region beginning in 1739 with the Argyll colony. This new festival includes living history re-enactments, Celtic music, genealogy talks and whiskey tastings. If those don't interest you, perhaps the Sir Scott Games, a fiddling competition, or the main musical act "Enter the Haggis" will. Eighteenth century dress encouraged. Come for the day or tow your RV or rent a cabin to stay the weekend. Info: Carolina Caledonian Fest, Lu Mil Vineyard, Dublin, N.C., Oct. 28–30. Advance tickets: Adult $10 per day, $17 for two-day pass, $2 for children ages 5–12. Full schedule and details online at www.caledonianfest.com
Someone's in the Kitchen with Dinah…
I spy with my little eye . . . an open back door . . . to someone's kitchen. Look at the streams of looky-loos! Practically nothing is more fun than snooping around a fabulous historic home and on the 11th annual Back Door Kitchen Tour, they actually invite you to! From mansions to cottages, peek inside the hearts of nine historic homes — the kitchens. Proceeds support beautification, historic preservation, and improvement projects by tour hosts, the residents of Old Wilmington.  Info: 11th annual Back Door Kitchen Tour, Saturday, Oct. 15, 11 a.m. – 5 p.m., rain or shine. Admission is $25 in advance, $30 the day of the tour. Tickets available online at www.rowilmington.org through Paypal or at Finkelstein's, the Ivy Cottages, and participating Harris Teeter stores. Call 919-522-0600 with questions.