Designer Liz Carroll creates an elegant retreat for a busy Wilmington doctor and outdoorsman
By William Irvine   •   Photographs by Rick Ricozzi
Dr. Michael Ott had a dilemma. A Wilmington E.R. doctor by day (and often by night), he wanted a place in his house — which he shares with his wife and two young daughters — where he could retreat during the off-hours that he needed to rest. And, oh yeah — it also had to have room for a large black bear, some deer heads, and many other woodland and sea creatures, which were certainly not part of his wife's decorating wish-list. "We looked at a bunch of different houses, but we wanted a place where I could go and bring my dead animals, which are not welcome in other parts of the house," he says with a grin. What to do?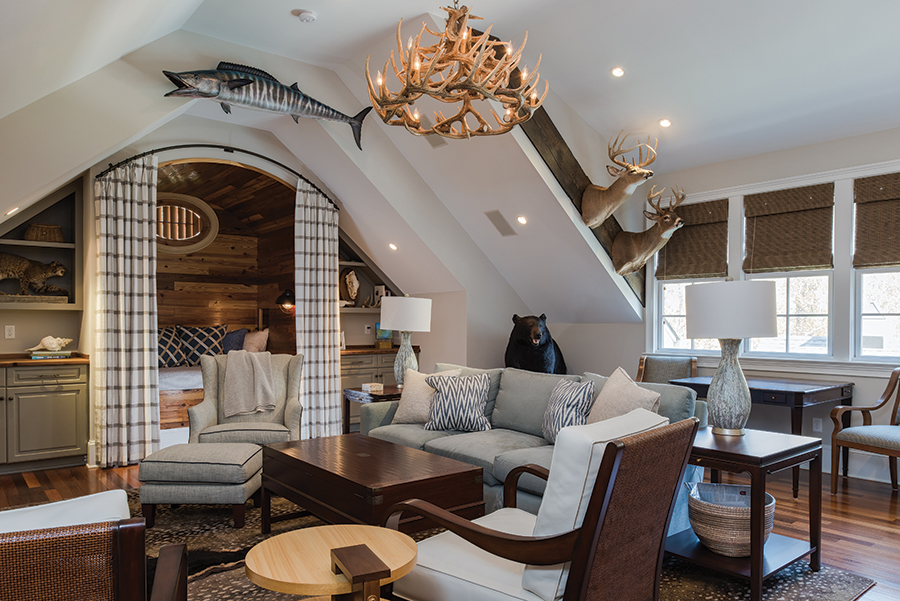 Enter Liz Carroll, a Wilmington decorator with a clear vision of how to create a stylish solution. "It's really a man cave with a place for serious napping. He has a lot of scheduled late shifts and night shifts and needed a place with peace and quiet," she says. But it also needed to have some civilized style.
The Ott house is situated deep in the woods off Greenville Loop Road; farther down the unpaved lane you can catch a glimpse of the marsh that leads out to Hewletts Creek and the Intracoastal Waterway. The area is known to have been a Civil War encampment — neighbors with metal detectors have found many Confederate uniform buttons and belt buckles.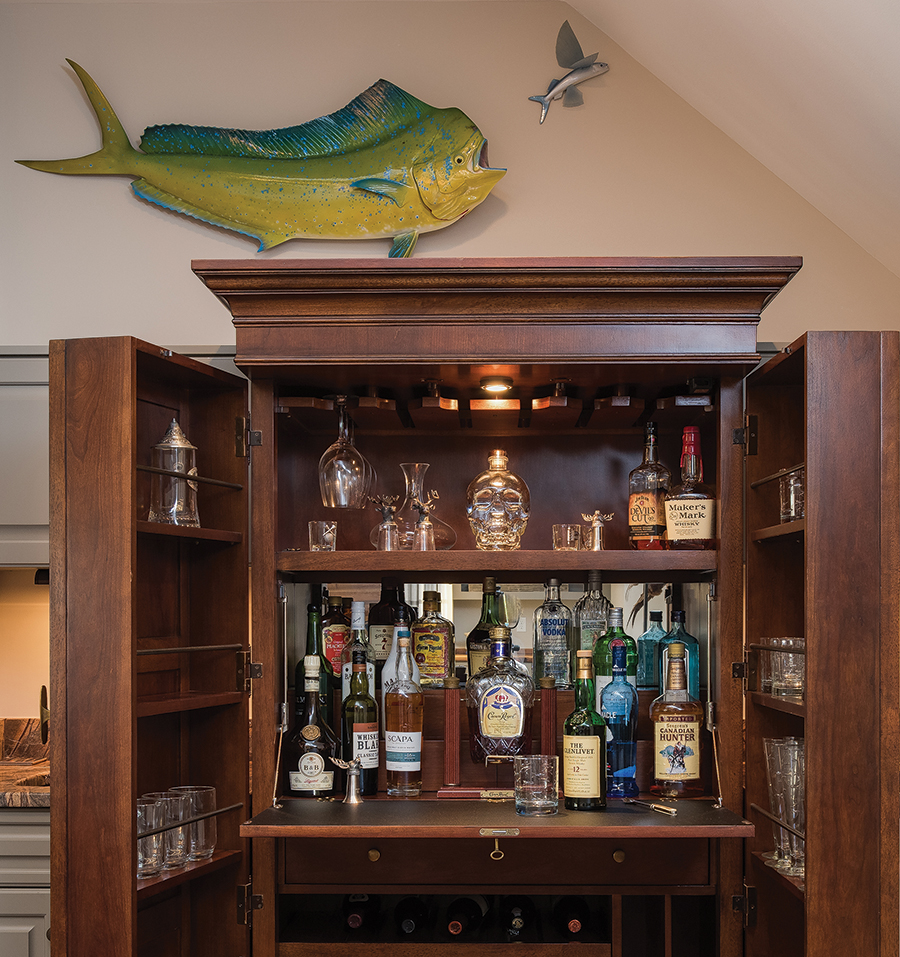 Builder David James completed the house in 2010, and not long after that the Otts and Carroll found each other. "We have had a lot of fun going through the house, decorating room by room," says Carroll, who has been working with the couple since 2012. "This room was specifically built for Mike because of his crazy hours; it has a separate staircase so he does not have to disturb the family if he comes home at 5 in the morning."
And it would be hard to imagine a more pleasant place to crash. An elegant seating area with upholstered wing chairs in soothing grays and whites surrounds a dark wood coffee table and overlooks a big-screen TV. The sleeping alcove dominates the end of the room; an arched rod with curtains follows the line of the built-in shelves, which hold smaller trophies; the curtains are closed when it's naptime. The interior wood lining the sleeping area has a distinctive patina. "It's old heart pinewood from the bottom of the Cape Fear River," says Carroll. "Really great-looking." An oval window above has retractable wooden shutters that can be closed to block outside light for sleeping. A custom-made antler chandelier hangs overhead. The opposite side of the room features a wet bar and a handsome mahogany bar cabinet with drop-front liquor storage and a wine rack below.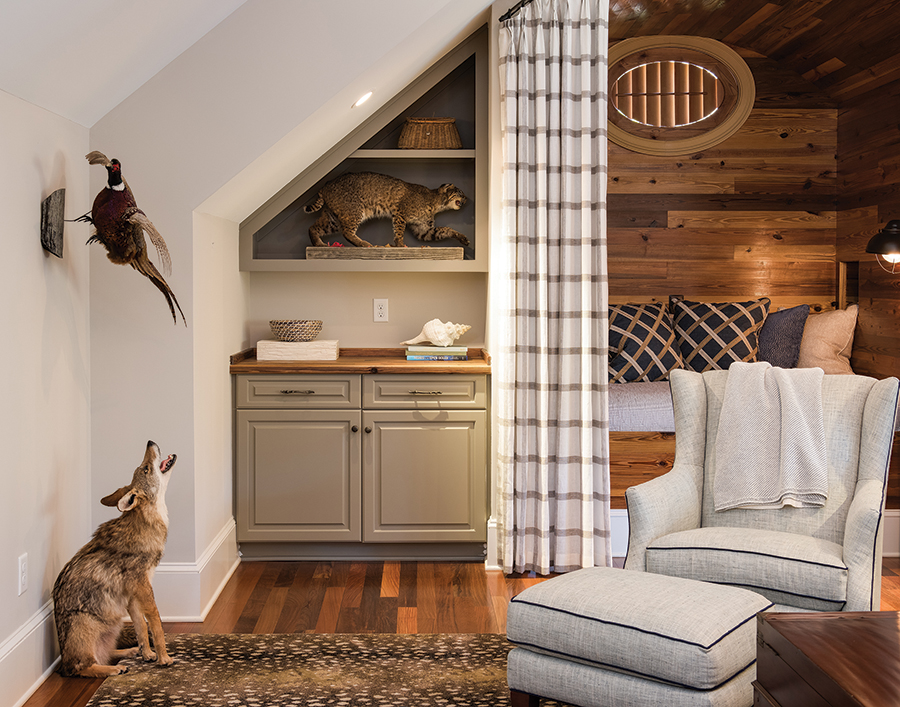 And then there are the trophies. Michael Ott has been an outdoorsman since he started using a bow and arrow at age 7 in the land behind his house in Morristown, a small town on the St. Lawrence River in upstate New York. And the man cave reveals a history of his sporting life: "And there's nothing is this room that I didn't eat — except for the coyote," he confesses. His preferred method of hunting is still the bow and arrow.
The dominant trophy presence in the room is a large black bear: "I named him Fred Bear in honor of the legendary bow hunter. I came face-to-face with him at close range on a trail in Pender County near Holly Shelter," he says. Five deer trophies line the upper walls and are also mounted on slabs of beautiful dense heart pine from the Cape Fear. There is also a bobcat caught in Pender County and a wood duck from Lenoir County. Over the sleeping alcove is a big wahoo, caught in Wilmington; other locally caught fish include a mahi and a hog snapper: "The best-tasting fish in the ocean," Ott says. You can tell from his unbridled enthusiasm that this is a place he likes to be. And his daughters do, too. "His two little girls love to come up and spend some Daddy time with him here," says Carroll. "We have made it a special place."