Rising from the ashes, a dream home built from scratch
By William Irvine    •   Photographs by Rick Ricozzi
It is always an unexpected pleasure when a designer and her client are on the same wavelength, and that's what happened when Gigi Sireyjol-Horsley, the stylish proprietor of Paysage Home, met MaryAnn Largen in her shop: "She fell in love with a French tapestry table in my store and we both realized that we loved the piece, but installing it in her bedroom would be quite a challenge. The table got installed — I still wonder how—but from there we moved on from room to room, challenge to challenge, always with good laughs."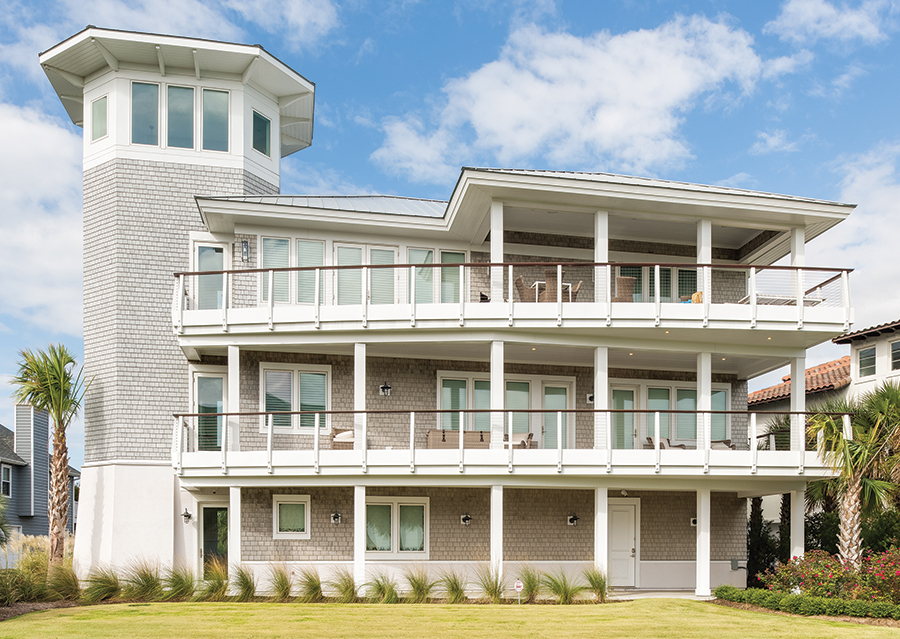 In 2007 Largen, who lives in Charlotte, and her business partner had bought a house together in Carolina Beach. Fast-forward to a few years later: The partner decided to buy his own place on Figure 8 and she bought him out. That's when Gigi came on the scene: "MaryAnn was trying to rearrange a house she had shared for years with another couple and make it hers," she says. "She was thrilled with the results, but infrastucture is hard to change."
But then in 2013, the unthinkable happened. "I had just finished the house in December," Sireyjol-Horsley recalls. "The flowers were in the vases, Champagne was in the fridge, the crib for her granddaughter was ready — everything was set for her to come down and spend her first weekend at the beach house." MaryAnn called her just after the New Year: "I have two pieces of news for you. One good, one bad. Which do you want first?"  The house had burned to the ground. The 3 a.m. blaze was so intense that the firemen could not even reach the fire hydrants, which were too hot to touch.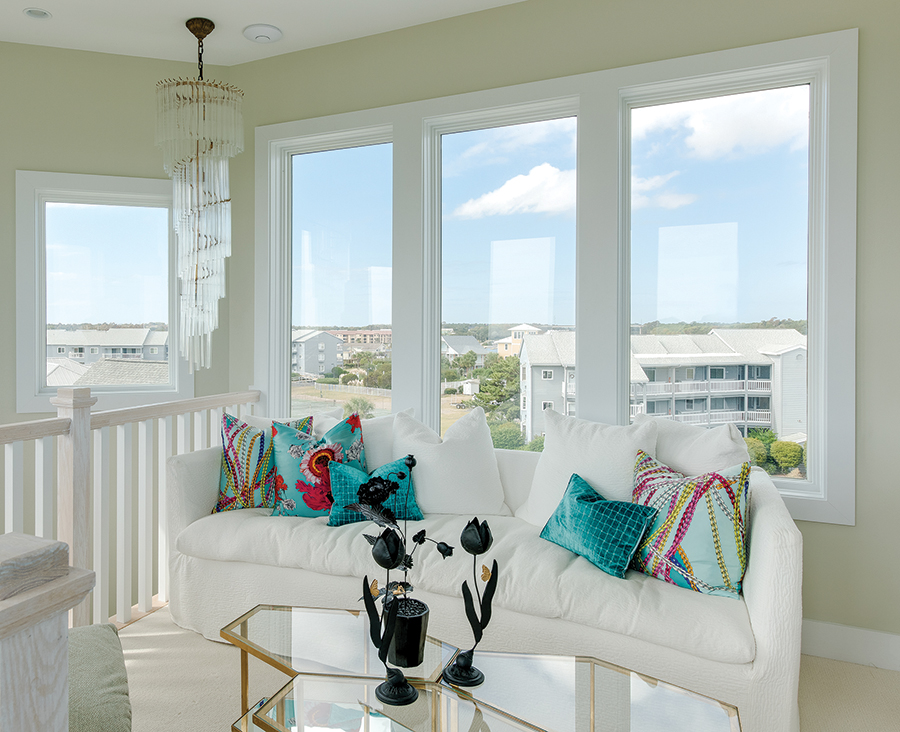 The good news was that Largen wanted to start again and build a new house from scratch. "The silver lining is that you get to do things that you wanted that were not ideal the first time," says Largen. "I was able to redesign the house so that every bedroom had a bathroom. And there are now more common spaces where people can go to get away from each other when needed." And Largen needed some space. She has two sons with five grandchildren between them who come down from Charlotte to use the house on weekends. "It's a family house," she says. " I call it the heirloom. I have given it to friends for visits but otherwise my sons and their families and friends get to use it as well."
Largen turned to the Wilmington firm of Harris Cothran Architects with a vision in mind. She wanted something both stylish and kid-friendly —not too traditional, not too modern: "And I told then I wanted a lighthouse or a ship look, and I think they achieved that," she says.
And that they did. The stucco-and-shingled structure resembles not so much a house as a ship that has ended up on the edge of a salt marsh. Upon entering the house, one is in a welcoming entry hall and a large kids' bedroom, which can accommodate Largen's four granddaughters in pairs of bunk beds flanking a central staircase. And there are lovely turtle sconces and linen curtains with animal silhouettes. It is clearly a children's room but is chic and sophisticated. (And its location on the lowest level keeps all the noise downstairs.)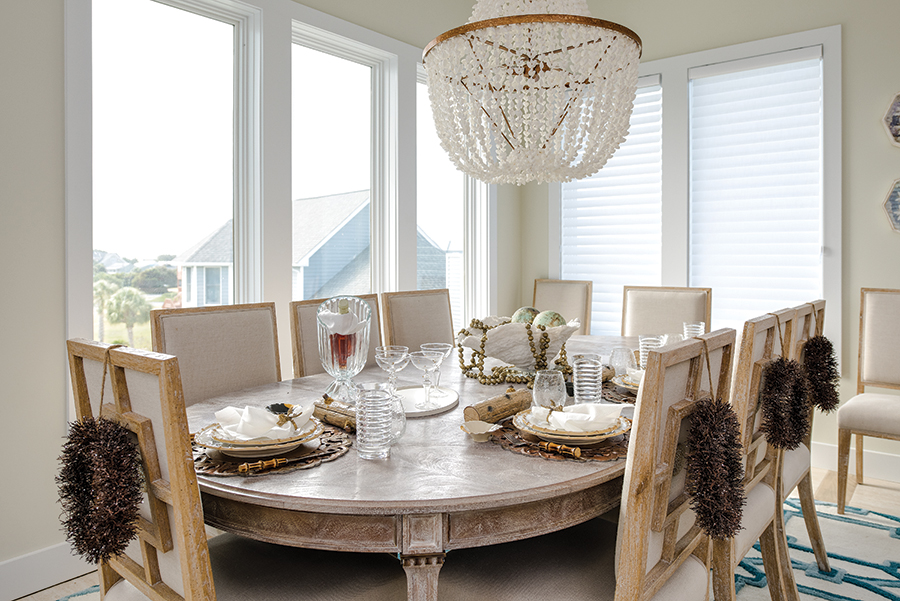 The steep stairs to the second floor are inset with beautiful Moroccan tiles. "I love the risers. Their Mediterranean look brings a smile to my face every time. It's like being in Ibiza!" says Sireyjol-Horsley. A soothing living area upholstered in beachy sand and sea colors features a bold and beautiful William Sofield chair for McGuire. It leads to a hallway containing four ensuite guest bedrooms, a nice retreat from the activity of the other floors of the house.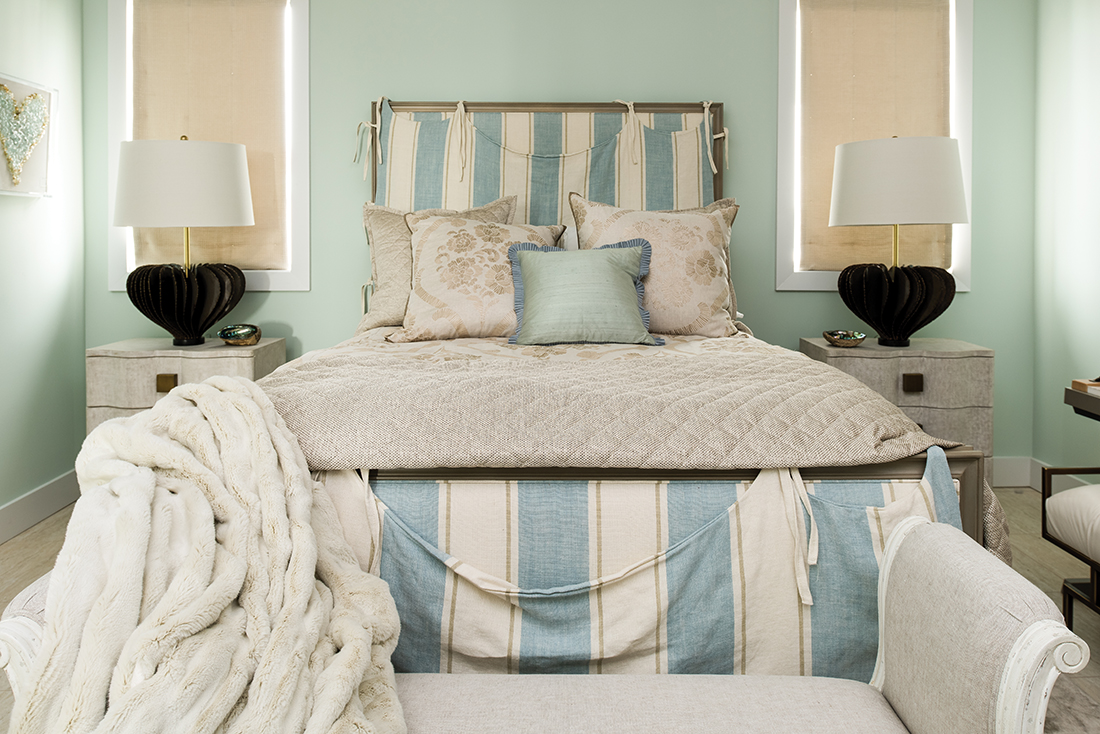 The third floor is the main part of the house with the most common spaces, and its centerpiece is a large living/kitchen/dining area whose centerpiece is a striking blue Lacanche stove. "What a piece!" says Sireyjol-Horsley. "You have to be brave to start a house with a turquoise stove. She knew what she wanted and I did the rest around it." The adjacent dining area is an exercise in cool understatement, with square-back Louis XVI-style sand-colored chairs beneath a surprisingly large old-school chandelier. "My favorite place in the house is the master bedroom, which has a lot of artwork," says Largen. Her own personal collections are highlighted by nice details. "The lamps in the bedroom are metal but look like a huge shell. And from a few feet away they look like two hearts," says Sireyjol-Horsley. "You cannot do much better than that for a bedroom."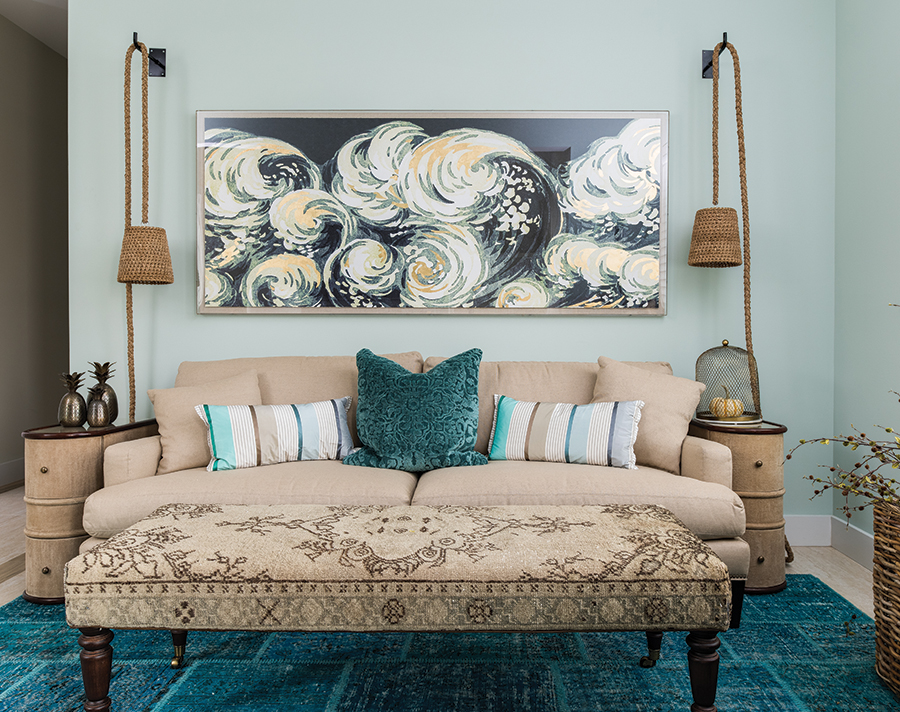 And atop the house on the fourth floor is the best room of all: "My grandchildren call me Glamma, like a combination of glamour and Grandma," says Largen. "When they first saw the widow's walk, they said, 'That's Glamma's room."  It's a clean, serenely modern and white space made for entertaining, also with a chandelier. "MaryAnn called me one day and said she was not crazy about a floor lamp I had selected. She wanted a glamour piece, so we did glamour!" says Sireyjol-Horsley. There are also spectacular unobstructed views across the salt marsh to the ocean, and it's a great place to unwind with a cocktail and watch the fireworks every Thursday night in Carolina Beach. It is clear that the rapport between client and designer has paid off. "During the whole process, MaryAnn read between the lines —and my French accent!—and gracefully enforced her own vision. She allowed for the best experiences to happen. It has been a fantastic journey."