In historic Brookwood, Elizabeth and Darryl Rogers have created a cozy and colorful enclave with family antiques, rabbits and chickens, and their souvenirs from around the world
By William Irvine   •   Photographs By Rick Ricozzi
"The world is a book and those who do not travel read only a page," said the philosopher Saint Augustine of Hippo. By this measure, Elizabeth Rogers already has many chapters under her belt. As president and founder of Cairn Travels in Wilmington, she leads and arranges tours all over the globe. "Iceland is my current favorite place. I love it there," she says with typically unmeasured enthusiasm.
And Rogers' attractive compound, in the Brookwood neighborhood of Wilmington — which she shares with her husband, Darryl, a teacher, and their three sons — is reflective of their adventurous life. "The thing I love about our house is that everything tells a story," she says. "Either it's a family piece, or the artwork talks about places that we have been."
The centerpiece of their domain is a 1939 brick Tudor house, which the couple purchased in 1997. Next came a two-story addition in 2002, with an upstairs bedroom above and a family room below. The intervening years have seen the construction and renovation (mostly by Darryl) of several other structures on the property, among them a chicken house, a treehouse, rabbit house (current count: five), a party room, and a tiny greenhouse. 
The first thing one notices upon entering the living room is the eclectic mix of colors and textures, and masses of artwork. There is a big picture wall with Japanese prints, watercolors by relatives, and photographs of family travels. The furniture is a mix of family pieces that have been reupholstered in more vibrant patterns, and an antique sofa from Elizabeth's parents' house in Virginia that is covered with throw pillows in all textures and colors. "Some of those pillows are re-covered in old dress fabric," she says with a grin.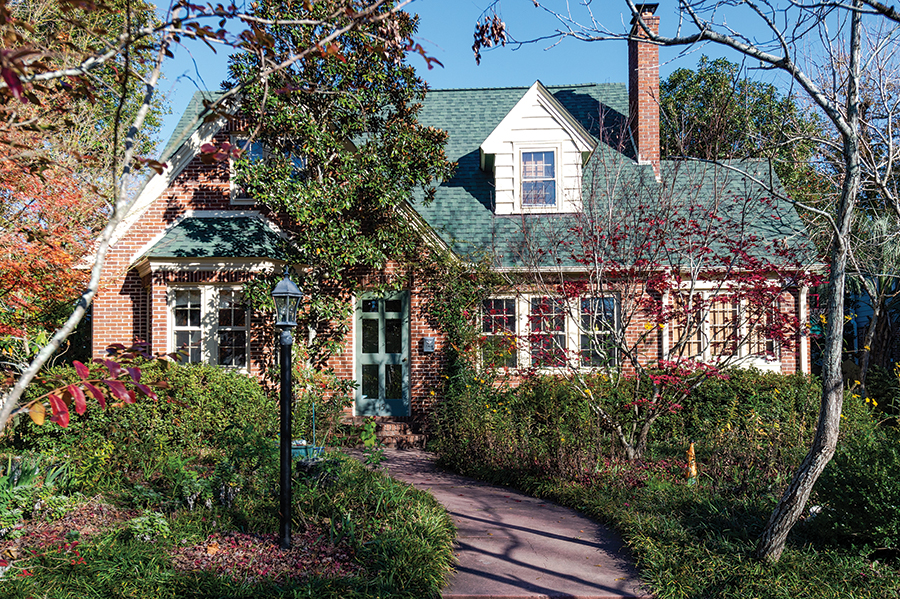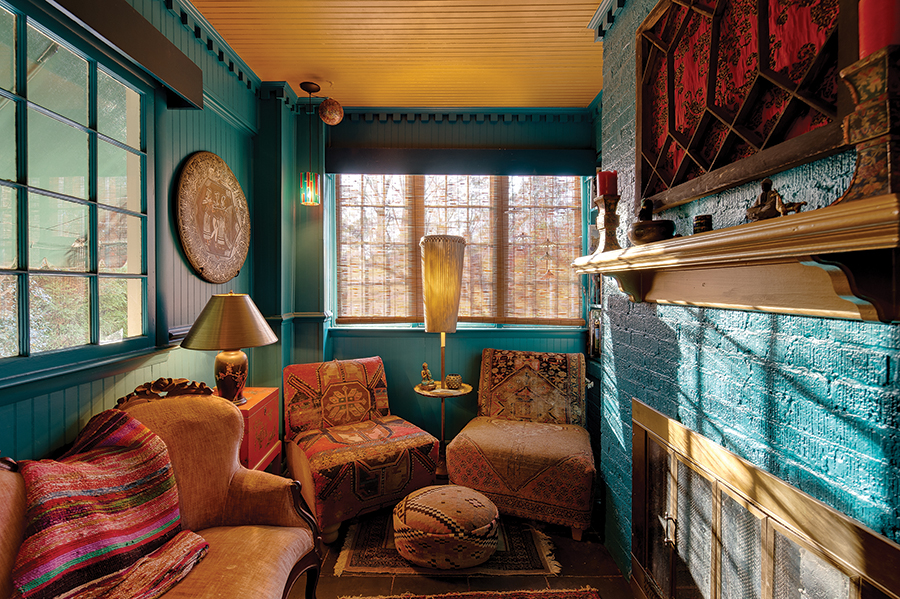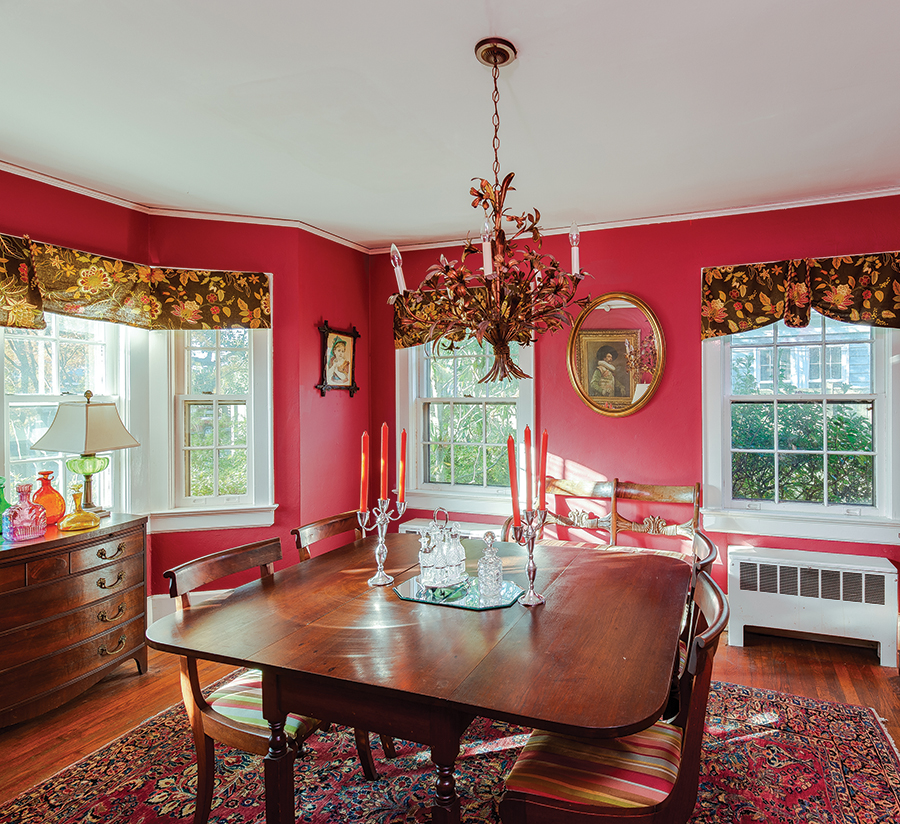 The dining room is dominated by two paintings: an early American portrait of Elizabeth's great-great-grandfather John P. Pettyjohn, and a Van Dyck-style portrait of a swashbuckling gentleman — "We call him Sir Walter Raleigh," says Elizabeth — which used to be in her parents' house. "But my father did not want it in his house because he thought it was too fancy," she says with a chuckle. "I'll take it!" In the center of the room is an 1850s dining table surrounded by Elizabeth's great-grandmother's mahogany dining chairs from Virginia. Under a window is a collection of vibrantly colored decanters that catch the outdoor light; there is a large china cabinet with family pieces. and a wall lined with Mottahedeh Duke of Gloucester plates, a wedding present.
Adjacent to the living room in the back of the house are two special spots: a cozy downstairs bedroom that Elizabeth calls the Travel Room, consisting of a large antique bed surrounded by four walls of framed travel photographs. "I took all these pictures as souvenirs of our travels. It's very comforting to lie in here and look at all of them."  She also comes from a long line of travelers, and family souvenirs from earlier generations punctuate the shelves all over the house.
Then there is my favorite room of all, the Moroccan Room: "This room used to be a bright Williamsburg yellow, but I decided it would be better dark," she says of the deep blue, enveloping color. "Some members of my family disapproved." The result is what the Victorians used to call a Turkish corner, with chairs covered in Oushak carpet, an intimate spot where you could imagine spending a long afternoon in front of the fireplace with a hookah. Holding pride of place in the center of the room is Elizabeth's great-grandmother's Victorian settee, which is covered in a faded solid velvet. "It's such a nice old piece that I decided to leave it alone," she says. A golden globe in the corner used to hang in her parents' house: "My mother used to wake us up in the morning by turning on that light."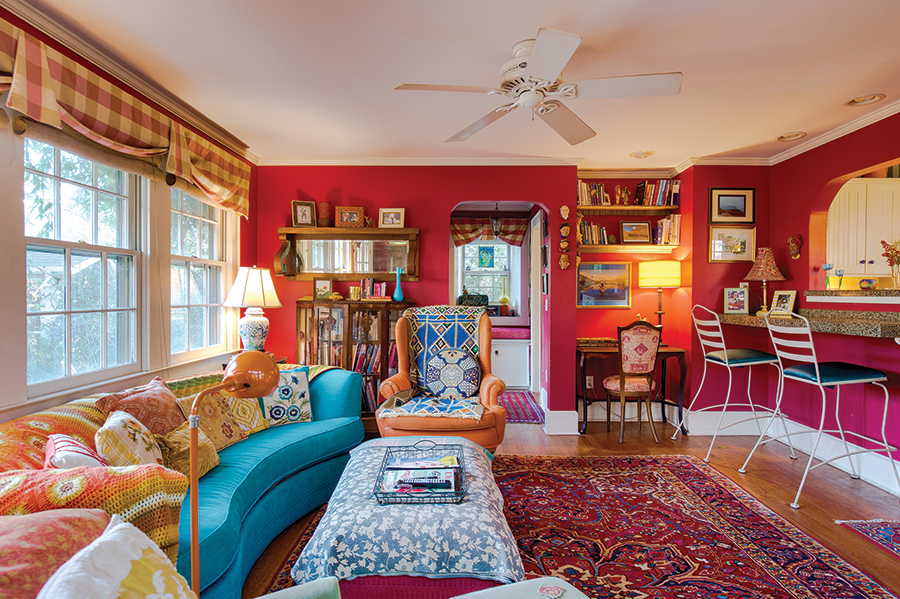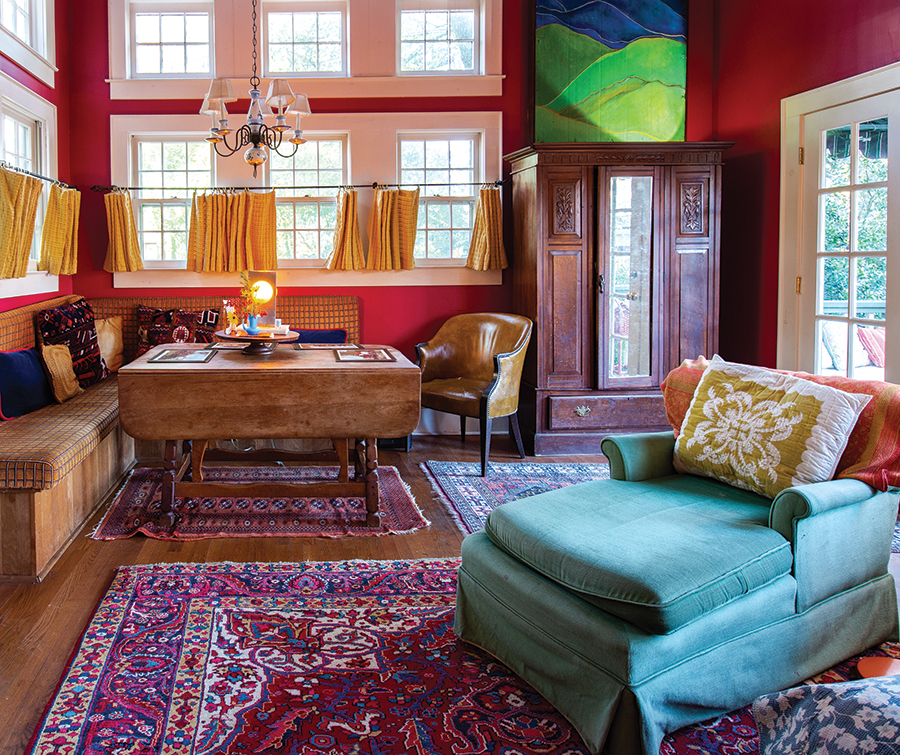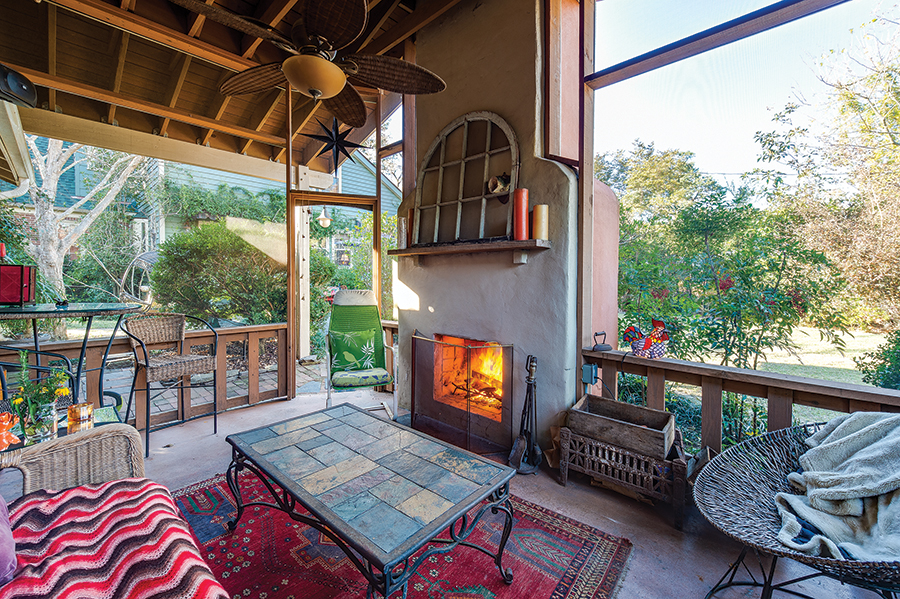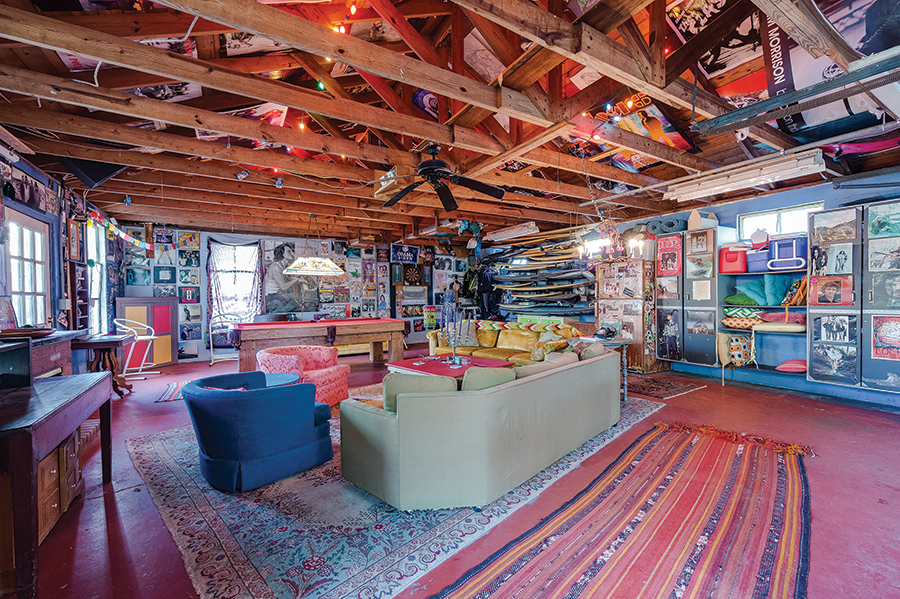 Both Elizabeth and Darryl are accomplished cooks, and the kitchen and family room reflect a no-nonsense approach. Handsome beadboard cabinets are mounted above a backsplash of white interspersed with blue and white Delftware tiles, and granite countertops. The adjoining family room is a crazy quilt of colors and patterns — a deep blue sofa covered with needlepoint and family pillows, an orange wing chair with a colorful seat cover purchased on a recent trip to Egypt, and a mix of family and consigned pieces from the Ivy Cottage. Dad gave her the antique family dining table. "And my mom made all my curtains," she says proudly.
In addition to being blessed with ancestors who had good taste in furniture, Elizabeth has been able to reap the benefits of her grandfather's barn in Virginia, a valuable resource for many of the architectural elements on the property. "He had a coal company with lots of trucks available, and when they heard about a house being demolished — which was all the time — he would go and salvage things. He had a great eye for historic stuff," Elizabeth says.
One of the best of these salvaged pieces is a large demi-lune window. which they installed in the upper story of the former garage. "When we moved here, this was a four-car garage made out of cinderblocks," she says. Now it has been converted into a multi-purpose party and game room, with another kind of travel theme: a trip to the 1970s. Vintage posters of rock groups line the eaves of the open ceiling; 1970s album covers (John Denver!) are used as wallpaper to cover storage cabinets. There is a large red billiard table, a turntable and classic folk-rock vintage vinyl, and ample storage for the family's surfboards (Darryl and all three sons are surfers). One of the former garage doors still opens to the outdoors for more room during parties, which happen with some regularity. And not unexpected in this house.
"Our home is just full of life," says Elizabeth with a smile. "It reflects the spirit of all five of our distinct personalities."
William Irvine is the senior editor of Salt. His latest book, Do Geese See God? A Palindrome Anthology, is available on Amazon.