"The Day Was Our Own"
One of the most important battles of the Revolution was also the shortest
By Dr. Chris E. Fonvielle Jr.
North Carolina vehicle owners can choose between two license plates with the mottos "First in Flight" or "First in Freedom." The "First in Flight" plate observes the first powered aircraft flights by brothers Wilbur and Orville Wright at Kill Devil Hills on North Carolina's Outer Banks in 1903. The "First in Freedom" plate commemorates in part the Halifax Resolves, the first official written statement in support of independence of any of the 13 American Colonies during the Revolutionary War. It came about as a result of the decisive Patriot victory in the Battle of Moores Creek Bridge fought near Wilmington, North Carolina, only six weeks earlier. According to some historians, it turned out to be the shortest battle with the greatest impact in American history.
After its triumph against France and its allies in the global Seven Years War, 1756-1763, Great Britain reorganized its vastly expanded empire. To finance American homeland security and pay down its massive war debt, the government imposed new taxes on the Colonies. The Stamp Act, passed by Parliament in 1765, was the most controversial piece of legislation as it required Colonists to pay a stamp fee on all printed documents and items.
Americans throughout the Colonies resisted, having grown used to taxes passed through their own legislative bodies, which they considered miniature Parliaments. More than just burdensome, the taxes were viewed by the Colonists as violations of their rights as Englishmen, their cry being "no taxation without representation." No American held a seat in Parliament, nor did Parliament consult the Colonies in making changes to its imperial economic policies. One crisis after another slowly but surely fractured the relationship between the American Colonies and the mother country.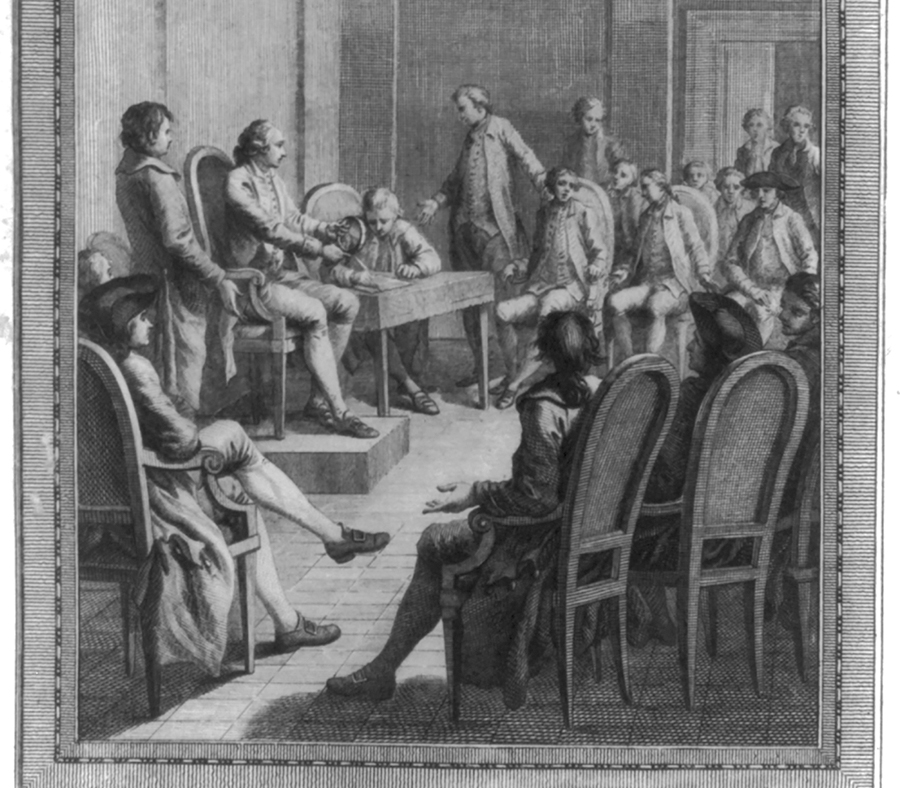 By the summer of 1774, anti-British government activists had gained popularity, strength and support in assuming more control of political affairs in America, including North Carolina. In August the First Provincial Congress of North Carolina, which Patriots formed independent of the Colony's official General Assembly, met in the capital of New Bern to discuss their grievances with Great Britain and Royal Governor Josiah Martin.
Outraged by his subjects' audacity, Gov. Martin banned the shadow government. The Patriots ignored his directive and elected delegates to represent North Carolina at the First Continental Congress that met in Philadelphia in September and October 1774. Representatives from the various Colonies affirmed their political and economic problems with Parliament and agreed to act together to resolve them, in large part by implementing a policy of non-importation and non-consumption of British goods, and the non-exportation of American products to Britain. They also instructed that Committees of Safety, in effect local Patriot governmental bodies, be formed in towns and districts throughout the Colonies, and that militia units muster, organize and train in case of war.
As the political situation worsened in North Carolina, Martin took action to hold onto power. Writing to Gen. Thomas Gage, commander of the British Army in America based in Boston, he requisitioned muskets to arm those loyal to King George III in the Colony. Gage turned down Martin's request, as he had no weapons to spare. Since the fighting between British troops and Massachusetts Minutemen and militia at Lexington and Concord on April 19, 1775, that started the revolution, muskets, ammunition, and gunpowder had become objects of great desire for both American and British armed forces.
Growing fearful for the safety of his family and himself, Gov. Martin sent his wife and children from New Bern to British-controlled New York on May 29, 1775. Unwilling to relinquish his rights as the appointed chief imperial agent in North Carolina, he fled at the same time to Britain's only serviceable and garrisoned fortification in the Colony, Fort Johnston at the mouth of the Cape Fear River (modern Southport). Martin managed to escape from New Bern, but the Patriots soon learned of his whereabouts and kept close tabs on him.
Rumors of a kidnapping plot eventually compelled Martin to seek asylum on board the sloop-of-war Cruizer, the only British vessel on duty stationed at the Cape Fear. Seething with anger over the turn of events against him and his government, Martin wrote frequently to the Colonial Secretary, Lord Dartmouth, in London, about an ambitious plan to reassert royal authority in North Carolina by military force. He believed he could assemble a force of at least 3,000 Highland Scot Loyalists who lived in the Upper Cape Fear River Valley in southeastern North Carolina. Since about 1730, immigrants from Scotland, many of them members of the MacDonald and MacLeod clans, had been settling in the area. By most estimates, 15,000 or more Scots resided there by 1775.
To supplement his Loyalist army, Martin asked Lord Dartmouth to send thousands of British troops and 10,000 Brown Bess muskets to arm the civilian recruits. With the large combined force, Martin planned to first restore order in North Carolina and then push into South Carolina and Virginia. An established beachhead against the rebellion in the Carolinas, he trusted, would attract thousands more Loyalists from across the region. Royal governors in other southern Colonies made similar proposals, but Lord Dartmouth, with King George's approval, agreed to Martin's bold strategy.
In early January 1776, Martin issued a printed proclamation requesting Loyalists in North Carolina to muster at Cross Creek (modern Fayetteville). He proffered Maj. Donald MacDonald, a former officer in the British Army and then the Marines, command of the provincial army and a promotion to brigadier general. MacDonald, who had been in North Carolina since the previous summer recruiting for the Royal Highland Regiment of Emigrants for the main army in Boston, accepted the governor's offer.
Martin instructed MacDonald to organize and then march his "powerful division" to Brunswick Town, the principal seaport on the Cape Fear River halfway between Wilmington and Fort Johnston, expecting it to arrive by mid-February. If all went according to plan, 4,500 British soldiers, led by Generals Henry Clinton and Charles Earl Cornwallis, would join them for an invasion of North Carolina by way of the Cape Fear River. Gov. Martin promised each Loyalist enlistee a musket, while King George offered them a bounty of 200 additional acres of land in North Carolina and exemption from quit rent payments for 20 years, providing the Southern campaign proved successful. Although the terms were both generous and enticing, only 1,500 to 1,600 Loyalists appeared at Cross Creek, about half the number Martin anticipated helping him regain control of his lost colony.
The Wilmington-New Hanover County Committee of Safety intercepted Martin's proclamation which clearly revealed his game plan. "Governor Martin at Fort Johnston, it appears, intends erecting a King's Standard, and commencing hostilities against the People of this Province," Patriot leaders warned. They quickly responded by calling on militia units of "Liberty Boys" to rush to the Lower Cape Fear and help turn back the Loyalists before they linked up with the incoming Redcoats.
Col. James Moore, head of the Wilmington Military District, prepared his 1st North Carolina Regiment of about 700 well-trained, professional soldiers to move against the Loyalists. Colonel Alexander Lillington, commander of the Wilmington District Minutemen Battalion, assembled 150 musket-bearers. Col. Richard Caswell, a member of both the Continental Congress and North Carolina's Provincial Congress, recruited about 650 militiamen from the New Bern District. Hundreds more volunteers from across North Carolina also mustered and marched toward the Lower Cape Fear.
Gen. MacDonald's Loyalist force was unprepared to march from Cross Creek until February 18, three days after Gov. Martin expected it to reach Brunswick Town. Planning to advance down the south side of the Cape Fear River in a direct line to his destination, MacDonald found his route blocked by Moore's regiment entrenched at Rockfish Creek, several miles below Cross Creek. Rather than offer battle, MacDonald retraced his steps to march down the north side of the river. It then became a game of cat and mouse as the Loyalists attempted to keep their whereabouts secret with the Patriots trying to find and stop them.
Moore figured that MacDonald's new line of advance meant he would have to cross Moores Creek in northwest New Hanover County (modern Pender County). Moores Creek was named for the widow Elizabeth Moore, whose late husband was a German Palatine immigrant to New Bern and landowner in New Hanover County. The sluggish stream is a narrow but deep tributary of the Black River, which flows into the Cape Fear River. Moore ordered Col. Lillington to set up a defensive line at the only viable crossing point, Moores Creek Bridge, 18 miles northwest of Wilmington. He then sent word to Col. Caswell to reinforce Lillington.
Lillington established an entrenched encampment on the east side of Moores Creek on February 26. Caswell united with him that night, but set up his camp on the west side of the creek. With their campfires burning to ward off the bitter cold, the Patriots bedded down for the night. About midnight an officer of the guard allowed a mounted Loyalist courier named James Hepburn to pass through Caswell's lines. Ostensibly Hepburn was there to present Col. Caswell with a demand from Gen. MacDonald for him and his men to lay down their arms and reassert their loyalty to the king. In reality his mission was to scout out the Patriots' position and count their numbers. Caswell adamantly refused MacDonald's ultimatum, sending Hepburn back to the Loyalists' camp. Knowing that Hepburn would reveal his location to Gen. MacDonald, Caswell abandoned his campsite and joined Lillington on the opposite side of the creek.
Armed with James Hepburn's intelligence, several hundred armed Highland Scots stormed into Caswell's camp in the pre-dawn hours of February 27, hoping to catch the rebels by surprise as they slept. The Scots were led by Lt. Col. Donald MacLeod, second in command of the Loyalist army. MacDonald had taken ill and remained in camp 6 miles to the rear. With Caswell's campfires still smoldering, MacLeod believed the rebels had retreated in haste. Despite the darkness, scouts found Moores Creek Bridge nearby, and fired their muskets at shadowy figures, who they assumed were enemy sentinels, on the other side. The musketry startled MacLeod, who rushed toward it. The Loyalists quickly discovered that they would not be able to make an easy crossing of the bridge as the Patriots had removed its pine planks and greased the girders with soft soap and tallow. In MacLeod's mind, this only reinforced his certainty that the enemy was on the run and could be overtaken if he and his men pushed forward.
Capt. John Campbell stepped to the front with a group of about 75 kilted Scotsmen armed with the traditional Gaelic broadsword, a massive blade called a claymore popularized in the movie Braveheart, starring Mel Gibson as William Wallace, who gave his life fighting for Scottish independence from England in 13th century. Campbell and MacLeod, with a borrowed broadsword, and Campbell's men jabbed the points of their blades into the stringers and used the two-handed weapons to keep their balance as they gingerly crossed the bridge.
Without even waiting for the main force to get over the bridge, MacLeod ordered his men to follow him. They rushed "in a most furious manner" up a narrow causeway flanked by a deep cypress swamp. Just as they reached high ground, they heard armed men standing up, the clanging of canteens, the cocking of muskets, and the barking of orders by officers to make ready to fire. Suddenly a sheet of flames from musket and cannon fire greeted the Highlanders at point-blank range. In the pre-dawn darkness, they never saw the rebels until it was too late. More volleys of shot and shell quickly followed, including canister fired from two cannons supposedly named "Mother Covington" and "Mother Covington's Daughter."
At the head of the column, Donald MacLeod died instantly, his body reportedly riddled by some 20 bullets. Campbell was also killed along with 30 to 40 other Loyalists, some of whom were hit trying to cross the bridge, their bodies falling into the dark, cold waters of Moores Creek. Shocked by the unexpected storm of fire and the loss of their leaders, panicked Loyalists still on the west side of the creek took off running to the rear.
Emboldened Patriot soldiers hurdled their earthworks, cheering and whooping as they plowed into the stunned Loyalist survivors close by. Some hand-to-hand fighting occurred, but the Battle of Moores Creek Bridge lasted only a matter of minutes. According to some accounts, it was all over in 180 seconds. Only one Patriot, Pvt. John Grady, was killed.
Col. Moore arrived with the 1st North Carolina Regiment about two hours after the fighting and organized a pursuit of the routed Loyalists, capturing Gen. MacDonald and about 850 of his officers and men. They also took possession of many weapons, supplies, and equipment which were put to good use. One Patriot combatant wrote of the battle: "The day was our own."
Gov. Martin was crushed when he learned of the Loyalists' licking at the Battle of Moores Creek Bridge. Generals Clinton and Cornwallis's troops straggled in by ships between March and May, but without the Loyalists to lead them into territory they were unfamiliar with, they abandoned the region and sailed southward to attack Charles Town, South Carolina. Their defeat at the Battle of Sullivan's Island in June 1776, in the wake of the debacle at Moores Creek Bridge, effectively ended Josiah Martin's plan for a Southern campaign in 1776.
As for the Patriots, their triumph at the Battle of Moores Creek Bridge helped build political and public support for the revolution, bolstered the recruitment of soldiers into Minutemen and militia units and North Carolina Continental Line forces. It also drove Loyalists underground for years. More importantly, the victory in the first pitched battle in North Carolina during the American Revolution encouraged delegates to the Fourth Provincial Congress of North Carolina assembled in Halifax, to unanimously pass the Halifax Resolves, the first official written statement in support of independence of any of the Colonies. The adoption date, April 12, 1776, is so important in North Carolina history that it is emblazoned on the state's flag.
Today the National Park Service oversees the Moores Creek National Battlefield near Currie, North Carolina. Along with the Moores Creek National Battlefield Association, it commemorates the civil war battle, which pitted American Patriots against American Loyalists, on the last weekend of February each year. 
Dr. Chris E. Fonvielle Jr. is a professor emeritus in the Department of History at UNC Wilmington. Upon his retirement in 2018, he was awarded the Order of the Long Leaf Pine for distinguished service to the state of North Carolina.