Keeping It Real – And Beautiful
The art of turning recycled cigarette butts into picnic tables
By Dana Sachs
Dick Brightman: Executive Director,
Keep New Hanover Beautiful
Our readers may remember the Keep America Beautiful campaign from decades ago, especially the famous TV ad of the Native American observing all the pollution in this country, but they might not know that the organization still exists today. Has it been around all this time? Did it disappear and then start up again?
The organization has been around all this time. Keep New Hanover Beautiful is a certified affiliate of Keep America Beautiful. I took over the helm in 2016. We joined forces with Cape Fear River Watch and decided we would rebuild the organization from the ground up. We found and nurtured a bunch of young, energetic, environmentally conscious individuals. We're one of the few affiliates of Keep America Beautiful in the country that is all volunteer and receives zero funding. 
The organization receives no money from the government?
Government, corporate, you name it. You scrape around for dollars. Any funding we get we have to grovel for. If nobody knows who you are or what you do, it's almost impossible to get people to donate to your cause. I had committed to our board that we were going to make this thing work as an all-volunteer organization, and we were struggling to figure out what our mission was going to be. That's when we stumbled on cigarette litter. The City of Wilmington had purchased about 120 cigarette litter canisters and installed them downtown. The city solid-waste folks collected this trash. We started asking questions: "What do you do with it?" They said they throw it in the trash. It therefore ends up in our landfill. It emits toxins and really bad stuff into our landfill.
How did you know that cigarette butts were so toxic?
I knew that the cellulose acetate — whatever's in the filter — is really the toxic part.
So, the filter, the part that's supposed to protect people, is toxic?
It's very toxic. It takes between 10 and 15 years to break down in a landfill. So we started doing some research to find out if there was anybody around who recycled these disgusting things. A New Jersey company called TerraCycle was the only one we found in the country that actually collected and recycled these filters. We went to the city and said, "If you turn over the discards to us, we will be responsible for recycling." So they collected everything in 5-gallon buckets and then turned the buckets over to us, and we started with TerraCycle.
What does it mean to "recycle" cigarette butts?
The cigarette contains tobacco, paper and the filter, which is basically plastic. What TerraCycle does is "field strip" it. They take the tobacco and the paper, which goes in the compost, and then the filters are broken down with an eight-step chemical process, so it doesn't emit anything into the environment. The output resembles little plastic pellets. What makes it financially feasible is that TerraCycle then turns around and sells this recycled plastic to the industry. They make picnic tables, decking, building materials — stuff that normally would be a wood product, but you infuse these plastic pellets and it extends the life of the product.
It's amazing to think that they can make enough money with these tiny cigarette butts.
It's got to be financially feasible. TerraCycle is a publicly traded company.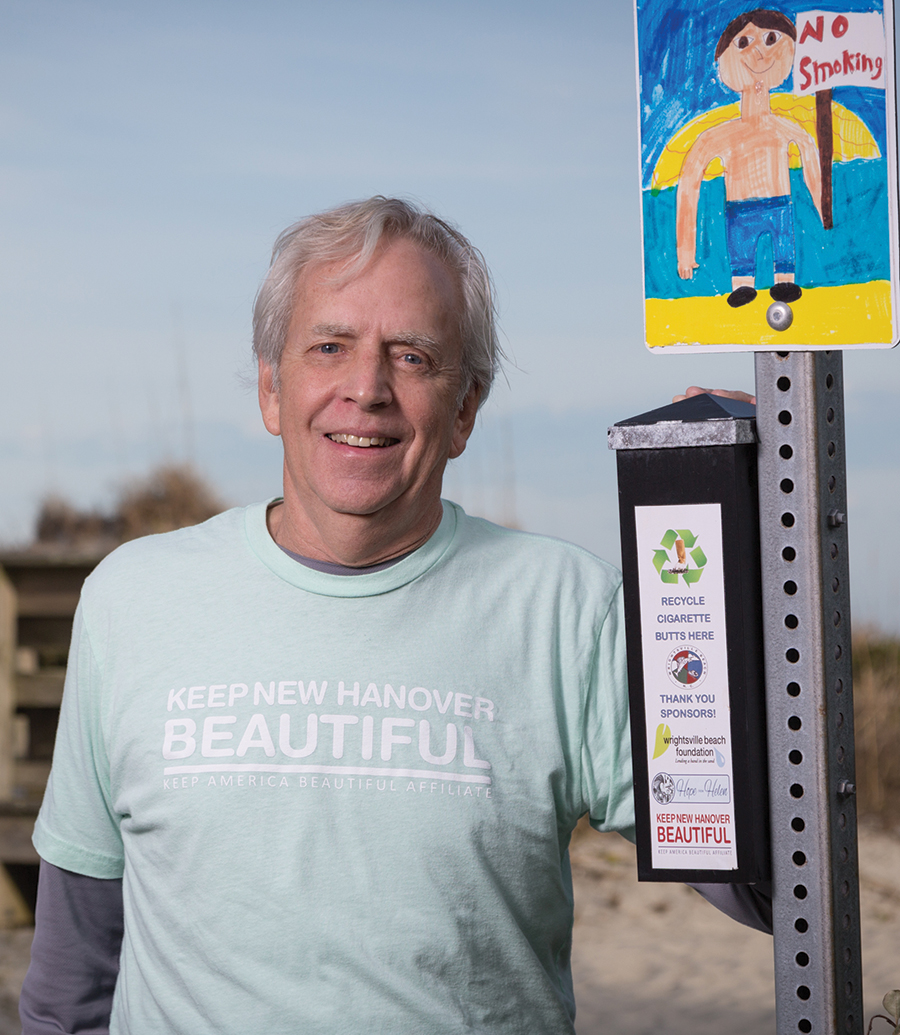 How does the collection process work?
We've sold these canisters, and some have been provided gratis from Keep America Beautiful. We've got them now at many bars, breweries, restaurants. The county has several. And we are embarking on installing 14 on UNCW's campus. We have seven volunteers, mostly students. We've installed canisters at every beach access point at Wrightsville Beach. We service and empty those. We have one student who is responsible for collecting at Carolina Beach. We have five canisters down at the aquarium as well.
There's a lot of concern these days about climate change. How do you get people to focus on cigarette litter? It seems small in comparison to fires or hurricanes that could destroy our communities.
Cigarette butt litter is and has been the most littered item in the world. In the world. Anytime you go to a beach or a park, anywhere. Go to a stop sign and look down at the street. Keeping the toxins out of our waterways is, in my mind, the number one issue. If a cigarette is lying by the side of the street, animals pick them up. Kids pick them up. In the waterways, animals eat them. We know what plastics do to fish and turtles.
So it really has a direct effect on our ecosystem locally.
No question. I think the thing that is most painful to us down here is that we live in a little slice of land between the Cape Fear River and the Atlantic Ocean. Anything that gets discarded on our streets is going to end up in one of those two areas.
How much have you collected?
We started this in early 2017. As of last week, we are at 780 pounds, which is the equivalent of over three quarters of a million cigarettes that we've kept out of the waterways, streets, and our landfill.
Do you think that local concern about our coastal environment is part of the reason for your success?
Yes, but I think the biggest thing we have going for us is UNCW, with the phenomenal professors and students over there in the Environmental Sciences Department and Plastic Ocean Project. It's hard to meet somebody there who doesn't know about keeping our planet clean and doing something about it. So we get these young student volunteers who are not yet 25 years old, and they'll go around and collect disgusting cigarette butts and pack them up and send them off and get them recycled. And, believe me, there's nothing worse than wet cigarette butts that have sat around for a while.
You're retired yourself. There are a lot of things you could do with your time. What compels you to volunteer for the environment?
The environment has always been a natural thing to me because nobody else is going to take care of it. I hate the fact that my generation has created such a mess that we're passing along. I've got grandchildren now. We're passing it along to our children and grandchildren. To me, that's depressing.
But you have to be an optimist to keep picking up cigarette butts. What keeps you going?
You know what keeps me going? We have a source — TerraCycle — that will do anything to keep our environment clean. And, more than that, it's working with these young kids. They inspire the hell out of me.
Dana Sachs' latest novel, The Secret of the Nightingale Palace, is available at bookstores, online and throughout Wilmington.