How Chip Callaway has established himself among the elite garden designers of America
By Barbara Sullivan
If you're one of the odd humans born with the garden-besotted gene, there are fewer things more pleasant than wandering through a magnificent landscape with a fellow gardener who appreciates the thrill of it all. Possibly you're traipsing through a deeply shaded wood, breathing in the cool, peaty air when you're greeted by an astonishing plant-creature spreading its 11-foot, cup-shaped leaves majestically above its boggy neighbors. If you were with a fellow plant nut you could say without embarrassment something like, "That's the biggest Gunnera manicata I've ever seen in my life, and wouldn't you just love to curl up inside it?" Staring lovingly at a plant superstar is just one of the quirks of a true hortophile — a label not inappropriate for North Carolina-born landscape architect Chip Callaway.
Early in his career, when Callaway was still an aspiring garden designer, he had the great good fortune of sharing his plant passion with one of the most venerated landscape artists in the world and spending time in the designer's own private garden. Callaway spent two summer internships with 20th-century garden legend Roberto Burle Marx in Brazil. The residencies with Marx — famous for his modernist designs incorporating native plants as structural elements and sculpting gardens in an almost Cubist style — were facilitated by another "star" of the gardening world, the late J.C. Raulston, for whom the NC State Arboretum is named. At the time, Callaway was studying for a master's in landscape architecture at NC State College of Architecture, a program that normally emphasizes the nuts and bolts of site planning and construction over the minutiae of plant taxonomy. With Raulston's help, however, Callaway was able to add a minor in horticulture, giving him the deep familiarity with plants — their shapes and textures, their habits and suitability for particular climates — which has contributed to his success as one of the premier landscape designers in the southeastern U.S. today.
Callaway is quick to credit all of the gardeners who have influenced him in his life, famous or not, and to tell you how lucky he's been to dig in the dirt with his fellow aficionados. These influences began with both sets of grandparents, who farmed in western North Carolina, growing "private pleasure gardens" of flowering shrubs, annuals and perennials alongside robust vegetable gardens in addition to the more official work of cultivating tobacco or raising livestock. He credits his dear friend Cordelia Penn Cannon, a garden writer and plant collector from Greensboro, for championing the use of native plants long before that trend hit the mainstream. He cherishes his contact with famed plantsman William Lanier Hunt, designer of the NC Botanical Gardens. And one man he never met, Russell Page, shaped Callaway's garden thinking as much as anyone, with his 20th-century classic, The Education of a Gardener.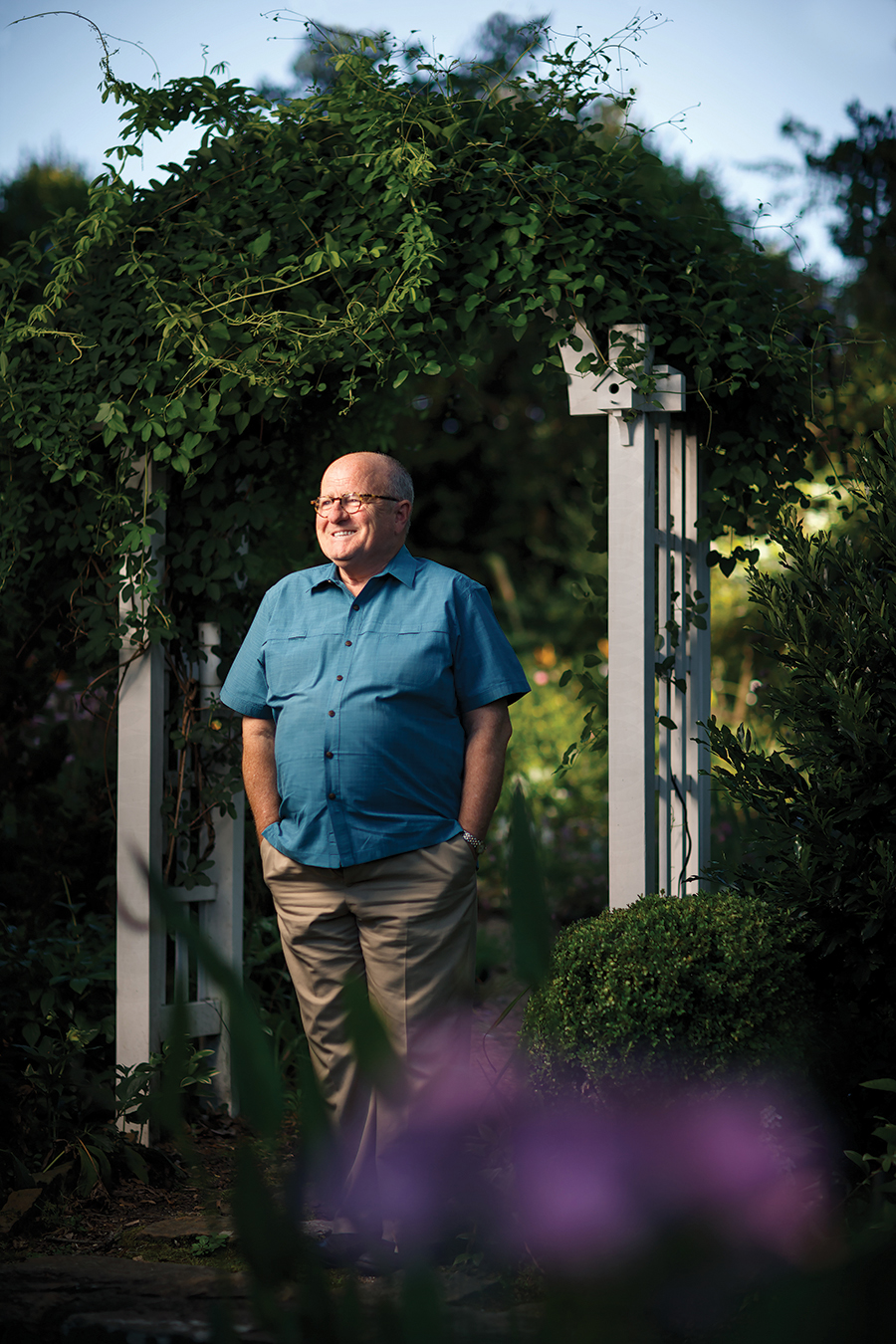 Like many a true gardener, Callaway pulled weeds and rooted stock from the time he was very young, partly because he was besotted and partly out of a shrewd assessment of his situation. "I despised Sunday School," he says, "and I learned at an early age I could get out of going to church by volunteering to work in my grandparents' vegetable and flower gardens."
Through his firm, Callaway & Associates in Greensboro, he has now designed more than 1,000 gardens, both private and public. Most of his clients live in the Southeast, but his work has taken him to England and spots in the northern U.S. as well. Some of his public gardens include the Alexander Graham Bell house in Washington, D.C.; the restored cemetery behind the Greensboro Historical Museum; and the Andy Griffith museum and playhouse in Mount Airy, North Carolina.
If asked to pick his favorite garden he'll say, "The last garden I visited becomes my favorite garden ever."
There have been challenges, of course. After Hurricane Hugo, when the garden at the 1838 Roper House in Charleston, South Carolina, had been decimated, he was asked to restore it to its former grandeur in time for a royal visit from HRH Prince Charles. Callaway arranged for a crane to be stationed in Charleston harbor big enough in itself to hoist yet another crane which could, in turn, lift a series of 26-foot-tall Southern magnolias with root balls measuring some 8 feet in diameter. And, working within the constrictions of the elegant and venerable Battery neighborhood, this hulking and unwieldy machinery was called upon to execute ballet maneuvers while heaving the behemoth trees ever so carefully over the 19th-century wrought-iron fencing which, like the house and all the surrounding properties, was of precious historic significance. To say nothing of the post-Hugo work crews on roofs and scaffolding all over town. "It was bedlam," says Callaway with a smile.
And what garden designer normally has Scotland Yard breathing down his neck? The Roper House and premises had to be swept for potential threats against the royal personage. The bad news: This meant cutting the job short by three days. The good news: Callaway and his crew got it done perfectly within the allotted time, and Prince Charles was duly impressed.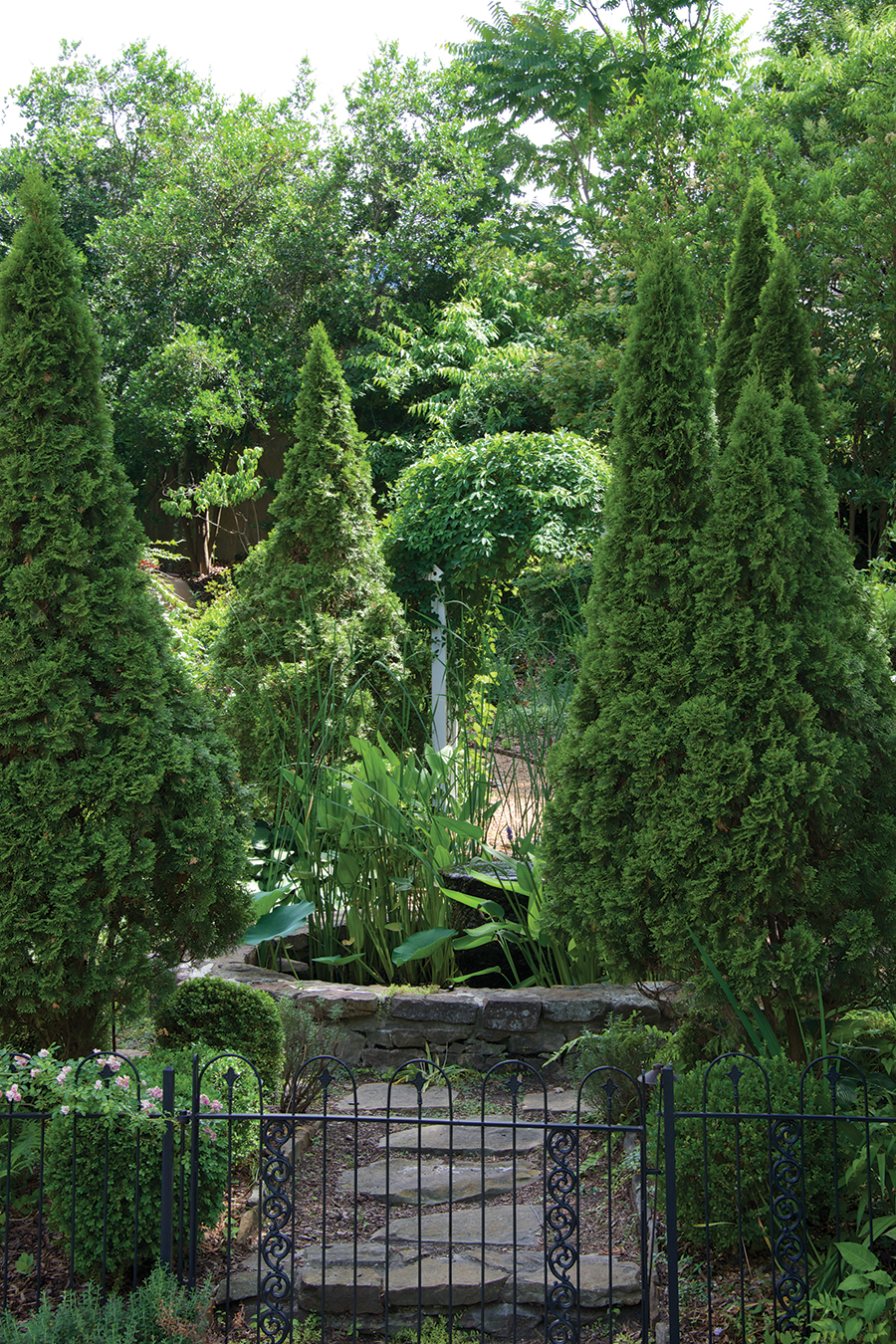 Being a sought-after garden designer involves not only learning your clients' tastes and getting a feel for the unique spirit of each new plot of land, but also dealing with client expectations. Gardens take time. Clients may not be patient. One of Callaway's clients told him he didn't have time to wait. "I don't buy green bananas," the client said. "I don't wait for anything." Callaway told him, in that case, he was going to need a stiff drink and some very deep pockets. And many of Callaway's clients have very deep pockets. This gives him leeway to stretch his imagination and create gardens perfectly suited to whatever house they may be complementing, and to the individual visions of his clients.
The hard, cold fact is that building a beautiful garden more often than not means editing, removing, doing away with existing trees and shrubs in order to create a cleaner overall picture. "Overgrown boxwoods are my pet peeve," Callaway says. "They are rarely, if ever, healthy, and they destroy the scale of the house they are supposed to be gracing."
Like all gardeners Callaway has favorite plants and color palettes. He loves hydrangeas, especially the native oak leaf (Hydrangea quercifolia), which thrives in gardens from the coastal plain to the mountains, and the Pee Gee (H. paniculata), with its giant green-white globes. In his own garden he grows gray-leaved plants for moonlight viewing like artemesia, dianthus, caryopteris, cardoon, sea holly and lavender. He also loves gardenias but finds them to be finicky and short-lived. Possibly shocking for those of us living in the coastal Carolinas is the news that he has virtually banned the large-flowered Indica azaleas from the gardens he designs because he sees them as "one-week wonders" which, in his opinion, don't add a lot of design interest when not in bloom.
His own garden in Greensboro, where he has lived for 30 years, is a product of his devotion. "I love to give a garden a lot of formal structure with evergreens and then do my level best to make it blowsy with perennials and annuals, wreaking havoc with my formality. My garden looks pretty fussy in January, but it's a riot in May." Like the gardens of his grandparents, which continue to inspire him, his own garden is as much about the personal history of each plant and remembering the fellow gardener who shared it with him. That is the joy he continues to get from a hobby which turned into a passion, which evolved into an exceptional career.
Barbara Sullivan is a regular Salt contributor and the author of Garden Perennials for the Coastal South.
Chip Callaway will be a featured speaker at "The Language of Design: Inside and Out," a DesignNC symposium in conjunction with the Cameron Art Museum, on May 17th. For more information and tickets, visit www. DesignNC.org.