How a town on the rise will soon delight diners in the Port City
By Jason Frye   •   Photographs by Cindy Burnham
A note on the heavy wooden doors of the former Farmers & Merchants Bank reads, "If you're checking in before 3 p.m., please call for assistance," then there's a phone number. It's an odd note to find on the locked doors of an obvious bank building at noon on a weekday. Except this is the former Farmers & Merchants Bank, now Kinston, North Carolina's only boutique hotel, The O'Neil. The tallest building in town, the boxy O'Neil's limestone face stretches six stories into the sky, grand and imperious in the way bank buildings once were. It's lovely and smooth, with blocks laid tight, columns gleaming gray-white in the noon sun, the few ornamental touches defining the building and cementing it, architecturally, in the City Beautiful Movement.
And it is beautiful. The building commands your attention. It did this as the bank and now as The O'Neil, Kinston's most upscale hostelry.
Stephen Hill resurrected this monolith, giving it a new name to honor both the town where Hill was born, raised and returned to, and his father, Robert O'Neil Hill.
Through projects like The O'Neil and the Mother Earth Motor Lodge — a revamped 1960s motel a few blocks away — Hill is making a mark on his hometown. But that's not all. Hill and his son-in-law, Trent, founded Mother Earth Brewing, a Kinston fixture and brewery familiar to fans of North Carolina craft beer, and Mother Earth Spirits, where he's producing craft whiskey, gin and rum. He's also one of the forces behind The Boiler Room, of chef Vivian Howard notoriety, a modern oyster bar-burger joint that has the worn-in feel of your favorite T-shirt.
"This city is evolving," says Hill, perhaps the chief catalyst. "Slowly but surely, it's becoming a new, better version of itself."
Lucky for Kinston, it has — and has always had — some motivated characters.
Kinston's story is like that: the rise, the fall, the rise again.
In 1849 the town was incorporated; by 1850 there were nearly 500 residents; by 1860, 1,000 resided in the town. Then, in 1861, war broke out and Kinston soon found itself in the thick of it. The Battle of Kinston in 1862. Men and boys joined up or were conscripted into the Confederate Army and Navy. Construction began on an ironclad, the C.S.S. Neuse. Intended for use on the Neuse River (which flows through town) and on inland waterways in North Carolina, the Neuse was an imposing sight until the combination of an inexperienced crew and spring drought saw the ship run aground, mired in the mud of its namesake river.
There it sat, stuck, a river-bound gun emplacement and target for advancing Union troops. During the Battle of Wyse Fork, the Union attacked and the results were hopeless, leaving the crew with one choice: Scuttle the ship. The crew of the Neuse set it afire, lit fuses leading to explosives in the bow, and fled. The ship burned, blew up and stayed in the river until 1963, when it was salvaged. Today the Neuse is one of the leading attractions in Kinston, residing in a downtown museum, surrounded by recovered artifacts and interactive exhibits, capped with the ghostly frame of its upper workings. Nearby, the C.S.S. Neuse II, a full-scale replica, sits a few hundred yards from where the original was built, another reminder of the town's powder-keg past.
After the Civil War, the town continued to grow, and a series of carriage shops — many employing highly skilled former slaves to do the fine work — anchored the economy along with a vigorous tobacco and cotton trade. By the turn of the 20th century, the economy was bullish and expanding. Lumber and cotton mills added to the mix. World War II arrived and slowed growth, but it picked back up with vigor, growing strong on the backs of a DuPont plant and a pharmaceutical production facility. This ended in the 1960s, when textile production began to slow. Thus went the town's economy, slowing, limping its way back to its agrarian base.
Minor League Baseball — first in the form of the Kinston Eagles, then Blue Jays, then Indians — distracted the town, but couldn't save the sagging economy. Kinston needed to mature, to evolve, to become in order to fully appreciate the impact baseball — and all of tourism, really — could have on their community. When the town was ready, teams began looking again; then, in 2017, the Down East Wood Ducks marked the return of baseball to the city, a city now ready and able to support and enjoy the benefits of the game.
The town had matured, had become.
Back at Mother Earth Brewing, Hill reflects on the evolution of his town.
"People ask me, 'Stephen, why Kinston?' And I could have built Mother Earth in Raleigh or Durham, or I could have done what I did: build it here. I'm here. My daughters are here. My family's here. My heart."
He sits for a moment in silence, then looks at the wall where a dozen paintings hang. Each one a different size, each one a different scene. Fans of Mother Earth's beer would recognize each as a label on a bottle or can. They were painted by a local artist and art teacher and friend to both founders of Mother Earth Brewing.
"Arts drive a community. They drive economic development," Hill says. "Right now I'm chairman of the North Carolina Arts Council and we have 197 different categories we've defined as art. We probably need to expand that."
He looks out onto the floor of the brewery, over the tops of the fermenting tanks.
"Beer's an art, culinary's an art, and they're part of what's driving Kinston's evolution right now."
This passion for art and hometown drove Hill to purchase the Kinston Motor Lodge — which had sunk to the level of no-tell-motel — in 2014 and renovate it. After a year of planning and a year of site work, the Mother Earth Motor Lodge reopened in spring 2017, transformed from its seedier past into a retro-chic hotel. Vivid colors set off the doors, drapes and linens; bold paintings of local sights hang in every room and suite; the desks are a single piece of curved glass, chic, sleek and sexy; even the mini-fridge is a perfect pop of retro-nostalgia.
Downtown is like this: parts of it empty and having run its course, other parts stirring back to life. Along Queen Street, some shops are open, others are shuttered, but the second story of most buildings are vacant. Queen Street Deli does a brisk business and is a lunch hotspot for locals and visitors, and the Kinston Community Council for the Arts' studio and gallery stays busy, but for the moment there's not much else on Queen: Everything seems to be happening one street west, on Heritage Street. There you find the farmers market, the C.S.S. Neuse II, Chef & the Farmer, Mother Earth Motor Lodge, Middle Grounds (a coffee shop), Sugar Hill Pizzeria, Red Room, Lovick's Café, The Overland Gallery, and several specialty shops on the verge of opening. On the blocks off Heritage are Ginger 108 (a surprisingly good pan-Asian and sushi restaurant), North Street Pub and Eatery, Olvera Street Taqueria, Boiler Room Oyster Bar.
Ten years ago this wasn't the case, which is what excites Hill about the next phase of Kinston's growth: Queen Street. The city has received funding to revitalize Queen., and investment is flowing into downtown from within and outside the community. Hill and others hope that over the next three years, Queen Street will be unrecognizable in terms of the energy and activity along Kinston's main street.
It can happen.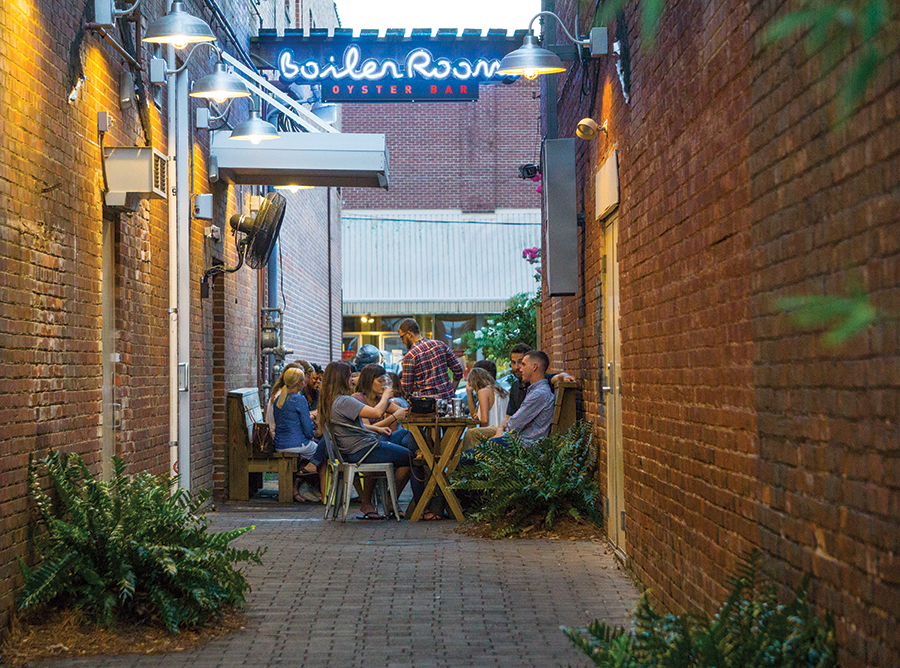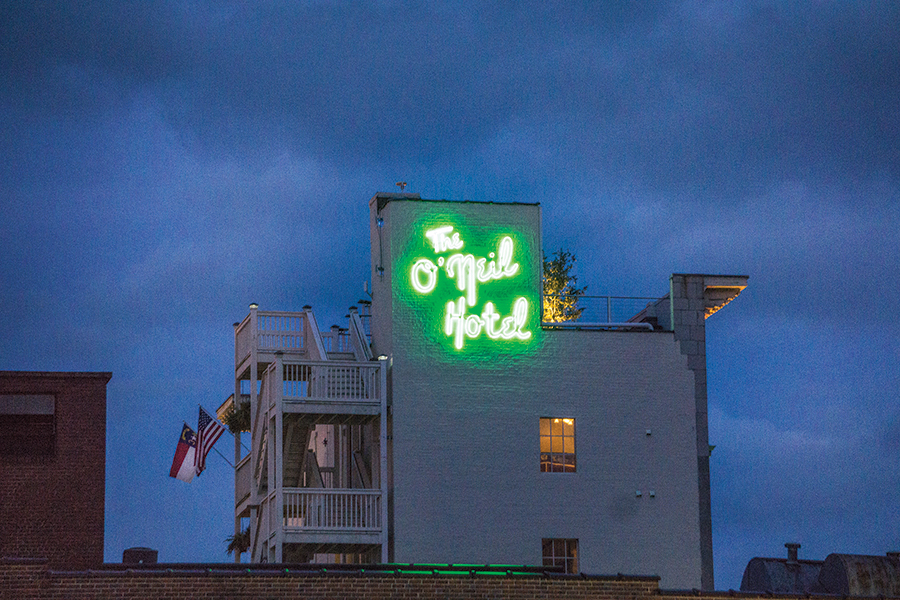 Chef Vivian Howard and her husband, Ben Knight, who own Chef & the Farmer — arguably one of the best farm to table restaurants in the region — are partners with Hill on Boiler Room Oyster Bar. Howard moved back to her hometown of Kinston to open Chef & the Farmer in 2006, and it took off. Reviewers drove in from Raleigh, bloggers found it, diners were making hour-long, even 90-minute drives from the Triangle and Wilmington to eat there. Howard established her reputation for excellence and creativity, each seasonal menu topping the last in terms of flavor and approach to ingredients.
Then came the James Beard Award nominations, a series of them; and A Chef's Life, the PBS show starring the restaurant, Howard and Knight. The spotlight turned solidly to Kinston, a town formerly unknown to many (even many North Carolinians), and it stayed. On any given day you'll find people standing outside Chef & the Farmer posing for an Instagram shot in front of the sign or window shopping in their wine and gift shop (where you can pick up Howard's amazing cookbook, Deep Run Roots, a T-shirt or libations). In the evenings the dining room is packed, with at least one person at every table stealing glances to the open kitchen to see if she's working the line, another admiring Knight's oversized abstract paintings that hang on the walls.
As well they should flock. Her food is exceptional, her approach to ingredients is reverent, and her kitchen brigade believes in her philosophy, so they cook like she does: from the heart. Her dishes are familiar and surprising. Take the Cornmeal Tagliatelle. Cornmeal we know, tagliatelle we know, but not together. The wide noodles are hearty and toothsome, filling, and the rest of the dish — turnip, smoked mushrooms, leeks, lemon, cream — make for a vegetarian dish that many won't even realize is vegetarian. The smoked mushrooms and leeks provide a meaty bite of pungency to each forkful, the turnip brings a little more toothsomeness, and the lemon brightens it, bringing balance to the cream. It's familiar, but completely new.
The kitchen's approach to fish is the same: You know it, but you're surprised by it. As the menu changes seasonally — and seasonally in this case can mean weekly, even monthly changes, just like on the farm; fresh strawberries are available for a short window then they disappear, only to return in preserved form; tomatoes are a summer fruit; fish is available as it's available. No farm-raised, flash-frozen fish will hit the plate here. You'll find red snapper served with green strawberries and hollandaise one week, fried catfish with crispy mustard greens the next. Pheasant appears on the menu; likewise, mullet roe shows up when it's fresh. The salads shift from kale and mustard or turnip greens as the season shifts into leaf lettuce and arugula weather, then to head lettuces.
It's this approach to the regionality in her food that helped gain attention to Howard's cooking; the other part is her superb preparation. Knight says diners come in with a connection to the place, to her food.
"They see the restaurant on TV and feel like they know the place. They're excited when they come in because they know our reputation," he says. "Serving diners like this, frankly, it makes the front of house more enjoyable because they're engaged with the food from the time they make a reservation."
Howard and Knight will capitalize on that reputation and those engaged, excited diners in Wilmington when their next restaurant opens this fall on Greenfield Street near Satellite and the South Front apartments. Before an official announcement was made, word was out and it generated a buzz. Questions flew among Wilmington's foodies ranging from, "Are we getting a Chef & the Farmer?" to "Will it be another Boiler Room? We could use a killer oyster bar" to "I heard it was pizza."
The answer is c) Benny's Big Time Pizzeria.
"It's a brick oven pizza with house made pastas," Knight says. "The menu is a throwback to those red sauce Italian places. All of it is hand-done and all of it is nostalgic in some way." Think Bolognese sauce and fresh noodles. Think Italian chopped salad. Think caprese in season. Think a pizza menu with a handful of curated pies and a slew of build-your-own options.
"We want a different vibe, a family vibe. For the décor, we're playing with the idea of a '70s Pizza Hut: booths, dark wood, faux Tiffany lamps over the tables, but all updated." In other words, referential to the idea of those kind of Italian places, but not necessarily reverential.
Knight says they're excited about the developments in Kinston — the redo of Queen Street, the bevvy of businesses and restaurants opening around them, the return of baseball (where Chef & the Farmer's food truck makes appearances on Food Truck Fridays), the spirit of pride that's swelling across town — and that they feel a similar energy in Wilmington. "A desire for what's next" he calls it. As part of the redevelopment of the south side of town, Benny's Big Time Pizzeria is set to be an anchor for growth and will likely inject the food community — from diners to chefs, visitors and locals alike — with a boost. "Vivian and I have always been about opportunity," says Knight, "and our joining the Wilmington food scene is an opportunity for us to grow and for us to contribute to the culture of the town."
Kinston Goes Big Time
Wilmington has been abuzz with the news that the couple behind the celebrated Kinston restaurant Chef & the Farmer — Vivian Howard and husband, Ben Knight — would be opening a restaurant in the Port City. Another Chef & the Farmer? Maybe a second location of the Boiler Room, the oyster bar and hamburger joint featured on Vivian's PBS series, A Chef's Life?
The wait is over and the answer is here: Benny's Big Time Pizzeria is set to open this fall. According to Knight, Oct. 1 is the target date, but a few delays in permitting may push that back a bit. "We're excited about it," Knight says. "We are hiring a chef de cuisine and looking for sous chefs and line cooks and, so far, we've found a number of passionate, talented cooks who want to be part of what we're doing."
Benny's Big Time Pizzeria will seat 90 diners and serve up old-school, red-tablecloth Italian food located in the city's new South Front community, which will also comprise apartments, retail and office space in a series of converted industrial buildings. Pizza, pasta, salads; dine in and take out; but, more importantly, a foray into Wilmington's dining scene.
The Backstory
Chef Vivian Howard runs the kitchen at Kinston's Chef & the Farmer, and Ben Knight keeps the front of house, wine and bar program running smoothly. You may have seen them on the Peabody-award winning PBS series, A Chef's Life, which follows Howard, Knight, their kids and restaurant family through everything from slice-of-life scenes to ingredients as they move from the field to the kitchen to the plate. Howard's unabashed love for the regional food of eastern North Carolina shines in her accent, her menu, the farmers and purveyors she visits, as well as in the recipes she presents on each episode.
Howard comes from Deep Run, North Carolina, a small community just outside Kinston, which is also the inspiration for the name of her award-winning cookbook, Deep Run Roots. After college, she moved to New York and worked for the likes of chefs Scott Barton (Voyage), Wyley Dufresne and Sam Mason (wd~50), and was on the opening team for Chef Jean Georges Vongerichten's Spice Market.
Knight, a Northwestern alumnus, is an accomplished artist as well as restaurant wizard. His paintings — large, bold, and abstract — hang in Chef & the Farmer and in galleries around the state.
In 2005, the couple moved from New York back to Kinston, where they opened Chef & the Farmer. Since then the restaurant has been on an upward trajectory despite the challenges of their menu — nearly 3/4 of the food in the restaurant comes from within a 60-mile radius — and a fire that closed the restaurant briefly. Today, Chef & the Farmer is destination dining, drawing hungry patrons from North Carolina and beyond.
Eat. Drink. Stay.
Stay: The O'Neil, 200 N. Queen St., Kinston. (252) 208-1130 or www.the-oneil.com, Rooms range $239 – ?
Mother Earth Motor Lodge, 501 N. Herritage St., Kinston. (252) 520-2000 or www.motherearthlodge.com , Rooms range $109–29 nightly. Circa 1964
Eat: Chef & the Farmer, 120 W. Gordon St., Kinston. (252) 208-2433 or www.chefandthefarmer.com
Boiler Room Oyster Bar, 108B N. St., Kinston. (252) 208-2433 or www.boilerroomoysterbar.com
Drink: Mother Earth Brewing or Mother Earth Spirits, 311 N. Herritage St., Kinston. (252) 208-2437
Do: Visit the C.S.S. Neuse Civil War Interpretive Center, 100 N. Queen St., Kinston. (252) 522-2107 or www.nchistoricsites.org/neuse
Catch a minor league game with Down East Wood Ducks. Grainger Stadium, 400 E. Grainger Ave., Kinston. Tickets: $6–12. (252) 686-5172. Schedule at www.woodducksbaseball.com
Jason Frye, who lives to eat, is a well-traveled and frequent contributor to Salt magazine.