For Reid Stowe — artist, adventurer, history-making sailor — the world's oceans are his home and source of his inspiration
By John Wolfe   •   Photographs by Andrew Sherman
Mystical visions carry him across the sea.
On the open ocean, the view is the same in every direction: The white-hot sun beams its light through the cobalt sky, cascading through dynamic clouds to meet the shimmering horizon at the far edge of the heaving lapis lazuli water. Out there, where the sublime simplicity and scale of the ocean erase everything else, ideas and visions take on new weight. Thoughts become all you have. In a state of ecstatic bliss, working with devoted hands and love in his heart, Reid Stowe carves conjured images into wood on the open water, alone with his thoughts.
Stowe is an artist, an adventurer and a world-record-holding endurance sailor whose epic 1,152-day nonstop voyage around the globe made history when he completed it in 2010. His sailing, and his art — the two have always been intertwined — began long before that odyssey, however; as a young man he voyaged on small boats across vast oceans, painting, carving and sculpting along the way. His first sculptures were figureheads for his boats, carved, he said, "because I needed the gods to take care of me." His courses took him through the South Pacific and up the Amazon River — he admits that he "spent the better part of (his) life in the wild." While still in his early 20s, he touched four continents on a little wooden catamaran he built at his family beach house in Ocean Isle Beach.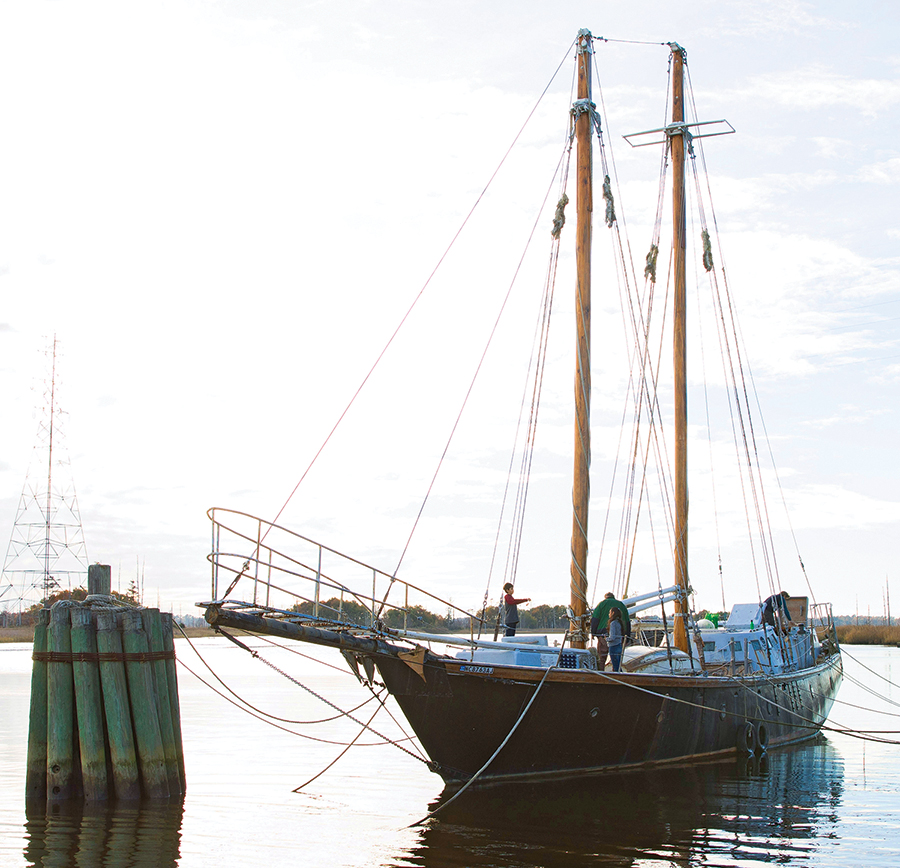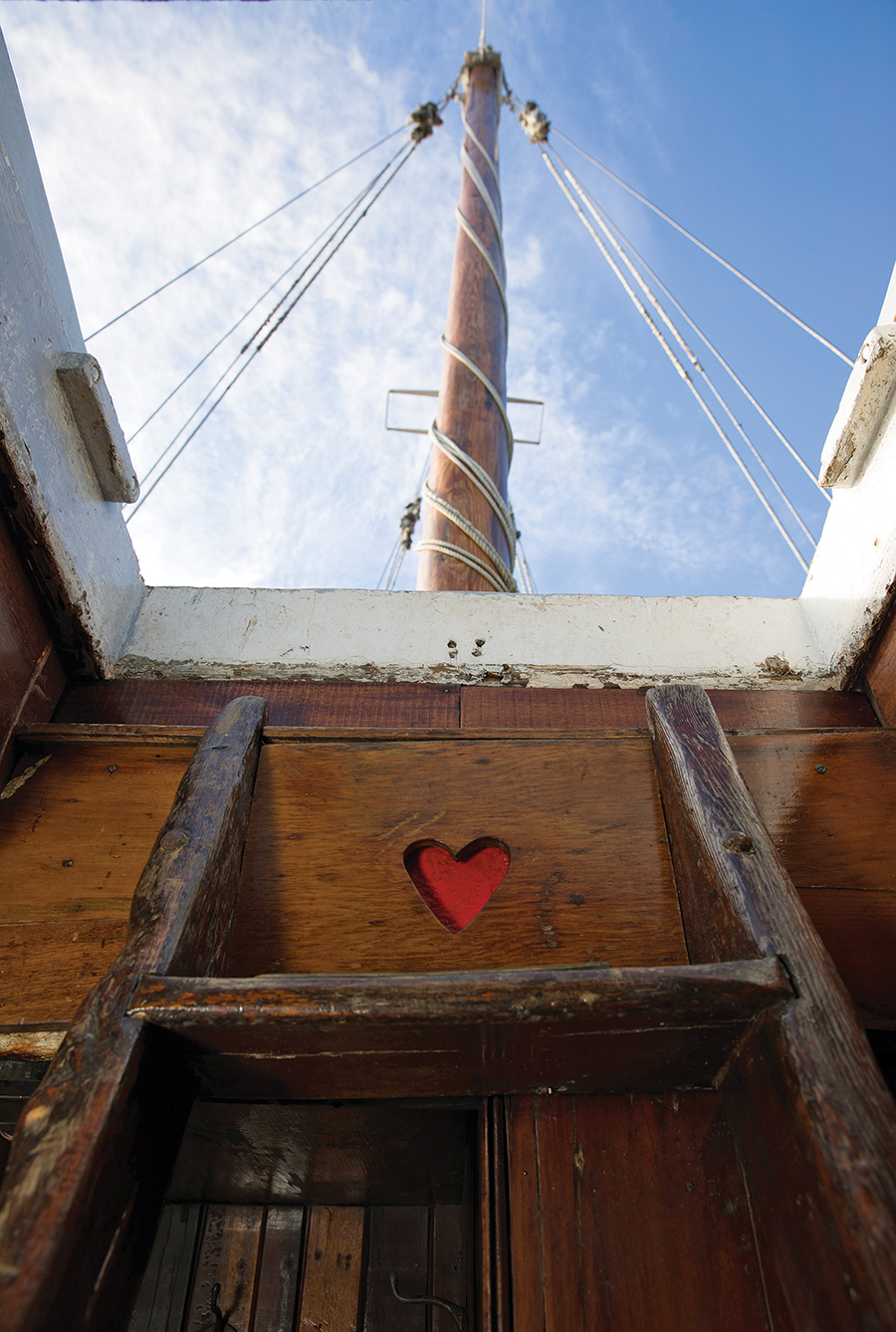 In 1978 he finished building his 70-foot gaff-rigged schooner, Anne, on which he would eventually break records. The first port he made from North Carolina was the Caribbean island of Dominica. Hurricane David had recently felled tropical hardwood trees; Stowe harvested these to craft the fine carpentry work that covers the boat's interior. In the years that followed, as Anne's hull tracked over the tranquil turquoise of the Caribbean, through the iceberg-studded seas around Antarctica, and across the staggering storm-gray mountains that billow around Cape Horn in the great Southern Ocean, Stowe hammered and chiseled, transforming his boat's cabin walls and bulkheads into a floating gallery.
In the galley, mahogany mahimahi charge from the water, chasing wide-winged flying fish. An ornate Oriental dragon, with textured scales that ripple like waves, guards the library in the cargo hold. On the golden walls of the pilothouse, beside the worn ship's wheel and the much-used chart table, there are tropical beach scenes and triple-masted clipper ships. A mermaid mother holds her child near the companionway hatch, across from a carved portrait of the great polar explorer Roald Amundsen. Stowe carved Amundsen while sailing to Antarctica in 1986 to "bring his protective spirit onto the boat . . . I've carved a small portrait of myself into his head, and I've got my finger raised to say, watch out! We're in a life-and-death situation here!"
Often Stowe has used his art to mentally prepare himself for the astounding physical feats he has accomplished in his life — feats like sailing to Antarctica and, of course, his thousand-day voyage. It's as if he carves himself into his art as a way of committing his physical body to follow the wild, colorful visions of his mind. Stowe challenges his life to imitate his art, rather than the other way around.
Other carvings hold spiritual truths for him. In the pilothouse, under a meditating Buddha, there is a carving of the Hindu eagle god Garuda, swooping down to rescue a sailing ship from a whirling maelstrom, as a steamship disappears into the vortex. "Garuda lifts the spiritual aspirant up to higher heights," Stowe explains, "while the world of boats and motors is left behind to sink." He credits Joseph Conrad, the turn-of-the-century mariner and author of the classic novella Heart of Darkness, for helping to inspire that one. But whereas Conrad wrote things like "the sea has never been friendly to man — at most it has been the accomplice of human restlessness," Stowe puts his own spiritual twist on it: "The sea loves me. And I love each and every wave," he says. "It was my ability to connect with and become one with the sea that allowed me to sail on the sea longer than any man ever has."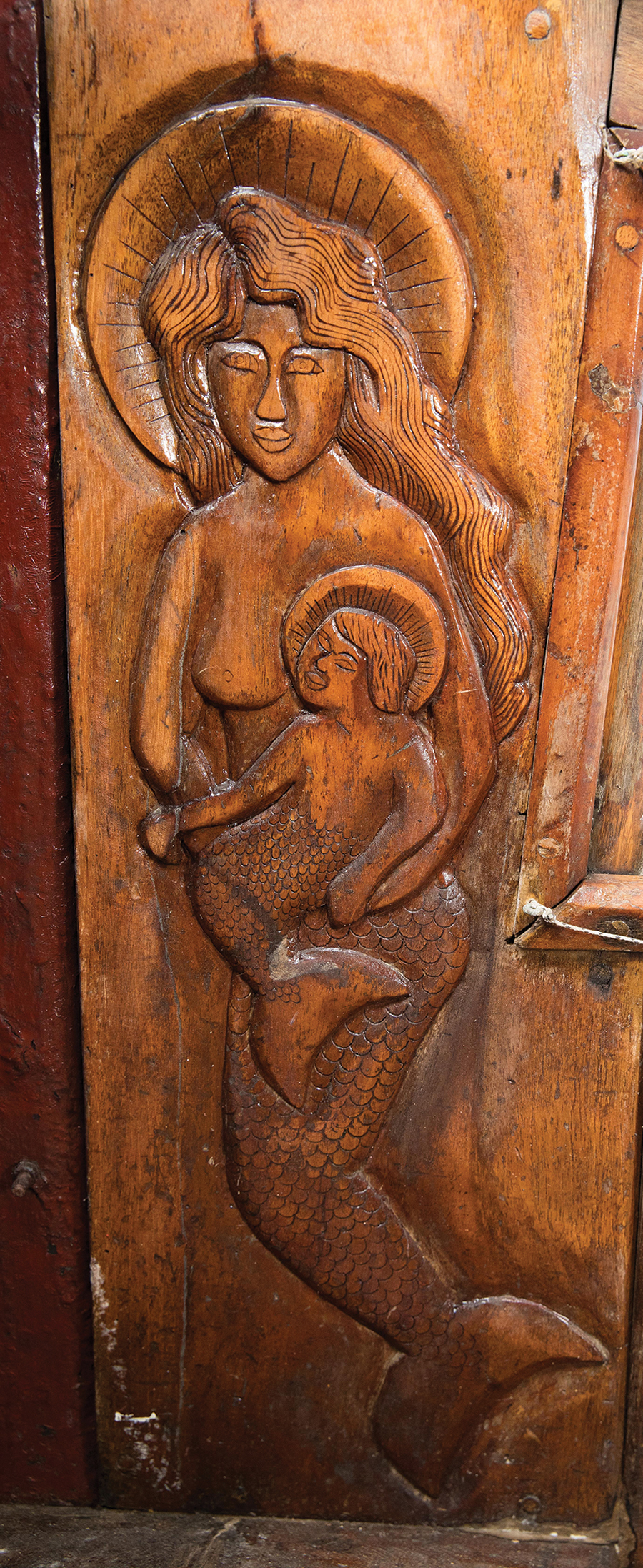 Stowe carves in other mediums besides wood, too. He pioneered a style he calls "GPS art." In this form, he uses the position of the schooner as a stylus, then alters his course to draw great shapes on the sea. On past voyages he has drawn enormous sea turtles and hearts thousands of miles in circumference. Halfway through his thousand-day voyage, his course took on the shape of a whale by accident; friends following the voyage onshore notified him by satellite phone. "I looked at the chart and said, Jeez, if I change course now I can make the flipper," Stowe said. "So right away I changed course and started going in another direction." What's amazing about this is that at sea, there is no indication that anything is actually being drawn in the wake behind the boat; the art takes a physical form in the plotted points on his chart, yes, but it mostly exists in a theoretical, conceptual, abstract way in the mind — yet its creation is subject to real-world changes in wind, waves and weather. The whale Stowe plotted on his chart looked eerily similar in size and shape to another carving on the pilothouse wall of two whales battling giant squid. "This carving turned out to be prophetic," Stowe said, gesturing.
"It was the main turning point in the voyage," he remembered. "At that point (his partner) Soanya had to leave (to give birth to their son, Darshen); I was sad about that. And on top of that, I was sore, I was running out of fresh water, I was being harassed by all these people on the Internet who said I was a phony, that I wasn't going to make it, that I deserved to die. But when I drew the whale, everything changed. Nature was speaking to me; the whales were speaking to me. They reaffirmed to me that I'm connected to the magic, and I'm with them. And it changed my state of mind. After that, I knew I was going to make it."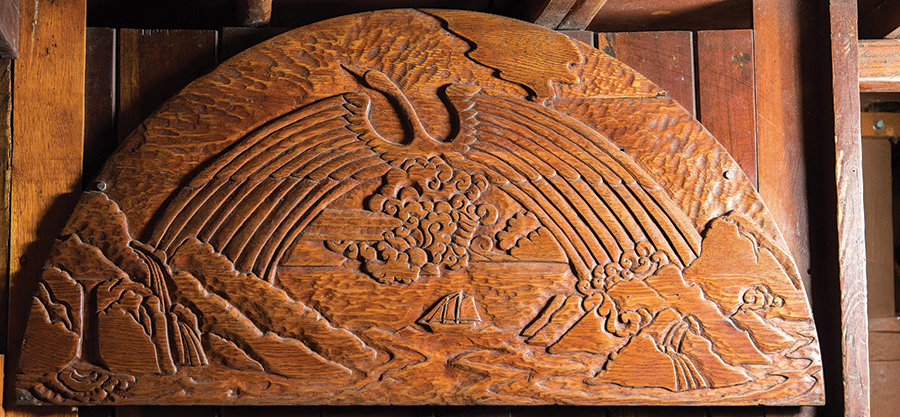 For many years Stowe has used his art to transform his mental landscape and accomplish his physical feats of endurance. But at the same time, he says, his creation is "a spiritual practice that empowers that high-performance physical action and myself to higher sublime heights." As he sails and carves on the edge of living, the lines between the real and the mystical become blurred; the visions he creates in his art bleed over into his waking life. This makes his work powerful, almost talismanic. He has called himself a "shaman of the sea" in the past, and I cannot think of a more fitting moniker.
But his actions and his art, while epic, still exist on a human scale, and that makes them even more powerful. They widen our imagination by pushing far beyond what we thought possible, but at the same time still connect with the ancient, common humanity that's shared by everyone. While not everyone who views his work might share his story or face the challenges of being at sea, we all still sail the voyage of our own lives. The carvings of Reid Stowe remind us of the importance of our own state of mind in our voyaging, and how common (yet still magical) things like love and luck can help carry us along in uncommon circumstances.
John Wolfe studied creative nonfiction at UNCW. When he's not in the water, he wishes he were.