Over perfect brioche and chicken liver mousse at Pinpoint, straight talk on why we love — and hate — some TV commercials
By Dana Sachs
Elizabeth Rogers runs an advertising agency, but she doesn't advertise it. In fact, she doesn't even have a website. Her Wilmington-based firm, Sterling Concepts, keeps a low profile, and for an understandable reason, too. Her client list amounts to a company secret.
"I know this is ridiculous," says Elizabeth, laughing, over brunch at Pinpoint restaurant downtown. She and her business partner, Amy Andrews, create commercials for businesses, then buy airtime for the ads on radio and television stations. By not divulging the names of their clients, they get low ad rates and keep their competitors — other advertising firms — guessing. Turning themselves into a stealth operation, Elizabeth explains, is "just the nature of the business."
You've probably seen or heard Sterling Concepts' ads. If you watch TV or listen to the radio in Wilmington or, increasingly, in markets across the country, you might have listened to one of their dentist spots during your morning commute or seen one of their home improvement ads while watching "Jeopardy!" People who aren't in the market for a dentist or home improvement products may ignore the ads altogether, but they're still part of Elizabeth's intended audience. "You'll always reach people who don't need your product," she says. "But you could get a customer who has been seeing it for two years and then it finally clicks: 'Oh! I need new countertops!'"
After working as a script supervisor right out of college, Elizabeth began her advertising career on the opposite side of the business from where she sits now, selling airtime for the modern rock station Surf 107. Exuberant and adventurous, she had the right personality for a business promoting pop hits, sun, sand and a laid-back lifestyle. "I went to concerts all the time. Happy hours. People say that a great salesperson can sell anything, but it helps if you're selling something you love, and I loved the music."
After Elizabeth got married and started a family, though, the fun wasn't so fun anymore. She worked live remote broadcasts from various places around town, and those events began to feel less like a party and more like work. "Six hours at the car lot. On a Saturday. And pregnant. In August," she says, letting a few choice phrases explain the reasoning behind a major life decision. In 2005, Elizabeth left the radio station, and she teamed up with Amy to form Sterling Concepts.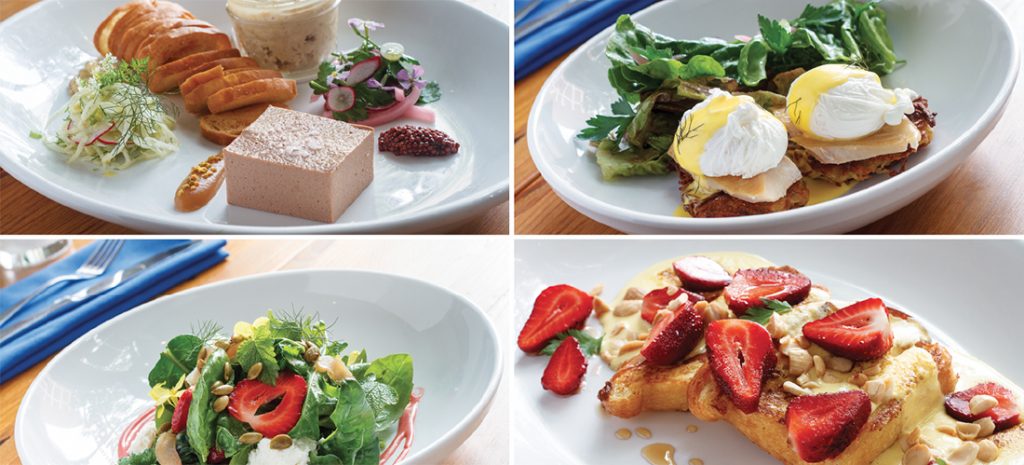 Both partners work from home, Amy in Asheville and Elizabeth in Wilmington. Elizabeth runs her office out of the house she shares with her husband, Darryl Elizabeth, their three sons, a cat and a yard full of chickens and rabbits. On a typical morning, she might spend an hour negotiating a major national TV deal, then run outside to check on a sick rooster. This tangle of home and professional life creates a strange sort of synergy. When she and Amy needed a bunch of children for a pizza commercial, for example, Elizabeth cast her own kids. Don't call her a stage mom, however. Her reasons were practical: "Free labor," she tells me.
Speaking of labor. On the morning of our brunch, one of Elizabeth's rabbits is due to give birth. An event like that doesn't call for boiling water and tearing sheets, but it does dampen Elizabeth's enthusiasm for the deviled rabbit served with our charcuterie platter. "I like it," she says, after some hesitation. "It is a little tough for me, because of the baby bunnies, but it is good." (Author's note: Six healthy "kits" arrived the next day.)
Elizabeth doesn't show the same concern when facing Pinpoint's decadent chicken liver mousse, despite her poultry flock back home. "Where do I buy a little block of that?" she asks, after tasting.
Pinpoint, which opened in 2015, specializes in fresh local ingredients, and the chef, co-owner Dean Neff, has come up with original presentations for brunch standards. Coffee cake, for example, appears in bite-sized squares as an appetizer before the meal even starts ("Delightful," declares Elizabeth). For the eggs Benedict, Neff places poached eggs atop crispy potato pancakes, which Elizabeth notes offer "a deeper, more complex taste" than the dish's typical English muffin. As for the French toast, Pinpoint's version uses house-made brioche and arrives at the table with maple syrup, fresh strawberries and a froth of almond sabayon. "The brioche is so light," says Elizabeth. "Love it, love it, love it."
Even though Sterling Concepts doesn't run a website of its own, the company conducts business on the internet as well as on radio and TV. Success depends on tailoring a client's ad buys to the medium that best suits the merchandise they're trying to sell. "Demographics are key," Elizabeth explains. For high-end home improvement products, for example, she might purchase programming that targets a wealthy clientele. For medical supply companies, depending on the product, she may purchase programming that attracts a lower-income audience or programs that skew more toward men.
"What if you don't like one of the products that you're advertising?" I ask.
We have a table in the front of the restaurant and Elizabeth pauses for a moment, looking out the window toward the lively Saturday morning scene on Market Street. "If I think my clients are doing something that's a bad idea," she says, "I will tell them, and if they want to move forward, it's their call." In the end, she explains, the roles are clearly defined. "Our goal is to make sure we increase the calls" that an advertiser receives. "After that, it's the client's job to close the deal."
And, yes, Elizabeth knows that you hate commercials. Often, she hates them, too. Leaning toward me from across the table, she lets her voice slip into a particularly grating Southern twang and proceeds to recite the familiar, ubiquitous jingle for Stevenson Honda (not her client): "'If it has our name on it, you have our word on it.'" She sits back and rolls her eyes in annoyance, then describes her own response as a potential auto-buying customer. "I thought: Never!"
After a moment, though, a grin sweeps across Elizabeth Rogers' face and she begins to laugh. "But that's where I bought my Honda," she admits. Then, she shrugs and speaks the hard truth about advertising: "It works."
Pinpoint Restaurant is located at 114 Market St. in Wilmington. For more information, call (910) 769-2972 or visit pinpointrestaurant.com. You can find out more about Sterling Concepts by calling (910) 471-3131 or writing to sterlingconceptsliz@gmail.com.
Dana Sachs' latest novel, The Secret of the Nightingale Palace, is available at bookstores throughout Wilmington.