The gifted artist and rapper who wants to make your next 30 seconds happy
By Kevin Maurer   •   Photographs By Andrew Sherman
reyson Davis is never without a pencil.
When you've got Hanna-Barbera in your head 24/7, not having something to capture that doodle rolling around your brain is worse than death. Plus, inspiration is fickle. "If it hits," Davis says, "I don't want to be without a tool."
Davis — who goes by Haji P (the "P" is for pajamas) — admits that he sees the world in cartoons, which makes him lucky because that is one fun way to see things.
We meet at the Port City Java on Front Street in late May. We'd met a few weeks before, but this was the first time I'd had a chance to sit and talk with him. The first thing you notice is the smile. It's bright and toothy. Dressed in jeans and a T-shirt, he has a blue Dodgers cap with the bill folded up pulled over his shoulder-length dreadlocks.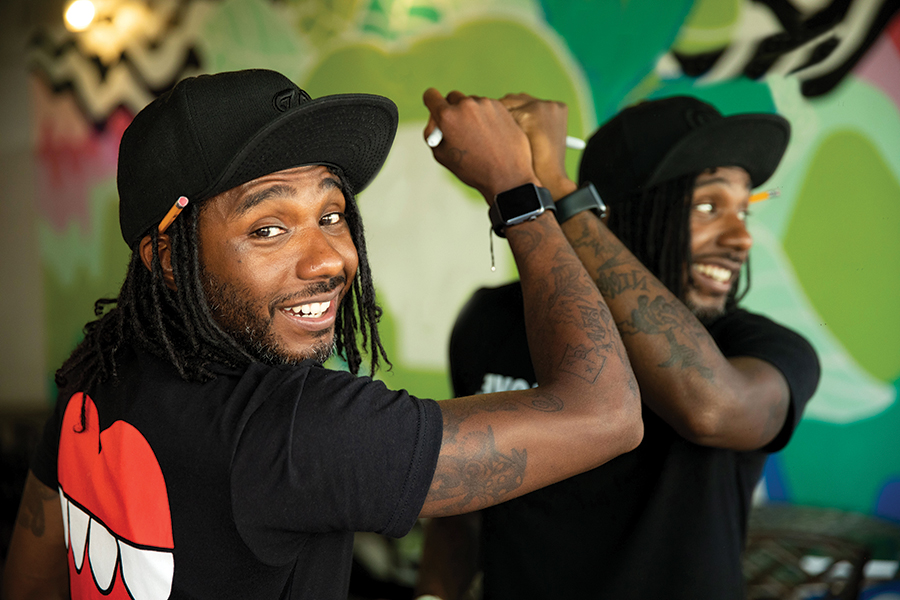 Tucked behind his ear is a pencil.
It's evening, and we forgo coffee for sodas. Between sips, he speaks in bursts, his mind ping-ponging from one idea to another, all delivered with a childlike excitement. "How do I turn that into a cartoon?" he says when I ask him about how he sees the world. "There is a cartoon in everything."
His ideas often start on a napkin or scrap of paper. Flipping through his work, it skews toward cartoons over more realistic comic book images. Much of it features pop culture icons from the '80s and '90s like G.I. Joe, the Thundercats and He-man. Edgar Allan Poe and Bert and Ernie from Sesame Street make appearances too. "I got Beetlejuice in my head last week," he says. "So, I went home and drew Beetlejuice."
But the twist is, each one has big front teeth, what Davis calls "Happyfangs." Some have a gold fang. Others have a heart on a fang. It started with a series of images of his favorite characters biting people's butts. He did it for one reason. "I thought it was hilarious," he says.
But after he illustrated a children's book, his fans — often families — wanted to buy his work.  He first called the images "buttbiters," but changed the name to Happyfangs. His March art show at Wabi Sabi Warehouse in Wilmington used the same name.
Davis' latest project is a coloring book for Support the Port that celebrates Wilmington's rich African-American history. Cedric Harrison, the founder of Support the Port, a nonprofit that promotes culture in Wilmington, wanted to do the book because he never learned it in school. Harrison became aware of Wilmington's black history after he went to college. He didn't want the same thing to happen to younger generations. Harrison did the research for the book, but he needed a partner to bring the images to life.  He pitched it to Davis.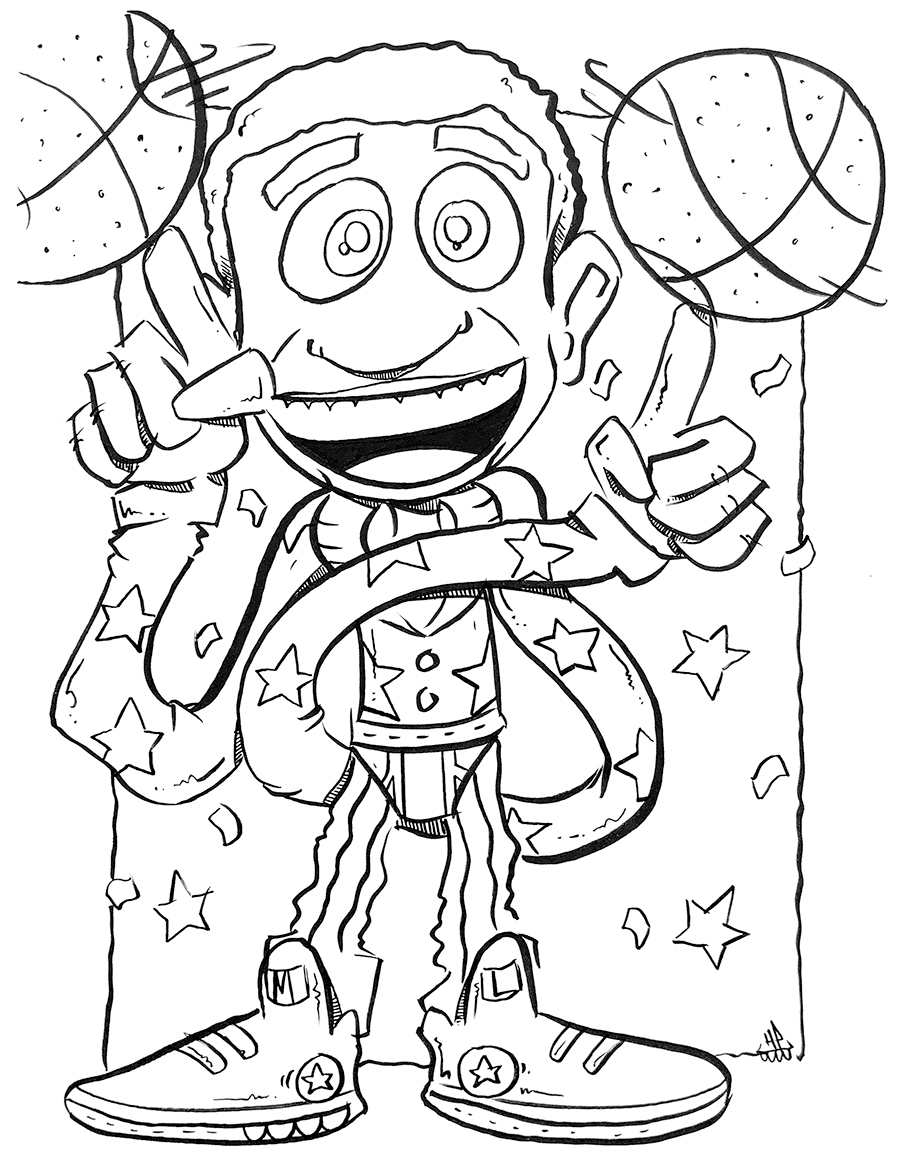 "Haji is like, 'I just want to have fun and do cool things,'" says Harrison. Their goal was to create something engaging. "How could we put it in front of kids without forcing them to read?" says Harrison. "I figured the kids would get a kick out of the coloring."
But the book has a twist. The iconic figures are being portrayed as superheroes. So tennis star Althea Gibson isn't just holding a racket in her tennis whites. Nope. She's Wonder Woman. Meadowlark Lemon of Globetrotters fame has stretchy arms like Marvel Comic's Mr. Fantastic; and Dr. Foster Burnett — who established the city's first African-American community hospital — is a magician a la Doctor Strange. "I want a 5-year-old to enjoy it," Davis says.
But both Davis and Harrison want the book to do more than entertain. Harrison says that in the past black business owners were idolized, but now only rappers and athletes get that respect. "I am trying to influence," Harrison says. "I wanted to highlight architects. Business leaders."
And it's not just black people whose minds they're trying to change.
"I wanted white people to see black people in a different eye," Harrison says. "I wanted to give them a different experience than what they get on the news."
Davis wanted to give back. The coloring book was a perfect opportunity.
"It makes me a contributing part of Wilmington," he says. 
Davis started drawing as a kid, trying to mimic creations by puppet-maker Jim Henson and illustrator Charles Schulz. A natural storyteller, he migrated to music in high school. Soon, rap replaced sketching. And Haji P, the rapper, was born.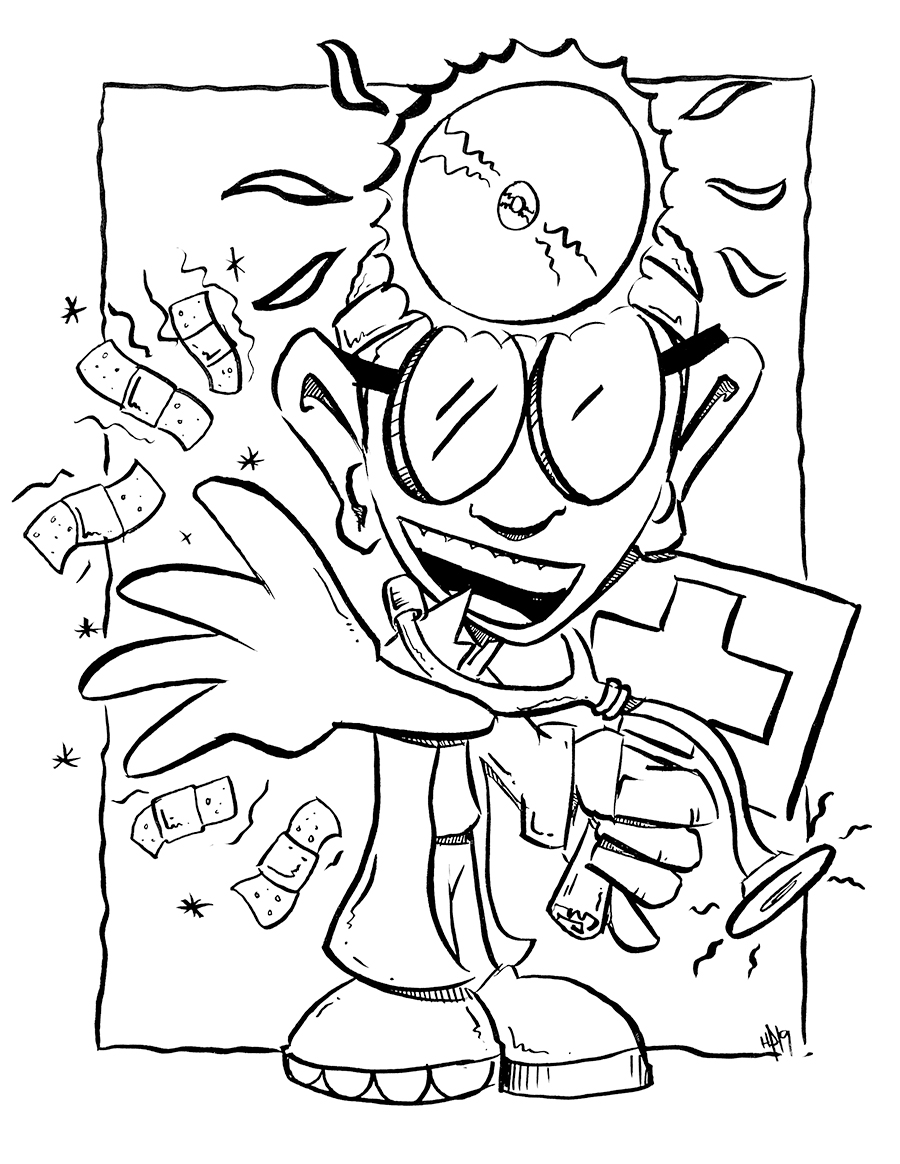 Davis grew up in Hawaii and Jersey City, before graduating from high school in Fayetteville. He attended UNCW, worked at Coast 97.3 FM and performed with Brown Co., a rap group named after a racial slur directed at him at a party. But in 2007, he left Wilmington for the Bay Area. He wanted a change. A new challenge. He hooked up with a hip-hop collective called Rec League in San Francisco.
Like his art, Davis' music — especially on his record Neighborhood Kid — was punctuated by sharp writing with a wry wit. Taking a cue from old school bands like De La Soul and Tribe Called Quest, the songs are stories — a means to catalog his experiences. Davis told the StarNews in 2010 that he tried to make even his songs about dark topics "fun." "Some of my favorite rap is gun raps and tough guy raps," he told the newspaper. "But my daily life is just a fun adventure, so that's what I want to do in my raps."
Between gigs, he worked at the Boys and Girls Club in Santa Cruz. Despite having success as both a rapper and a counselor, something was missing. He wanted to go home to North Carolina. His grandfather was in Durham and he had family there, but settled on Wilmington because of his college days.
When his daughter was born in 2016, he went back to art. Drawing was something he could share with her. It was a skill he could give to her. "She deserves better," he says of art versus rap. "Drawing is more fun." Now, in some ways, he is drawing for an audience of one.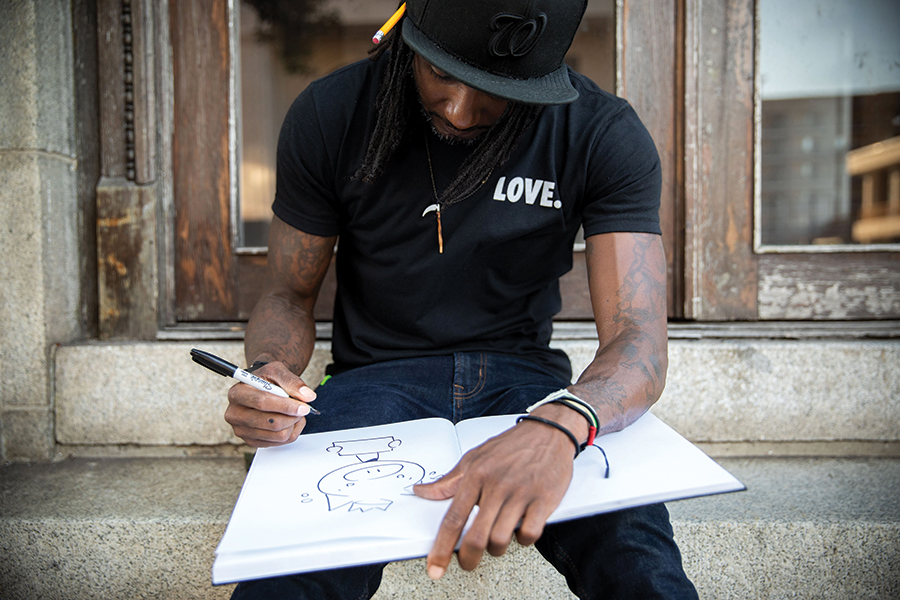 "She is the battery for absolutely everything," he says of his 3-year-old daughter, his smile getting bigger. "She is the largest part of everything I do. It can never happen without her."
Here in Wilmington, he has gone back to working with the Boys and Girls Club as well as teaching parenting classes to foster parents and working in a Boys and Girls foster home in Columbus County. But after leading an arts class for GLOW Academy, he was offered a job there as a teacher. He is about to finish his first year. Over the summer break, he plans to teach art camp at day care centers and draw characters out at the ballpark during Wilmington Sharks games.
"How do you make 30 seconds better for not just you?" he says. "If this is my gift, I want to continue to serve. If I can contribute somehow, that is what the ultimate goal is."
Kevin Maurer is the author of nine books, including No Easy Day: The Firsthand Account of the Mission That Killed Osama Bin Laden. He lives in Wilmington.