For Support the Port founder Cedric Harrison, bringing people and communities together is the path to a meaningful life — and a better hometown
By Dana Sachs
A few years ago, after yet another young man died violently in Wilmington, Cedric Harrison decided to do something about it. A young Wilmington man himself, he used his own money and donations from others to produce yard signs that read: STOP THE VIOLENCE. Then he put up the signs around the city, creating memorials to those our community has lost. So many people wanted signs for their homes and businesses that he quickly ran out of stock.
I could describe Cedric in a lot of ways. He's a young black man, yes, but he's also a radio host, graduate of UNC Pembroke (major in mass communications, minor in theater), assistant coordinator of the Nixon Minority Male Leadership Center at Cape Fear Community College, T-shirt and sweatshirt entrepreneur and founder of Support the Port, a local nonprofit that aims to bring Wilmington's disparate communities together. He has also, in his 29 years, played on the New Hanover High School football team, worked as a brand consultant in Atlanta, served as nonmedical staff at a Washington military hospital, and cleaned toilets at McDonald's ("That was really discouraging," he says).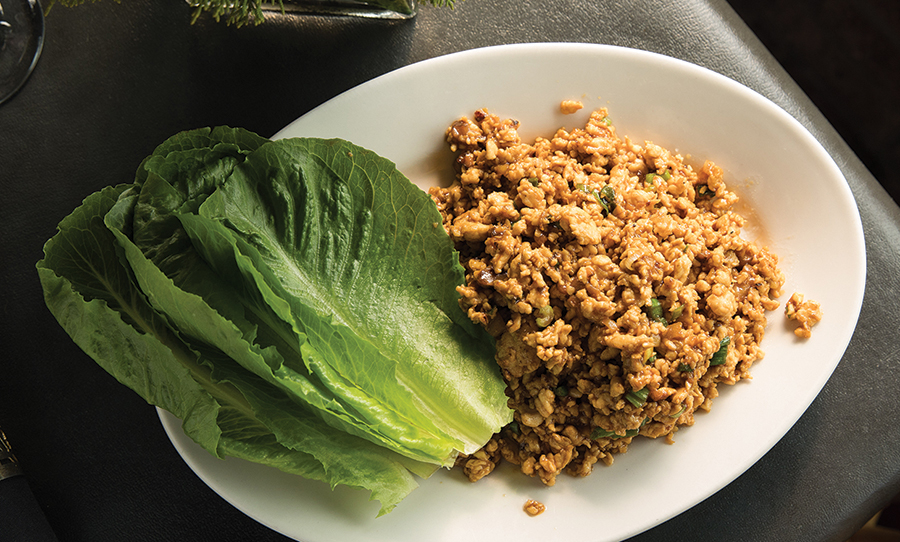 Perhaps the word that best describes Cedric is "impresario." He's one of those rare individuals who can combine seemingly unrelated elements to create something fresh and unexpected. And because he sees working toward social justice as part of his mission in life, he's using this talent to change the world. "I feel like a young Kanye," he says. "Without the rants and the millions of dollars."
It's not that hard, actually, to imagine a young Kanye West starting a shirt company like Cedric's, which he calls "Vs. Your City." When we meet for lunch at the Chinese restaurant Double Happiness, Cedric arrives sporting his signature sweatshirt, imprinted with the logo "Northside Vs. Your Side." The design uses the idea of sports' fan rivalries to encourage people to step beyond the familiar and engage with people from other communities, much like fans coming together for friendly competition.
Cedric himself grew up in local low-income housing. "Greentree. Market North. Garden Lake. Rankin Terrace," he says, listing the names of various Wilmington Public Housing residences that he once called home. "I used to think that everything that happened in my four corners was the same all over the world," he tells me. Then, when he was 16 years old, he traveled to New York for the first time. The city offered so much more than a kid could find at Rankin Terrace. The experience, he says, "opened my eyes to the world."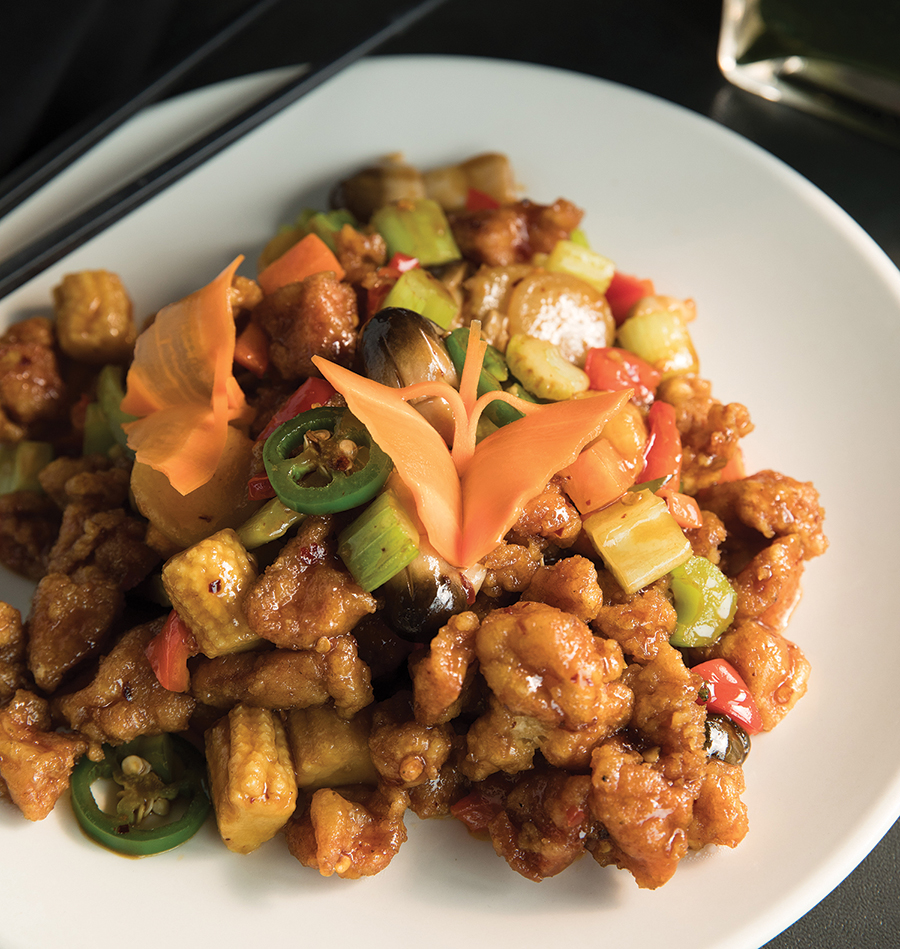 Cedric is certainly not the first young person to become intoxicated by big city life, and he's also not the first to leave his hometown and contribute to the loss of talented young people that he calls "the brain drain." But even as he got an education and began his career elsewhere, he retained emotional ties to his old neighborhoods. These communities suffered from considerable problems, including violent crime and "a lack of excellence, a lack of ownership," on the part of people who lived there. At the same time, it seemed to him that the wider world only focused on negative stories coming out of these neighborhoods. "Bad things happen everywhere," he says, but the media never seemed to cover good news. "Where's the light? Where's the hope? Where's the faith?" he asked himself.
For years, Cedric observed the situation from a distance, spending most of his time in Atlanta and Washington, D.C. Eventually, he came to feel that "the work I was doing there could have more intrinsic value in the place where I'm from." As a branding professional, he decided to return to Wilmington and rebrand his own community.
He started, he says, "by creating my own content." When Support the Port wanted to help people with criminal backgrounds find jobs, the group sponsored an employment fair called Fresh Chance Friday and brought in attorneys to give advice. When the group decided to educate people on the history of the local African-American community, it produced a coloring book called Wilmington in Color and sold it locally. And to help domestic violence survivors furnish new homes, Support the Port convinced a mattress company to donate a queen-size bed, then staged a giveaway called Queen for a Queen.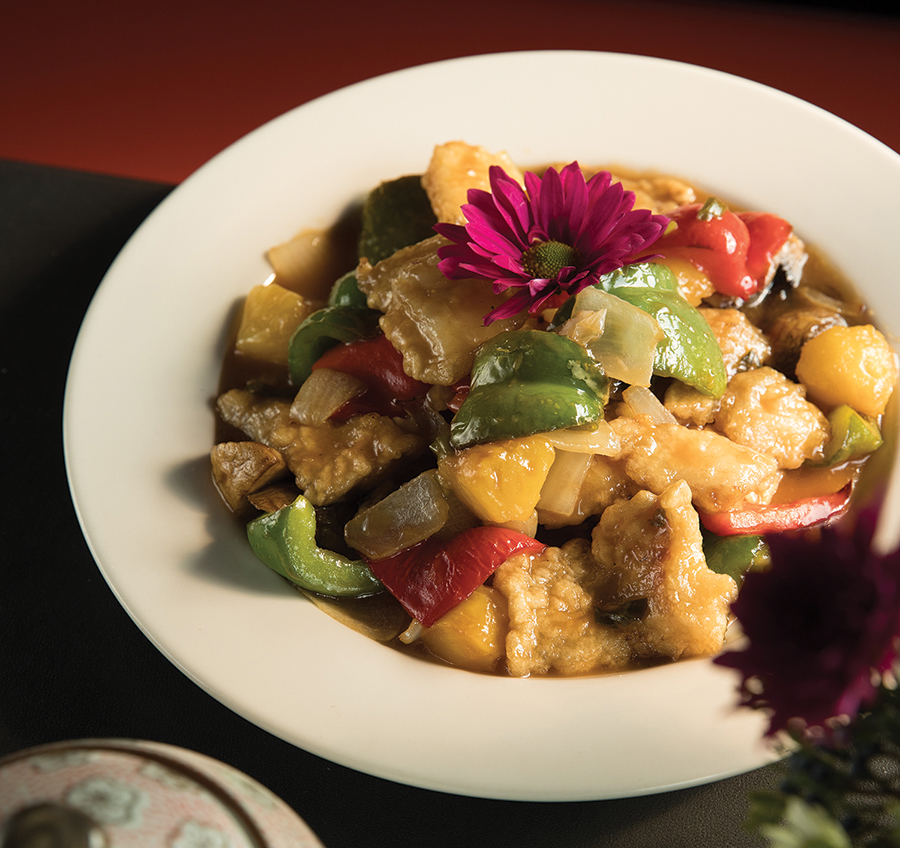 Cedric is quick to point out that he is running a very low-budget operation. The Queen for a Queen event, for example, only gave away one bed. Still, that bed represents positive change for a single family, and the effort demonstrates that determined people can be effective, even without much money. "Don't wait for somebody else to be a savior," Cedric says. "See what you can do for yourself."
As a "content creator," Cedric snaps into action over lunch. A plate of lettuce wraps arrives at our table, and he pulls out his phone to take a picture of the steaming plate of sautéed ground chicken and the lettuce leaves that accompany it. A few more clicks and the photo shoots out to his followers on Instagram. "People are interested in this stuff," he tells me. Then he puts the phone down, spoons chicken onto a piece of lettuce, and takes a bite.
A moment passes before he makes his culinary assessment: "That's innovative," he says, and then he starts to laugh. "I'm a food critic. I gave myself that title."
Double Happiness offers both typical Chinese fare, like crispy fried Firecracker Chicken, and more unusual dishes, like Shanghai rice cakes, which pairs quarter-size rice flour disks with sautéed shrimp and bok choy. I love these chewy pasta-like circles. Cedric isn't as charmed. "I won't eat rice cake again, but the shrimp is good," he says. He focuses more attention on a lightly breaded Sweet and Sour Fish topped with peppers and pineapple. "I love pineapple," he tells me. "On pizza, my friends hate it, but I love it."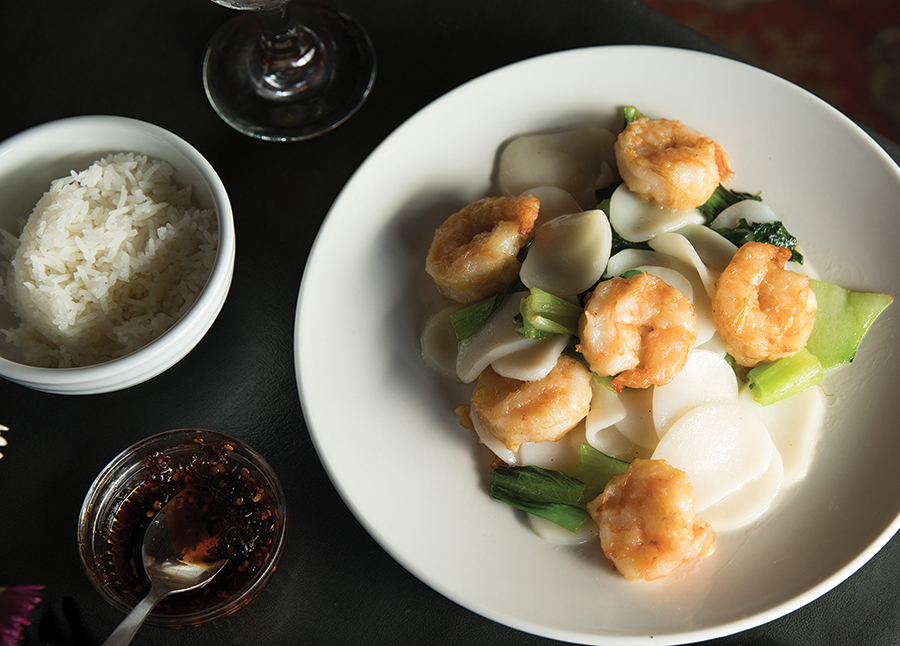 Someday, Cedric hopes Support the Port will have its own building, and perhaps grow to a national level. For now, though, he's focusing on uniting Wilmington's far-flung communities. "The college students don't go past College Road," he says. "Downtown people don't leave downtown. People at the beach don't leave the beach."
With each small event, with each yard sign, with each sale of a coloring book, Cedric hopes to bring strangers together. "You need to know the millionaire next door and the millionaire needs to know you," he says. "That's the only way to progress."
Double Happiness Restaurant, located at 4403 Wrightsville Ave., is open for lunch and dinner every day. For more information on Support the Port, visit www.supporttheport.com. If you're interested in purchasing the Wilmington in Color coloring book or apparel from Vs. Your City, visit www.VsYourCity.com.
Dana Sachs's latest novel, The Secret of the Nightingale Palace, is available at bookstores, online and throughout Wilmington.