Wine, dine, and unwind at the best oceanfront gem in Wilmington…   
By: Morgan Garrett
If you head to the Blockade Runner Beach Resort oceanfront gardens in the morning, you will probably find head chef Jessica Cabo, affectionately known as Chef Jess, outside picking herbs and vegetables for the day's meals. 
A Wilmington transplant (by way of New York and Los Angeles) and self-taught culinary master, Chef Jess credits her love of food to her New York upbringing, as she was never short of delicious food. After a career in headhunting and an appearance on the first season of Hell's Kitchen, she began working in a kitchen and quickly realized it is where she belongs. She stays current on the up-and-coming food trends, but no matter the trend or dish, she aims to make it as healthy and natural as possible. Rather than building a meal around the meat or fish, she chooses to center her meals around the freshest vegetables and herbs she can find.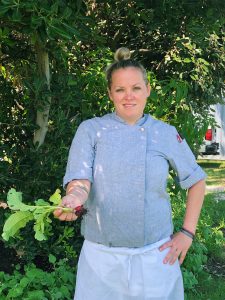 With a full menu change every two months, and a daily fresh catch of fish, she has plenty of opportunity to put her artistic side to work. We got a sneak peek at some new menu items during our lunch at EAST Oceanfront Dining. The Vietnamese-inspired summer rolls and her spin on a classic pimento cheese dip are the perfect apps for an afternoon at the beach. 
Blockade Runner offers numerous special opportunities to get in on the culinary action at the resort, including a monthly full moon dinner inspired by—you guessed it—la luna. Last month's full moon dinner was a flower-centric dish, paying homage to May's flower moon. (Note: This summer is especially lucky as the resort has a perfect view of the moonrise.)
If you can't make the full moon dinner, the Blockade Runner Beach Resort also hosts a weekly Sunday brunch where Chef Jess takes on our favorite brunch classics such as Eggs Benedict and French toast and gives them her own special twist.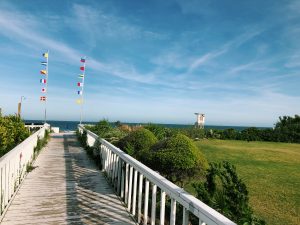 Whether you are here for the summer, a week-long vacation, or you're a lucky local, the Blockade Runner is your place to relax, enjoy the beautifully kept gardens, and delight in whatever whimsical, delicious meal Chef Jess has created. We promise you—you won't regret it.
Stay up-to-date with Blockade Runner's events by viewing their events calendar and following them on Facebook, Twitter, and Instagram.  Reservations for dinner are highly encouraged.  Use the hashtag #eastoceanfrontdining to join the convo and share your experience on Instagram.